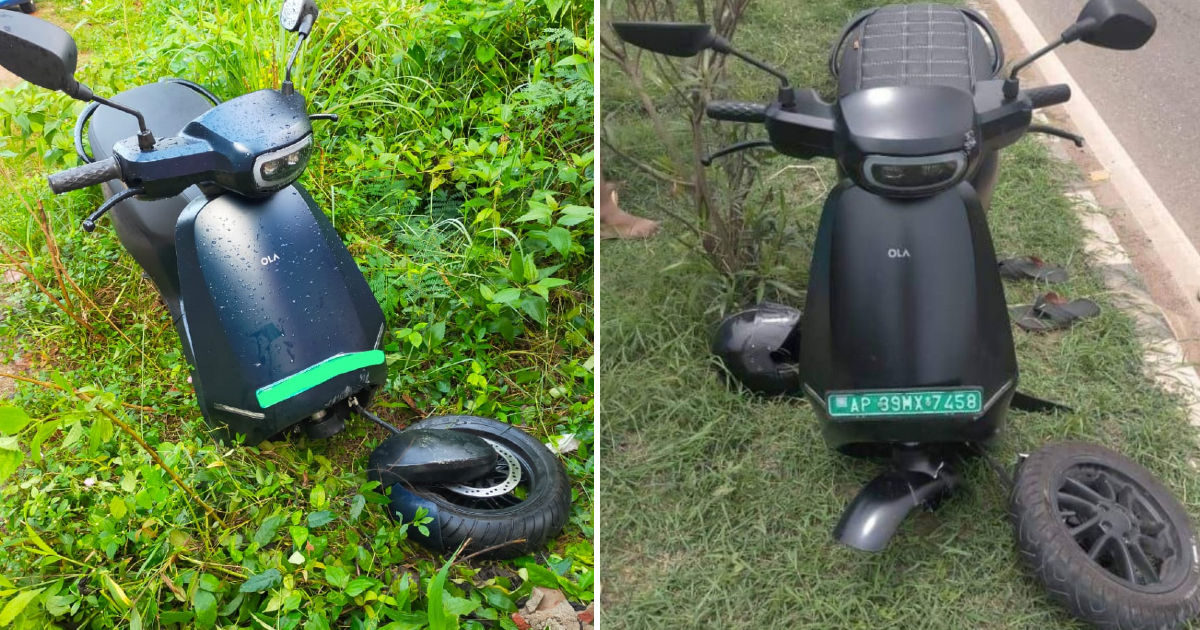 Ola's S1 Pro electric scooter is facing allegations of a poor and dangerous build yet again, with a shocking incident that has recently come to light. Gaining rounds on the internet is an image of the Ola e-scooter with its front wheel severed off the rest of the scooter. The owner of the EV claims that this happened while he was riding the S1 Pro at a very low speed.
The photo has been shared by Twitter user Sreenadh Menon in a recent tweet, and since its upload, has completely baffled the netizens on the potential dangers of the two-wheeler. This is simply because the new incident adds on to the complaints that the Ola S1 Pro had already been receiving from different regions of the country over the past few weeks. While some of its units were blamed to have caught fire, others allegedly had a software glitch that activated the reverse mode on it and made the scooter run backwards at very high speeds.
The latest issue now puts the Ola S1 Pro's build quality in question. In his tweet, Menon writes that the front suspension his Ola electric scooter broke at a "small speed" while he was riding the e-scooter. Calling it a "serious and dangerous thing," Menon tagged Ola Electric and Bhavish Aggarwal in the post, requesting them to replace the scooter or introduce a design change on their models in order to make the S1 Pro safer for its riders.
Subsequent tweets on Menon's posts suggest that he is not the only one to have faced this issue to date. Other Twitter users also took this as an opportunity to share images from their own incidents, clearly showing the front suspension of the electric scooter broken apart from the rest of the chassis. Users mention varying conditions under which the incidents took place, often just taking place at very low speeds. People urge Ola Electric to treat this as an urgent case.
It is evident that the issue, if confirmed, can lead to very tragic results for Ola S1 Pro users on the roads. For now, Ola Electric has responded to Menon stating that the company will get in touch with him for further investigation on the incident. Until more information is shared on the same, we will have to wait to know if the issue is indeed a flaw resulting from a faulty design and sub-standard build quality.