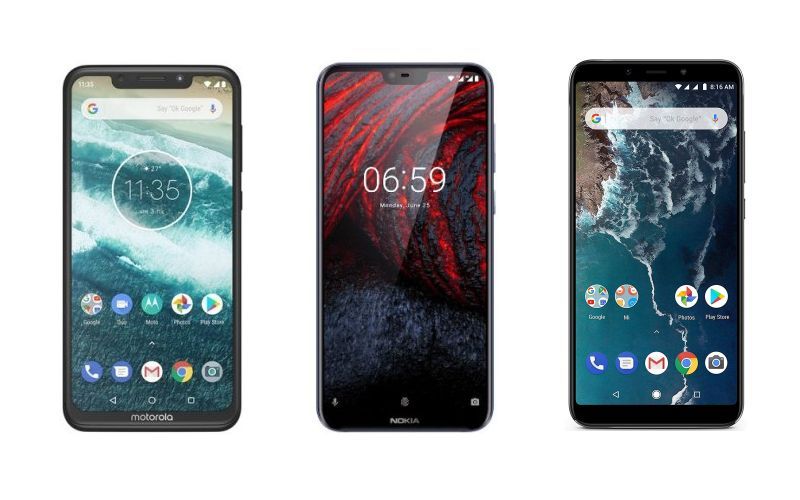 Recently, several manufacturers have been releasing Android smartphones that are part of the Android One Program. Smartphones such as the Nokia 6.1 Plus, the Xiaomi Mi A2, and the Motorola One Power, are all part of the Android One family. These phones come with an Android One logo at the back. So, what does this mean exactly? What is Android One and what are its features? Well, in this post, we are going to explain just that.
Android One Features Explained
Google released the Android One program in 2014, to help manufacturers ship its devices with stock Android, and receive the latest software and security updates. All phones that are part of the Android One Program, will ship without any bloatware, custom skins, or anything that will slow the phone down.
Android One is not a software version, but it is whatever the latest Google software is. For example, most Android One smartphones are now running Android 8.1 Oreo, and will soon get the new Android 9.0 Pie update. You'll get all the best features of Android OS on time.
So what are the features of Android One? Well, it is the same as what you'll find on a Pixel smartphone. As mentioned earlier, Android One is basically stock Android, which has all the goodness of Google. However, some features that are unique to the Pixel phones, will not be available on Android One phones.
Smartphones that are part of the Android One program, will get all the Google apps pre-installed. Applications such as Maps, Gmail, Messages, Google Duo, and more, will be available on the phone. The devices also come with Google Play Protect, which makes sure all your apps are secure. You will also get full Google Assistant support.
Apart from these features, Android One device also get guaranteed software updates for up to 2 years after release. Therefore, if you purchase an Android One phone running Oreo, the device will get Android P and Android Q update. The phones also get 3 years of monthly Android security updates. Android One program also entitles manufacturers to get hardware support from Google. This means, that OEMs can tailor its own apps to work well with the hardware and the software.
Nokia 6.1 Plus, Xiaomi Mi A2, Motorola One Power Important Specs
The Nokia 6.1 Plus features a 5.8-inch notched display, while the Xiaomi Mi A2 gets a 5.99-inch display, and the Motorola One Power comes with a 6.2-inch notched screen. The Nokia 6.1 Plus, and the Motorola One Power are powered by a Snapdragon 636 processor, whereas, the Xiaomi Mi A2 is equipped with a Snapdragon 660 chipset.
All three devices features a dual-rear camera setup, but the Xiaomi Mi A2 has the best setup out of the lot. The Nokia 6.1 Plus has a 3060mAh battery, the Mi A2 gets a 3000mAh unit, and the Motorola One Power comes with a massive 5000mAh battery.