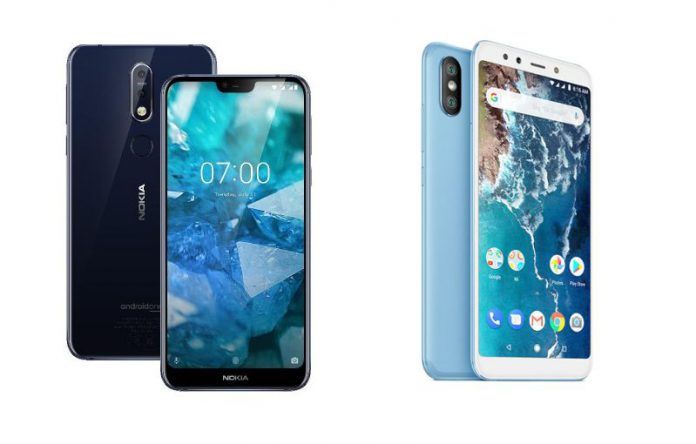 The Nokia 7.1 went on sale in India earlier this month. However, we have been immensely skeptical about how high the HMD Global has priced this smartphone. With so many affordable alternatives, it is difficult to justify spending so much on this handset. Even if you're one who wants to hold on to the stock Android experience, you can find better value propositions elsewhere. Today let's take a look at why the Xiaomi Mi A2 (review) is likely to be a better Android One smartphone for you.
Price in India
The most obvious reason why you should pick the Xiaomi Mi A2 over the Nokia 7.1 is its price. At the time of writing, the Mi A2's price in India for its 4GB RAM + 64GB storage variant is INR 14,999. Even its 6GB RAM +128GB storage variant costs just INR 16,999. Meanwhile, the Nokia 7.1 costs INR 19,999 for its single 4GB RAM + 32GB storage offering.
Processor
One would expect the higher price tag of the Nokia 7.1 would translate to better onboard performance. However, it so happens that the phone runs on the relatively weaker Snapdragon 636 chipset. This chipset is equipped with a quad-core CPU which clocks up to 1.8GHz. While not bad in any way, it just doesn't keep up with the Snapdragon 660 which is found on the Mi A2. This SoC also boasts an octa-core CPU, but four of these cores are performance cores that go as high as 2.2GHz, while the other four are efficiency cores that clock up to 1.8GHz.
Camera
In our review of the Mi A2, we noted that it has one of the best camera's we have seen at this end of the market. Its 12MP + 20MP rear camera setup produced some wonderful shots, with the 20MP front-facing shooter further contributing to an excellent selfie experience. The Nokia 7.1's camera too far off with its 12MP + 5MP rear configuration. This setup should produce comparable images. However, the front camera is just an 8MP sensor which is unlikely to output the same level of detail in captures shots. As such, we can't overlook the fact that you get a better imaging system on the more affordable Mi A2.
IR Emitter
Another benefit of going the Xiaomi's Mi A2 is that it comes with an IR blaster while the Nokia 7.1 does not. While not a must-have feature, it is certainly a welcome addition as it adds that extra layer of convenience to a smartphone. You will be easily able to control all the usual home appliances with the Mi A2 including your TV and set-top-box.
Charging
Another minor advantage of going with the Mi A2 is that it comes with support for Qualcomm's Quick Charge 4.0. While we are aware that the phone does not come with a supported charging brick, and that it is difficult to find one in India right now, it is still something that enhances the longevity of the smartphone. In the long run, this tech will make some difference considering both smartphones come with about the same capacity batteries – 3060 on the Nokia 7.1 and 3000mAh on the Mi A2.
To conclude, we will note that the Xiaomi Mi A2 is not a perfect phone either. There are a few drawbacks such as the absence of a 3.5mm headphone jack, lack of HDR10 support on its display, and inferior build quality when compared to the Nokia 7.1. However, the overall package relative to its price helps the Mi A2 secure the lead in this showdown.