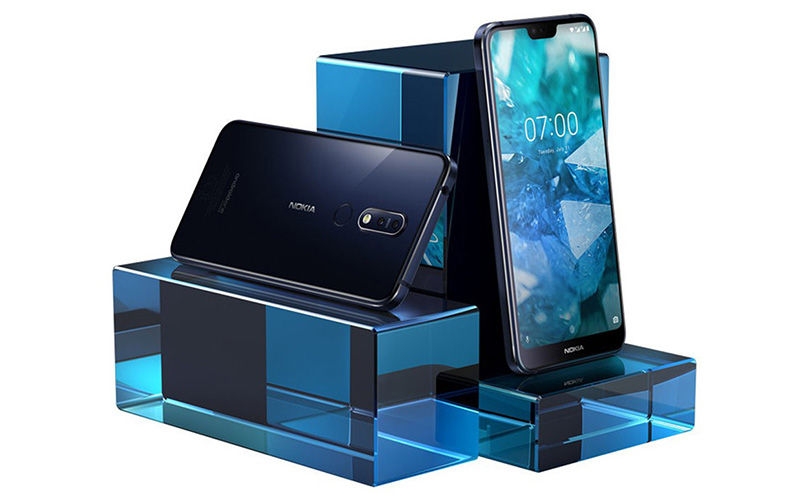 The Nokia 7.1 has arrived in India's smartphone market, with its sale starting from December 7. After the Nokia 6.1 Plus (review), the Nokia 7.1 is the best mid-range handset that HMD Global has launched. However, is it worth the extra money over the previous reigning inexpensive champion we've all known and come to love as the Nokia 6.1 Plus? To get all the answers, our comparison will highlight all the differences ranging from both devices' specifications, features and of course, pricing. Read on more to find out.
Nokia 7.1 vs Nokia 6.1 Plus: Price in India
The Nokia 7.1 is priced at INR 19,999, and as we've mentioned before, the sale of this smartphone will start from December 7. The Nokia 6.1 Plus is a little cheaper, selling for INR 15,999 at online retailers like Flipkart. That is a staggering INR 4,000 price difference, and it begs the question, should you spend the extra money, or save it for later? Let us dig deeper and find out.
Nokia 7.1 vs Nokia 6.1 Plus: Build, Display
The Nokia 7.1 is nearly identical to the Nokia 6.1 Plus, sporting a similar edge-to-edge display with a notch and chin bezel. There is aluminum in the middle, with both the back and front covered by a layer of 2.5D Gorilla Glass 3, with the rear side getting a fingerprint scanner. In short, it looks like HMD Global has spent a little time refining the design of the Nokia 7.1.
That's not to say the Nokia 6.1 Plus' appearance has diminished any bit. Like the Nokia 7.1, the Nokia 6.1 Plus also has a 2.5D glass at the front and back. As for the display, both phones sport an IPS LCD, with Nokia 7.1 sporting a negligibly larger 5.84-inch screen, while the Nokia 6.1 Plus features a 5.8-inch panel. The resolutions of both smartphones is the same: 2280 x 1080 pixels.
However, where the Nokia 7.1 shines is its PureDisplay screen technology, which is a first from HMD. This technology will show better visual content, thanks to improved contrast and sharper quality with HDR10 support. What this means is platforms like YouTube, Netflix and Amazon Prime Video, which all support HDR will look better on the Nokia 7.1. Also, the smartphone offers a 1,000,000:1 dynamic contrast ratio, resulting in vibrant colors. The Nokia 6.1 Plus supports none of this.
Nokia 7.1 vs Nokia 6.1 Plus: Hardware, Performance
Both smartphones are underpinned by the Qualcomm Snapdragon 636, which features an octa-core processor. You can expect similar performance from both devices. The base model of the Nokia 6.1 Plus features 4GB of RAM, while the Nokia 7.1 offers 3GB RAM. The Nokia 6.1 Plus also provides the owner with 64GB of onboard storage for the starting model, with the base variant of the Nokia 7.1 only offering 32GB of internal memory.
If you're going to install a lot of apps on the Nokia 7.1, you'll either want the 4GB RAM + 64GB storage variant or opt for a microSD card. If you require more headroom when it comes to opening lots of apps and leave them running in the background, go for the Nokia 6.1 Plus.
Nokia 7.1 vs Nokia 6.1 Plus: Camera Setup
The Nokia 7.1 features a Zeiss-branded dual-camera with a 12MP + 5MP configuration, while the front side houses an 8MP sensor. The Nokia 6.1 Plus does not get any branding whatsoever, but it does have a 16MP + 5MP dual-camera at the back, along with a 16MP front-facing sensor. Both devices support HDR photography and bokeh. On paper, it would appear that the Nokia 6.1 Plus offers better camera hardware but the final result will be subjective as both optics solutions will behave differently in varied lighting conditions.
Nokia 7.1 vs Nokia 6.1 Plus: Battery, OS
The Nokia 7.1 and Nokia 6.1 Plus feature a 3060mAh battery that gets charged via Type-C USB port. Both devices also belong to the Android One family, so they are running stock Android and will be updated to Android 9 Pie before the end of this year. You can expect the same battery life from both phones, but that will be subjective as battery endurance will depend on your daily usage.
Nokia 7.1 vs Nokia 6.1 Plus: Verdict
The Nokia 6.1 Plus features more memory for the base model and costs less, making it the better purchase for those that don't want to spend a lot of money. However, it lacks behind the Nokia 7.1 slightly when it comes to appearance and doesn't get HDR10 support. If you're looking for a device that provides an appealing look and if you want to upgrade your media consumption experience, you should go for the Nokia 7.1. For everything else, the Nokia 6.1 Plus will suit your needs just fine.
After you're done reading the comparison of these two devices, you can check out our video of the Nokia 6.1 Plus below. This comprehensive clip states five reasons why the Nokia 6.1 Plus is a better purchase over the Moto G6 Plus. However, if you're willing to spend a little more money and receive a few benefits, you can upgrade to the Nokia 7.1 down the road.