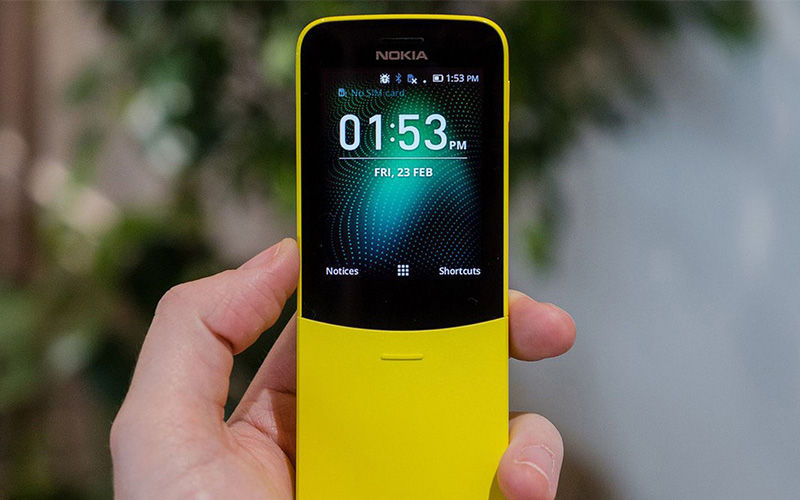 If you're a fan of cute banana shaped retro phones, this might be particularly interesting for you. One of the oldest and most pedigreed mobile phone brands around, Nokia, is might be gearing up to launch more affordable 4G feature phones in the near future. The revelation comes after the company witnessed an unprecedented level of success for the Nokia 8110 4G phone, which is a 4G equipped feature phone that harks back to the famous banana phone featured in the Keanu Reeves cult classic film Matrix.
Speaking in an Interview with DNA India, HMD Global Vice President and Country Head, Ajey Mehta revealed that Nokia might be in the process of making yet another phone along the lines of the highly successful 8110 4G feature phone. "Our company is exploring the possibility of launching a 4G feature phone at affordable prices," said Mehta alluding to a successor of sorts to the Nokia 8110 4G phone.
Nokia 8110 4G Successor: Feature Phones Still Outsell Smartphones for Nokia
HMD Global's decision to further explore the 4G feature phone market isn't surprising since the company sells more Nokia-branded feature phones than it does smartphones. This is especially true in developing markets such as India, where the demand for feature phones is pretty high especially in the tier-2 and tier-3 cities. Even before HMD Global took over Nokia, the Finnish brand originally was renowned for making some of the best loved feature phones such as "indestructible" Nokia 3310, which has now been immortalised as the veritable meme phone.
Furthermore, the added functionality of 4G capability makes such feature phones attractive, considering how Reliance has heralded an era of cheap 4G internet access and VoLTE connectivity. Earlier this month, we had also compared the Nokia 8110 4G against the new Reliance Jio Phone 2, where the Nokia phone stands out as a 4G feature phone directed at those who seek better design and build quality.
The Nokia 8110 4G offers a premium feature phone experience compared to the Reliance Jio Phone 2, with standout features such as the better performing Qualcomm 205 SoC compared to the Spreadtrum 9820 chipset found on the Jio Phone 2, although both phones offer similar specs on paper consisting of 1GHz processor clock speed, 512MB RAM, and 4GB storage. The wireless hotspot feature found on the Nokia also comes in handy to turn the phone into a convenient 4G internet modem for connectivity on the go.
Nokia 8110 4G Successor: A More Affordable Option to Compete with the Jio Phone 2?
However, at a price of nearly INR 6000, the Nokia 8110 4G veers dangerously close to smartphone territory. This is especially true since that price range is populated with a fair bit of low-priced, yet competent smartphone options from brands such as Xiaomi. Nevertheless, the Nokia 8110 4G is a more stylish throwback to an iconic phone from the past.
For all we know, Nokia could be working on a lower priced 4G capable feature phone to compete with the Reliance Jio Phone 2 that costs half as much as the Nokia 8110 4G. However, there's also a strong possibility that company could resurrect yet another one of its iconic phones from the past, just like it did for the much-loved Nokia 3310, which sadly only had 2G connectivity. Or do you think there's a chance that Nokia could relaunch the 3310 with 4G connectivity? Let us know in the comments section.