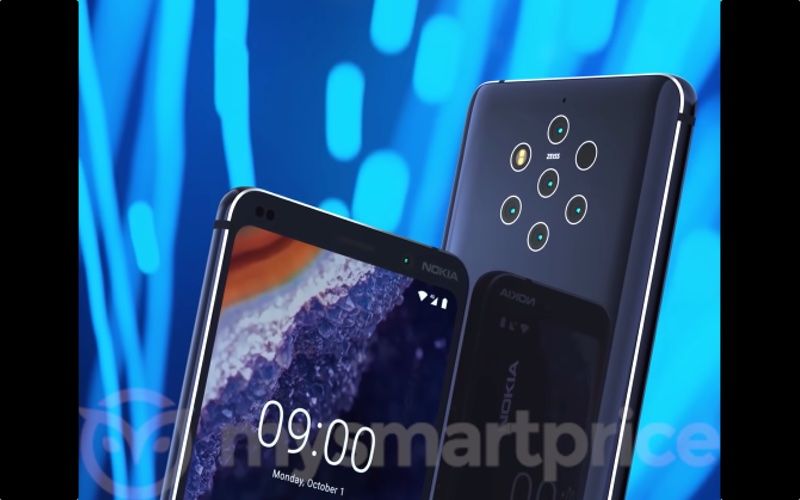 Nokia has not even launched the 9 PureView yet, and we already have news about its successor. According to a new tweet from Nokia Leaks, Nokia will launch the successor to the upcoming Nokia 9 PureView in August 2019. The tweet reveals that the successor to the Nokia 9 PureView will feature the Snapdragon 855 processor and 5G connectivity. The tweet also mentions that the device will have a true edge-to-edge display with 2K resolution and a camera hole in it, and a penta-camera setup on the back. In the following tweet, Nokia Leaks revealed that the Penta-camera setup would have a bigger sensor than that of the Nokia 9 PureView. Although this is valuable insight, it should be noted that Nokia Leaks is a newly created Twitter account. Therefore, we are not quite sure about the credibility of this news.
Nokia 9 PureView Expected Launch Date and Specifications
On the related topic, the Nokia 9 PureView is rumored to launch by the end of this month. The Nokia 9 PureView is expected to be the first smartphone in the world to feature the penta-camera setup. At the moment there is no information on the configuration of the penta-camera setup. However, we expect that there will be one camera with regular FoV, one camera with wide-angle FoV, one camera with zoomed FoV, one 3D ToF camera, and one monochrome camera.
Coming to its processing hardware, the Nokia 9 PureView is expected to feature Qualcomm Snapdragon 845 processor with 8GB of RAM and 128GB of storage. The smartphone is rumored to have a 5.99-inch display with QHD resolution and HDR10 support. According to a few leaks and rumors, the screen will have PureDisplay technology, which we think is branding for AMOLED display. As for the software, the smartphone might most probably come with Android 9 Pie. Considering that almost all new devices from Nokia are Android One certified, the Nokia 9 might carry Android One badging too. Last but not least, the Nokia 9 PureView will have a 4000mAh battery.
Nokia 9 PureView Could Be a Game Changer For Nokia
The Nokia 9 PureView will be a high-end smartphone, meaning, it will compete directly against the upcoming Android flagship smartphones, such as Samsung Galaxy S10, LG G8, and the OnePlus 7. At the moment, Nokia is not popular when it comes to high-end smartphones. However, the Nokia 9 PureView with its penta-camera setup might change that.
Nokia 9 PureView Price Leaked
Nokia 9 PureView is reported to be launched in January 2019 and the alleged pricing details of the Penta-camera phone have leaked online. The Nokia 9 will be reportedly priced between 749 to 799 Euros depending on the markets. Till we know these details officially, we request you take this with a pinch of salt.