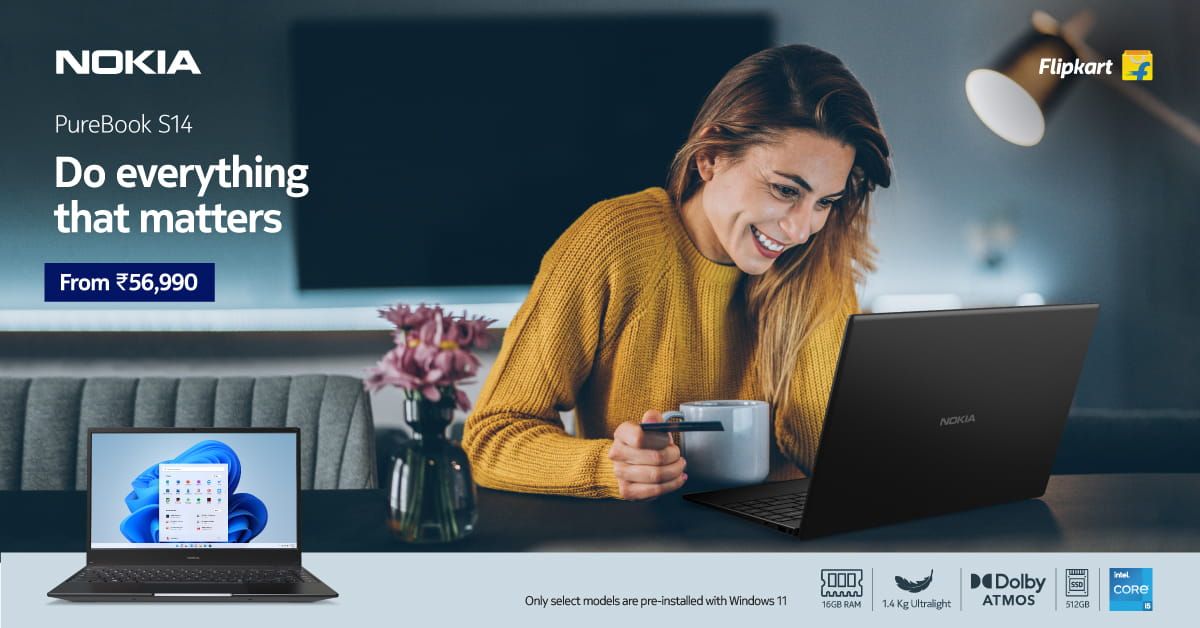 E-commerce giant Flipkart has announced the Nokia PureBook S14 laptop in India. The device will start selling from October 3. To be clear, the product isn't actually made by Nokia. Instead, Flipkart has a brand licensing agreement with the Finnish giant to use its brand name on the laptop. The Nokia PureBook S14 is an update to the Nokia Purebook X15 from last year, and it's amongst the first laptops in India to run on Microsoft's new Windows 11 operating system. The OS was announced by Microsoft just a few months ago and is the first version update for Windows in over five years.
Nokia PureBook S14 specs and features
The Nokia PureBook S14 has a 14-inch FHD IPS LCD display and 82 percent screen to body ratio. It weighs about 1.4 kg and has narrow bezels, though not as narrow as some of the high end ultrabooks you can buy today. It runs on 11th generation Intel Core i5 processors and has Intel's new Iris Xe integrated graphics. On the memory front, the device has 8GB or 16GB of RAM onboard, and 512GB NVMe SSD storage onboard. It also supports Dolby Atmos audio playback.
For connectivity, the device has an HDMI port, a USB 3.0 Type A port, and another USB Type-C port. Which seems like enough ports for light users, but not enough if you use a lot of peripherals with your laptop. There's also a physical privacy switch, which allows you to cover the webcam on the device when it is not in use. The battery life or battery capacity of the laptop haven't been revealed yet.
Nokia PureBook S14 pricing and availability
Further, the Nokia PureBook S14's pricing justifies a lot of the compromises made on the device. It's not the cheapest laptop out there, but at Rs. 56,990 it's not the most expensive either. This is of course the pricing for the base model, but Flipkart's Big Billion Days sale begins on October 3, which is when the laptop will go on sale, and the other SKUs should be made available at the time too.