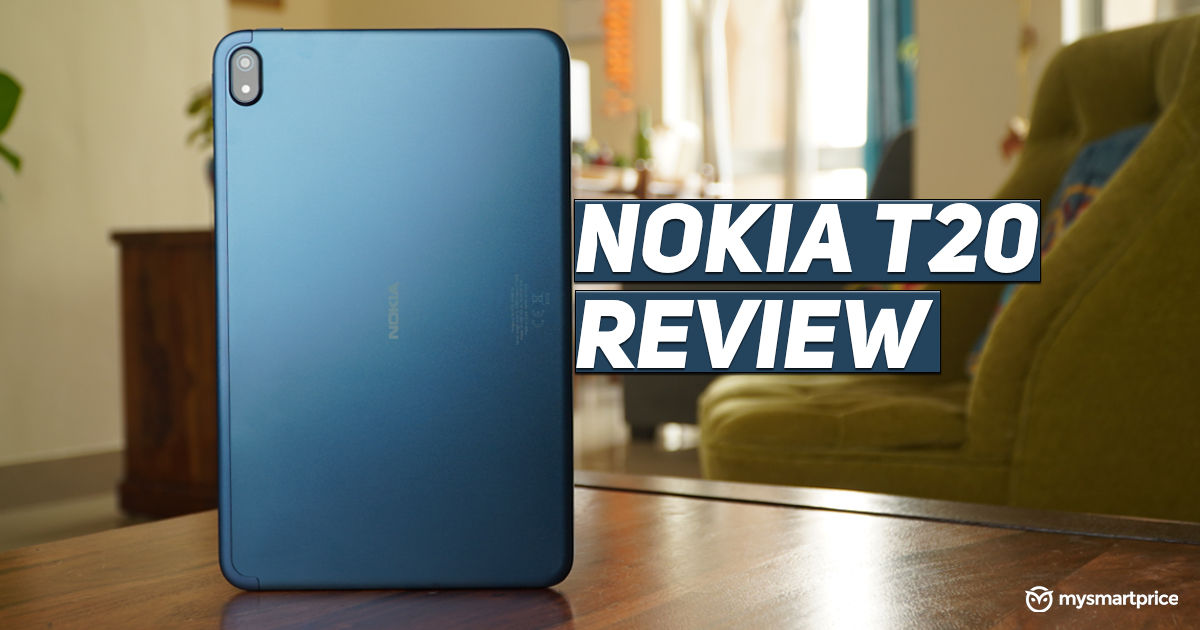 My sister-in-law's three year old daughter is a hyperactive kid who needs to be constantly engaged. And, for kids in general – if used in the right manner – a tablet at home can be the perfect tool for self learning. In fact, an app I know – Breadcrumb – is made exclusively for the iPad, and works on the concept of unschooling to educate kids with modern solutions and tools. But, not everyone can afford an iPad. For those folks, we have budget Android tablets.
Remember how I'd said just a couple of weeks ago, the Realme Pad is the best Android tablet under Rs 20,000? Well, Nokia's first Android tablet is here – the Nokia T20 – and it is out to dethrone it.
Also Read: Realme Pad Review – a Great Budget Android Tablet for Students and Multimedia Enthusiasts
Does it look good? Is it too heavy in daily usage? Does it have all the basic buttons and ports?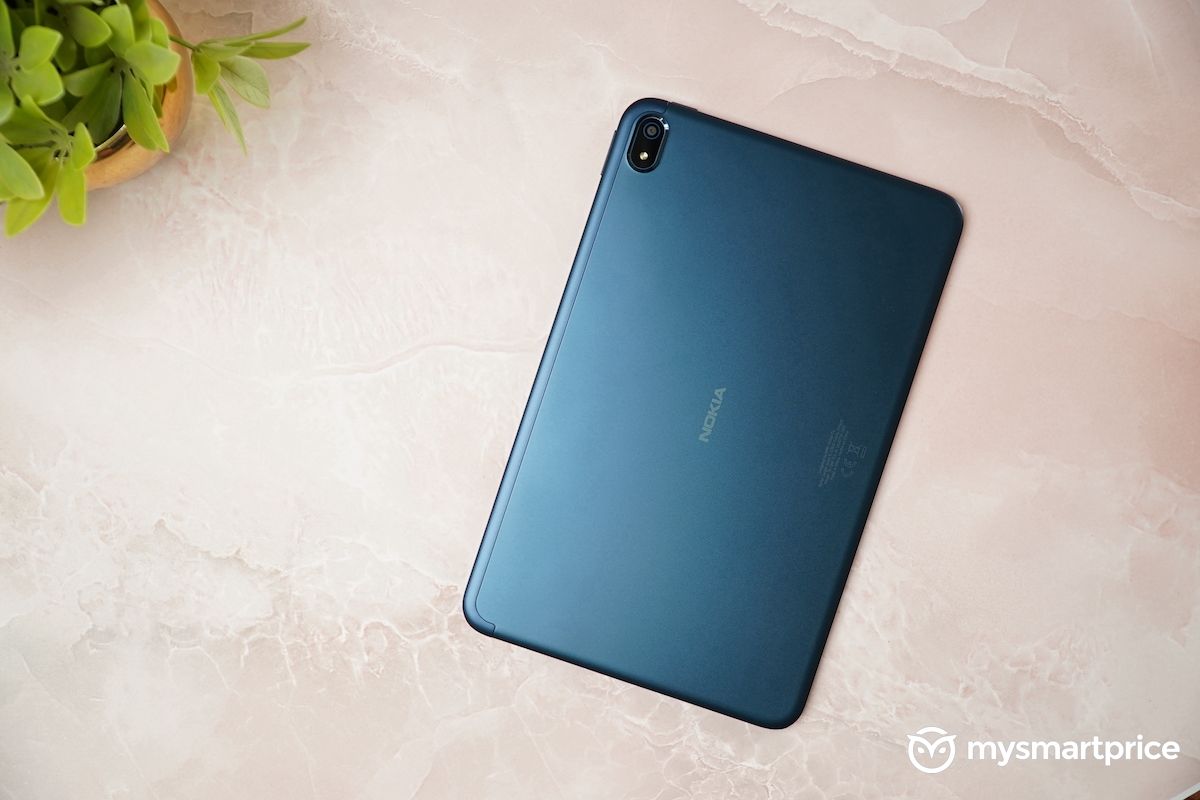 From the get go, the one thing that Nokia gets right is the design. This all-metal tablet looks pretty attractive in this Ocean Blue shade. Add to that, it feels extremely sturdy. While my observation is mostly anecdotal, I feel it could withstand rough usage better than the Realme Pad. Also, I like that the plastic strip lines up on one side on the left edge of the rear. There's also that tiny camera module, which houses the single camera and the flash.
As for the dimensions and the weight, it is only slightly larger and thicker than the Realme Pad. But, the in-hand feel of the Nokia T20 feels much better thanks to the soft touch coating on the rear and the nicely curved edges. And, it feels pretty comfortable to hold and use in everyday usage.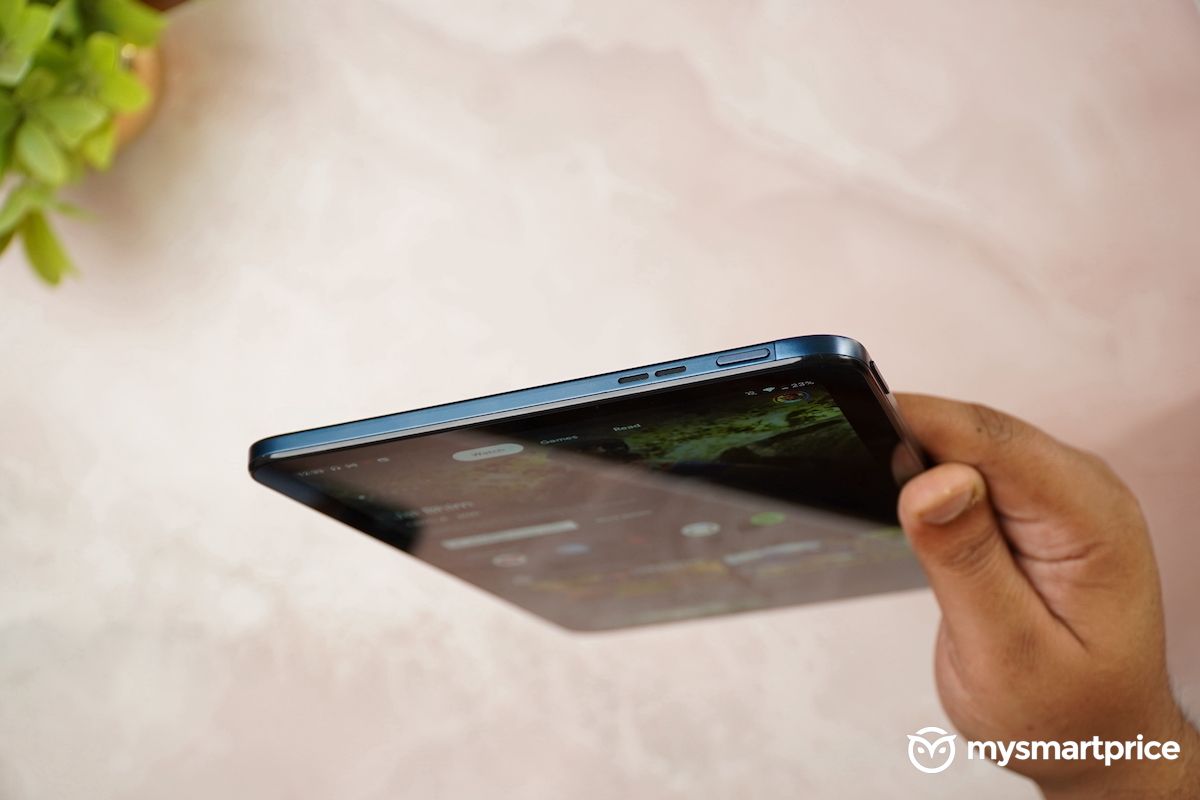 The placement of buttons is identical to what we saw on the Realme Pad: the power button is on the top and the volume rocker right next to it on the top of the right edge. It is meant to encourage usage in landscape orientation. The buttons are nice and clicky too.
Another indication that a tablet is meant to be used mostly in landscape orientation, is the fact that the front facing camera is placed on the right bezel. The "ports" situation is very similar to the Realme Pad as well. You have the headphone port carved on the curved part of the bottom left edge. I still find it peculiar because you still need to insert it straight and not at a cross-angle as the placement would have you believe. Apart from this, there's a Type-C port at the bottom, a couple of speaker grilles at the top and the bottom, and a tray with dedicated slots for a Nano SIM card and a microSD card.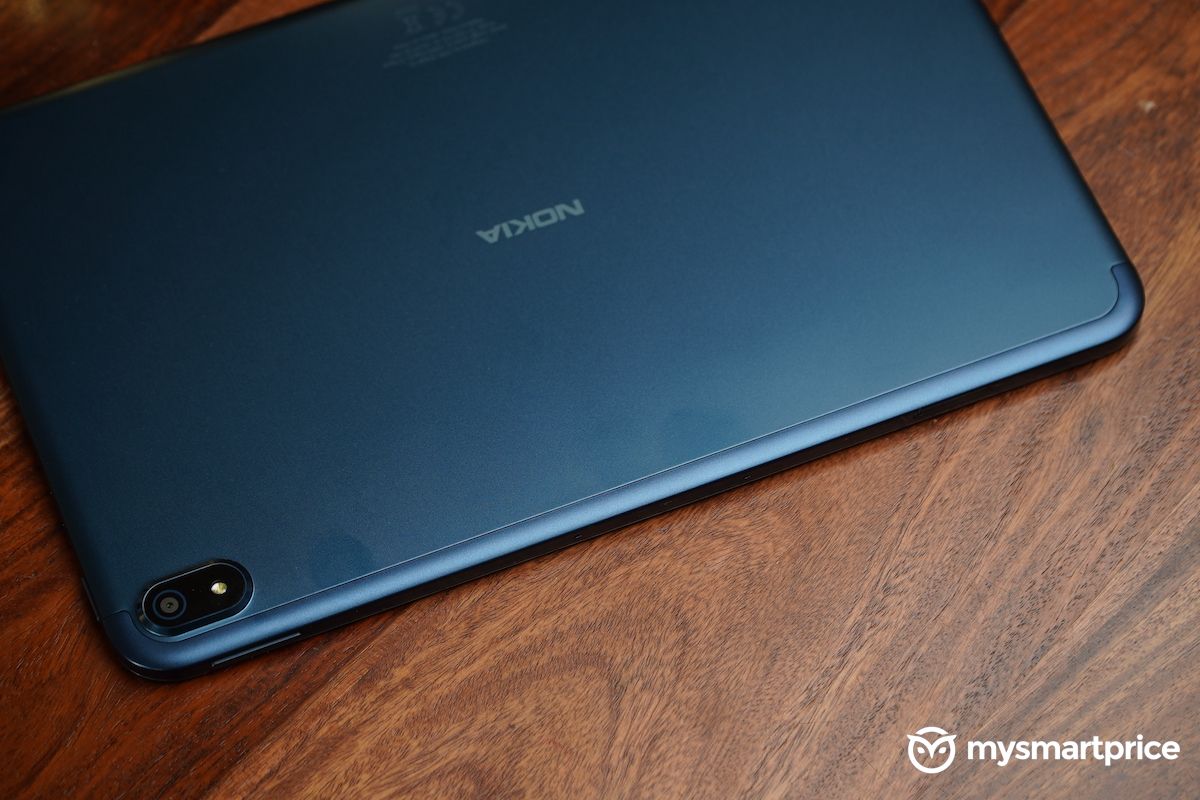 Overall, the Nokia T20's design doesn't play around too much with the formula but still manages to create an impression with its polished soft metal finish and sturdy build. I quite like it.
Hope Nokia hasn't compromised on the display here. Is it good for watching Netflix shows and YouTube Kids?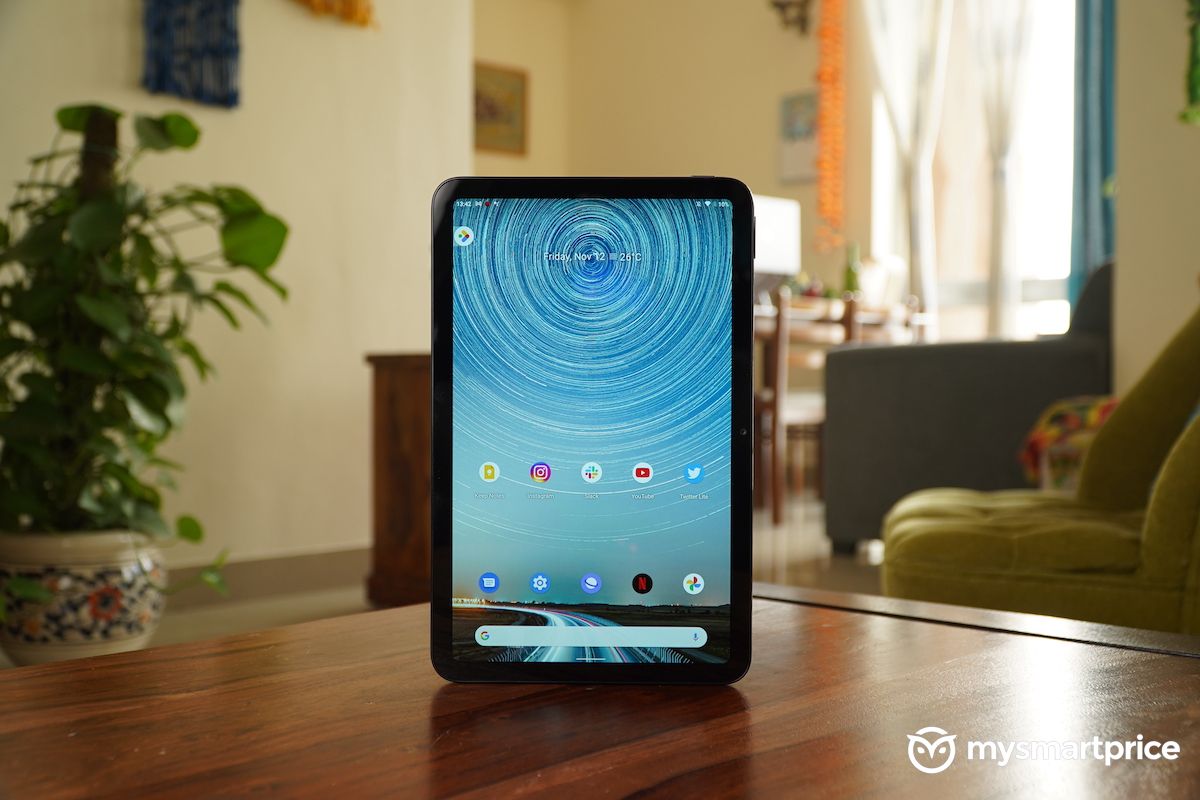 While the design is one thing, the display is the most important aspect of the tablet. The Nokia T20's 10.4-inch, 1200×2000 pixel resolution, IPS LCD panel is possibly one of the best you can find in this price range. Now, there are copious bezels around the display but it looks aesthetically pleasing thanks to the symmetrical size of the chunks of plastic underneath the, supposedly, scratch-resistant glass.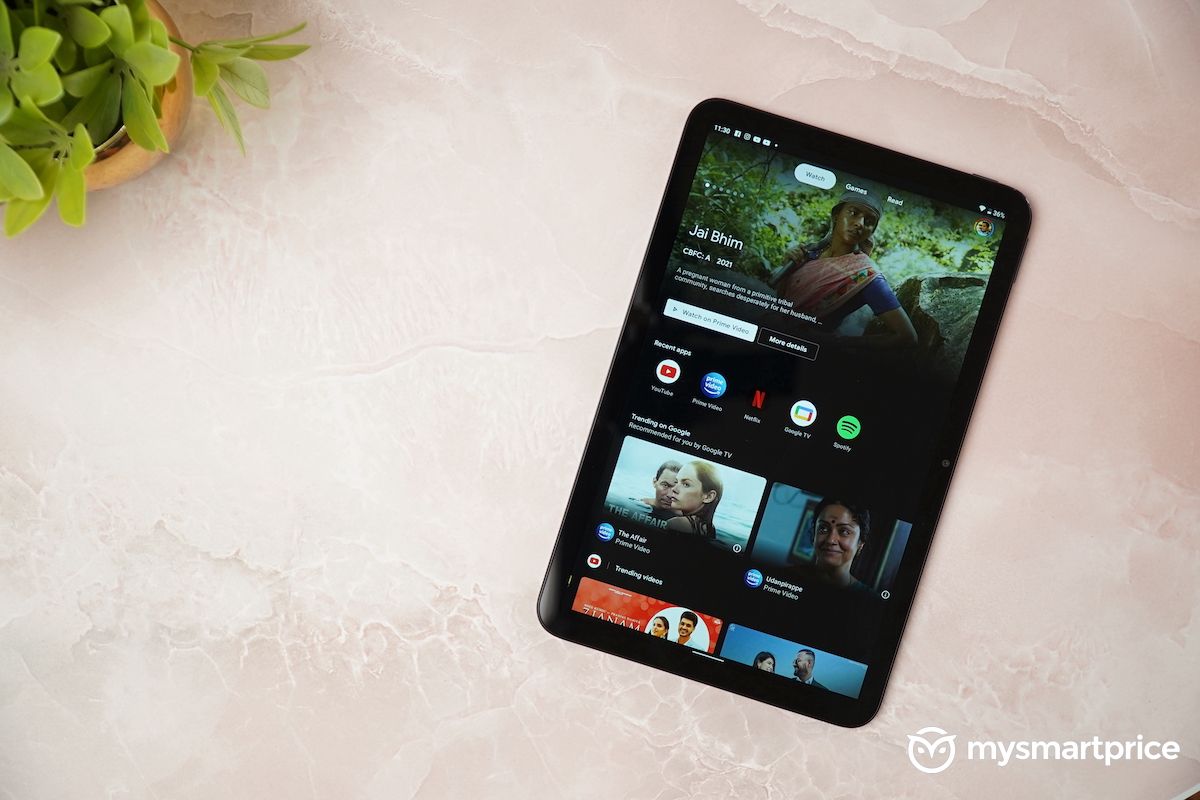 As for the colour accuracy of the panel, it's been tuned really well and there is very little off-axis colour shifting too. The panel can also get really bright for a budget tablet, touching 400 nits in High Brightness Mode. However, I did notice that the Adaptive Brightness was very iffy and the Oleophobic coating wasn't as good as the one on the Realme Pad. Meaning, the display will get smudged faster than Minnal Murali can flash past a bad man.
Side note: Go watch the trailer for the movie. It is the Malayalam film industry's first superhero movie and is looking absolutely fascinating.
Does it have a stereo speaker setup?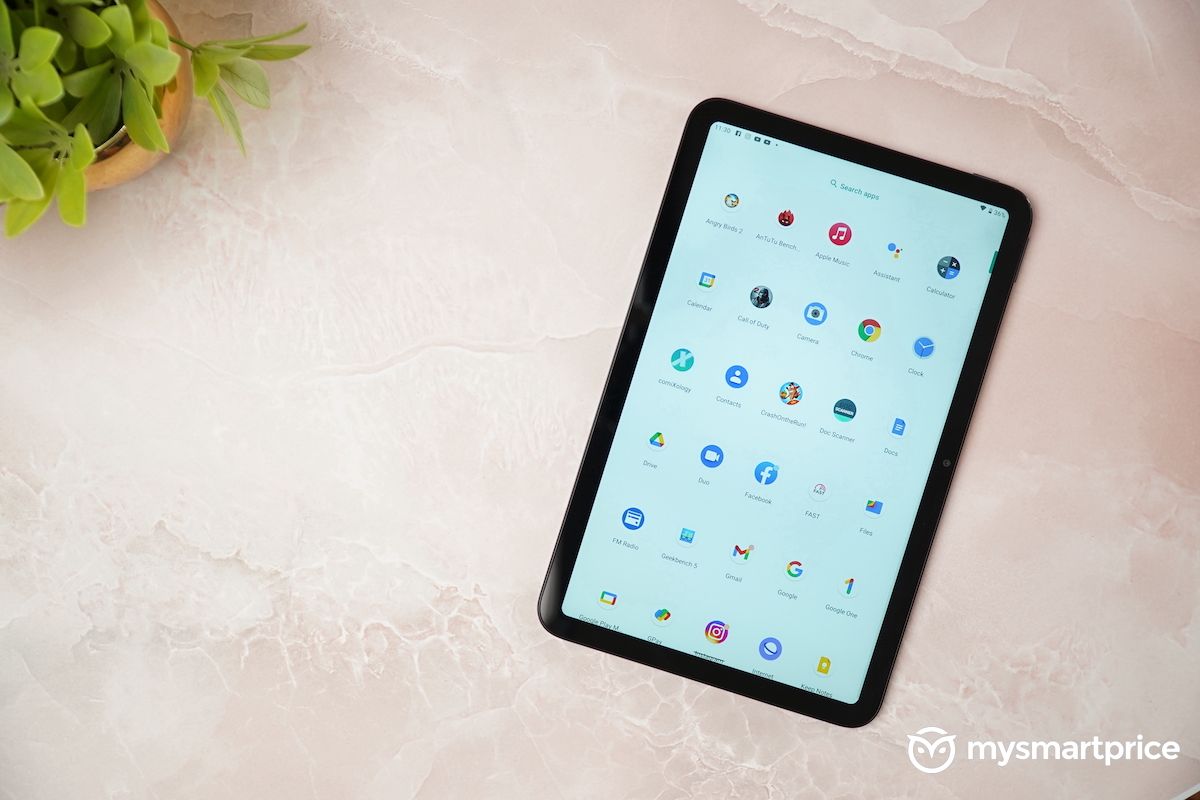 You do get a stereo speaker setup like I mentioned earlier. And, it doesn't sound as impressive as the Realme Pad if you ask me. But, the headphone jack is far more resolving with the gear I own. Not only does my Meze 99 Classics sound louder but it also sounds cleaner.
Is the front camera trustworthy for video calls?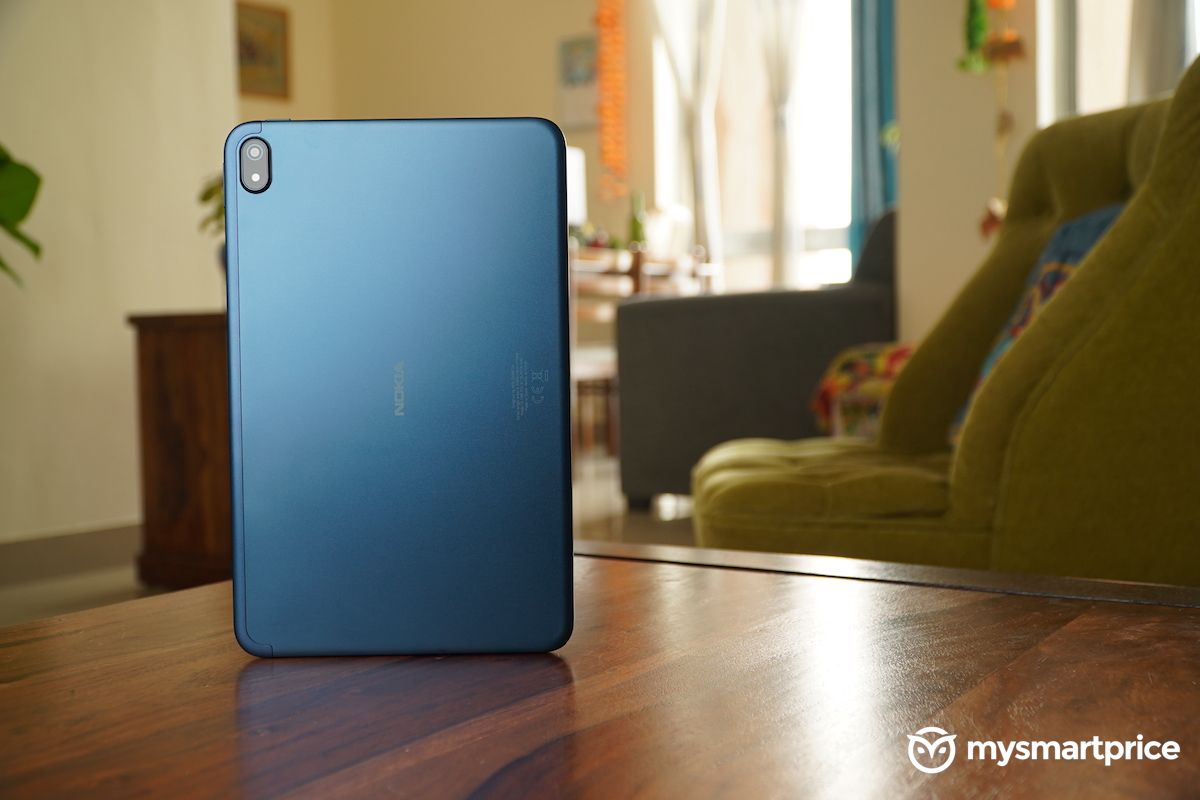 So, the 5MP camera on the front pales in quality in comparison to the 8MP one on the Realme Pad. Moreover, the one on the Realme Pad can go extremely wide too. So, this is a huge downer. If you are buying a budget tablet for your Zoom/Google Duo calls, I'd say go for the Realme Pad. Even the 8MP rear camera is better on the Realme Pad, which is not really great to begin with. To be honest, you should consider cameras on budget tablets to be merely spec sheet embellishments for marketing purposes and nothing more.
How's the software? Is it easy to use?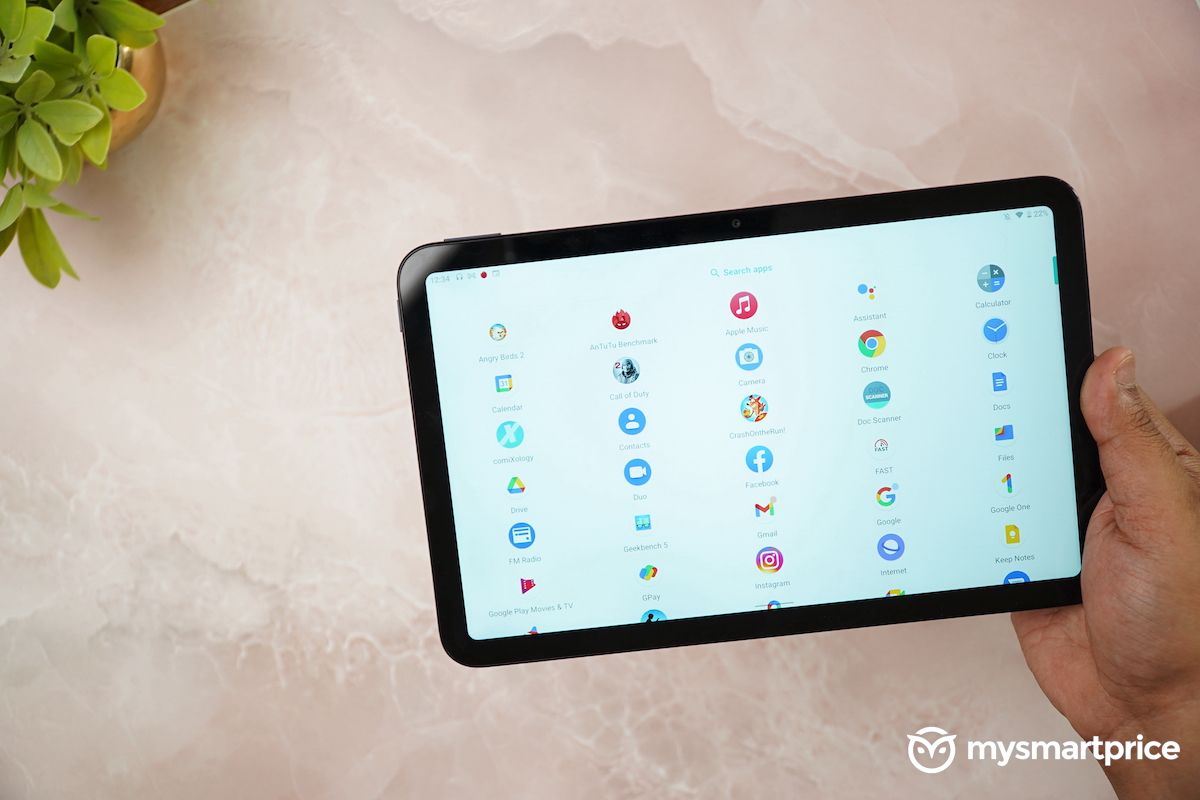 Well, you get plain stock Android 11, as is the case with all the Nokia products running Android. It is clean, fuss-free, and easy-to-use. And, that's also a problem because it is not as feature-rich as Samsung or Lenovo's offerings. For one, there is no Floating Window or Multi-window feature to make use of that huge screen estate. But, then again budget tablets don't have too much power at their disposal, so it might be tough to tune it to work seamlessly and could end up being a subpar experience. Clearly a chicken and egg situation.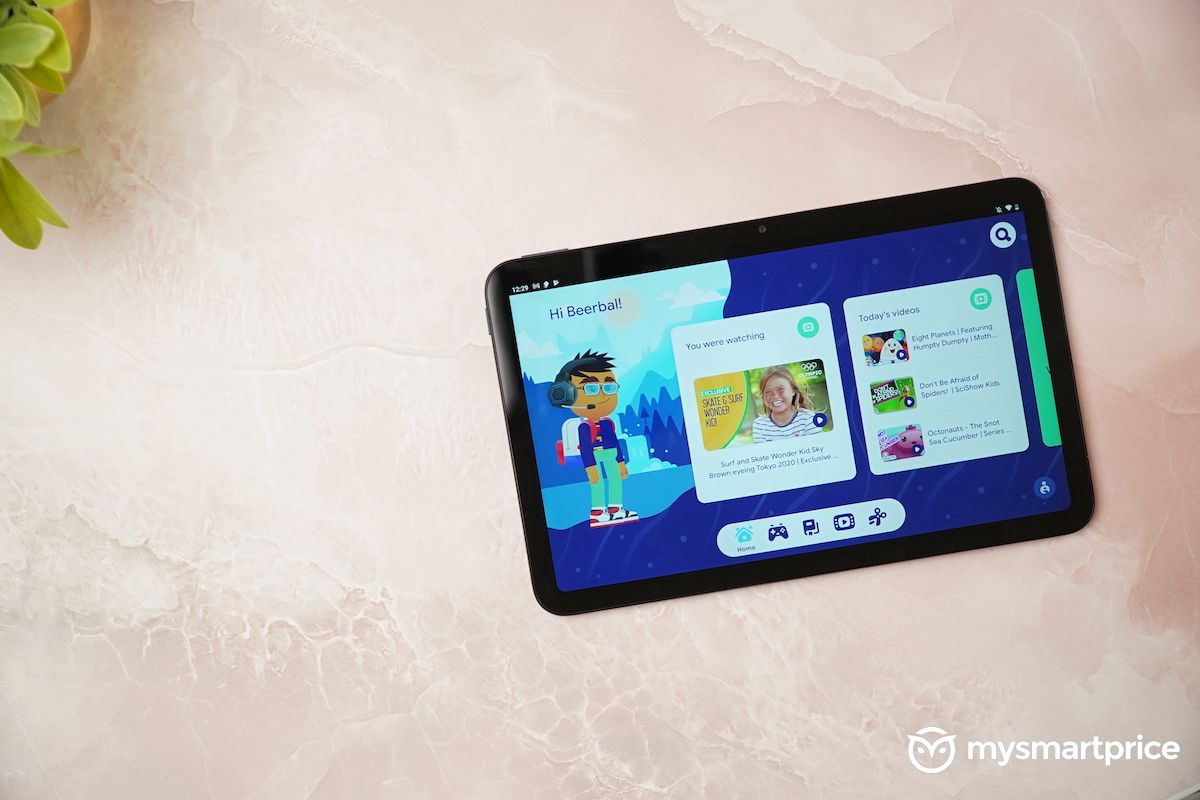 I did notice one thing, the -1 page doesn't have Discover Feed on Android tablets. It is actually a new central space for your Movies, Games, and Books called "Entertainment Space." Think of it as a curated content space similar to what you see on Android TV or Fire TV. It actually makes most sense on a tablet. You can even switch it off if you want. This is definitely a differentiating factor compared to the Realme Pad, which doesn't have it.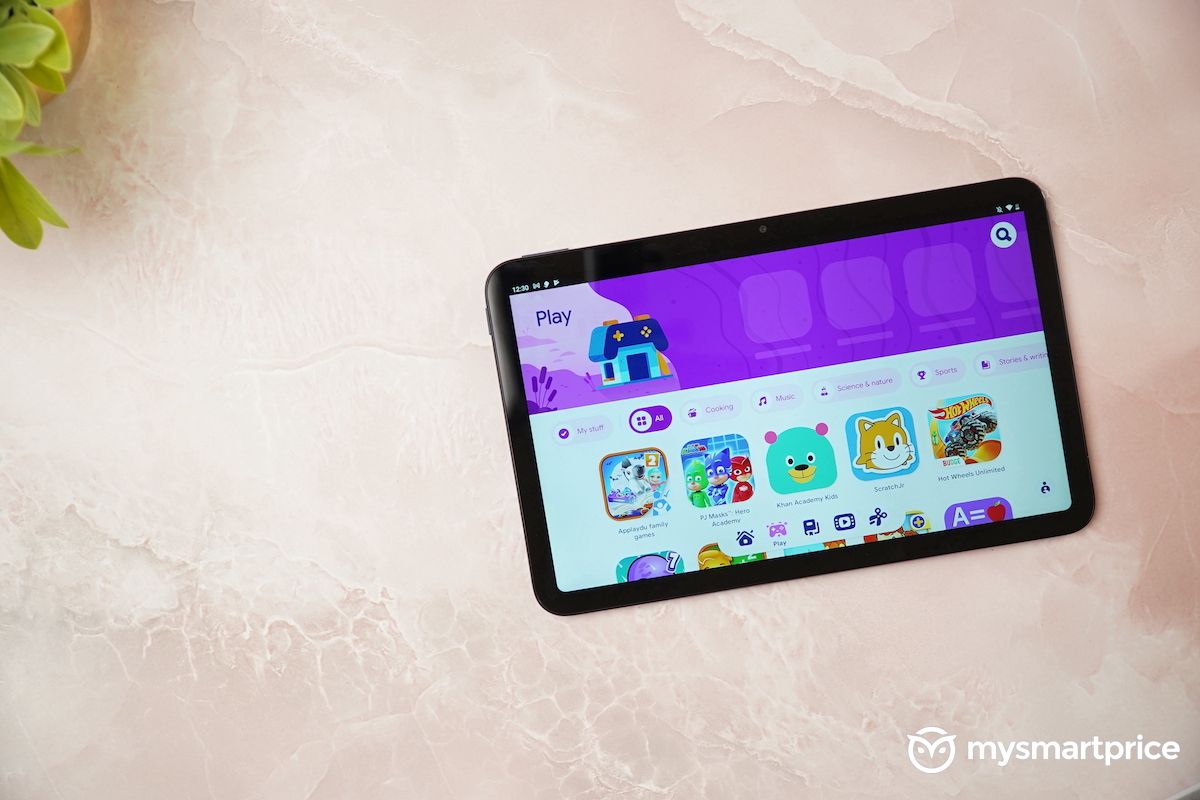 The Nokia T20 is also one of those tablets, which has partnered with Google to offer Kids Space. Which is essentially a special section dedicated to your Kid's personal Gmail account. Ideally, safe and secure with curated YouTube videos, Games, and more; all wrapped in a nice colourfully designed theme. I really like this idea.
I heard it has a Unisoc processor. Is this a new brand? I only know Qualcomm and MediaTek? Does it really perform well?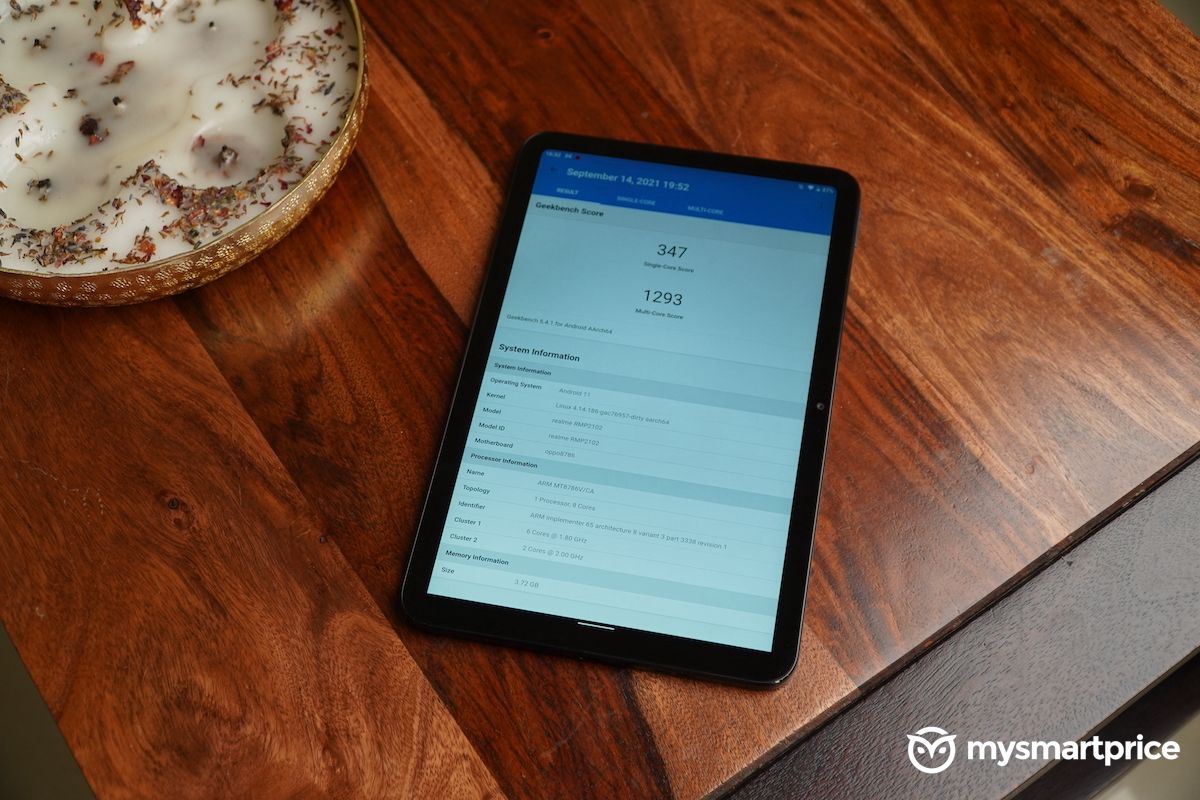 So, the Nokia T20's Unisoc T610 chip might be a cause of concern for some, but it shouldn't be. While it is not exactly a powerhouse, it is no slouch either. But yes, when compared to the Realme Pad's G80 SoC, the benchmark numbers are lower. And, it shows in daily performance especially when opening apps, which takes a tad longer than the Realme Pad. However, the general swipes across the UI definitely feels more responsive and faster than Realme Pad giving us the illusion that the Nokia T20 is actually faster, which it is not.
If you intend to game on this tablet, I tried Call of Duty Mobile and it can do Medium graphics at best. I'd suggest you limit your games to ones with basic graphics such as Angry Birds or Alto's Odyssey, or something else.
How long does the battery last? And, how long does it take to charge?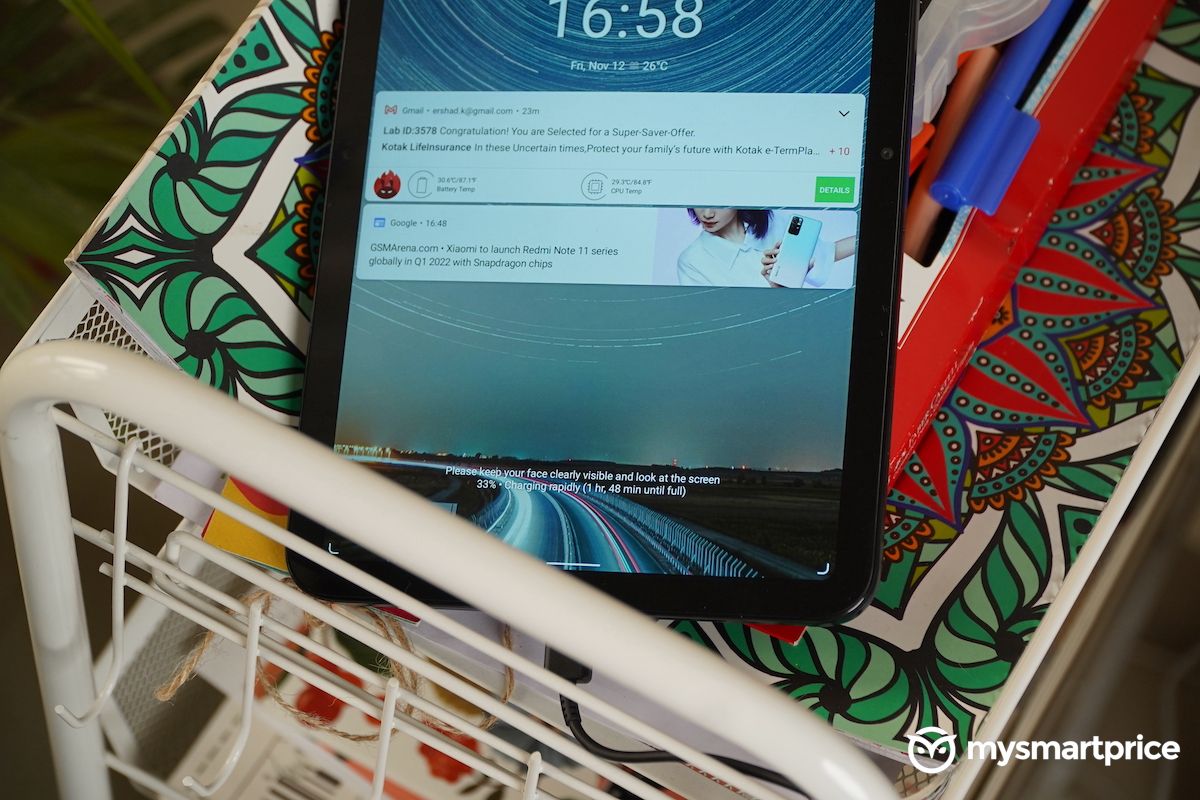 While the Nokia T20 has a larger 8200mAh battery inside, the battery life was similar to the Realme Pad. It wasn't much better or anything. In regular to heavy usage, I could eke out about four days on a single charge. Having said that, this tablet takes ages to charge. In my charging test, it took me 3 hours and 34 minutes to charge from 0 to 100. So, you have to factor in charging the tablet in the night, when you go to sleep.
Great. One last question – should I consider this over the Realme Pad?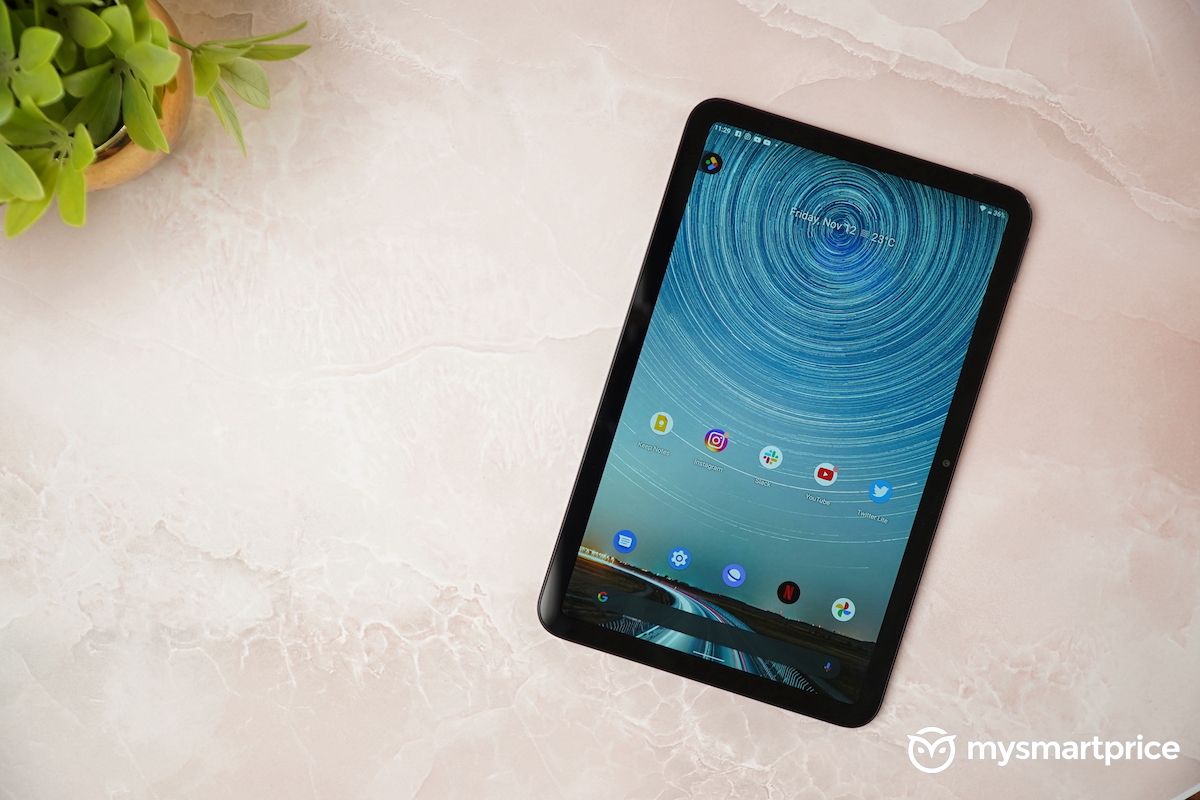 First things first, the Nokia T20 is available in three variants. The LTE variant which I reviewed with 4GB of RAM and 64GB of onboard storage will set you back by about Rs 18,500, which is approximately Rs 500 more than the Realme Pad in the same configuration. Buy the Realme Pad because it is cheaper, offers slightly better performance and a way better front camera. And, pick the Nokia for its sturdy more attractive design, a slightly more feature-rich software that offers Entertainment Space, and better headphone jack performance.
All that said, it is really a toss up between the two and it is going to be a tough time zeroing down on one. If I had to buy one, I'd go for the Nokia T20 though, only because it feels slightly more premium. I really wish Nokia could do something similar with its phones in India. At least get us a Snapdragon 778G phone at 30-35k. That's the least we are asking. What do you folks think? Let me know in the comments section below.