Nvidia has released a new update to the Game Ready drivers for its GPUs. The big highlight of the new driver update is the added support for Windows 11. Windows 11, the latest OS from Microsoft, is set to release on October 5. That's why in this update, Nvidia has made sure that all the new features in Windows 11 work flawlessly.
Nvidia Extends DLSS Support to More Games
Another highlight of the update is that it brings DLSS (Deep Learning Super Sampling) support to 28 more games, take the total DLSS supported game count beyond 100. DLSS is nothing but Nvidia's own AI-based temporal image upscaling solution, capable of upscaling games to a higher resolution while providing smoother frame rates. Right now, DLSS is supported only by Nvidia's GeForce RTX 20 and GeForce RTX 30 Series GPUs
This update was not just focused on Windows 11 but was also highly important for some big titles dropping soon. The latest Game Ready driver from Nvidia brings support for Deathloop on Windows 11, apart from other big titles coming soon like Alan Wake Remastered, which coincidentally will release on October 5, alongside Windows 11. The driver also brings support for the highly anticipated Far Cry 6, dropping October 7. Apart from these, some other games optimized for Windows 11 by the new driver update are Hot Wheels Unleashed, World War Z: Aftermath, Industria and New World. We may also get to put our hands on the new Nvidia GeForce RTX 30 Super GPUs in the next few months.
Improvements to Alan Wake Remastered
DLSS is a big deal for upcoming games like Alan Wake Remastered, as it is built on Unreal Engine 4, which makes it possible for developers to integrate DLSS into their games via the Unreal Engine 4 DLSS plugin. The game will launch with DLSS support, and Nvidia has promised a 2X performance boost at 4K. Nvidia even showcased via graphical representation how GeForce RTX GPUs can achieve 60fps at max settings in 4K with DLSS enabled. The most significant jump in frame rate is visible for GeForce RTX2080 Ti, from close to 70fps to 120fps. Earlier we saw how DLSS on GeForce RTX GPUs can boost the performance by up to 45% on Red Dead Redemption 2.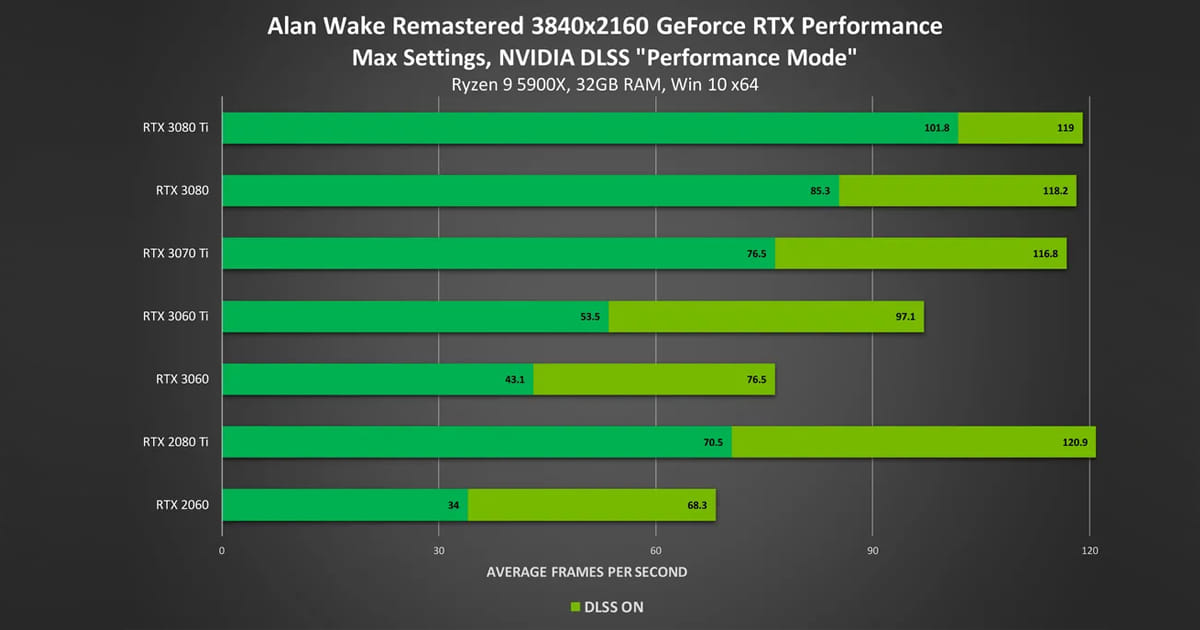 Nvidia also announced its new DLAA (Deep Learning Anti-Aliasing) test server for Elder Scrolls Online. DLAA is an AI-based anti-aliasing mode for users who want to maximize image quality. According to Nvidia, the technology behind DLAA is quite similar to that of DLSS, but it works on a native resolution image to maximize image quality instead of boosting performance. So, if you are a gamer preparing for the big upcoming titles, you should get the latest drivers from Nvidia right now to get started and take full advantage of DLSS and DLAA in the upcoming games.
Thanks for reading till the end of this article. For more such informative and exclusive tech content, like our Facebook page