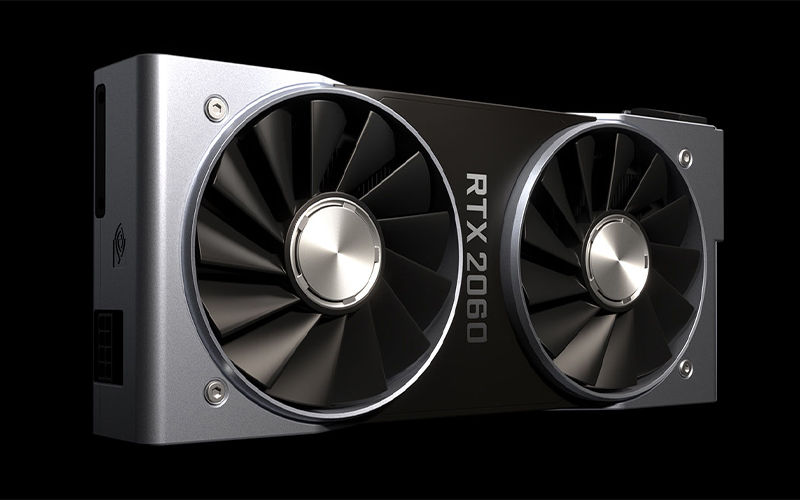 Although Nvidia listed the RTX 2060 Founders Edition graphics card on its official online store in India for a price tag of INR 31,000 a couple weeks back, it wasn't available to purchase back then. That changes today. Nvidia has now made the RTX 2060 Founders Edition graphics card available to purchase in India via its official online store for INR 31,000. The RTX 2060 started selling in India from the last couple of weeks, but only from third-party manufacturers like Asus, Gigabyte, and MSI. The Founders Edition card was not available till now. Nvidia is offering one free game with the RTX 2060 graphics card. There are two options to choose from for the free game; Battlefield V and Anthem.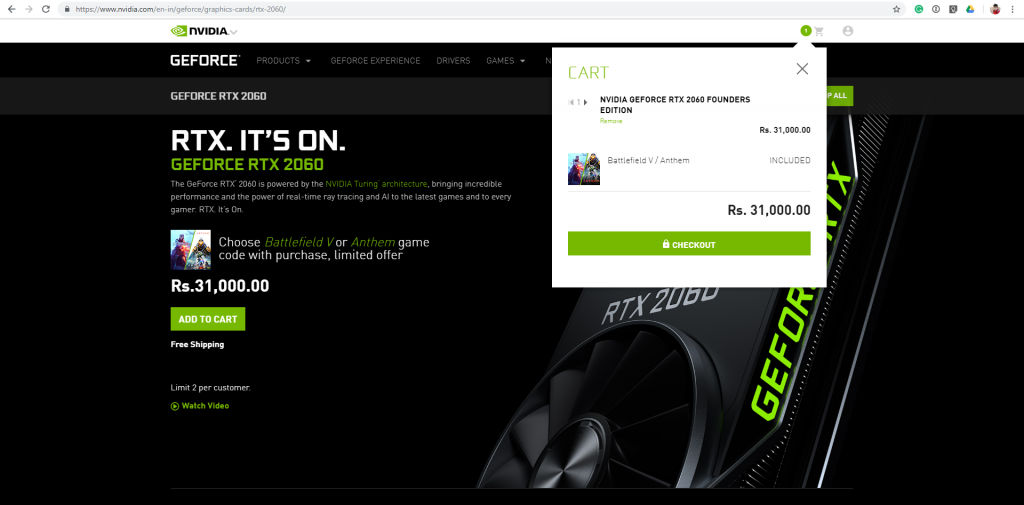 Nvidia RTX 2060 Specifications
The Nvidia RTX 2060 was launched internationally at the CES 2019 event. It has 1920 CUDA cores, 1365MHz base clock, and 1680MHz boost clock. The RTX 2060 uses GDDR6 memory and comes in 6GB and 3GB memory configurations internationally. However, all RTX 2060 cards that are available in the Indian market have 6GB memory. The video outputs on this graphics card include one DisplayPort, one HDMI port, and one USB Type-C port. The graphics card is rated to use 160W of power through an eight-pin connector.
It Supports Ray-Tracing Technology
The RTX 2060 supports ray-tracing technology, which is different from rasterization that most existing graphics cards work on. The ray-tracing technology offers more accurate reflections. However, it also requires more processing power. Currently, there is only one game that supports ray-tracing, which is the Battlefield V. Unfortunately, the RTX 2060 is too weak to run RTX games at playable frame rates even at Full HD resolution. If you are looking forward to playing ray-tracing games, you'll have to get an RTX 2080 Ti to be able to play games at 60 frames per second in Full HD resolution. The RTX 2060 also supports DLSS, which basically uses deep learning to offer better graphics.
RTX 2060 Has No Direct Competitor From AMD
The Nvidia RTX 2060 is the most affordable graphics card in the RTX lineup. Price-wise, the RTX 2060 has no direct competitor. In comparison to the previous generation GTX 1060, the new RTX 2060 is almost twice faster. Its performance is almost similar to the GTX 1070Ti.