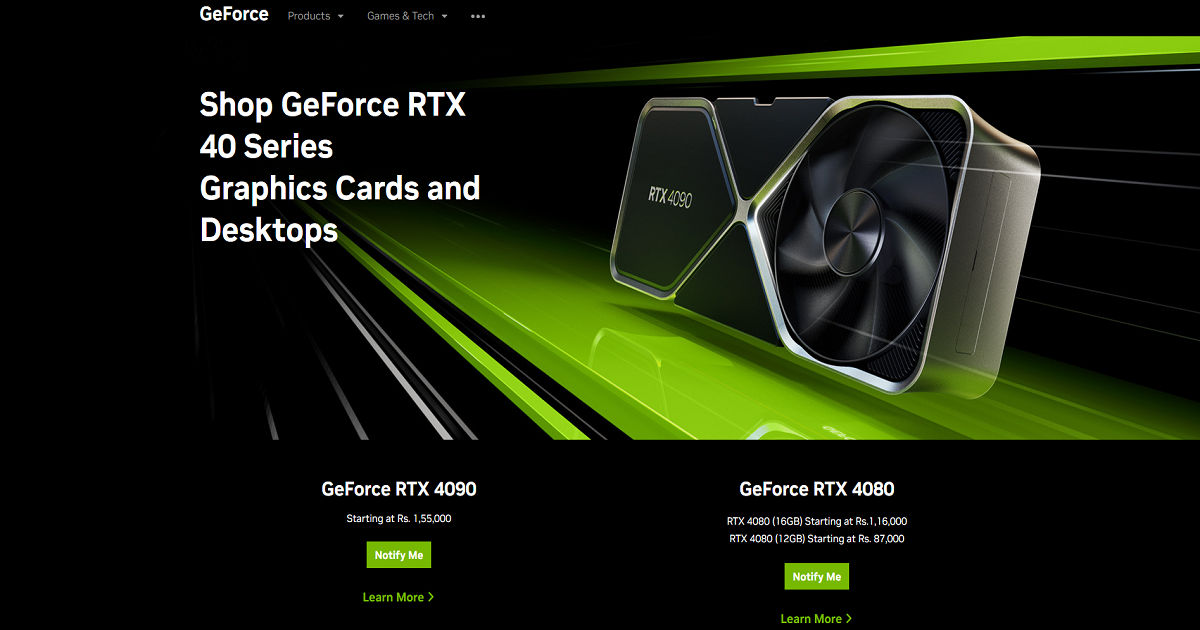 NVIDIA revealed the new RTX 40 Series yesterday and one of the biggest talking points about it within the Indian gaming community was the absurd pricing of the GPUs. It was earlier confirmed that the new RTX 4090 would retail at Rs 1,77,000 and the RTX 4080 (12 GB) will retail at Rs 99,500 while the 16 GB variant will cost Rs 1,33,000.
This raised quite a few eyebrows as it didn't make complete sense for the GPUs to be priced significantly higher than their US rates, even after adjusting for taxes and import duties. Given the backlash across social media, it appears NVIDIA has taken a step back and revised the prices for the new GPUs in India.
Nvidia GeForce RTX 4090, RTX 4080 New Prices
But this has been something that Nvidia has done in the past as well with the RTX 30 series GPUs as well where it initially put up higher pricing and later rectified them to lower ones. The company has done the same for the new RTX 40 series and the RTX 4090 retails at Rs 1,55,000 while the RTX 4080 (16 GB) will retail at Rs 1,16,000 and, finally, the RTX 4080 (12 GB) for Rs 87,000.
Also Read: Nvidia GeForce RTX 4090, RTX 4080 Graphics Cards Unveiled: Introduces DLSS 3 with AI Powered Frame Generation
Why NVIDIA Slashed the RTX 40 Series India Prices
There is a lot of talk about the performance gains of the new GPUs, and NVIDIA claims that the third-gen RTX is up to 4 times as fast as NVIDIA Ampere architecture GPUs. The RTX 40 series comes with a range of new technological innovations, including streaming multiprocessors with up to 83 teraflops of shader power — 2x over the previous generation.
While the tech talk can be exciting, it is that much more impressive to see things in action. Games like Cyberpunk 2077 will take full advantage of the new powerful GPUs as games like that run over 600 ray-tracing calculations for each pixel to determine lighting, a 16x increase from the first ray-traced game introduced 4 years ago.
One of NVIDIA's most exciting announcements from yesterday included NVIDIA RTX Remix, a modding platform to create RTX remasters of classic games. This could be potentially huge as players can now essentially tweak old games to make them look the best version of themselves. One can only imagine how much better a game like Deus Ex could look with Ray Tracing.