GDC is a always an exciting time for game developers to interact and see how the best games in the industry were made and all the technology at work to make those games possible. NVIDIA, being a pioneer in the field, are showing up to GDC with big guns – with their focus being a pair of technical demos pairing its GeForce RTX technologies with ARM-based MediaTek processor.
This demo will mark the latest milestone in bringing advanced graphics, and shiny new tech like RTX to ARM-based systems. This will be the first time that Ray Tracing and DLSS will be showcased on ARM.
Also Read:  Nintendo Confirms They Have "No Plans" for Another New Switch Model at the Moment
NVIDIA demos Ray-Tracing and DLSS on ARM-based processors during GDC next week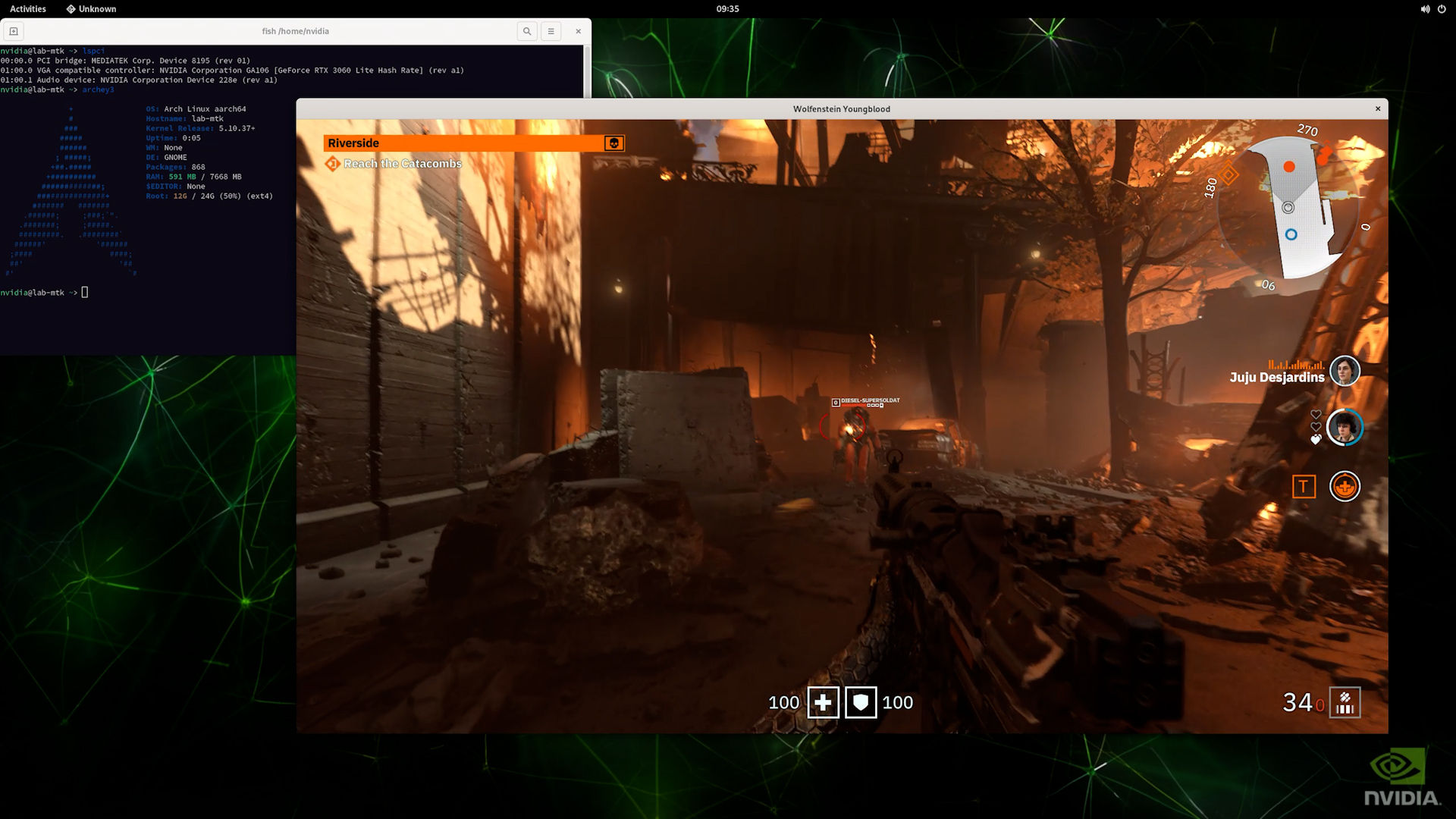 At this week's GDC, NVIDIA will be include two demos – with one being Wolfenstein: Youngblood, with real-time ray-traced reflections adn DLSS on ARM-based platform. The other is The Bistro demo running with real-time ray-tracing on ARM, along with RTX Direct Illumination (RTXDI) and Nvidia Optix AI-Acceleration Denoiser (NRD) enabled.
The demos will be running in real-time on a MediaTek Kompanio 1200 Arm-based platform paired with a GeForce RTX 3060 GPU. 
The two demos are made possible because NVIDIA has ported several RTX SDKs to work on ARM devices, including:
Deep Learning Super Sampling (DLSS), which uses AI to boost frame rates and generate beautiful, sharp images for games.
RTX Direct Illumination (RTXDI), which lets developers add dynamic lighting to their gaming environments.
NVIDIA Optix AI-Acceleration Denoiser (NRD), which uses AI to render high-fidelity images faster.
RTX Memory Utility (RTXMU), which optimizes the way applications use graphics memory.
RTX Global Illumination (RTXGI), which helps recreate the way light bounces around in real-world environments.
This is extremely exciting news for gamers as ARM-based systems are the most widely-used CPU architecture. This way, NVIDIA will be able to bringh advanced graphics to a broader, more power-efficient set of devices.
The RTX line of GPUs has truly made quite a huge impact on the industry and this only marks the company's willingness to constantly innovate and make technology such as Ray-Tracing and DLSS accessible to a larger number of players.
Thanks for reading till the end of this article. For more such informative and exclusive tech content, like our Facebook page