Ola CEO Bhavish Aggarwal has made it quite clear that the company is betting big on electric vehicles (EV). The Ola S1 Pro electric scooter, its only EV offering in India at present, is also hailed in high regard among its Indian user base. So much so that people are often seen attempting near-impossible tasks on the e-scooter. The latest such trials by the users now hint that the S1 Pro is capable of even more than what the company itself claims of it.
The context here is the range of the popular electric scooter. While Ola has kept the official figure to well below 200 km on a single charge, we have seen some users claiming that the e-scooter can easily cross the double century mark in a full charge. Now, social media posts by at least two Ola S1 Pro users claim that the e-scooters can travel beyond 300 km on a single charge.
The claims can be found in two different posts on Twitter. The first claim has been put up by a user named Satendra Yadav, who's post is now becoming viral online. As per his post, Yadav covered over 300 km on his Ola S1 Pro without recharging the e-scooter even once. Yadav has even shared photos of his S1 Pro's dash once the he completed the journey.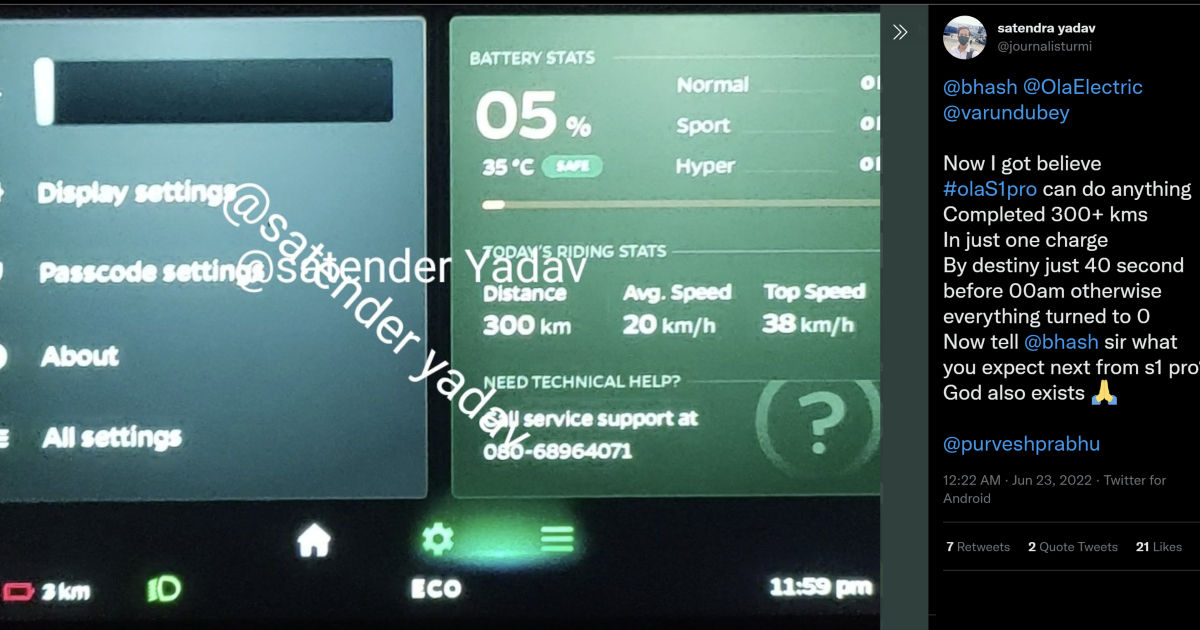 The images clearly show the distance covered to be 300 km, with an average speed of just 20 kmph throughout. During the trip, Yadav achieved a maximum speed of just 38kmph. Upon completion of the journey, the S1 Pro was still left with 5 percent battery and 3km of range.
Similarly, another such post by Jigar Bharda shows the picture of the Ola S1 Pro dash indicating a distance covered of 303 km. In this case, the ride statistics show that Bharda maintained an average speed of 23kmph through his journey, with a top speed of 40kmph. Post the ride, the e-scooter was left with about 4 per cent of battery and 1km of range.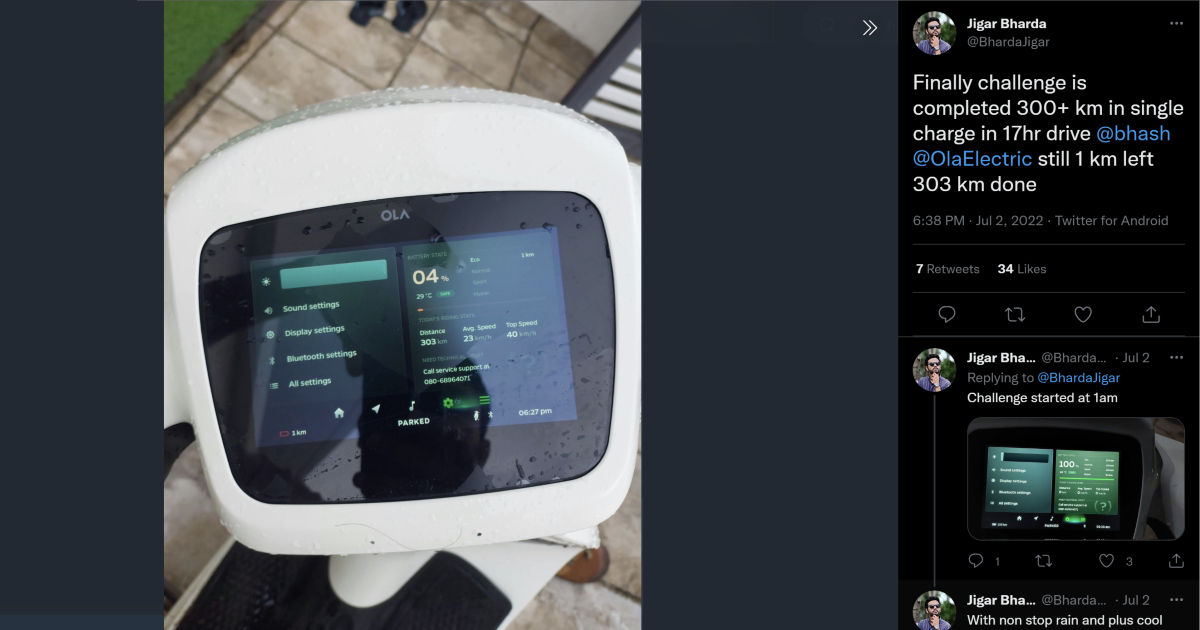 The riders credit the long range to the MoveOS 2.0 update that Ola recently rolled out to its electric scooters across India. The update brings a new Eco mode to the e-scooter which tends to churn out more range on the S1 Pro at the expense of performance. In addition, the riders also benefitted from factors like high air pressure in the tyres and low speeds throughout.
Which doesn't really matter. Because what they set out to achieve, and what they eventually did, are accomplishments that even Ola would not have thought possible till now. Now that the 300+ km mark has been broken on the electric scooter, it is only a matter of time that the company will up its claimed 181 km (ARAI approved) range for the S1 Pro.