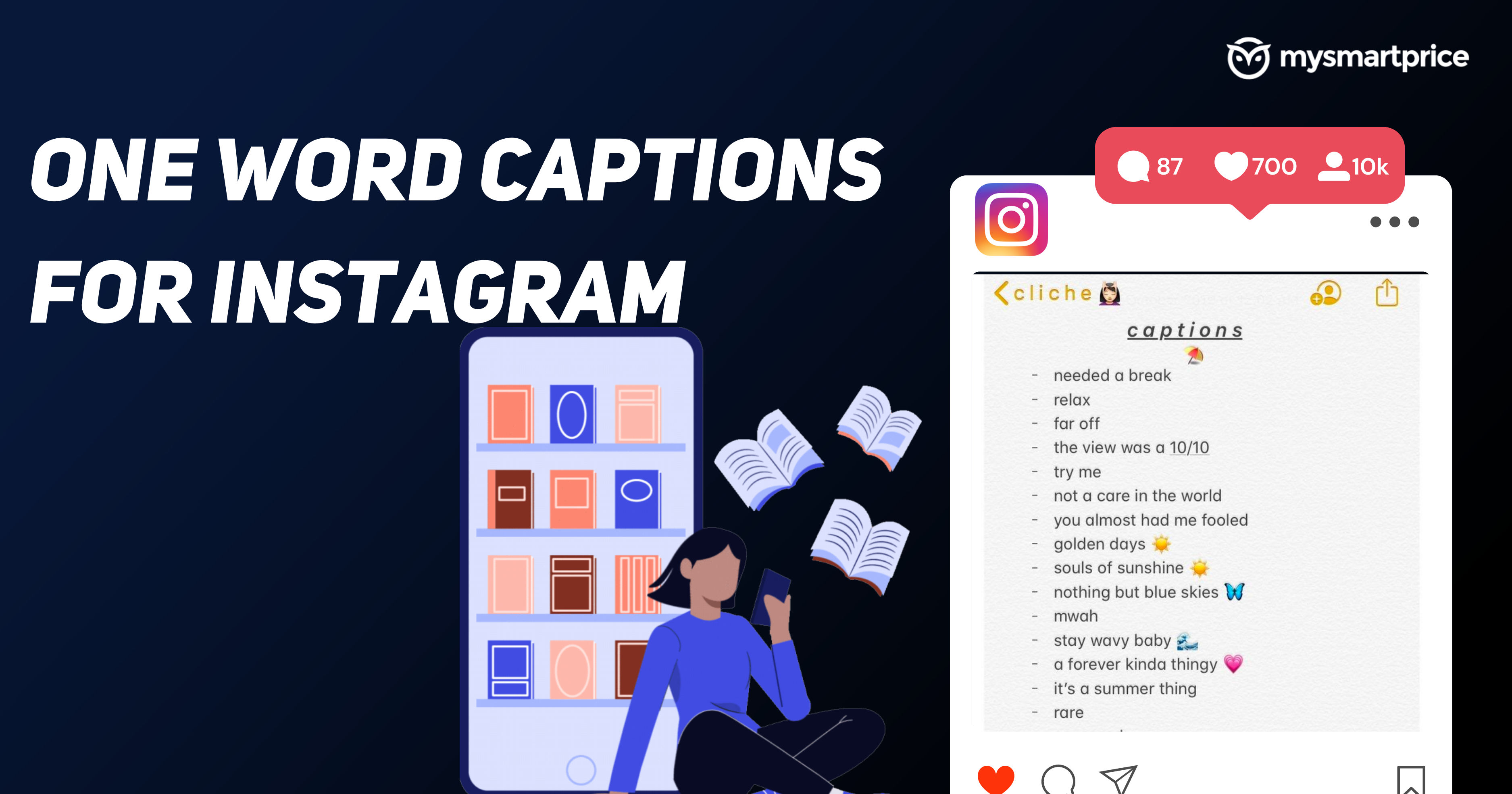 You don't always have to type in lengthy quotes and captions for your Instagram posts and reels. Sometimes, a simple one-word caption can work wonders for your post. These one-word Instagram captions are a great way to improve engagement and grow your audience.
Who has time to read elaborate Instagram captions nowadays? Keeping it short and simple can work very well for your Instagram posts. Also, these one-word Instagram captions are short, punchy, fashionable, and straight to the point.
In this post, we share some of the best one-word Instagram captions you can copy and paste on your Instagram posts. We have listed many one-word captions, such as sister captions, captions for boys and girls, captions for friends, and more; read on!
One Word Sister Captions For Instagram
Sibling
Bond
Sisterhood
Unity
Family
Togetherness
Love
Besties
Friendship
Forever
Team
Partners
Support
Comrades
Unity
Forevermore
Laughter
Memories
Cheers
Grace
Attitude One Word captions for Instagram
Unstoppable
Fearless
Confident
Bold
Maverick
Ambitious
Unbreakable
Relentless
Limitless
Iconic
One Word Instagram Captions for Images
Serenity
Wanderlust
Adventure
Bliss
Gratitude
Reflection
Radiance
Tranquility
Simplicity
Inspire
One Word Instagram Captions for Videos/Reels
Momentum
Thrill
Vibe
Energy
Groove
Rhythm
Hype
Action
Excitement
Flow
One Word Instagram Captions For Boys
Daring
Maverick
Fearless
Adventurous
Bold
Confident
Determined
Dynamic
Energetic
Fierce
Free-spirited
Intrepid
Lively
Passionate
Resilient
Rugged
Strong
Tenacious
Vibrant
Wild
One Word Instagram Captions For Girls
Radiant
Blissful
Dreamy
Sassy
Confident
Fearless
Empowered
Glamorous
Charming
Radiant
Unique
Sensational
Majestic
Daring
Dazzling
Intriguing
Mesmerizing
Enchanting
Glowing
Inspiring
One Word Instagram Captions For Friends
Squad
Buddies
Pals
Peeps
Amigos
Mates
Homies
Crew
Chums
Posse
Tribe
Gang
Crewmates
Bonded
Besties
Friendship
Solidarity
Believe
Loyal
Hopeless
Lost
Yeet
Endless
Screwed
Also Read: Mirror Selfie Captions for Instagram 2023: 200+ Mirror Selfie Captions & Quotes to Use on Instagram
Best One-Word Instagram Captions For Travelling
Wanderlust
Exploring
Discovering
Adventure
Roaming
Escapism
Voyaging
Globetrotting
Journeying
Trekking
Transcending
Transcendence
Escaping
Wander
Voyage
Backpacking
Travelling
Roam
Discover
Adventurer
Wander
One-Word Instagram Captions For Food
Delicious
Yummy
Satisfying
Mouthwatering
Scrumptious
Tasty
Savoury
Appetizing
Nutritious
Indulgent
Flavorful
Decadent
Nourishing
Hearty
Rich
Wholesome
Comforting
Succulent
Aromatic
Exquisite
Best One-Word Instagram Captions Emojis
Cheers🍻
Smile😊
Adventure🌎
Dream💭
Love💕
Happiness😊
Blessed🙏
Fitness💪
Travel🛫
Summer☀️
Relaxation🌴
Foodie🍔
Friends👯‍♀️
Music🎵
Fashion👗
Laughter😂
Creativity🎨
Inspiration🌟
Photography📷
Nature🌺
Memories📷
One-Word Instagram Captions Fashion Trends
Chic
Timeless
Effortless
Bold
Glamorous
Trendy
Luxe
Classic
Unique
Edgy
Modern
Daring
Elegant
Fresh
Inspiring
Expressive
Innovative
Eye-catching
Fashionable
Iconic
One-Word Couple Captions For Instagram
Blissful
Adored
Cherished
Smitten
Togetherness
Enchanting
Endearing
Harmonious
Intimate
Joyful
Loving
Passionate
Romantic
Tender
Unity
Whirlwind
Admired
Cherishing
Dreamy
Enchanting
One-Word Instagram Captions For Weather
Sunny
Rainy
Cloudy
Stormy
Frosty
Breezy
Humid
Misty
Blizzard
Snowy
Thunderous
Clear
Damp
Hazy
Sunny
Gloomy
Fiery
Glistening
Shimmering
Scorching
Also Read: Instagram Captions: 350+ Best, Cool & Short Captions For Your Instagram Post and Selfies
One-Word Sad Captions For Instagram
Lonely
Heartbroken
Melancholic
Miserable
Desolate
Mournful
Miserable
Wistful
Disheartened
Devastated
Distraught
Weeping
Anguished
Agonized
Despondent
Bereft
Tormented
Anguish
Melancholy
Sorrowful
Sassy One-Word Instagram Captions
Sassy
Lively
Cheeky
Sensitive
Bold
Confident
Fearless
Daring
Classy
Sultry
Fierce
Glamorous
Iconic
Sizzling
Savvy
Chic
Sassylicious
Majestic
Sassypants
Swanky
Brazen
Alluring
Aesthetic One-Word Instagram Captions
Blissful
Dreamy
Serene
Radiant
Ethereal
Whimsical
Enchanting
Melodic
Effervescent
Tranquil
Soothing
Heavenly
Fantastical
Lyrical
Surreal
Luminous
Poetic
Idyllic
Euphoric
Celestial
Cool One Word Captions For Instagram
Vibes
Blissful
Wanderlust
Maverick
Nirvana
Effervescent
Epic
Euphoria
Radiance
Magnificent
Adventurer
Stellar
Majestic
Euphoric
Phenomenal
Unconventional
Inspire
Love One-Word Instagram Caption
Adore
Cherish
Devotion
Enchantment
Fervor
Gushing
Heartfelt
Infatuation
Jubilant
Kinetic
Longing
Madly
Nurture
Obsession
Passionate
Quivering
Rapture
Sensual
Tenderness
Uplifting
Also Read: Love Captions for Instagram: 300+ Best, Cute and Beautiful Instagram Captions/Quotes Ideas for Couples
Funny One-Word Instagram Captions
Sarcasm
Witty
Silly
Humorous
Hilarious
Jokester
Giggles
LOL
Comedy
Sillyness
Funnybone
Sarcasmo
Jokestorm
Comical
Prankster
Wit
Humor
Jest
Hilarity
Gigglegasm
Best One-Word Instagram Captions For Beauty
Glowing
Radiant
Flawless
Stunning
Elegant
Glamorous
Mesmerizing
Enchanting
Alluring
Charming
Lush
Luxurious
Exquisite
Delicate
Graceful
Silky
Smooth
Vibrant
Sultry
Captivating