Highlights
All three smartphones are powered by the Snapdragon 8 Gen 2 chipset.
Brands promise multiple years of OS and security updates.
These devices come with a unique approach to design.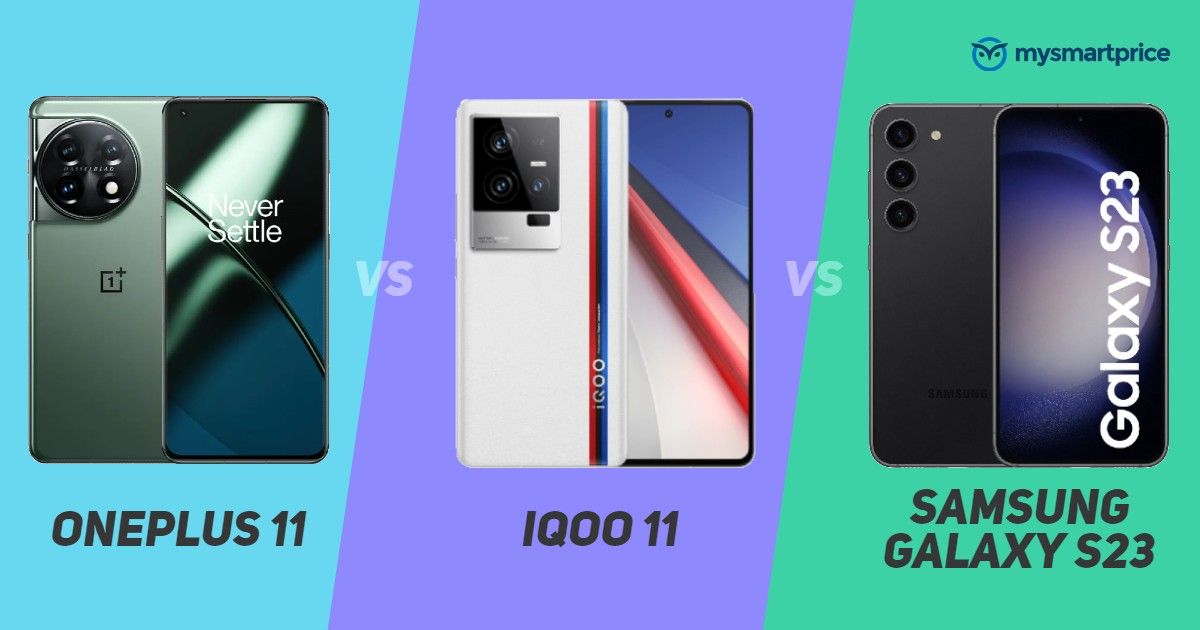 The OnePlus 11 is finally official in India, making it the third Snapdragon 8 Gen 2-powered device in the country. The OnePlus 11 is an exciting addition to the company's lineup as it carries almost all Pro-like features, including the design, but without the Pro, moniker attached to the product.
OnePlus continues its partnership with Hasselblad, and even with a competitive price tag, it is hard to say the OnePlus 11 is the perfect phone, especially when you have other options like the iQOO 11 and Samsung Galaxy S23 to consider. So, given a choice and your openness to any brand that delivers value, which one of these phones should you pick if you have a budget upwards of Rs 60,000? We make a detailed comparison to give you the answer.
OnePlus 11 vs iQOO 11 5G vs Samsung Galaxy S23: Price in India
The OnePlus 11 5G is priced at Rs 56,999 for the 8GB RAM variant that comes with 128GB storage. You also have a 16GB RAM option that gets a price tag of Rs 61,999.
iQOO 11 is also available in two variants for buyers, with a starting price of Rs 59,999 for the 8GB+256GB variant. You have to pay Rs 64,999 to get the 16GB+256GB model.
Samsung Galaxy S23 prices start at Rs 74,999 for the base 8GB + 128GB model. You have the same memory but with 256GB of internal storage priced at Rs 79,999, making it the most expensive phone out of these three.
OnePlus 11 vs iQOO 11 5G vs Samsung Galaxy S23: Design
OnePlus 11 is built using premium materials, both on the front and back. The chassis is made of metal along with the frame, and the back panel gets a layer of glass touch which Corning Gorilla Glass Victus protect.
iQOO 11 has taken a distinct approach with its models. You have two colour options one is the alpha which has a textured finish over the glass and comes in black colour. Then you have the BMW edition, which gets a leather finish over white with the classic BMW stripes. It might look delicate and prone to getting dirty, but the company claims you can clean any dirt.
Samsung continues to play it safe with the design of the Galaxy S23, which is the most compact version of the series. Keep it in front of the Galaxy S22, and you will barely notice any change in its looks. Having said that, the camera module now has rings which we first saw on the Galaxy S22 Ultra last year.
Looks are always subjective, but going by preferences, we would pick the OnePlus 11 5G over the other two.
OnePlus 11 vs iQOO 11 5G vs Samsung Galaxy S23: Display
The OnePlus 11 features a curved 6.7 AMOLED display that supports a QHD+ screen resolution of 3216×1440-pixel. The screen gets dynamic 120Hz refresh rate support thanks to the LTPO 3.0 panel that refreshes between 1Hz and 120Hz depending on the on-screen content. The display also supports Dolby Vision and has an in-display fingerprint sensor
iQOO 11 sports a 6.78-inch E6 AMOLED display that gives you a screen refresh rate of 144Hz along with 2K screen resolution. This phone's screen also gets Corning Gorilla Glass Victus protection.
Samsung Galaxy S23 comes with a 6.1-inch Full HD+ AMOLED display with a variable refresh rate of 120Hz. When you consider the overall display package on offer, iQOO 11 is the surprising winner with its 2K AMOLED display with a higher refresh rate than the other two.
OnePlus 11 vs iQOO 11 5G vs Samsung Galaxy S23: Performance and UI
OnePlus 11 is powered by the Snapdragon 8 Gen 2 SoC, which is paired with an Adreno 740 GPU. You get it with 8GB and 16GB RAM options, with storage up to 256GB. The OnePlus 11 runs on the Android 13-based OxygenOS 13 version out of the box. OnePlus has assured the phone will get four years of OS updates and security support for five years.
iQOO 11 also uses the Snapdragon 8 Gen 2 chipset for its performance and comes coupled with up to 16GB of RAM and 256GB of UFS 4.0 storage. iQOO is using the new V2 custom Image Signal Processor (ISP) which has been developed by Vivo. iQOO 11 also gets the Android 13 version in the form of the Funtouch OS 13 which has bloatware. iQOO says the device will get up to Android 16 and four years of security updates.
Samsung is also having the Snapdragon 8 Gen 2 chipset but with 8GB RAM and 256GB storage. Samsung Galaxy S23 fares better in terms of software support on the OneUI 5.1 version, which is based on Android 13. Samsung also gives you 4 years of OS updates and 5 years of security support.
Performance is definitely not going to be an issue with either of these devices, so it all comes down to the software experience and how it is tuned with the hardware. For that reason itself, we would take the OnePlus 11.
OnePlus 11 vs iQOO 11 5G vs Samsung Galaxy S23: Cameras
OnePlus 11 has a triple-camera setup on the back. Once again, the camera setup has been tuned in partnership with Hasselblad. OnePlus has offered a 50MP Sony IMX890 primary sensor with optical image stabilisation (OIS). Along with this, you have a 48MP Sony IMX581 ultra-wide sensor and a 32MP Sony IMX709 main portrait telephoto camera with 2x optical zoom support. For selfies, the OnePlus 11 has a hole-punch cutout at the top left corner for the 16MP front camera.
The iQOO 11 5G also has a triple camera module but with different optics. The main sensor is 50MP and has OIS support. The other two are an 8MP ultrawide camera and a 13MP telephoto camera sensor with 2x optical zoom. For selfies and video calls, it features a 16MP front camera.
Samsung Galaxy S23 features a triple camera setup of 50MP primary, 10MP telephoto sensor with 3x zoom, and 12MP ultra-wide sensor. It has a 12MP camera for selfies on the front.
If you go by numbers, OnePlus has the better megapixel counts of all the three sensors and based on performance, we are inclined to go with the newly-launched phone over here.
OnePlus 11 vs iQOO 11 5G vs Samsung Galaxy S23: Battery
OnePlus 11 has been provided with a 5000mAh battery that gets 100W fast charging support. However, OnePlus still doesn't offer wireless charging support on its flagship phone.
The iQOO 11 also packs a 5000mAh battery but it supports 120W fast charging out of the box. Samsung Galaxy S23 has a smaller 3,900mAh battery because of its size and it comes with a 25W fast charging unit that is not comparable to the other two devices.
OnePlus 11 vs iQOO 11 5G vs Samsung Galaxy S23: Verdict
OnePlus has played it smart by pricing the OnePlus 11 aggressively, giving it additional points over iQOO 11 and the Samsung Galaxy S23. You have the same hardware on board, which means the performance will be at par. The display on the OnePlus 11 gives you QHD+ resolution with a dynamic 120Hz refresh rate, which is an equal match for the E6 AMOLED 144Hz display on the iQOO 11.
The cameras are again tilted in favour of OnePlus but only just. When it comes to software, it is a two-horse race between Samsung and OnePlus. Similarly, the fight is between iQOO and OnePlus in the charging department. Given the choice and looking at the price ranges mentioned, OnePlus 11 gets our vote for its overall value.