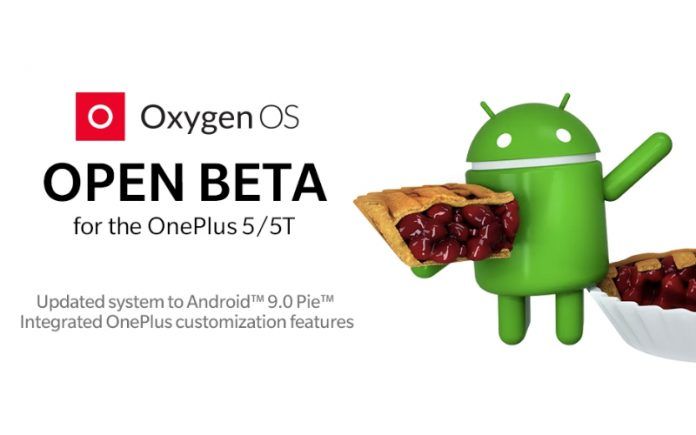 OnePlus 5 and 5T users can finally stop complaining about not having received the Android 9.0 Pie update. The company has started to roll out the latest OxygenOS Open Beta updates for these devices. The Open Beta 22 for OnePlus 5 and Open Beta 20 for OnePlus 5T are based on Android 9.0 Pie.
After more than a month of delay, OnePlus has released this much-awaited software update. This is an Open beta update, which means that users on stable software will have to wait longer to taste Pie.
OxygenOS Open Beta 22/Beta 20 for OnePlus 5 and 5T
The new OxygenOS Open Beta updates for OnePlus 5 and 5T are rolling out via the air and weighs around 1.7GB in size. The OTA updates are being released in a staged manner, which means that it could take a while to be available on your device. Once you have received the update, make sure you download it over a Wi-Fi connection.
OxygenOS Open Beta 22 is for the OnePlus 5 and it misses out on a few features that are available on the OnePlus 5T. If you own the OnePlus 5 and are on Open Beta 21, then you should receive the update notification. For OnePlus 5T users, you will have to be on Open Beta 19 to be able to update to the new software. Those who couldn't wait and flashed the HydrogenOS Pie beta, will have to roll-back to the OxygenOS Open Beta by wiping everything and re-flashing the new beta software.
OnePlus has provided a nice and long change-log for the latest Pie based Open Beta updates. Firstly, since this is the Android 9.0 Pie update, you will see a brand new UI on your OnePlus 5 or 5T. The new UI would be enhanced with improved navigation gestures on the OnePlus 5T. Sorry OnePlus 5 users, you guys will not be getting the new navigation gestures. On the system side of things, the update also brings optimizations for background app process handling.
The update includes a new Do Not Disturb mode that features customizable settings, UI improvements for emergency rescue, improved UI for speed dial and Phone, and the ability to assign a specific SIM for a specific contact. OnePlus has also added support for more apps, such as Telegram, Discord, IMO, Uber, and OLA, that can use the Parallel Apps feature.
Finally, the Weather app has been updated with bug fixes and improvements. The Android security patch used here is still the November one, even though we are already in December. As always, we would like to remind you that this is a beta software and there will be bugs present. If you want a more stable experience, you should go back to the stable channel and wait for the stable Pie update.
OnePlus 6T McLaren Edition
After launching the brand new McLaren Edition of the OnePlus 6T in London on December 11th, the company launched in India on December 12th. The phone features 10GB of RAM and 256GB of storage. It also has a slightly different design than the other OnePlus 6T variants.
The OnePlus 6T McLaren Edition gets a carbon fiber design underneath the back glass panel along with the McLaren logo. The bottom edges of the phone feature McLaren's signature Papaya Orange color, which fades into black towards the top. The unboxing experience for this phone is quite a special one. Check out our unboxing below to see what we're on about. The phone is expected to cost around INR 50,000 in India.