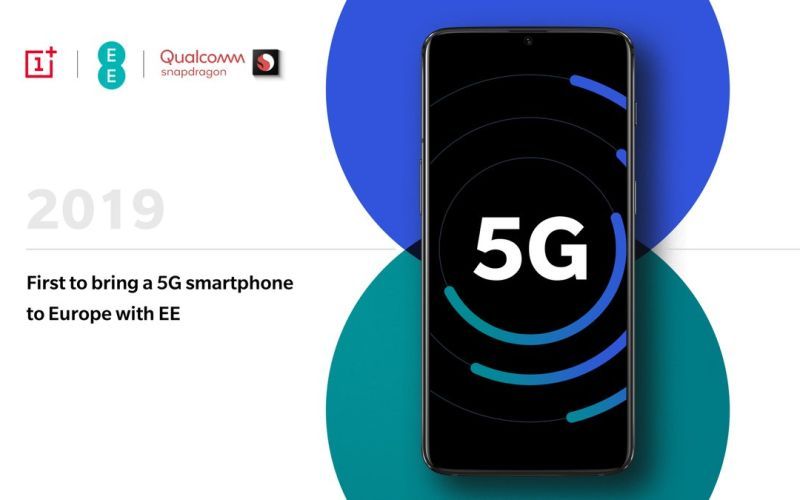 OnePlus sent out media invites for its event at MWC 2019 a few days ago. The brand had previously clarified that this would be a 'networking event' and won't be for the launch of a new smartphone. It turns out, the primary focus of this exhibit will be to showcase a prototype 5G smartphone.
This is what the company said regarding their booth at MWC:
Connect with the OnePlus Community over 5G
OnePlus, at Qualcomm's booth (Hall 3 Stand 3E10), invites all to connect and communicate with our community over a 5G network. Attendees will also be able to experience the capabilities of 5G gaming on a OnePlus 5G prototype. Keep an eye out for the limited-edition Qualcomm x OnePlus pin badge, only available at the OnePlus stand.
It was already known that OnePlus would be one of the first brands to release a 5G smartphone thanks to its collaboration with European telecom carrier EE. From the information provided now, it is clear that we are not getting a finished product. This is only intended to be a prototype smartphone to test out 5G connectivity. Those who show up at the booth will be able to try out this prototype for themselves.
This prototype OnePlus 5G smartphone will house a Snapdragon 855 chipset and a Qualcomm X50 5G modem. This makes sense as this combination is pretty much a mandate for smartphones to support 5G networks. A finished OnePlus 7 is expected to arrive by May of this year. It remains to be seen if OnePlus will refine this prototype to badge it as the OnePlus 7, or launch two different phones entirely.
Another interesting aspect of the prototype handset is that it will be focused on '5G gaming'. This hints towards the possibility of OnePlus going in the same route as the ASUS ROG Phone or the Nubia Red Magic Mars. Could the next OnePlus smartphone be exclusively targeted at gamers? Only time will tell.
EXCLUSIVE! Here's your first look at an upcoming OnePlus Device I don't know much about. This image shows the device in prototype/designing stage and it is not final but this is probably how the device may end up looking. That's Pete (CEO of OP) in the img and the device itself. pic.twitter.com/Yau9EsgSDy

— Ishan Agarwal (@ishanagarwal24) December 19, 2018
It is also known that the phone will be considerably more expensive when compared to OnePlus offerings so far. The expected price upscale could be anywhere from $200 to $300. There is also a leak in the past which hinted towards a prototype design of an upcoming OnePlus device with a raised circular disk on its back. This module would likely be needed to cram all 5G-related tech inside the phone. If the phone is to become thicker, we hope OnePlus uses the extra space to load up a larger battery as well.