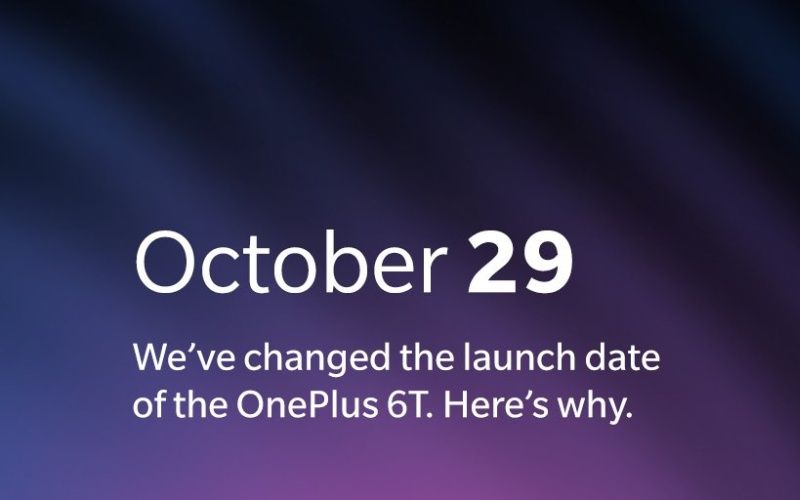 Earlier this month, OnePlus confirmed that it will be unveiling its next flagship smartphone, the OnePlus 6T at an event in New York City on October 30. However, the Chinese brand has now decided to prepone the OnePlus 6T launch event to October 29. OnePlus had to take this decision as Apple recently sent out invites to a 'special event' on October 30, where it is expected to announce new iPads and Macs. After carefully analyzing how the Apple event could impact the OnePlus 6T launch, the company decided to prepone the event to ensure that it is not overshadowed by Apple. The brand has also launched a new promotional site ahead of the event, where users can win a OnePlus 6T and other prizes for free.
OnePlus 6T Launch Date Preponed
Like any other smartphone maker, OnePlus wants to ensure that its launch event gets maximum attention from the media as well as fans worldwide. Even though it was not an easy decision for the company, it had to prepone the event after much deliberation. If you had booked a ticket to join OnePlus at the 6T launch event, the company has announced that it will provide a full refund to everyone who will not be able to make the event due to the unexpected date change. If you have a ticket and will still be able to attend the OnePlus 6T launch event, the company will cover any additional cost that you may have to incur to change your plans. Within the next few days, the OnePlus team will be getting in touch with all individuals who have purchased tickets for the event to help them make it to the event on October 29. While the global event has been preponed, OnePlus 6T will still be launched in India at an event in New Delhi on October 30th. This means those of you who have purchased tickets for the OnePlus 6T India launch event in New Delhi will not have to make any changes to your travel plans. It also means that the OnePlus 6T will now be launched in India a day after its global unveiling. As confirmed by OnePlus and Amazon.in recently, the OnePlus 6T will go on sale in India for the first time on November 2 at 12 PM. If you wish to be among the first to get your hands on the next OnePlus flagship, you can pre-book the smartphone on Amazon.in.
'Unlock Your Speed' to Win a OnePlus 6T for Free
OnePlus has set up a new 'Unlock Your Speed' promotional site for the OnePlus 6T, where users can win a OnePlus 6T smartphone and other items sold on the OnePlus store for free. To 'Unlock Your Speed', all you need to do is head over to the promotional site from a mobile device and then tap on the screen as quickly as you possibly can. It should be noted that the promotional site is accessible only from a mobile device. You will not be able to participate in case you visit the promotional site from a PC. Provided you are quick enough, you stand a chance of unlocking a prize. OnePlus has also suggested that it may offer some more prizes if a good number of people participate in the contest.