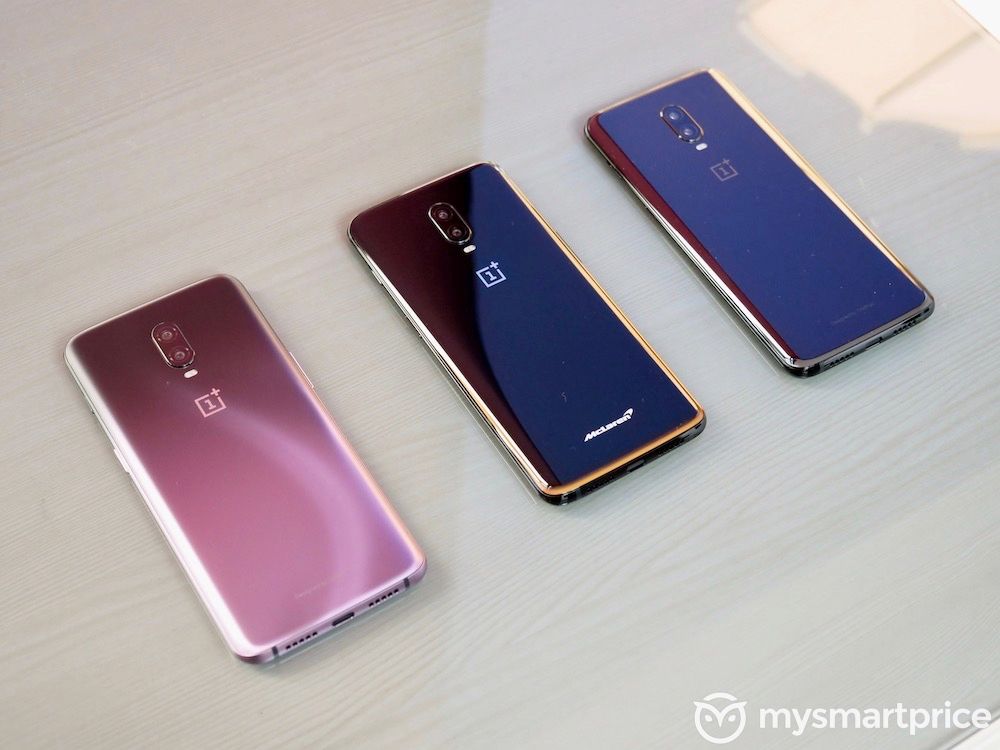 Over the past three years, OnePlus has created its own bi-annual smartphone release cycle, just like Samsung. First, the company releases a phone with the latest flagship smartphone chipset and six months later, a T version of the same phone arrives with the same processor but a few minor improvements. The OnePlus 6 (Review) was released in May 2018, and it turned out to be a great all-round smartphone for its price. Six months later, the OnePlus 6T was unveiled with newer screen design, in-display fingerprint reader, larger capacity battery, and newer software. However, the company also removed the 3.5mm headphone jack at the same time. Is this compromise really worth it? Let's find out in our OnePlus 6T review.
About This OnePlus 6T Review
I used the Mirror Black variant of the OnePlus 6T (8GB RAM + 128GB Storage) for more than a month before writing this review. I used the phone in Hyderabad, India, with Airtel as my primary SIM card and Reliance Jio as my secondary SIM card. All my regular apps, including social media, email, IM and team collaboration apps were installed on the OnePlus 6T during this review period.
[P_REVIEW post_id=142809 visual='full']
OnePlus 6T Design
The OnePlus 6T has a simple yet effective design as well as good fit and finish. It looks good, too, but which high-end phone doesn't look good these days? It feels slippery, though, and there's no IP rating (something that is being offered in most high-end phones). The OnePlus 6T has the same glass-and-metal sandwich build and design like that of the OnePlus. There are three differences compared to the OnePlus 6, though: a newer screen notch, an in-display fingerprint reader, and the absence of a 3.5mm headphone jack.
Instead of a regular, wide notch that's seen on most early 2018 smartphones, including the OnePlus 6, the OnePlus 6T's screen has a teardrop notch (or dewdrop notch as some brands call it). This results in a narrower, and a more acceptable notch and higher screen-to-body ratio. The Chinese smartphone brand had mentioned that it had been toying with the idea of an in-display fingerprint reader since the development of the OnePlus 5T, but it wasn't satisfied with its unlocking speed, so it had to drop the idea. The OnePlus 6T is the company's first phone with an in-screen fingerprint reader.
OnePlus is the only brand apart from Apple which has a dedicated switch to mute the phone's audio, and we like the three-way sound profile switcher's quality and practicality.
OnePlus 6T Screen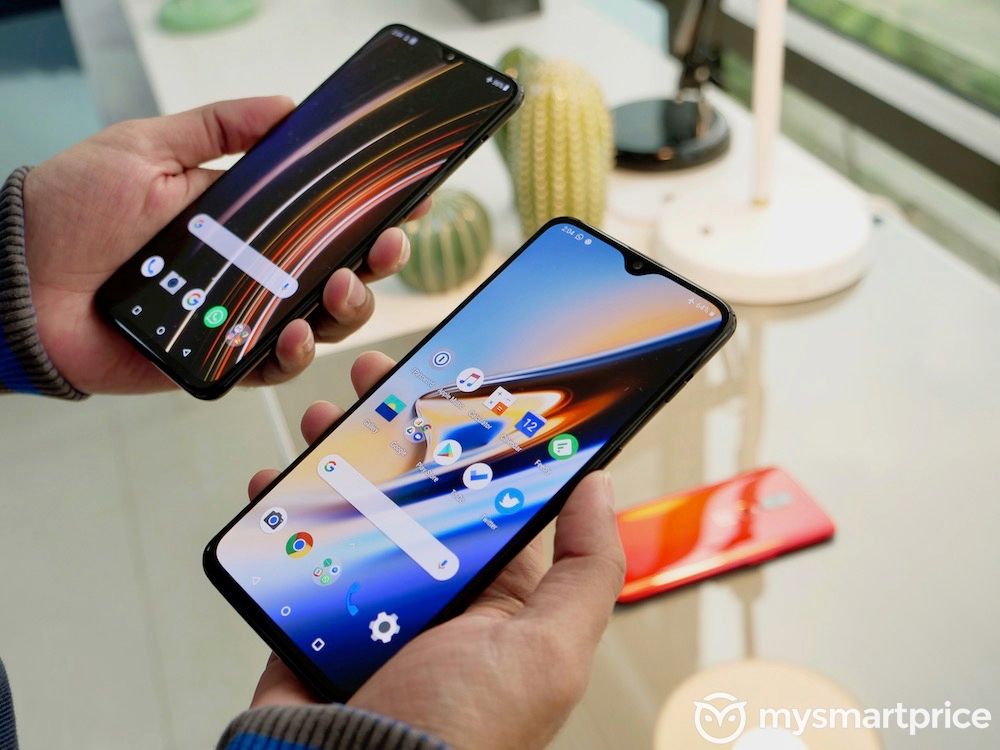 The OnePlus 6T has a 6.4-inch Optic AMOLED screen (it's actually an AMOLED panel from Samsung) with Full HD+ resolution (2340×1080 pixels). It is bright and sharp enough for everyday usage, but it's not as bright as OLED panels used in competing phones from Apple, Huawei and Samsung. It is not certified for HDR content playback, which means it is not a top-of-the-line OLED panel. It faced issues with the automatic brightness setting as the phone consistently choose a brightness level that's lower than what was required. I had to manually up the brightness level to make things visible on the screen.
There are three five profiles: Adaptive, DCI-P3, Default, sRGB and Custom. The DCI-P3 profile is the closest to reality, but most people will be happy with the Adaptive profile. If the color temperature is not as per your taste, you can set it using the Custom profile. It's surprising to see that the Custom profile has only the color temperature feature, and things like saturation and contrast are missing. There's a Reading Mode, which turns the display greyscale and can be pretty handy while reading text on web pages or e-books. You can choose to hide or show the notch area from the settings menu. Ambient Display feature makes sure that the display turns on when you lift up the phone from the table to check notification or time.
OnePlus 6T Camera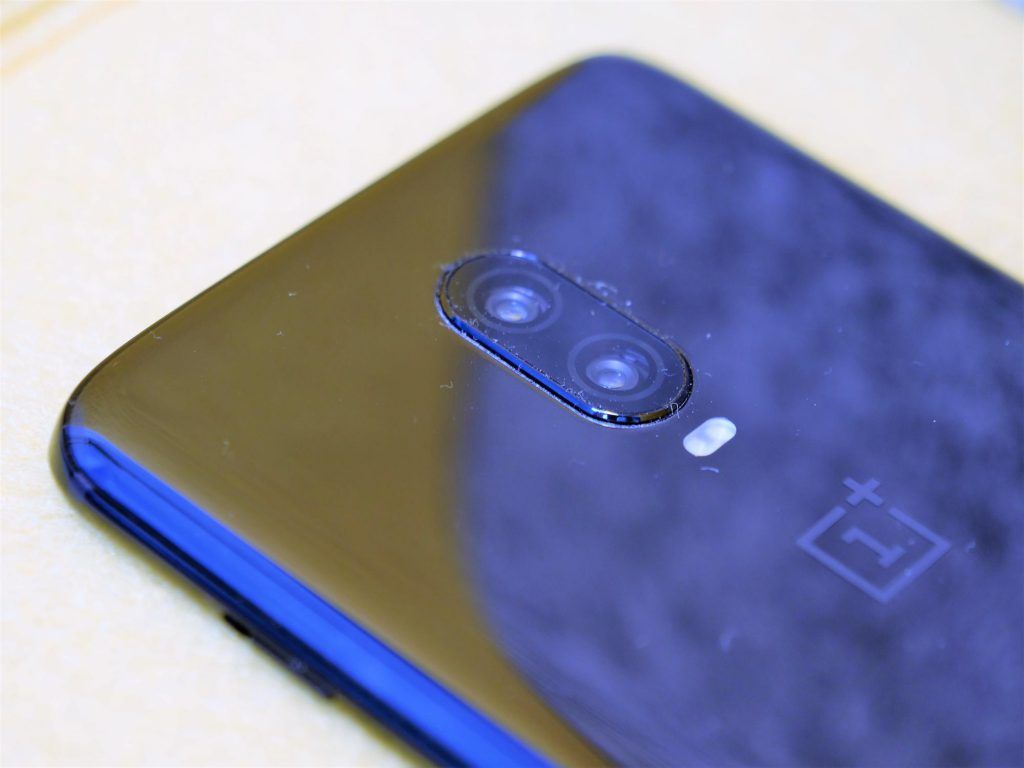 The 16MP+20MP dual-camera setup on this phone is exactly similar to the OnePlus 6's camera. There's f/1.7 aperture, OIS and PDAF. Focusing is fast and accurate in daylight but can take slightly longer in lowlight conditions. Details are plenty and colors are good, but they're nowhere close to flagships from Apple, Huawei, and Samsung. Some noise is visible when you pixel-peep and it only increases in low-light conditions.
OnePlus 6T Rear-Facing Camera Samples
The Galaxy Note 9 (Review), iPhone X (Review), and the Mate 20 Pro capture images with wider dynamic range, more details, and lower noise. All said and done, image quality is still good for the price of the phone. There's a dedicated Night mode which uses long exposures and requires you to keep your hands stable while clicking images. It results in brighter images, but in conditions where there are light sources, images are overexposed and this mode isn't a good fit when you want to capture people or moving subjects.
OnePlus 6T Low- Light Camera Samples
16MP selfies captured using the front-facing camera appear softer than they should, and selfies captured indoors or during low light always appear blurred. It might be a result of a combination of slower shutter speed and unoptimized focus plane. Coming to video recording, there's 4K 60fps video recording, and it is brilliant in most scenarios. However, in low-light conditions, OnePlus 6T's videos appear darker and have higher noise. Moreover, EIS in 4K 60fps mode works only till five minutes. Videos recorded using the Galaxy Note 9 in similar conditions appear brighter and have lower noise.
OnePlus 6T Selfie Camera Samples
OnePlus 6T Software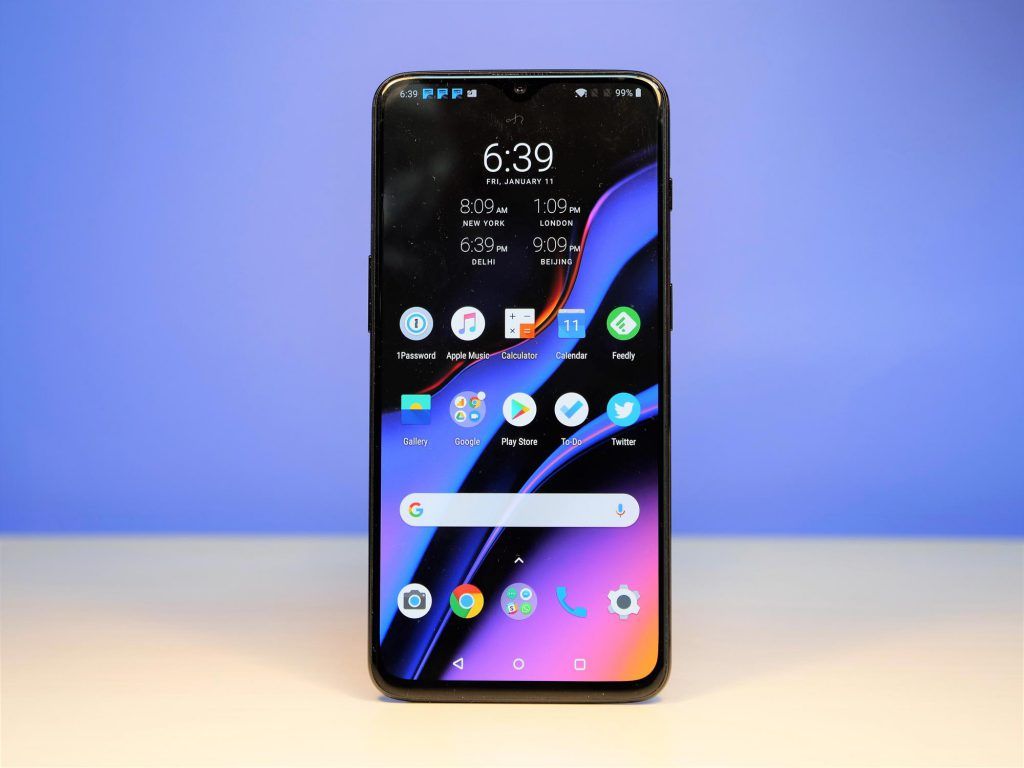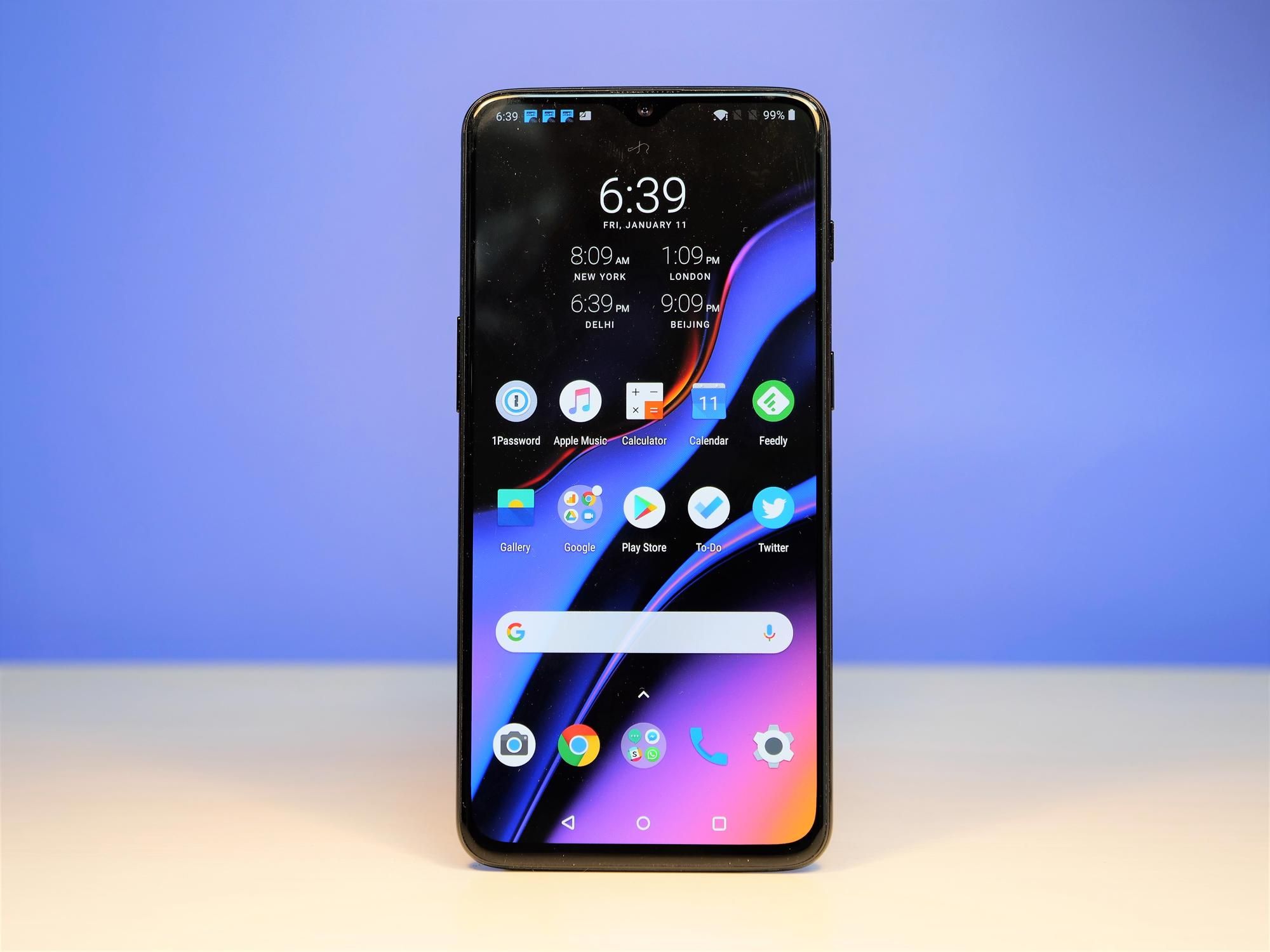 OnePlus' is one of the best when it comes to software optimization and UI design. OxygenOS has close to stock UI design, and it feels really fast and fluid. There are plenty of customization features, including an option to customize status bar and notification icons and app icon packs. There's an option to change accent colors across the UI. Notification lights and colors can be set according to your taste. Parallel Apps feature can be used to run two instances of IM and social media apps, and I used it to run two instances of WhatsApp, one for each SIM card. There's app locker, too, and the phone supports scheduled power on/off.
The phone can also show battery level of connected Bluetooth devices (which support the feature) and not many phones have this feature, at least in the Android realm. The alert slider can be customized. Google Assistant can be activating by long pressing the power button for 0.5 seconds and the phone can be powered off by long pressing the power button for three seconds. Sleep mode screen gestures are there too. There's Gaming Mode which limits notifications, disables automatic screen brightness, boosts network, and activates loudspeaker for incoming calls. I think that OxygenOS offers the best mix of design, features, optimization, and speed.
OnePlus 6T Performance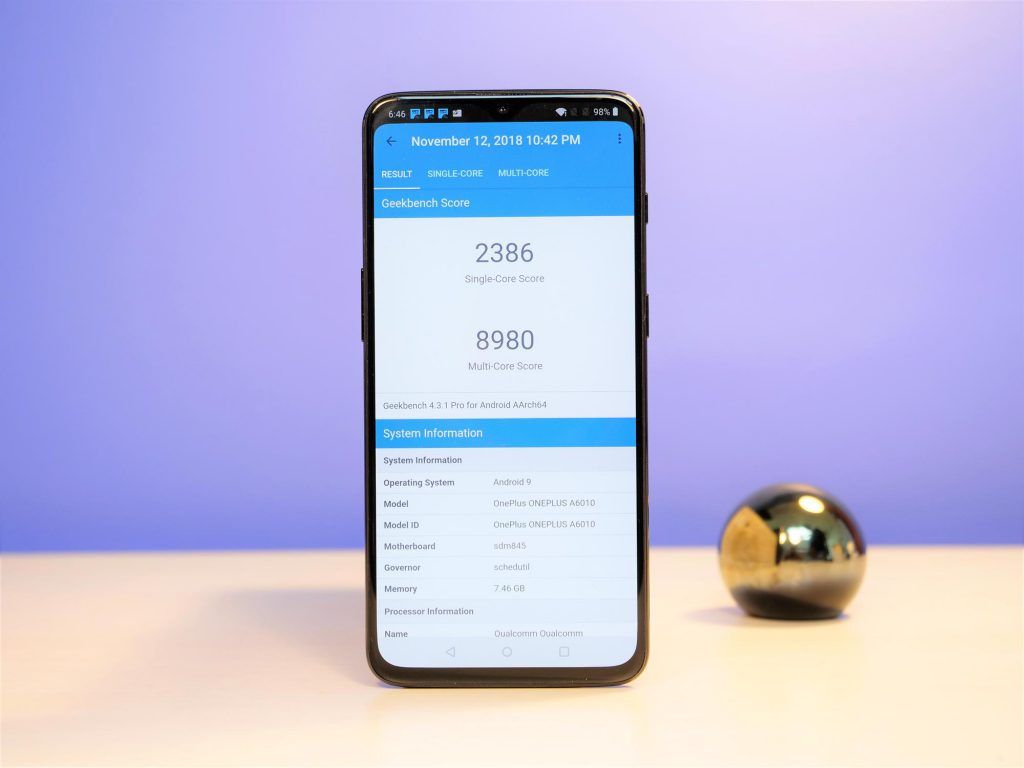 Snapdragon 845, 6GB RAM (8GB RAM in our review unit), UFS 2.1 storage, and well-optimized storage. All of this results in excellent performance. There's no lag or stutter, no matter which apps or games are being used. The OnePlus 6T is fast and smooth. The only aspect of the phone that feels slow is the in-display fingerprint reader. It is not as fast or reliable as a conventional capacitive fingerprint reader. I noticed that it works better if you apply a bit of pressure on the display using your finger. If the finger is wet, you can forget about unlocking the phone. Fortunately, OnePlus' face unlock feature is lightning fast and accurate, and it is a viable alternative to the in-display fingerprint reader. The haptic feedback needs to be worked upon. Right now, it feels below par, especially after using haptic feedback on recent iPhones and the Pixel 3.
Although signal reception is good, audio clarity during voice calls is not as good as it is on Apple, LG and Samsung phones. The loudspeaker has good volume levels and clarity but there's no depth and bass, and in times when even lower-priced phones like the POCO F1 (Review) and the Zenfone 5Z (Review) have stereo speakers, OnePlus needs to step up. Rather than improving loudspeakers on its phones, OnePlus decided to remove the headphone jack altogether, which is an anti-consumer move. Yes, you can use the bundled 3.5mm headphone jack adapter but it's one more thing to remember. It's hard to find good USB Type-C headphones and that fit in one's budget.
OnePlus 6T Battery Life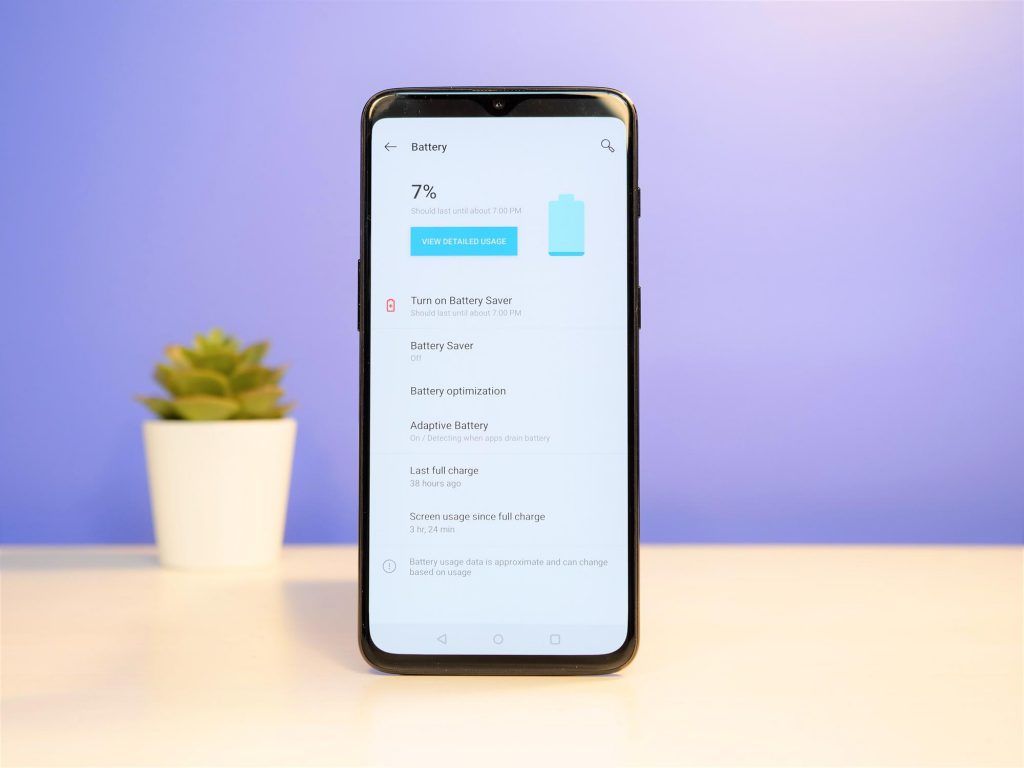 There's 3700mAh battery inside the OnePlus 6T, and that's 400mAh more than the OnePlus 6's battery. The OnePlus 6 used to last a day of moderate to heavy usage, and the OnePlus 6T, with its larger battery, easily lasts more than a day on a single charge. It usually lasted a day and a half with my particular usage.
The phone took close to 90 minutes to fully charge using the bundled 20W fast charger. There's a downside to it as well since the phone won't be able to fast charge using a Quick Charge or USB-PD charger. You need to carry the bundled charger and cable wherever you go if you want to fast charge your OnePlus 6T.
Should You Buy The OnePlus 6T?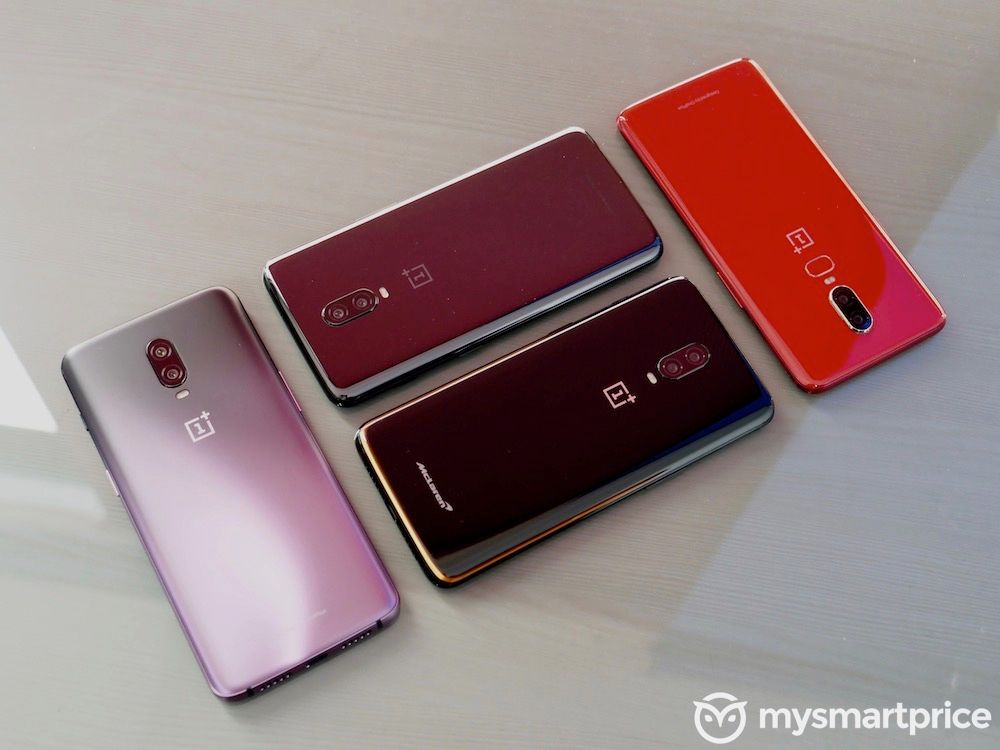 The OnePlus 6T has a good design, it performs really well and the battery lasts considerably longer. It has a decent rear-facing camera setup as well. However, the selfie camera and the haptic feedback could've been better. The entry barrier of buying a OnePlus phone has shot up as well since the company has removed the option of buying a 64GB variant.
Over the years, consumers used to see OnePlus as a brand that offers phones which are fast, have a practical feature set, and offer good value for money. However, by moving to a slower fingerprint reader, removing the headphone jack, and increasing the price of its cheapest variant, OnePlus is moving away from its image. On one hand, the company is removing practical features like a headphone jack and running after nice-to-have-but-unnecessary features like an in-display fingerprint reader. Instead, the company could've spent its time in adding more useful features like an IP rating, stereo speakers, and HDR10 compatibility.
Overall, the OnePlus 6T is a good phone, but if you already own a OnePlus 6, we would recommend you to hold on to it. Other alternatives include the ASUS Zenfone 5Z and the LG G7 ThinQ, both of which are priced lower than the OnePlus 6T and have usual fingerprint readers and headphone jacks.
Design and Build Quality
8.0/10
What Is Good?
Good fit and finish, simple design
Fast and smooth performance
Decent rear-facing camera with 4K 60fps video recording
Extensive UI customizability and good software feature set
Long battery life; fast charging is fast
What Is Bad?
No 3.5mm headphone jack, IP rating
No microSD card slot
Slow in-display fingerprint reader
No cheaper 64GB storage variant
Bad haptic feedback