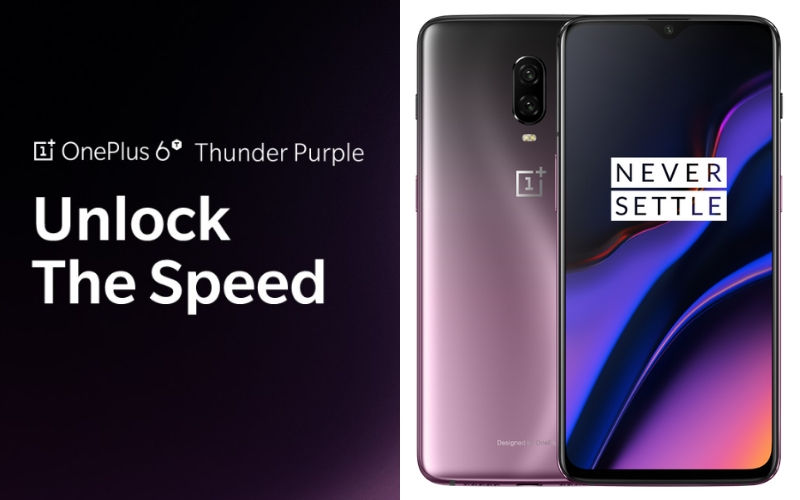 The OnePlus 6T is now available for purchase, both online and at offline stores in India. However, in China, the company had an official announcement today and it revealed a new colour variant of the OnePlus 6T. The phone was announced in two coluor variants; Midnight Black and Mirror Black. The new variant sports a gradient finish and is marketed as 'Thunder Purple'. The new colour has been launched in China for now, but will most likely make it to other markets as well.
OnePlus 6T Thunder Purple Colour Variant
This isn't the first time that we're hearing of the Thunder Purple OnePlus 6T. The colour option had recently appeared on the official Amazon page for the phone, and also on OnePlus support page. Both these listings have since been removed, but that nevertheless confirmed the existence of the Thunder Purple variant. Not much later, official press renders of this variant were also leaked online, revealing more about the new colour.
Now, OnePlus has officially launched this colour variant in China. During the announcement, the OnePlus 6T Thunder Purple was revealed alongside the other two colour options. According to OnePlus, it takes a complicated glass process to achieve the colour gradient on the back panel. Apart from the back panel, the colour also extends to the frame of the phone. When viewed under a source of light, you can see the colour change between purple, violet, and pink.
We do not know the exact pricing of this variant, but it should be priced similar to the standard variant with 8GB RAM/128GB storage. There is no word if this device will make it to India, but it is quite possible that we will get this variant. India is an important market for OnePlus, so you can expect OnePlus to consider launching this in the country.
In China, this particular OnePlus variant will be available for purchase starting tomorrow. The existing OnePlus 6T phones are priced have the following pricing: base variant with 6GB RAM and 128GB storage for CNY 3,399, mid-level variant with 8GB RAM and 128GB storage for CNY 3,599, and 8GB RAM/256GB storage model for CNY 3,999. The phones will be available on the official OnePlus China website.
OnePlus and Colours
OnePlus has released several unique colour options for its smartphones in the past. There have been the Sandstone White, Silky White, and Lava Red options among many more. This is the first time that the company has gone with a gradient finish though. The new variant will be available only with 8GB of RAM and 128GB of storage, similar to previous limited edition phones from OnePlus.
In a recent YouTube video by MrWhoseTheBoss, it was revealed that OnePlus had been testing several colour variants for its devices. The company has been prototyping several gradient back panels for the OnePlus 6 and 6T, but did not release any until now. It is possible that we could see more flashier colours from the manufacturer in the coming years. Other Chinese smartphone makers such as Huawei, Oppo, and Vivo have already been playing around with different colours and textures for its devices. It is always nice to see a phone with an eye-catching colour in a sea of black and whites.