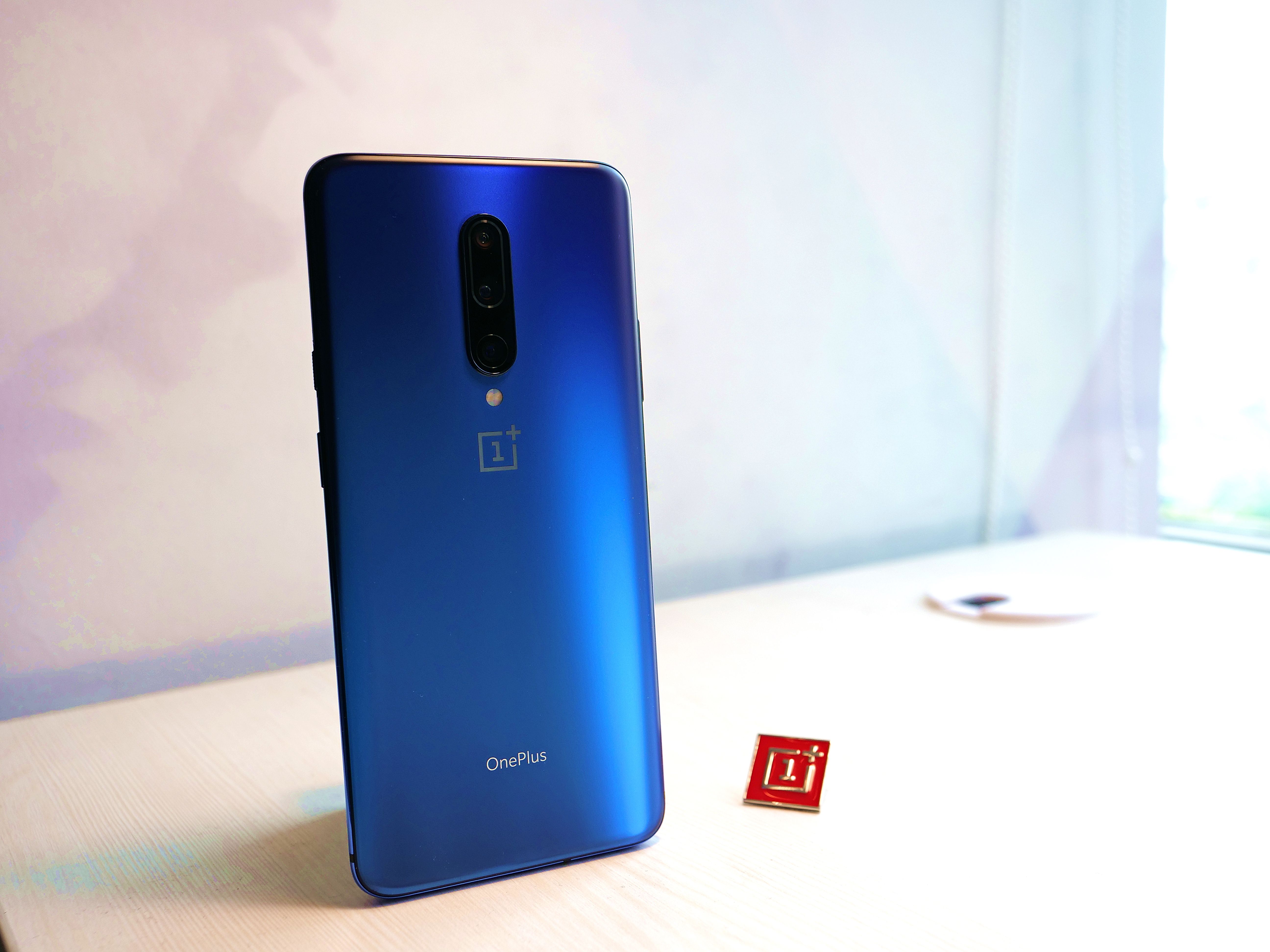 Up until a few years ago, there was always a clear distinction between flagship-grade and mid-range smartphones. You had to pay upwards of INR 35,000 to get a premium device or you had to settle for a lower-priced option with obvious performance and design compromises. But all of that changed in 2014 when OnePlus launched its first smartphone, the OnePlus One. It was priced (INR 19,990 in India) at less than half the price of the Galaxy S5, Samsung's flagship phone for that year in spite of featuring the exact same processor, better build, comparable cameras, faster software updates, and a bigger battery.
Design and Build Quality
9.0/10
What Is Good?
A seriously addictive and enjoyable screen.
Blazing-fast performance and UI responsiveness.
Premium design.
Warp Charge is a blessing.
OxygenOS is the best Android flavor.
Improved haptic feedback system.
Stereo speakers with Dolby Atmos audio.
What Is Bad?
Camera performance could've been better.
No 3.5mm headphone jack or microSD card slot.
No USB Type-C to 3.5mm headphone port dongle included in the box.
Battery life isn't brag-worthy.
No wireless charging.
No IP rating.
It has been five years since, and Samsung has delivered an all-around flagship phone—Galaxy S10+ (Review)—this year with a flagship price of a whopping INR 73,990. Google is making its own 'premium' flagships, and then we have brands like Huawei and Honor competing for a pie in the Android flagship market. So what is OnePlus' answer to all of this? The OnePlus 7 Pro. From living in its own budget flagship space to declaring an all-out war against the real smartphone heavyweights, let's see if the OnePlus 7 Pro has what it takes to sit on the throne.
[P_REVIEW post_id=156472 visual='full']
OnePlus 7 Pro Design & Build Quality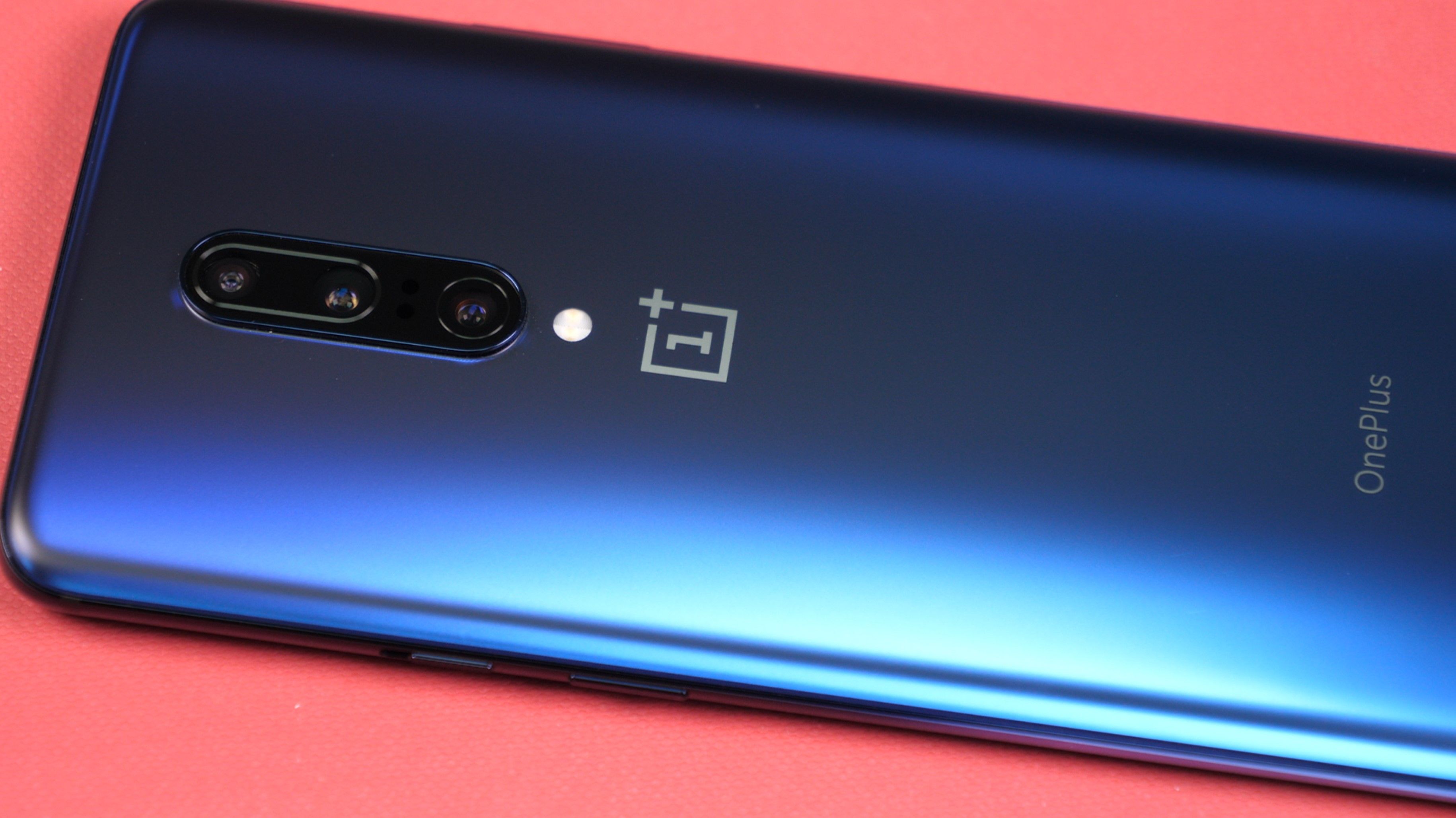 What's the first thing you notice about a flagship phone? No, I'm not talking about the exorbitant price. It's the build quality and design of high-end phones that stand out from lower-priced phones in the market. And well, let's just say OnePlus might have beaten the likes of Apple and Samsung at their own game.
At first glance, the OnePlus 7 Pro looks and feels much more expensive than it actually is. OnePlus has gone with the metal-and-glass sandwich design that was used in the OnePlus 6 and the OnePlus 6T. Both front and rear glass panels curve towards thin edges. It feels a lot like recent Samsung flagships, but what makes this design even better is its completely bezel-less screen that stretches across the whole front of the device. Bezels are so thin, they can put more expensive flagship phones to shame. Oh, and there's no notch either; no cutout or a punch-hole in the display. It's a 100% uninterrupted screen experience, thanks to the selfie camera being shifted into a pop-up mechanism.
The motorized camera mechanism does make me feel a bit skeptical about the longevity of the phone, but OnePlus says it has tested it to last out for 15 years if you use the camera 150 times a day, and I think I can live with that level of reassurance. The OnePlus 7 Pro weighs 206g, which is quite a lot compared to some other flagships of this year, and it's quite a big phone, too, no thanks to that huge screen. The phone's weight might put off some buyers. I personally like big phones and I have no difficulty in handling the OnePlus 7 Pro.
The phone is available in 3 colors: glossy-looking Mirror Black, sophisticated-looking Almond, and a matte-finished Nebula Blue. Personally, I prefer the Nebula Blue variant, as it looks absolutely stunning when light bounces off its back. Since it has a matte finish, it isn't as big a fingerprint magnet as the glossy black variant. It's still a slippery phone, though, and I'd recommend you to use it with a case on, which OnePlus is generous enough to provide in the box.
Coming to buttons and ports, the alert slider has now been moved to the right. I genuinely think it's a nifty addition and more phones should go for it. The power button and the volume rocker are both placed at the perfect height. The phone comes with a dual-nano SIM card slot but misses out on a slot for a memory card. Talking about missing things, neither the headphone jack nor an official IP rating is present here.
Barring water resistance, I think the OnePlus 7 Pro is one of the most well-built and premium-feeling smartphones in the market right now. I'd have given it a perfect ten, if only they had somehow managed to cram in a headphone jack into this gorgeous body, or at least provided a USB Type-C to 3.5mm headphone port adapter in the box.
OnePlus 7 Pro Display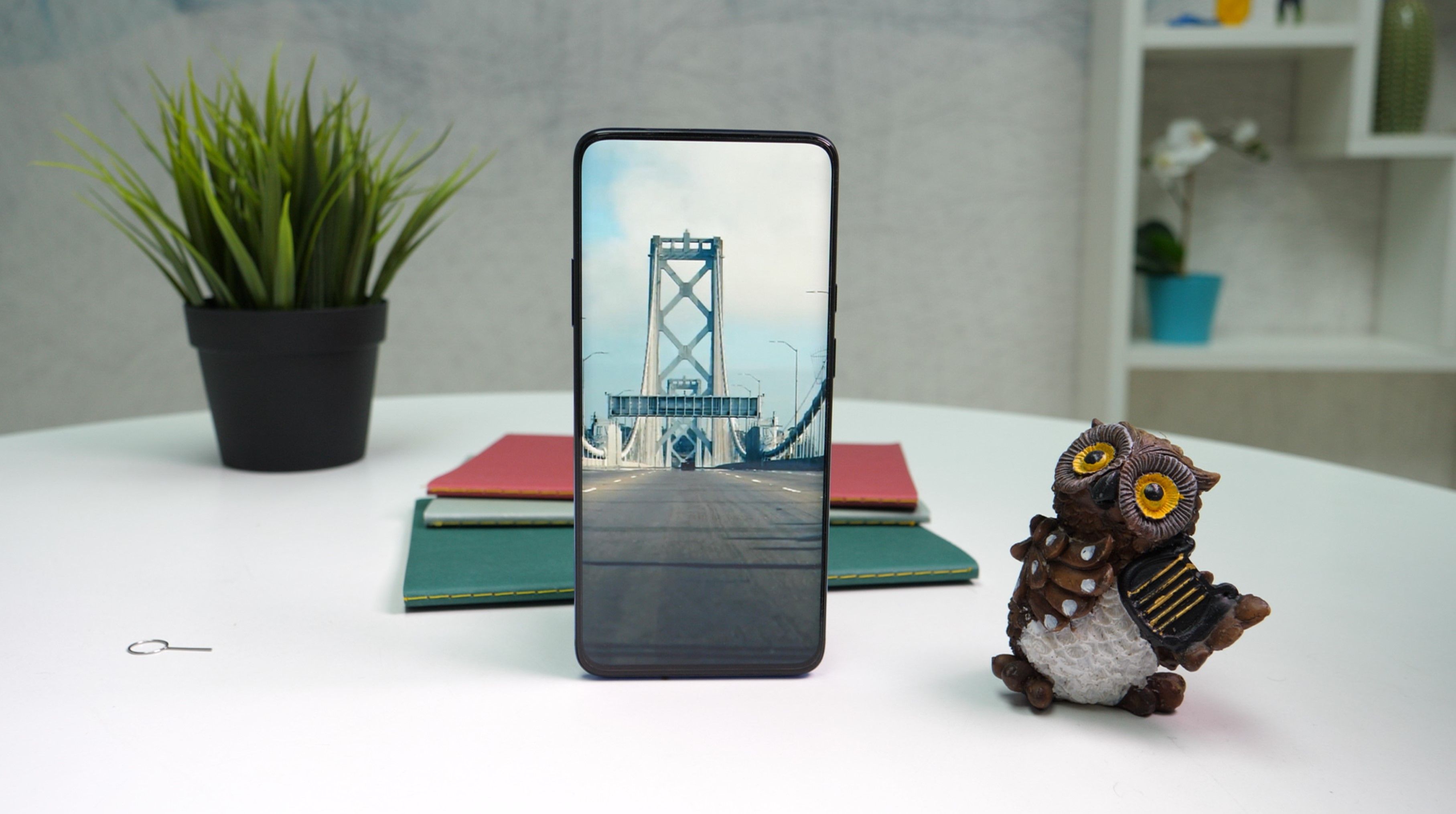 Remember when I said OnePlus has declared an all-out war against flagship phones? Well, the first blow comes in the form of a massive 6.67-inch Super AMOLED display with curved edges and completely bezel-less screen experience. Curved edges serve no practical purpose, though. The screen is protected by Corning Gorilla Glass 6 but I don't expect it to stay unscathed in case you drop this phone. But wait, OnePlus has been making phones with AMOLED displays right.
So, what's so different this time around? Well, for the first time on a OnePlus phone, we get a screen with Quad HD+ resolution. And that's not all, OnePlus has also made this screen capable of refresh rates of up to 90Hz, which is a 50% jump compared to most other flagship phones right now. OnePlus is calling this display 'Fluid AMOLED', and true to its name, the screen does feel extra smooth and fluid, whether you're opening or closing an app or just scrolling around. You can toggle both the resolution and the refresh rate of the screen independently, which will help you gain on battery life. OnePlus gives you multiple options for screen color calibration, too. You can choose between Vivid, Natural, DCI-P3, and sRGB modes. My personal choice, though, is the AMOLED Wide Gamut mode.
To add to the multimedia experience, the screen is also HDR10+ certified, so consuming content on this screen is a joy. There's also Widevine L1 certification onboard, so you can stream your favorite apps in the highest quality possible. The actual screen performance is quite good, too. It gets crazy bright, and under direct sunlight, there's some sort of auto brightness boost applied, so outdoor legibility does not become an issue. For the first time, OnePlus has used Samsung's latest and greatest OLED panel. Colors are punchy, and there's a nice amount of saturation. Blacks and inky deep, as they should be on AMOLED panels. Combining that with the HDR10+ capabilities make this a much better content consumption device than most laptops.
Overall, I would say this is one of the best screen experiences you can get on a mobile phone right now, only exceptions being ultra expensive Galaxy flagships or newest iPhones.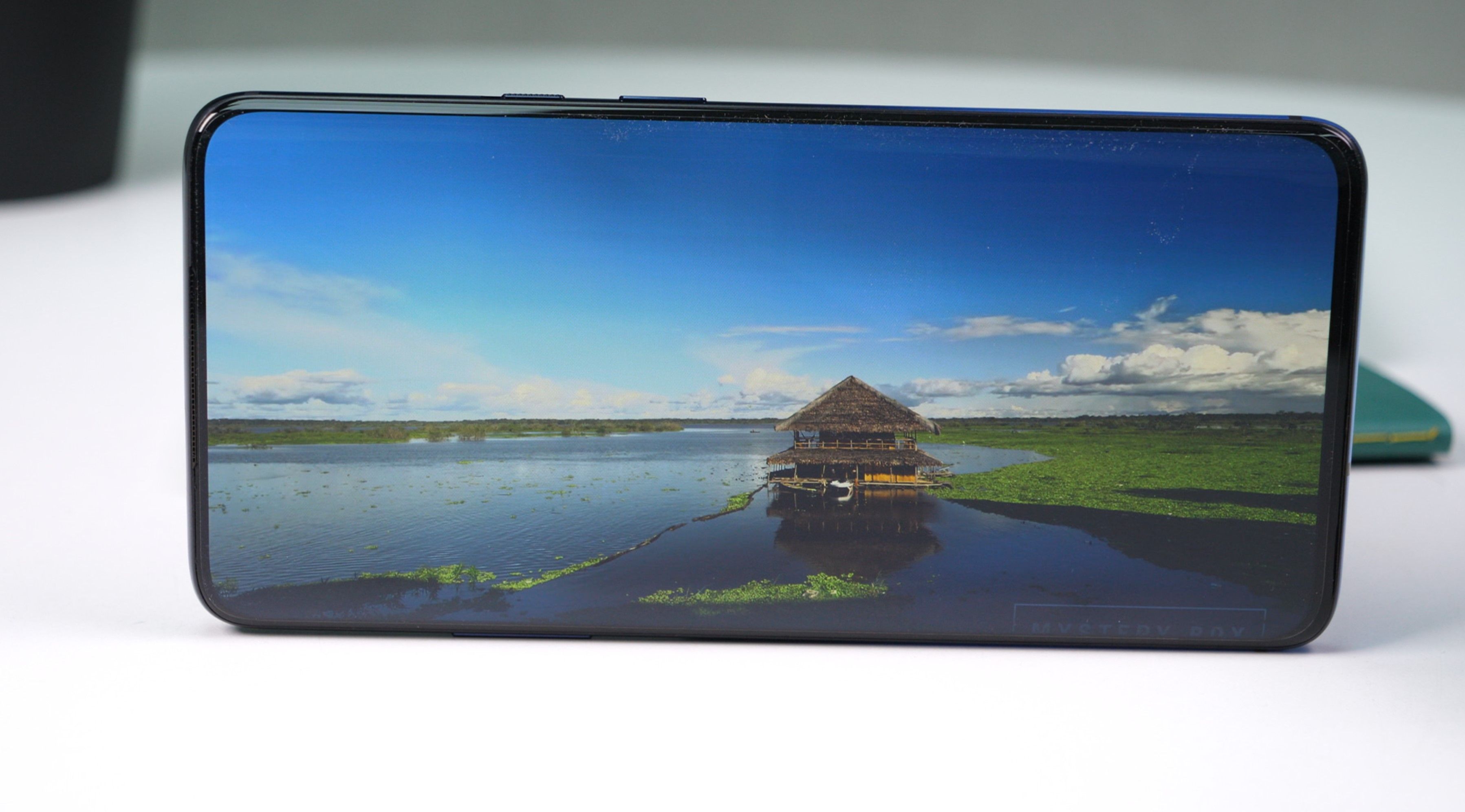 Similar to the OnePlus 6T, there's an optical under-display fingerprint reader, but the overall performance has been improved a lot. The company is using a newer and larger optical sensor (compared to the OnePlus 6T). While it's not an ultrasonic fingerprint scanner like on the Galaxy S10 series, but it's still one of the fastest and most consistent optical fingerprint scanners around right now. I don't use it too often, though, because I use the Face Unlock feature which works fast despite the front-facing camera having a pop-up mechanism. It's not as safe as Face ID or 3D face scanners on other Android phones but does work well for most situations.
Also, worth mentioning is that the OnePlus 7 Pro is the first OnePlus device with a stereo speaker system, and boy does it sound good. The bottom-firing speaker is the main one and it is accompanied by an earpiece (that acts as a secondary loudspeaker) at the top of the screen. This dual-speaker setup and Dolby Atmos audio support make the OnePlus 7 Pro's speakers quite a treat. The sound output via speakers is loud enough and has just enough lows to not sound tinny. But don't expect it to go as loud or deep as newer iPhones, Galaxy S10 or the Razer Phone 2, though.
Audio output through wired headphones is quite satisfactory, but most of it depends on the USB Type-C adapter (DAC) you use. I tried the OnePlus Bullets Type-C earphones and my regular earphones using a USB Type-C to 3.5mm connector that I had from the OnePlus 6T. Both the times I was quite happy with the sound output, but I am no audiophile. If you're an audiophile, you might have to look out for phones like the Galaxy S10 or the LG G8 ThinQ. There's a respectable amount of bass in the sound and the volume gets loud enough. The OnePlus 7 Pro also comes with Bluetooth 5.0 (with support for AAC, aptX, aptX LL, aptX HD, and LDAC) support to deliver high-quality wireless audio.
OnePlus 7 Pro Hardware & Performance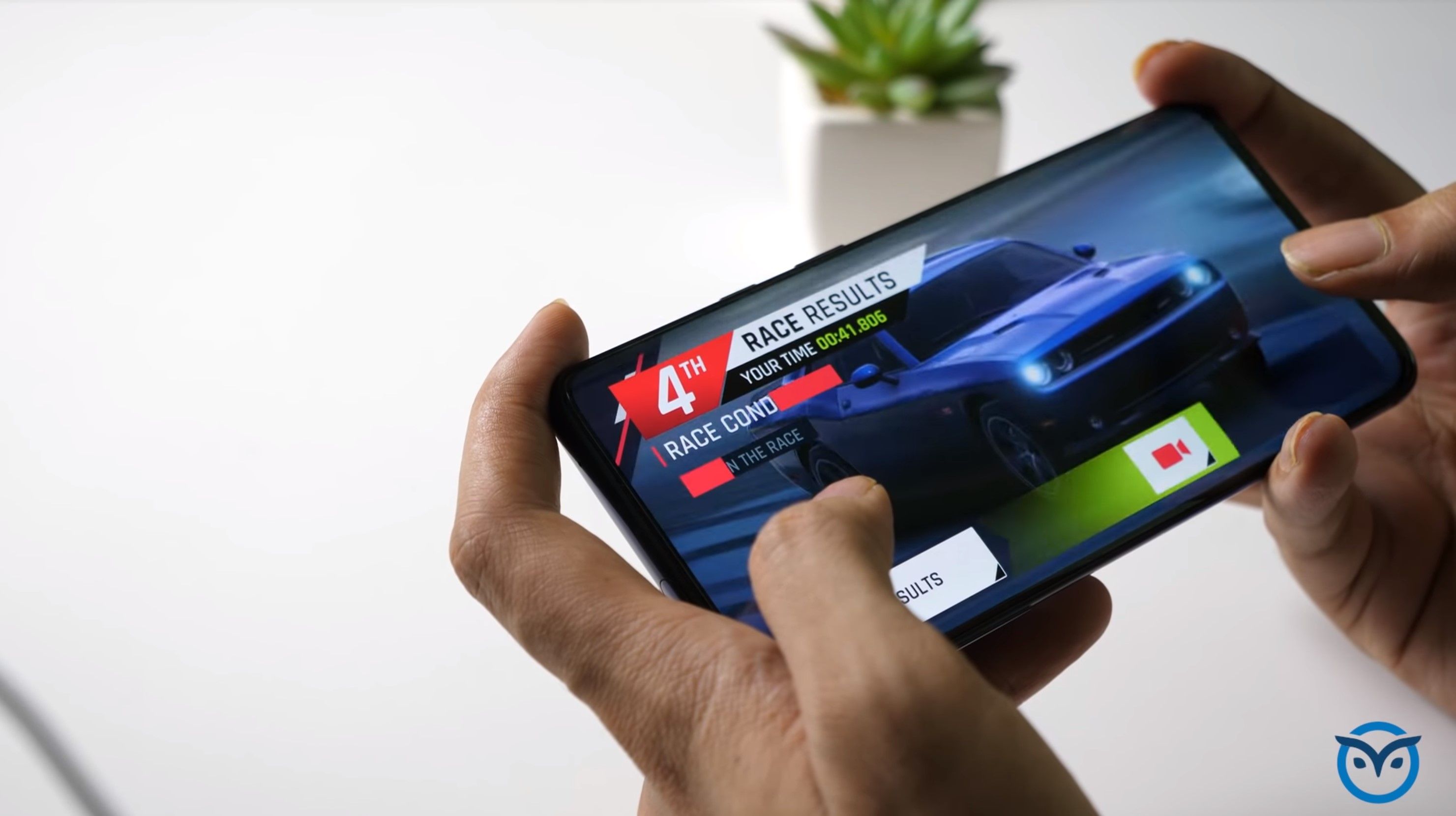 Over the years, OnePlus phones have become synonymous to UI responsiveness and speed, given their relentless marketing campaigns revolving around it, and not to forget, their phones are actually fast. The OnePlus 7 Pro comes with internal hardware that literally unmatched in the Indian Android smartphone market right now. First of all, we have Qualcomm's latest and greatest chipset, the Snapdragon 855. On the memory front, the lowest specced version you get has 6GB RAM and 128GB of UFS 3.0 storage. You also get 256GB storage variants with either 8GB or 12GB of RAM.
The OnePlus 7 Pro is an absolute performance beast and just flies through anything and everything you can possibly put your phone through. Whether it's day-to-day tasks, heavy multi-tasking or heavy gaming. It is definitely the smoothest and fastest Android phone I've ever used. To support my claim, I'll throw in some synthetic performance benchmark numbers here which will help you in believing what I'm talking about.
As you can see, I ran five Geekbench 4 tests back-to-back on the OnePlus 7 Pro. Not only does it score exceptionally well on both single-core and multi-core tests, but it manages to do so continuously. The Exynos 9820, on the other hand, throttle performance when stressed continuously. That doesn't seem to be the case with the Snapdragon 855-equipped OnePlus 7 Pro. It scores a commendable 359,170 points in AnTuTu benchmark. Overall, it'll be a truly once-in-a-blue-moon situation when the OnePlus 7 Pro disappoints you when it comes to sheer performance. To add to it, OnePlus has also thrown a 10-layer liquid cooling system into the phone, to ensure the phone doesn't heat up too much and keeps giving you optimal performance. In my two-week long time with the phone, the phone did manage to heat up to about 42 degrees Celsius after long sessions of PUBG Mobile, but that's nothing to be worried about as ambient temperatures in my city easily cross 40 degrees Celsius in summers.
One very important question that a lot of people have been asking us: will 90Hz display refresh rate translate into the ability to play games on 90fps? Well, yes and no. So, technically, with a screen that refreshes 90 times per second (90Hz), you can enjoy games that are rendering 90 frames per second (90fps). But as of writing this review, all the games that we've tried, are internally capped out at 60fps. Basically, OnePlus and game makers will have to work together and reach some sort of an agreement to unlock 90fps gameplay for those particular gaming titles on the OnePlus 7 Pro. We really hope that it happens soon.
OnePlus 7 Pro Software & UI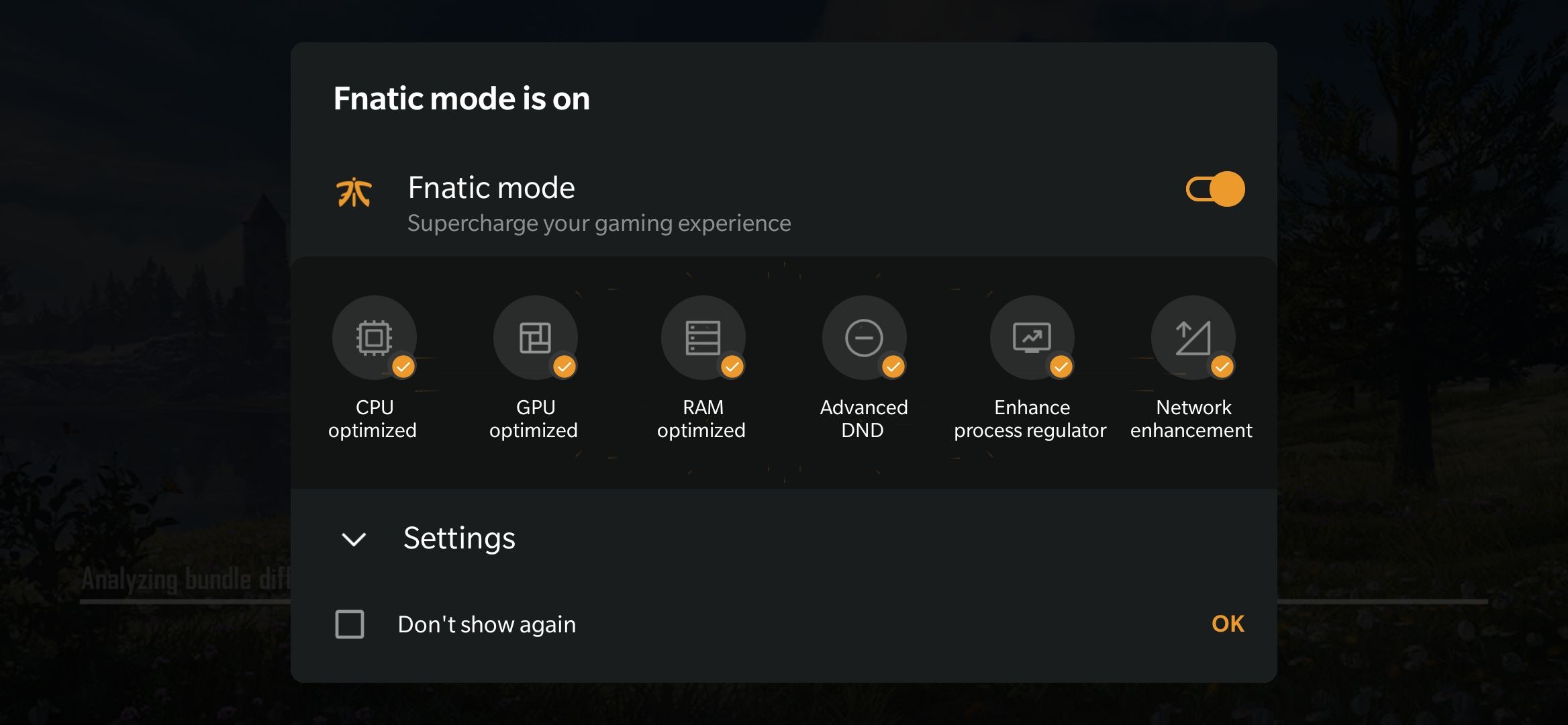 The OnePlus 7 Pro runs Android Pie 9.0-based OxygenOS 9.5.2 software. Let me just say it as clearly as I can: Oxygen OS is by far the best version of Android-based UI I've ever used. It's not vastly different from how Google wants Android to look and feel, but the number of extra features and neat tricks make it way better than stock Android.
To start off, there are a ton of additional features: Accent Colors, Always-On Display, Dark Theme, Icon Packs, Navigation Gestures, Reading Mode, Screen Recorder, and Zen Mode. Zen Mode is a new feature that lets you take a break from your phone for 20 minutes and you can't turn it off once you start it. It doesn't let you use any other app on your phone except the camera, even notifications are switched off for those 20 minutes. Honestly, I haven't tried it out yet. I mean, 20 minutes without my phone? I don't think I'm ready for such a commitment in my life right now.
OnePlus 7 Pro Software Features & UI Design
Then there's the improved Game Mode, which boosts gaming performance while putting other things on a side-burner. If you're still looking for more, the OnePlus 7 Pro comes with an all-new Fnatic Mode which is meant to supercharge your gaming experience by not just optimizing CPU and GPU performance, but also dishing out some additional tweaks like an advanced DND (Do Not Disturb) mode and turning on the Network Boost mode by switching off the standby SIM. All of this is aided by an all-new haptic vibration engine that the OnePlus 7 Pro comes with. Whether it's you firing off your DP-28 in PUBG or just scrolling through UI elements on your phone, you'll always get nice and definitive vibration feedback. These little additions here and there, make the OnePlus 7 Pro's usage experience a truly flagship one.
Regarding the network speeds and connectivity, the phone supports dual-band Wi-Fi, and I had zero issues with the Wi-Fi connectivity and speeds. Same was the case with mobile network reception, and more often than not, the OnePlus 7 Pro did a better job than my Samsung Galaxy S10+ at staying connected to the mobile network even in low reception areas.
OnePlus 7 Pro Cameras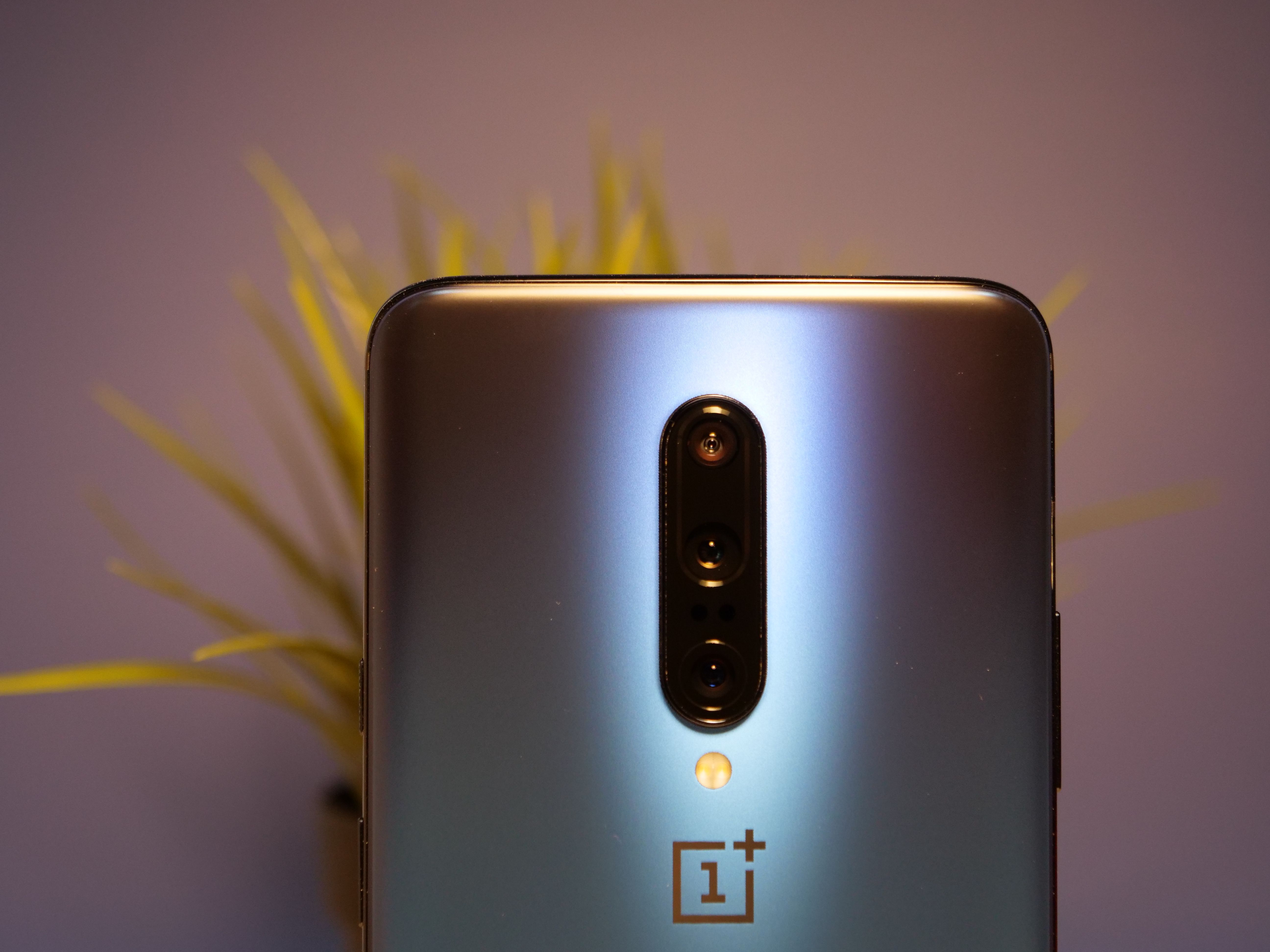 Cameras have traditionally been the Achilles' heel of OnePlus devices. More often than not, we've seen OnePlus shy away from packing in flagship-grade camera hardware and software tuning into its phone, and that's expected considering the price point it was operating at. With the OnePlus 7 Pro and it's flagship-grade pricing, though, OnePlus really wants to step into the big league in terms of imaging. Starting off with the hardware first, there's a 48MP primary camera sensor (Sony's IMX586 sensor) which is used in the Xiaomi Redmi Note 7 Pro (Review). It has an aperture of f/1.6 and features OIS. There's a secondary sensor (13MP) with 117-degree field-of-view and an f/2.2 aperture. The third camera (8MP, f/2.4 aperture) with 3x effective lossless zoom and OIS. On the front, there's a 16MP (f/2.0 aperture) selfie camera which is unchanged from the OnePlus 6T.
Now, coming to the actual camera performance, the OnePlus 7 Pro is able to deliver crisp-looking and vibrant shots, especially under optimal lighting. There is plenty of detail and unless you go pixel-peeping with side-by-side images from the likes of Galaxy S10 Plus (Review), Huawei P30 Pro or the iPhone XS (Review), you'll be satisfied with the OnePlus 7 Pro's camera. One thing I noticed, though, under harsh lighting conditions like direct sunlight the camera sometimes struggles with the exposure and ends up over-exposing the image and blowing out the highlights.
OnePlus 7 Pro Main Camera
The 48MP sensor takes 12MP shots by default (due to 4-in-1 pixel binning), but you can use the Pro mode to shoot full-resolution 48MP still images. However, I wouldn't recommend you doing that, and 12MP shots look much better than the 48MP ones, thanks to the post-processing in the Auto Mode.
That being said, you can shoot 48MP RAW images in Pro Mode and use apps like Adobe Lightroom to enhance them. Coming to the ultrawide-angle camera, its FoV isn't as wide as ultrawide cameras on some flagship phones. It still manages to capture some decently dramatic-looking shots. The sensor isn't as good as the primary one, so low-light performance suffers drastically. Also, it's a fixed-focus lens so you can't really play around with it much with closer subjects. Another thing to note is that you can't use the ultrawide-angle camera to shoot videos. Also, the ultrawide-angle lens isn't equipped with OIS.
OnePlus 7 Pro Wide-Angle Shots
The telephoto camera shoots images with 3x optical zoom-grade FoV and the results are pretty good. You can go up to a max of 10x digital zoom and this lens features OIS. It can also be used for video recording. Upon inspection, the folks over at Android Police found out that the lens is actually 2.2x telephoto but OnePlus crops the image further to make it look like it came out of a camera which has a 3x optical zoom.
The phone's NightScape mode helps in capturing better pictures in low-light situations using multi-frame noise reduction technique. Unlike the Google Pixel 3 or the Huawei P30 Pro, OnePlus doesn't capture as many images as Huawei and Google phones. The results look quite good, to be honest, at least as long as you don't pixel-peep for checking details. One weird thing is that without NightScape mode, the OnePlus 7 Pro takes a slightly longer exposure shot and adds much more light to the images than naturally available. Overall, the low-light capabilities of the 7 Pro are good but don't expect it to match the P30 Pro or the Pixel 3.
OnePlus 7 Pro Low-Light Samples
Now, coming to the selfie camera, it is one of my favorites this year. Although it's not as high-resolution as some other 25MP or 32MP selfie cameras, it does its job well. There's enough dynamic range but some details are missed. The Portrait Mode works well enough, but don't expect it to match the Pixels or the Galaxies of the world.
OnePlus 7 Pro Selfie Samples
Coming to the video capabilities, the phone can shoot 4K videos at 30fps or 60fps, 1080p videos at 30fps or 60fps, and slow-motion 1080p videos at 240fps, and slow-motion 720p videos at up to 480fps. The video quality is quite good, and there's very little scope for finding flaws. Videos might not look as bright as the ones shot using the iPhone XS or the Galaxy S10, but they're definitely good enough for most scenarios. OIS works pretty well. The wide-angle camera can't be used to shoot videos at all, and that's a shame, really. The selfie camera can shoot 1080p videos at 30fps and delivers good results.
The camera performance of the OnePlus 7 Pro is the only non-flagship experience you'll get on this phone. It's not bad by any means, but OnePlus definitely needs to work on the cameras a lot more if it plans on being seen as a true flagship smartphone brand. One good thing about the OnePlus 7 Pro is that you get direct support for Camera2 APIs. So, as and when a Google Camera port is available for the OnePlus 7 Pro, you can use that to capture better images out of this camera.
OnePlus 7 Pro Battery Life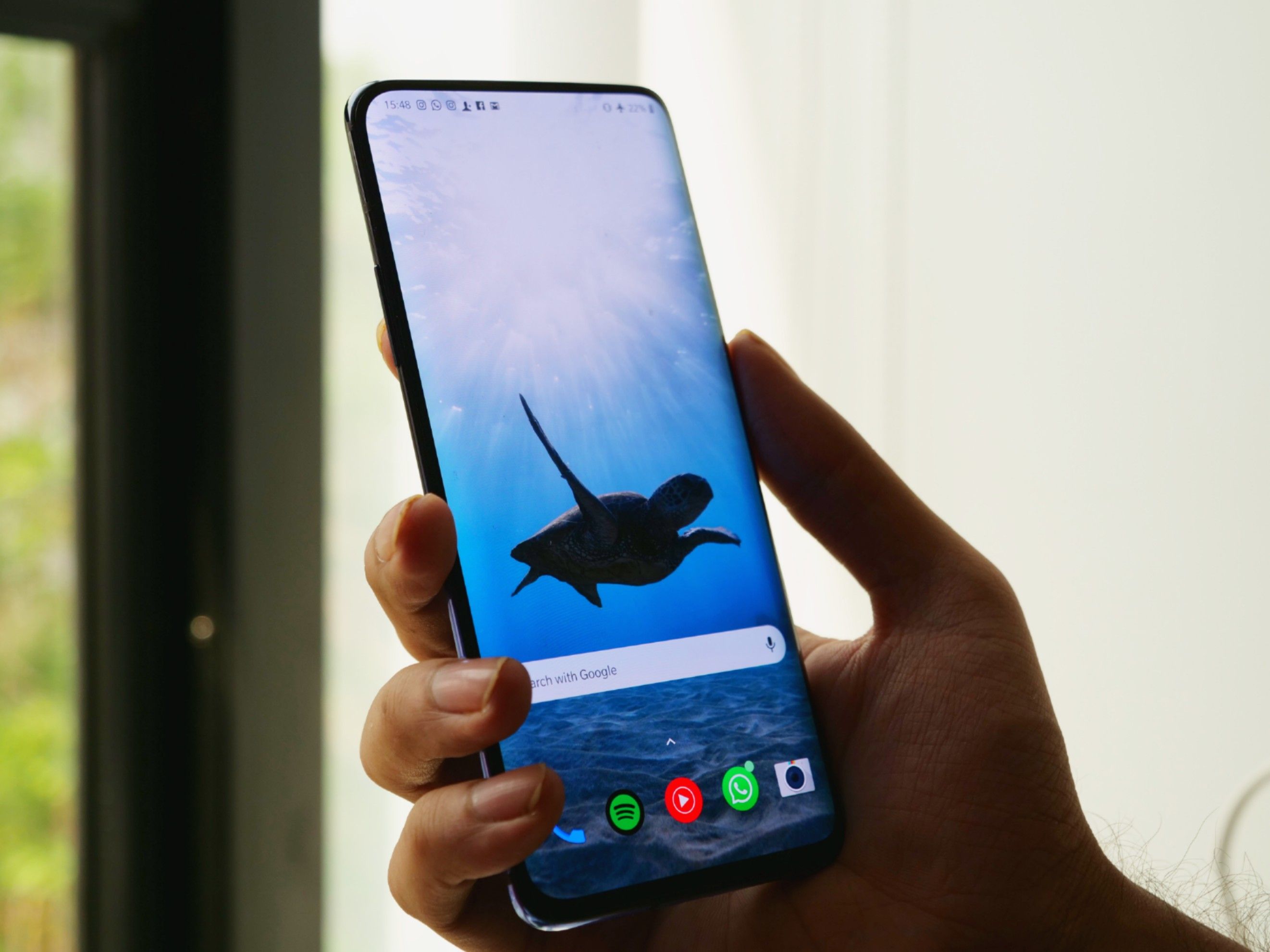 The OnePlus 7 Pro is powered by a 4000mAh battery. That's a solid 300mAh extra over the OnePlus 6T. But with the increase in screen size, resolution, and refresh rate, the battery life on the 7 Pro is one thing which might not wow you as much as it used to on previous-generation OnePlus phones. OnePlus does allow you to toggle the screen resolution and the refresh rate.
To set some context, my day with the phone mostly comprises of being connected to a Wi-Fi network for 7-8 hours, with mobile data being used for the rest of the time. I used my phone with a single Airtel SIM. Typically, I stream music, watch YouTube, play PUBG Mobile, and use social media and IM apps throughout the day.
With the screen resolution set to QHD+ and the refresh rate set to 90Hz, the phone's battery life was around 4.5 to 5 hours of screen-on time. If you scale down the resolution to Full HD+ and reduce the frame rate to 60Hz, you'll get a drastic boost in battery life, with the screen-on time ranging anywhere between 8 and 9 hours. If you use the phone with Full HD+ resolution and 90Hz refresh rate, you'll get a battery life of around 7 hours of screen-on time. I've noticed that toggling the resolution from QHD+ to Full HD+ affects the battery life more than changing the refresh rate.
What the OnePlus 7 Pro lacks in terms of absolute battery capacity, it more than makes up for with its superfast 30W Warp Charging technology. Warp Charging is a significant improvement over OnePlus' 20W Dash Charge tech. It can charge the OnePlus 7 Pro from zero to full in just 80 minutes. What's more, you can get around 50% charge in just 20 minutes.
I was using the Samsung Galaxy S10+ before switching to the OnePlus 7 Pro and boy, it blows Samsung's charging speeds out of the water. One thing that the OnePlus 7 Pro lacks is support for wireless charging, but honestly, I'm not a big fan of wireless charging (at least in its current implementation), and the super-fast wired charging on the OnePlus 7 Pro just makes it worth that little extra effort of plugging in your phone to charge.
Is OnePlus 7 Pro A Real Flagship Phone?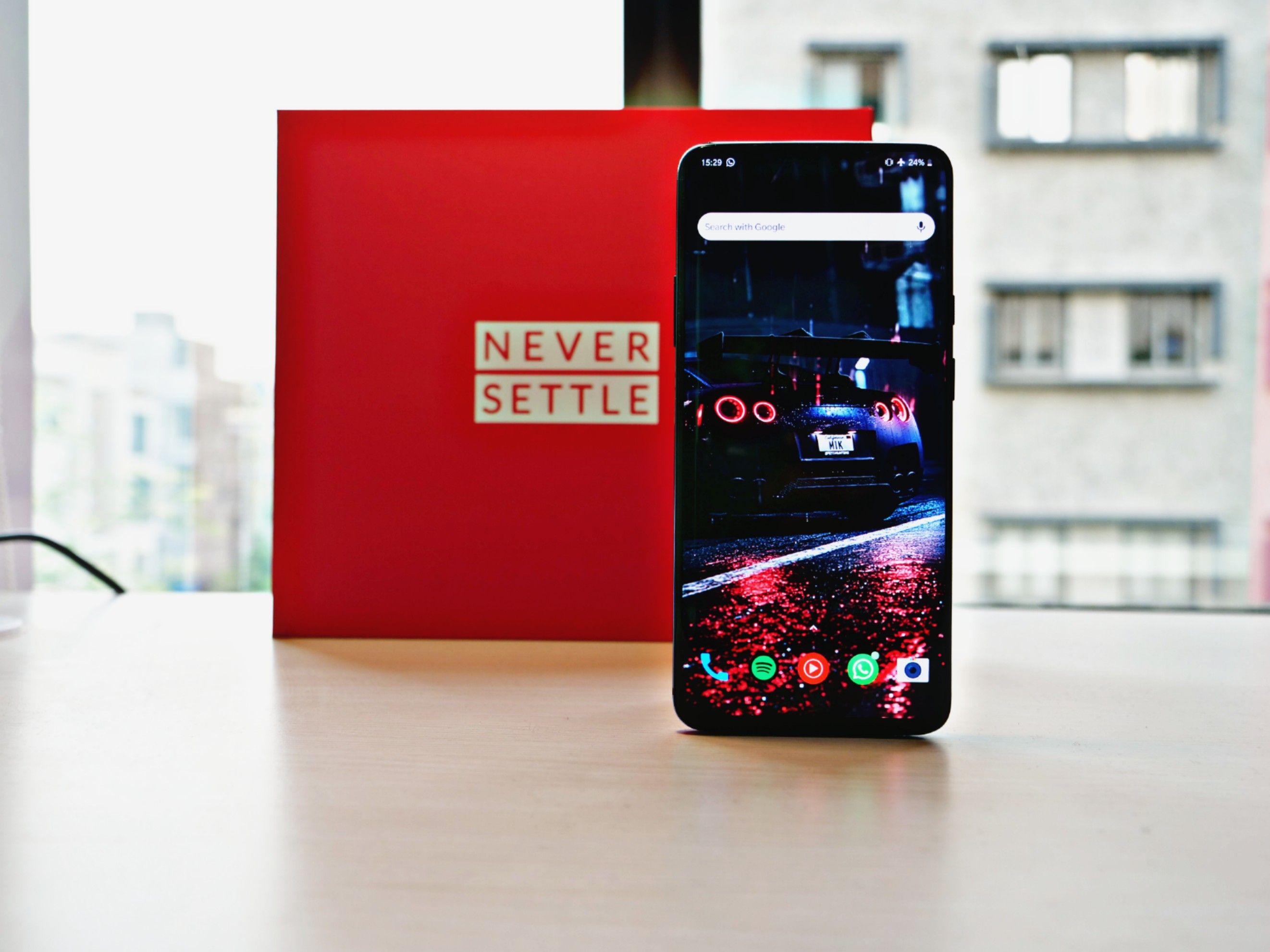 So, that brings us to the end of this review. The OnePlus 7 Pro is definitely the fastest Android phone money can buy right now, it's got a design that will definitely make heads turn. The display is a treat on the eyes and the phone's speed and responsiveness still feels unreal to me. The cameras will satisfy you most of the times, but considering the kind of cameras that flagship phones are offering right now, there's clearly quite some scope for improvement from OnePlus.
So, should you buy this phone? Absolutely. OnePlus has done a tremendous job with its phone and still pricing it at just INR 48,999 (6GB RAM), which is still a lot cheaper than all your traditional flagship phones. If cameras aren't your biggest priority on a phone, the OnePlus 7 Pro almost nails the formula for a perfect phone, at a price that won't burn your pockets. But is it the perfect flagship phone we all had been waiting for? Well, not really.
The Galaxy S10 family will give you a better camera performance, a headphone jack, marginally better screen, but you'll lose out on superfast charging, longer battery life, and that raw power which comes with the OnePlus 7 Pro. The Huawei P30 Pro will give you unbeatable camera performance, improved battery life and charging speeds, and great performance. The only downsides will be no stereo speakers and notched screen. Of course, there's a price difference of almost INR 25,000.
If the OnePlus 7 Pro came with a headphone jack, I'd have definitely recommended it over the Galaxy S10. If the OnePlus 7 Pro had slightly better cameras, I'd have definitely recommended it over the Huawei P30 Pro and the Pixel 3XL. But it doesn't, and that's what stops it from being the perfect flagship phone. And that brings me back to my original question: do we even need a flagship phone?