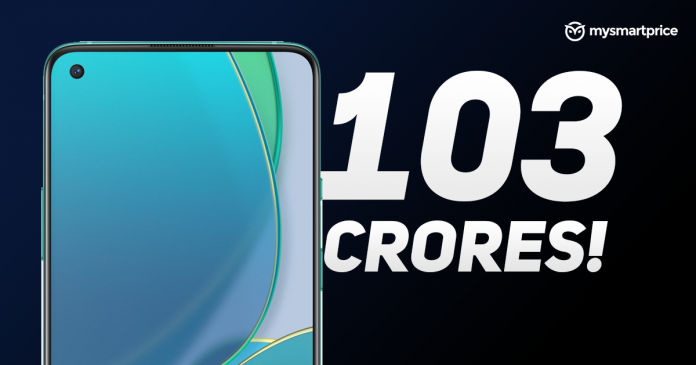 Is it just me or has Oneplus been making quite a few headlines all throughout 2020?  Launching a first "proper" flagship in the Oneplus 8 Pro, foraying into the budget Smart TV segment, debuting a mid-range NORD series, 2020 seems to have been a good year for Oneplus. And their latest launch, the Oneplus 8T (review) has just started to make some headlines of its own. This one is coming straight from China, where the Oneplus 8T went on sale last week.
Oneplus 8T: 8Tremendous response to the first sale
Oneplus 8T was announced on 14th October and it went on sale worldwide sometime last week. In China, the first sale happened as scheduled on 19th October. And, Oneplus was very proud to announce on a Weibo post that they sold units worth 100 Million Yuan in the first 60 seconds of the sale. Don't worry with the math, we've done it already for you. Oneplus 8T Price in China starts at 3399 Yuan for the base model and goes up to 3699 Yuan for the 12/256GB variant.
That translated to roughly about 25-30 thousand units being sold in the first 60 minutes! What's more, Oneplus also confirmed that in the first 10 minutes of the sale, they sold around 200 million Yuan worth of phones, which roughly translates to 220 Cr in Indian Rupees or around 60 thousand Oneplus 8T units. That's basically selling 60000 phones 600 minutes, or 100 phones every minute. PHEW!
Oneplus 8T: Specs and pricing
Oneplus 8T Price in India starts at Rs 42,999, which is technically lower than the Oneplus 8's launch price for the same memory variant. The major difference comes in terms of design where we now get a flat panel instead of the curved displays of the 8 and 8 Pro. The Internals and Camera specs remain largely unchanged. However, if you're confused between the 8 and the 8T or even the 8T and the 8 Pro, here's a detailed comparison that will answer all your questions:
Honestly, they are a lot similar than they might look on paper.  That's probably the reason why Oneplus didn't bother launching an 8T Pro. But the most noticeable difference comes in terms of battery charging speeds. We now get a 65 Watt Warp Charge solution instead of the 30 watt one, which had been around for almost three generations now. And like always, we tested it out in our 'Real Battery Test' series. Check out the video here:
What do you think about the Oneplus 8T? And what would you be expecting from Oneplus' next flagship? Let us know in the comments below or get in touch with us on our social handles.
Thanks for reading till the end of this article. For more such informative and exclusive tech content, like our Facebook page