If there's one positive I had to draw out of 2020, it's that most of us learnt the importance of finding time to include at least some sort of fitness activity into our daily lives. No wonder then, we saw a spew of fitness trackers and budget smartwatches launching in our country. In addition to the usual suspects from Amazfit, Xiaomi and Honor, we saw some notable debuts in the form of the Realme Band, Realme Watch Series and OPPO Watch, to name a few. And now their BBK cousin, Oneplus has joined the fitness mission by launching their first ever fitness tracker, named the Oneplus Band.
When I first heard rumors about Oneplus launching a smartband, I was excited, probably the most I have been about a product in this category. Oneplus has gained a reputation of making the most refined products at a compelling price point. Take for example, the Oneplus Nord (watch Review), which is probably still the most polished all-round phone in the sub-30K segment. Needless to say, I expected similar game-changing things from the Oneplus Band. And well, now that I have used it for about 10 days, I have a lot to say about it. So here's my full review of the Oneplus Band.
Oneplus Band: Unboxing, Build & Design
The box here is a pretty standard affair, so are the box contents. You get the band itself, a charging dock with USB Type-A connector and some instruction booklets. Coming to the band, I have the Black color variant with me. It's also available in Navy Blue and Grey colors, but I'm confused why didn't Oneplus leverage the Red color they have worked so hard to associate themselves with. Not to say that it looks bad, but in this black color variant, it basically looks like every other fitness band out there. Oneplus at least decided to make the straps dual-tone, but the grey underside of the black strap here is only visible when I am not wearing it. In my opinion, just a little more flair, maybe red trim around the screen, or red accents on the buckle etc. might have made a world of difference.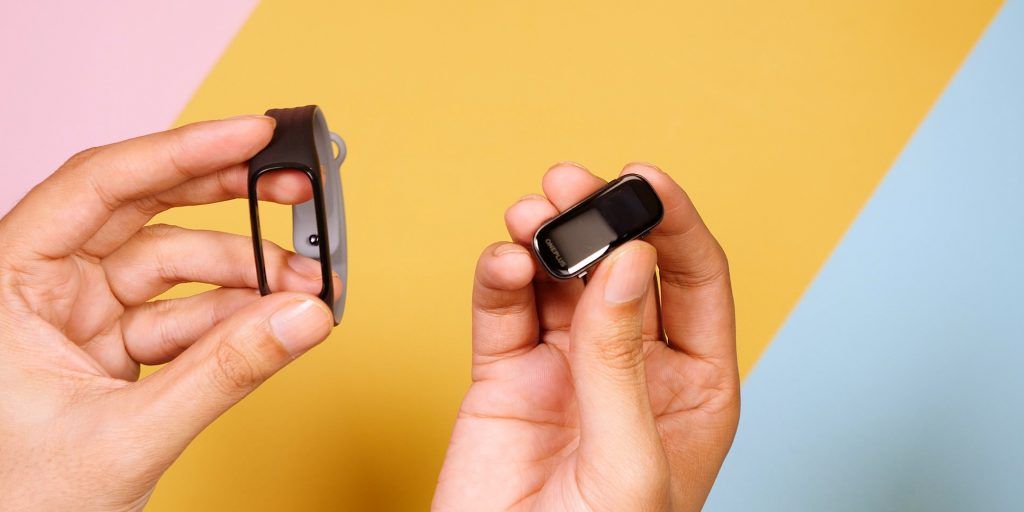 Coming back to what we do get here, it's a typical central module being held snug by the strap. Attaching/Detaching the central module is a pretty simple process too, however I'm not necessarily a fan of having to detach it for charging purposes. For reference, the Mi Band 5 already comes with a magnetic charger which can charge the band with it still being connected to the strap. 
The strap itself feels nice on the skin and I had no trouble wearing the band continuously, even to bed. It's 22 grams of weight makes it easy to just wear it and forget it, however there were times when I woke up to find the band off my wrist. That's due to the fact that the pin used to buckle the strap isn't too deep. It struggles to hold its own when facing friction from my super-heavy quilt. That being said, all other times I had zero complaints with the band's fit, and it stuck to my wrists tightly even during long workout sessions.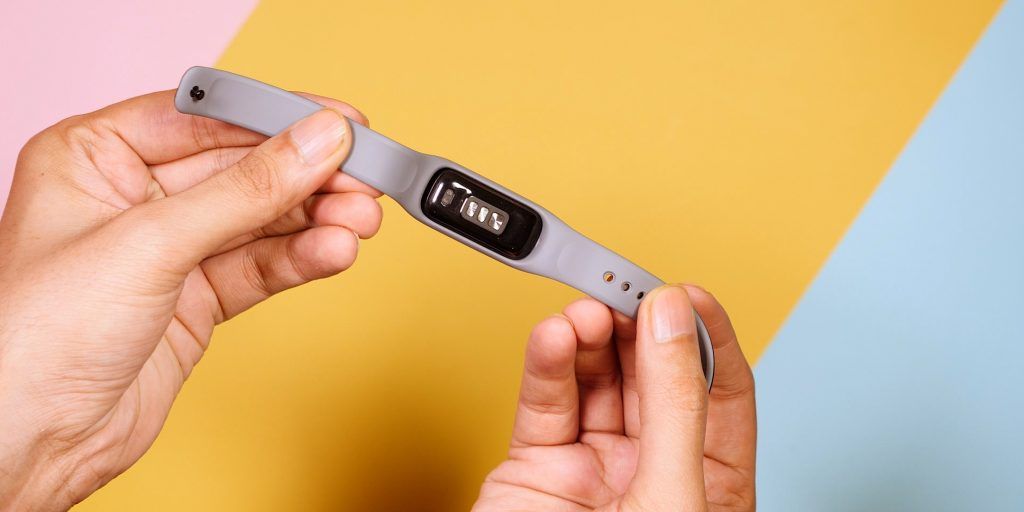 The Oneplus Band comes with an IP68 rating, having been rated for 5ATM. So you can wear it in a shower, swimming pool, or any other water body of your choice.. Overall the Oneplus Band design and build is exactly what you'd expect from a product at this price. Just don't expect anything extraordinary or ground-breaking. Spoiler alert, I'm going to rehash this sentiment a lot in this review.
Oneplus Band: Display and UI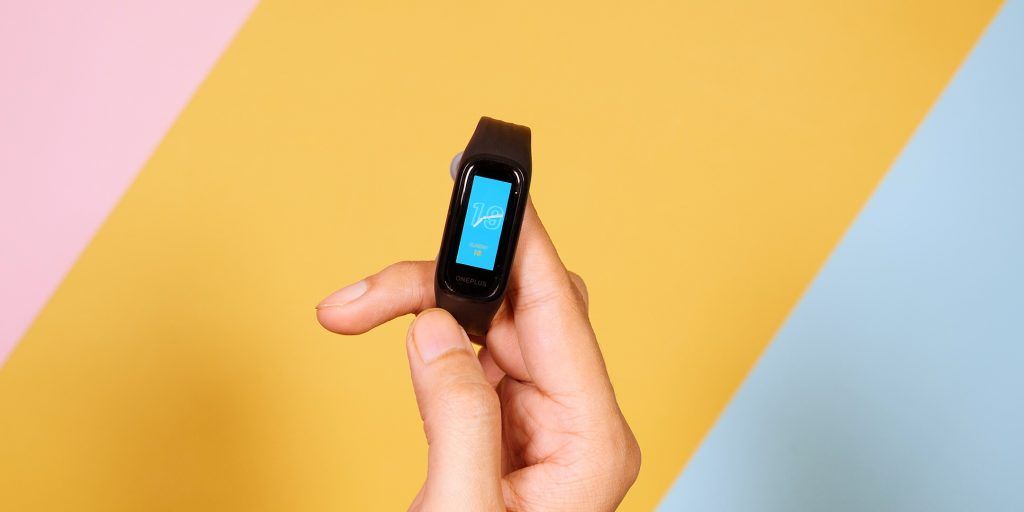 The Oneplus Band features a 1.1 inch AMOLED touchscreen display with a 126×294 pixels resolution. I'll be honest here, the first time I turned it on, I felt a bit disappointed. Because of the actual screen being so tiny when compared to the overall facia of the device. But it's not a deal-breaker, especially if you consider the fact that even the Mi Band 5 comes with basically the exact same screen specifications. Talking about them, the screen has a peak brightness of 450nits, and I had no issues in using the screen outdoors. The touchscreen experience has been good so far, swipes feel natural and the response time is good too. Again, nothing extraordinary though, as I do get some stutters or choppy animations every now and then.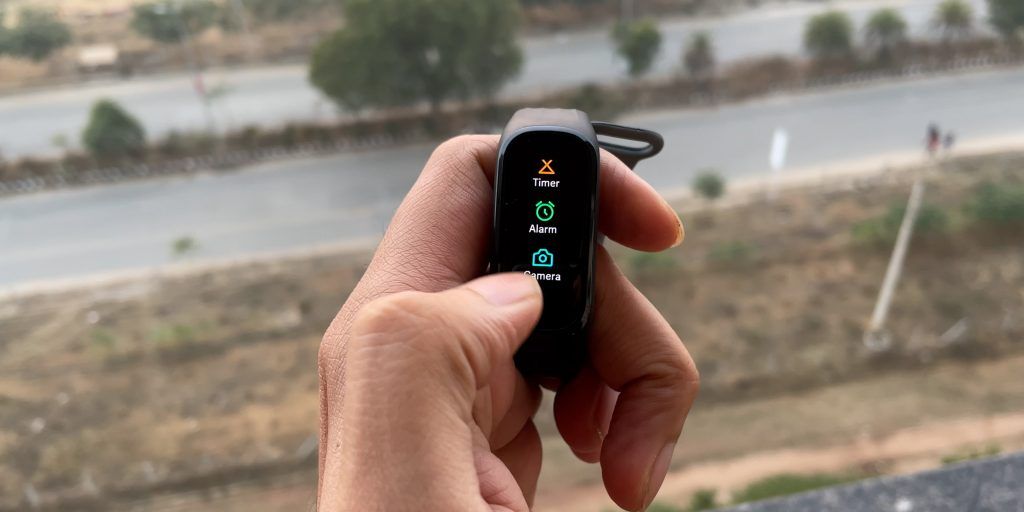 The UI itself is pretty straight-forward. You navigate your way through swipes on the screen: Left/Right swipes let you switch watch faces. Swiping Up/Down cycles through the settings and workout options you get. There is no 'Home/Back' button, that action happens via an inwards swipe from the left edge. You do get the option to receive notifications from various apps here, but you can't reply to them in anyway.
Oneplus Band: Fitness Tracking & Battery
Coming to the sensors onboard, you get continuous Heart-Rate monitoring and Sleep tracking, plus you get SpO2 monitoring, one feature that's lacking on the Mi Band 5. Apart from that, you get the usual array of accelerometers etc., that help detect fitness activity and movement. And no, there's no in-built GPS here, the band relies on your phone to track GPS data during workouts.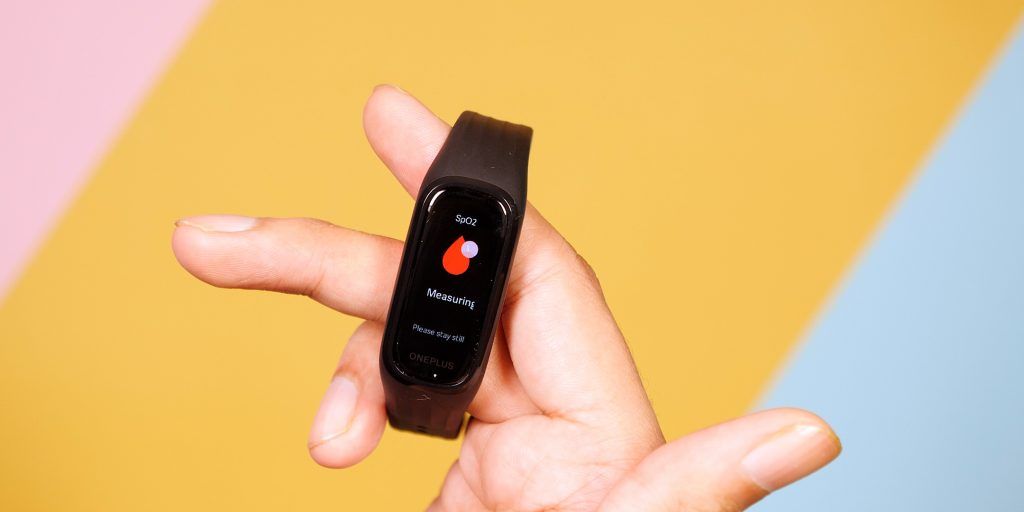 Talking about workouts, the Oneplus Band comes with support for tracking 13 different exercise modes, including indoor/outdoor runs, walking, cycling, swimming and some more like cricket, badminton and yoga. I didn't get a chance to test out all of these, but in general the activity tracking seemed to be working fine. I did a couple of running sessions with the band and I was satisfied with the data representation as well. However, I did notice some anomalies with the heart rate tracking, as the band showed my heart rate peaking to 180 while I was cooling down after a workout or just sitting dud in front of the TV. But during my 10-day usage, this happened only 2-3 times in total, so make what you will of it.
Oneplus Band: Oneplus Health App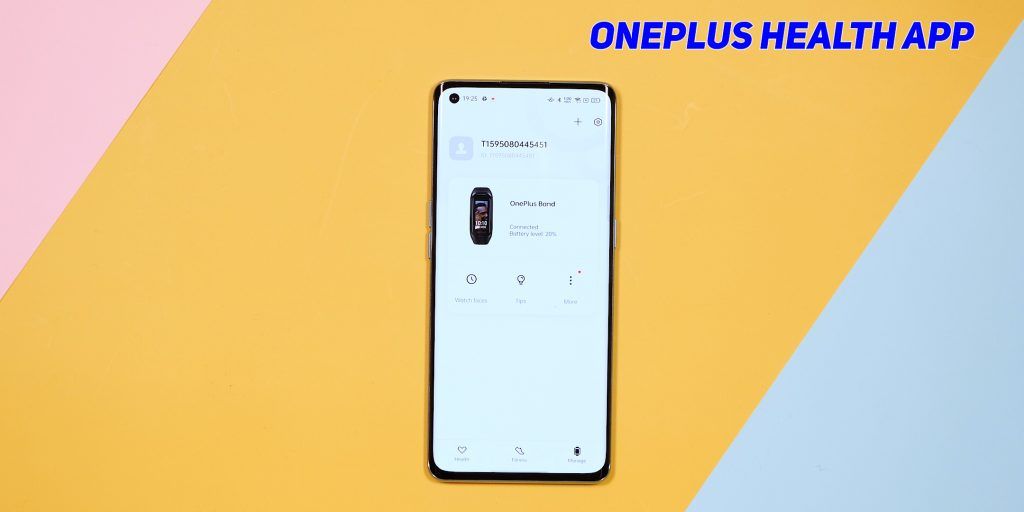 I've said it time and again, a smart wearable is only as good as its companion app. In the past year, I have used numerous budget fitness wearables and all of them offer basically the exact same functionalities. And still, I would end up recommending an Amazfit/Honor product to most of you just because of the solid companion apps they've managed to build. With the OnePlus band, I was expecting the app experience to be somewhat half-baked, with this being just their first attempt. But boy, was I surprised! The app felt much better than Realme's and OPPO's implementations we've seen till now. Infact, I'll almost rate it at par with Amazfit and Huawei's efforts.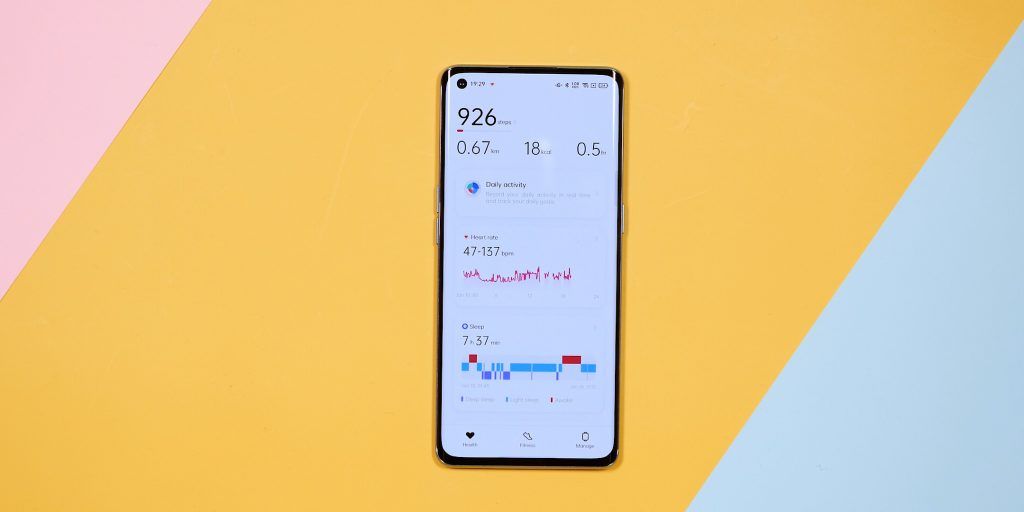 You get a good amount of settings and options to tweak according to your usage of the Band, there is a decent variety of watch faces available to choose from. However, Honor and Xiaomi definitely offer much more customization in terms of watch faces. You do get the option to use an image off your phone and make it a watch face.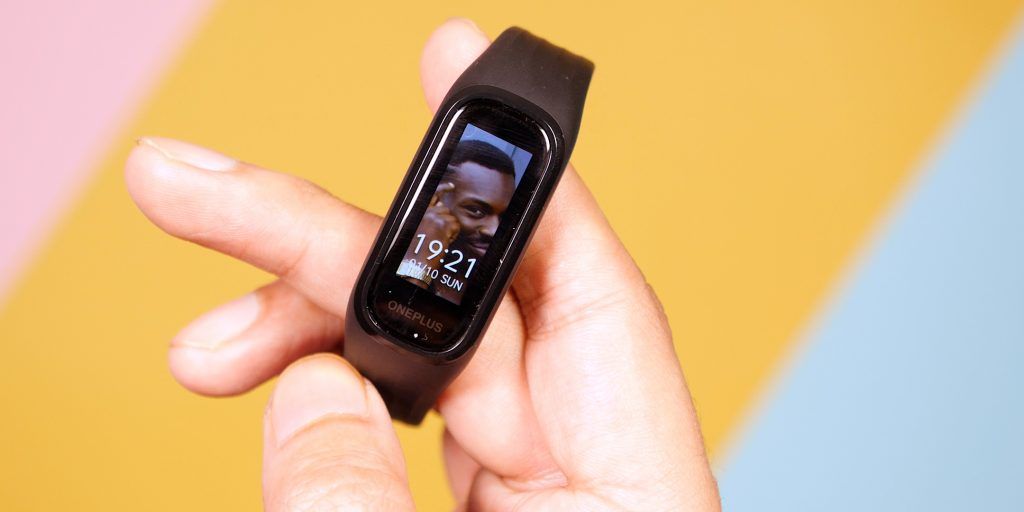 But what impressed me most was the overall aesthetic of the app, and how nicely it collates and represents all the data. There are a ton of insights on offer, and navigating through the various tabs felt pretty intuitive. OnePlus has ruled our hearts with OxygenOS since years and I am expecting the OnePlus Health app to only get better going forward. To know more about the app and how it works, watch my video review:
Coming to the battery life, the OnePlus band comes with a 100mAh battery, which is claimed to last up to 14 days. That figure might be correct, if you don't use a lot of features on the band. In my usage, I had Heart Rate Monitoring set to 6-minute intervals, sleep tracking with SPO2, and roughly 30 minutes of workout tracking in a day. My OnePlus Band fell below the 10% mark on the 7th day, so I'm guessing you can expect a 1-week battery life realistically speaking. Charging here is a bit of a chore as you have to remove the central module and set it to charge within the magnetic charging cradle you get.
OnePlus Band: Pricing & Verdict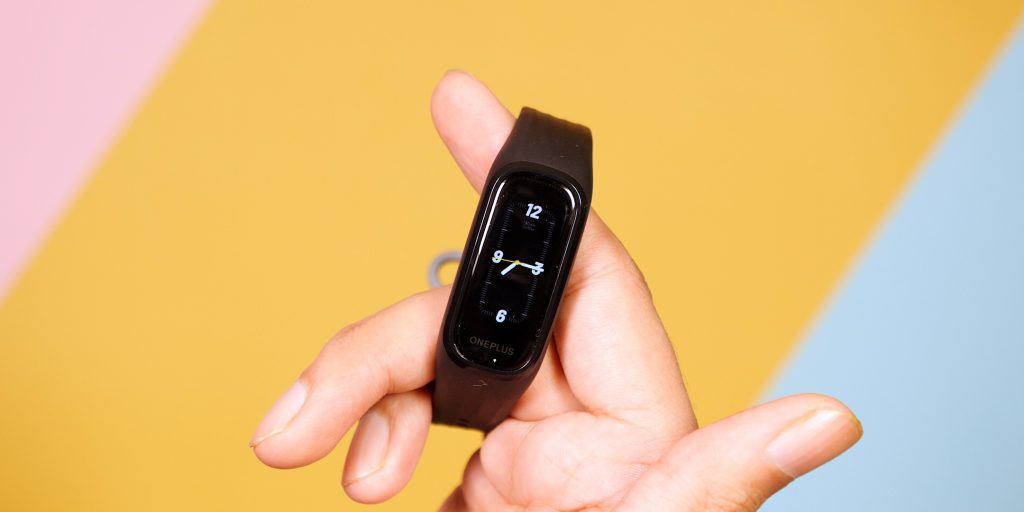 The OnePlus Band is priced at Rs 2,499. The Mi Band 5 is currently priced exactly that too, and you can get the Honor Band 5 for slightly cheaper. And to be honest, there's not one standout feature here that I can count as a win for the OnePlus Band. However, the Mi Band 5 in India doesn't come with an SPO2 sensor, so that's one thing that the OnePlus Band wins in. But the Mi Band 5 does offer you additional stuff too. Like the Women's Health, including menstrual cycle tracking etc., plus the Mi Band 5 also has a slight edge when it comes to battery life. Furthermore. the Mi Band series has been around for some time now, and there's a lot of third-party apps you can get for the Mi Band 5 which let you do much more with it. Not that the OnePlus Band is a bad device for the price, I just think OnePlus needed to do a bit more to make that 'splash' needed to make people want to choose this over anything else. As for now, If you're looking for the best fitness band under 2500, I'd suggest you to go for the Mi Band 5. Or just wait for the Honor Band 6 to launch in India, because THAT looks like the gamechanger this segment needed.
What Is Good?
Lightweight Design
SPO2 Sensor
Refined App Experience
What Is Bad?
Missing the 'OnePlus' Flair
Limited Customization
Brings Nothing New