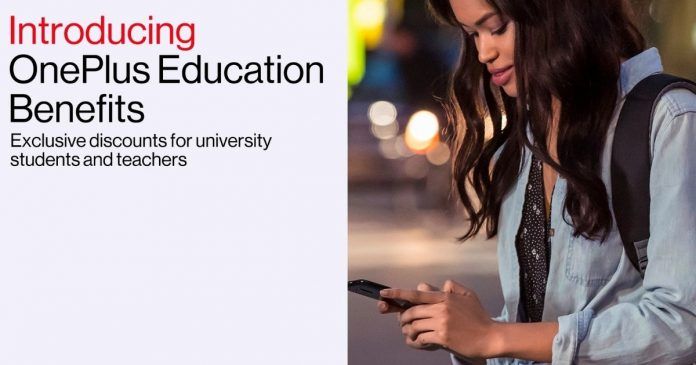 OnePlus has now announced OnePlus Education Benefits program, its own version of Apple's Student Discount program. As a part of the program, OnePlus is offering discounts to students and teachers. OnePlus made the formal announcement for the program on OnePlus community and social media. OnePlus says that students and teachers from higher education institutions are eligible for the program. Though, OnePlus aims to cover 760 universities and 38,498 colleges across the country with this program. Eligible users can avail of a discount of Rs. 1,000 on OnePlus smartphones, and a 5% discount on accessories, but the benefits can be availed only once per year. OnePlus in the community post said,
"We often enter college and there is that feeling that one must wear their ID card for the sake of rules, and it feels unnecessary? Well, not anymore; we have something to tell you all, Introducing OnePlus Education Benefits – exclusive discounts and perks if you are a part of a higher education institution – student or teacher."
What are the benefits of the OnePlus Education Benefits Program?
OnePlus is offering the following benefits to the students and teachers registered under the program,
Instant Rs. 1000/- off on OnePlus smartphone or OnePlus TV
5% discount on all OnePlus accessories including Cases, Protectors, Cables, Gear, and Audio products
Students and teachers can verify their status via Student Beans and complete the process. But, the benefits will remain valid for one calendar year. It is also worth noting that a user can avail a benefit just once, so a user who has bought an OnePlus smartphone with Rs. 1000 discount will not be able to buy OnePlus TV with a discount, and vice-versa. Though these benefits will last for a year, users can re-verify their status, as long as they're enrolled in a college as a student or faculty member.
OnePlus's Education Benefits program comes almost a year after the OnePlus Red Cable Club program which also offers discounts and benefits to the loyal OnePlus consumers. What do you think of OnePlus Education Benefits Program? Do let us know in the comments below.
Thanks for reading till the end of this article. For more such informative and exclusive tech content, head over to our Facebook page