Highlights
The OnePlus Pad looks absolutely stunning and screams premium.

It is powered by a MediaTek Dimensity 9000 SoC.

The tablet managed to score 8.4 out of 10 in our review.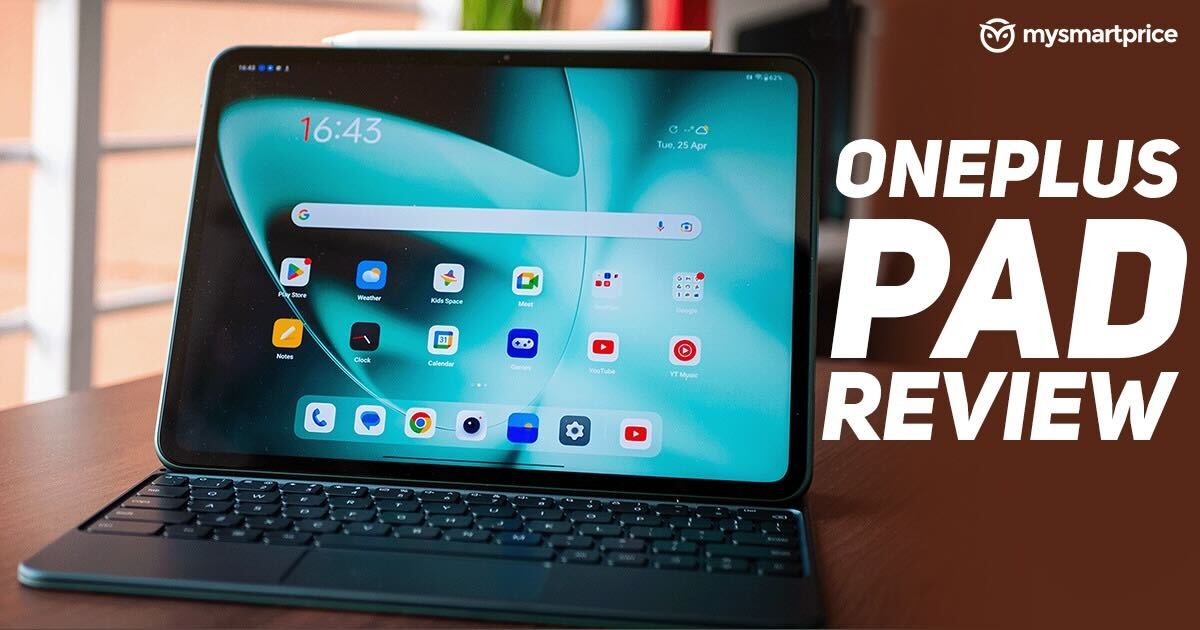 The tablet market has been widely occupied by Samsung and Apple, with its Galaxy Tabs and iPads. However, while these two brands mainly cater to the premium segment, many other companies, such as Lenovo, Xiaomi, Realme, and more, have picked up the pace with multiple launches in the last year.
OnePlus, a company usually known for its smartphones, was surprisingly nowhere to be seen in the tablet market — especially when considering most of its sister brands were already knee-deep into this. Well, that also changed during the recent Mobile World Congress (MWC) in Barcelona. The company revealed its first-ever tablet, the OnePlus Pad.
Now, there are a lot of expectations, considering the expertise of the company in the smartphone industry. However, with that being said, it looks like the OnePlus Pad will be delivering on almost all of them.
The tablet looks gorgeous and comes with an 11.61-inch 144Hz display. It's powered by a MediaTek Dimensity 9000 processor, a tried and tested chipset on smartphones. It also packs in a beefy 9,510mAh battery.
As of writing this review, the OnePlus Pad is already up for pre-orders in two variants with a starting price of Rs 37,999. But before you go ahead and add it to your shopping cart, read our review to find out if it is worth the buck.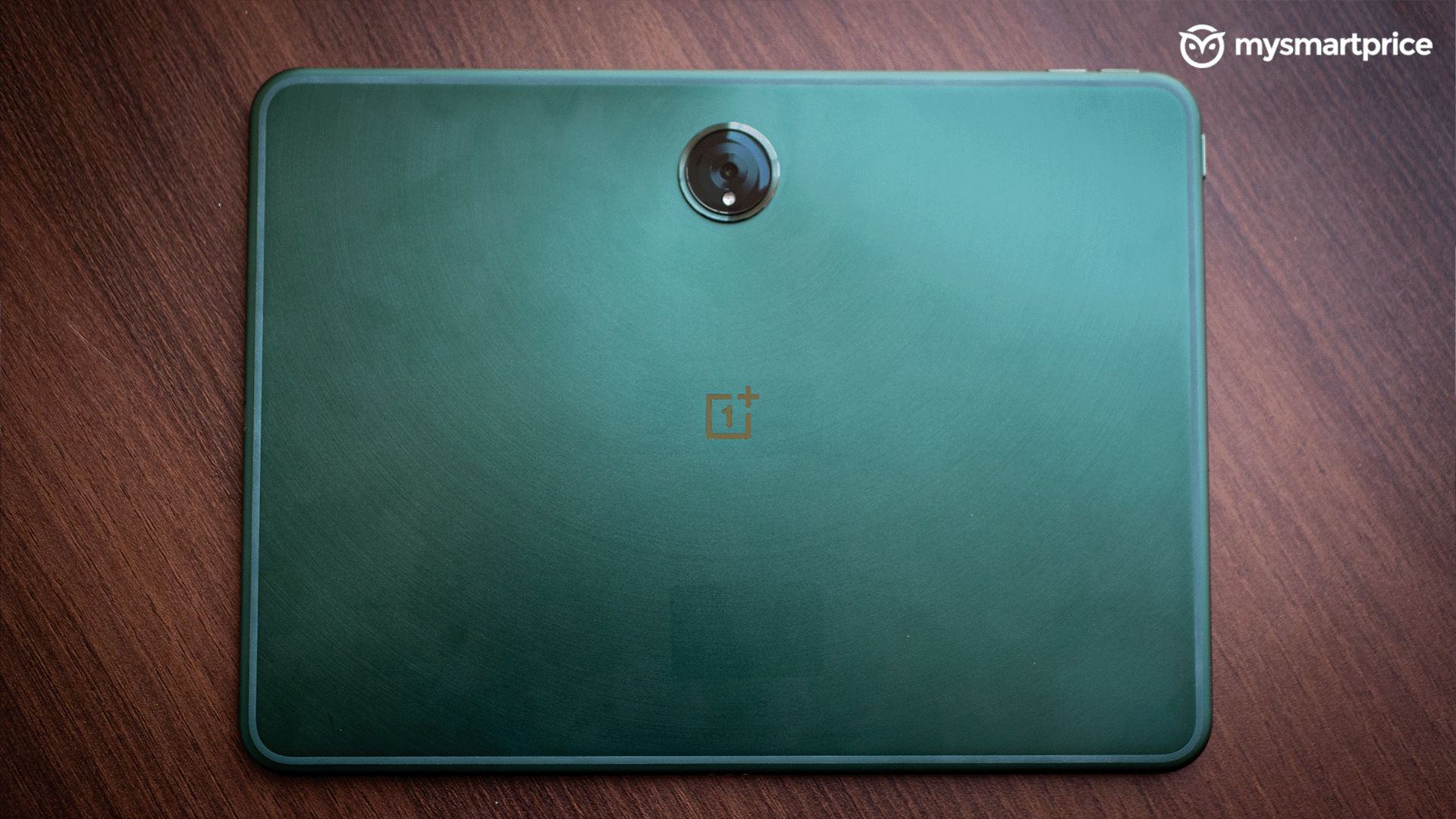 OnePlus Pad Review: Design and display quality
OnePlus took its sweet little time before coming up with its own tablet, and it nailed the design language. The sleek metal unibody build looks and feels gorgeous. The smooth, matte-like finish on the rear, with rounded circular patterns, adds to the premium-ness of the entire package. These patterns look like a solar system with the camera module acting like the Sun. Speaking of which, the module at the rear protrudes, making it wobble when kept on flat surfaces. This alignment funnily reminds us of Mike Wazowski from Monster. Inc.
The back panel manages to collect unwanted smudges, but we haven't noticed any scratches as yet. The tablet is available in a single colourway — Halo Green, which looks very close to an emerald green shade. The rounded edges make it easier to hold the tablet. The OnePlus Pad tips the scales at 552 grams, with the weight distributed evenly. When held in portrait mode, the right side of the tablet is home to two individual volume rockers, a secondary microphone, and a magnetic strip for the stylus. The top portion features two speaker grilles and a power button.
This placement is ideal for tablets, and the buttons provide good feedback. The left side has three magnetic connectors for accessories, such as a keyboard. The bottom has another pair of speaker grilles, a primary microphone and a USB Type-C port for charging.
Flipping the tablet on its front reveals a massive 11.61-inch 2800 x 2000 pixels display. Unlike most tablets, the OnePlus Pad comes with a 144Hz display. We had a few findings about this, and we'll get to that soon.
The display has an aspect ratio of 7:5, which is not often found on tablets. This also invites a duo of black bars when watching videos in landscape. However, this helps with reading articles and e-books. It has a peak brightness of 500 nits, and the content was legible outdoors too. However, this is slightly lower than what the Xiaomi Pad 5 offered.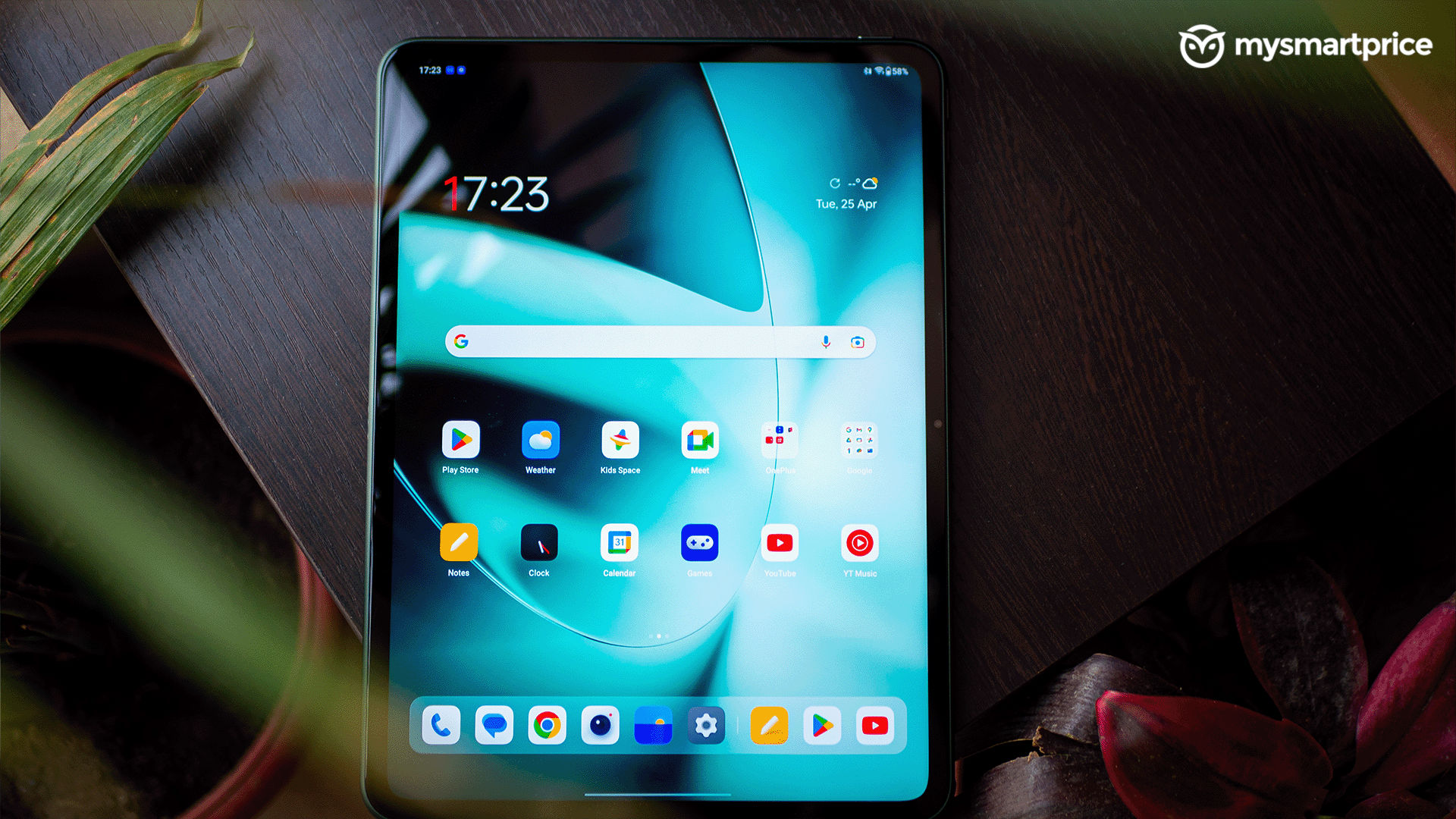 The bezels here are fairly slim when compared to other tablets. It has a screen-to-body ratio of 88 per cent. Despite AMOLED panels becoming a norm in smartphones, even budget ones, most tablets still come with an LCD panel. This includes the Xiaomi Pad 5 (Review) too. The Lenovo Tab P11 Pro (2nd gen) (Review) is an exception with an OLED screen.
While using the tablet, we noticed that only some of the UI elements or apps could take full advantage of the 144Hz. We tested this using the refresh rate ticker in the developer options and a few more apps from the Play Store. The display only refreshed at 120Hz and switched to 60 or 90Hz in certain apps. When put under the TestUFO and Manuel Pinto websites, the ticker went to 144Hz.
It's not a dealbreaker as the difference between 120Hz and 144Hz is not very major. However, we also put this to the test by asking a few of our colleagues to make a difference. Also, since this has been brought to light, we feel like displays with 120Hz panels are more than enough unless it's a gaming smartphone.
When it comes to the quality of the display, there are no major shortcomings. The colours on the display are vibrant, offering good viewing angles. Of course, it's not able to render rich blacks with it being an LCD panel, but the content looked good overall. The settings tab provides you with a bunch of presets in case you prefer a more natural tone.
We usually toggled on the 'Pro' mode for a more balanced output. The OnePlus Pad also supports Dolby Vision, which is good. If you prefer sketching,
We consume content like crazy, and with such a big portable display, we obviously did just that. Most of our time was spent on Netflix, Amazon Prime Video, and YouTube. The device supports the Widevine L1 certification, so watching high-quality movies on these platforms was also possible.
The movie-watching experience was made even better by including a quad-speaker setup amped by Dolby Atmos. The speakers are quite loud and clear. These also automatically set their right and left audio channels depending on the orientation of the tablet.
OnePlus Pad Review: Accessories
For a tablet to double up as a laptop, accessories play a big role. OnePlus sells its stylus and magnetic keyboard separately. Starting with the stylus, it comes in a single off-white colour and looks decent. The stylus is well-weighted and is quite responsive and smooth. During our usage, we did not notice any latency issues. However, it does not come with any physical buttons for shortcuts, which is something that should have been added.
For example, clicking selfies using the stylus is one use-case that justifies a need for it. Besides that, this can also come in handy if you prefer drawing. The stylus magnetically attaches itself to a strip on the tablet for charging purposes. A small pop-up assures you.
Besides that, OnePlus also lists a magnetic keyboard with a folio case, which feels quite premium. It comes in the same Halo Green colour as the colour scheme. The soft finish on the outside gives it a premium feel. You can tilt the keyboard and case combo to 120 degrees, providing a perfect laptop-like feel.
Speaking of which, the keys are well spaced out with decent travel. The included touchpad also has a good click, and you can use the OnePlus Pad as a laptop. This adds a bit of weight to the entire package but also adds a sense of safety in case (no pun intended) of accidental drops.
OnePlus Pad Review: Performance and software
The OnePlus Pad uses a tried and tested processor, in the name of MediaTek Dimensity 9000. The same chipset can be found on the Vivo X80 and the more recent Tecno Phantom X2. The processor is based on the 4nm fabrication process and has a clock speed of 3.5GHz.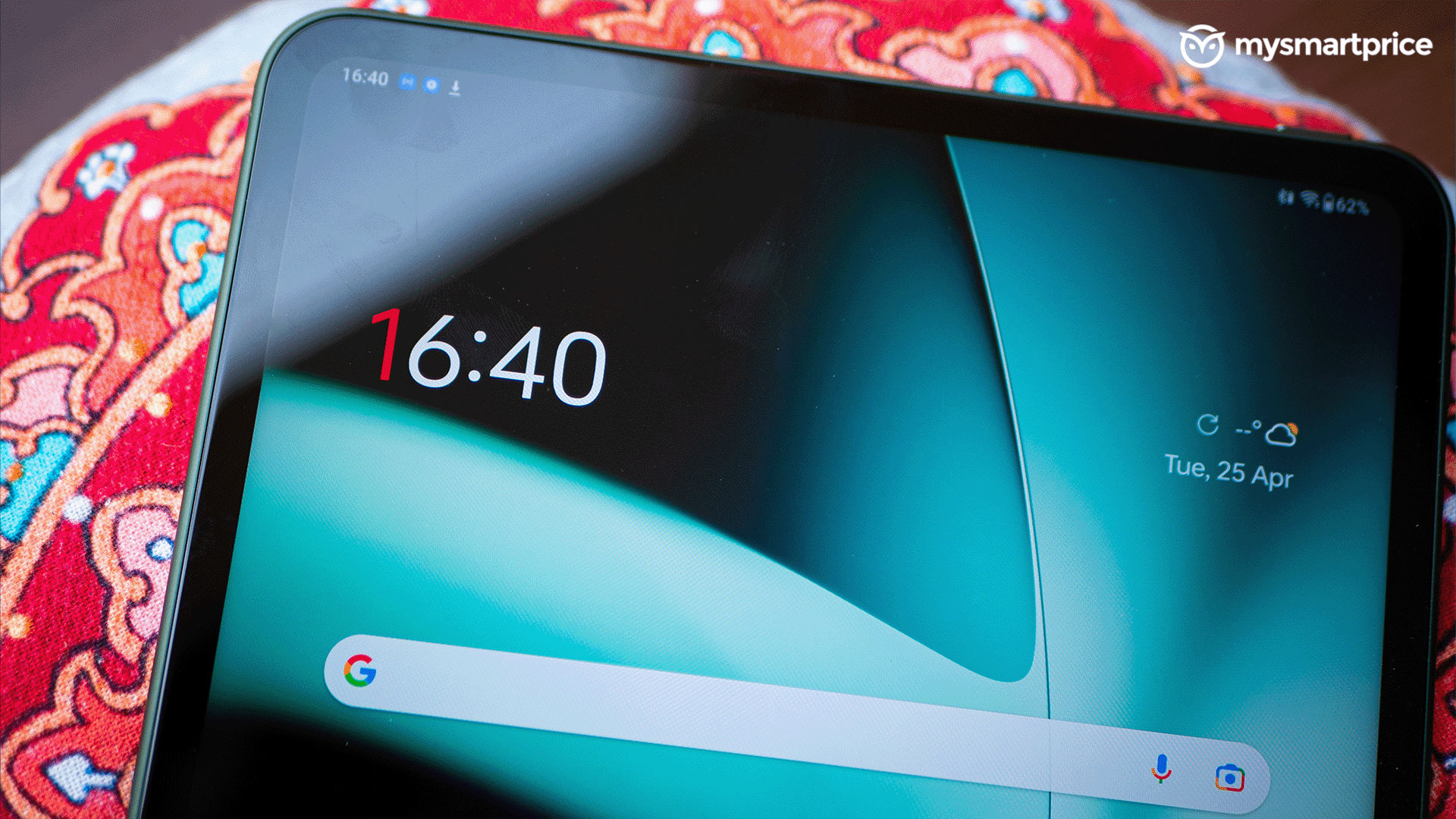 This chipset performed brilliantly on the Tecno Phantom X2 (Review) during our tests, and the same can be said for the OnePlus Pad. It easily blazes through day-to-day usage without a single shred of lag or stutter. As mentioned before, the OnePlus Pad comes in two variants: 8GB LPDDR5 RAM and 128GB storage and 12GB LPDDR5 RAM and 256GB storage. It uses UFS 3.1 for storage, which promises faster read and write speeds. Gimmicks such as RAM expansion are also included here.
Switching between multiple apps was also relatively easy for the tablet. RAM management on the tablet was also on par with its whole performance package, and apps stayed in memory without having to restart more often. However, keeping the heat under control is a task with such a sleek and compact body. At times, we noticed slight warmth on the rear panel when continuously watching content for a long period of time. Of course, the current high temperatures in Delhi also tend to play a part in this.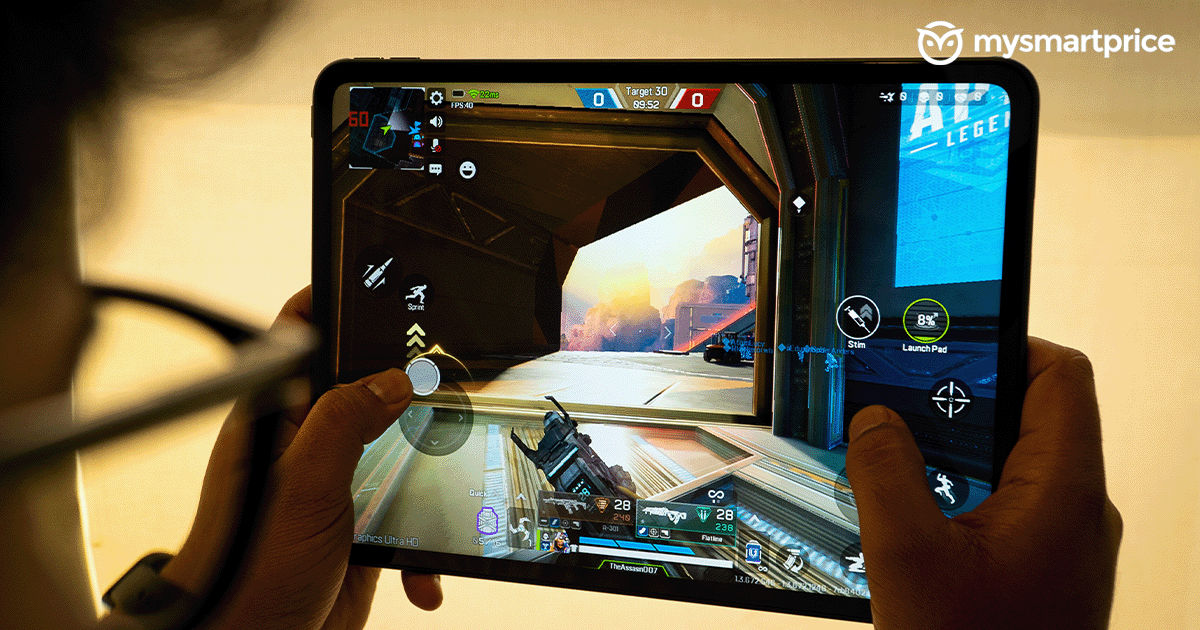 The OnePlus Pad also ranked well in our benchmark tests, with AnTuTu bearing numbers of 848,052. Geekbench 6 scores returned 1086 and 3188 single-core and multi-core scores, respectively. As for benchmarks on 3DMark, Sling Shot Extreme tests were maxed out. Of course, gaming on such a big device is only possible if you are a pro and prefer playing with a claw-finger technique. Nevertheless, we managed to play a few rounds of Apex Legends Mobile, and it performed well without much trouble.
Coming to the software side of things, the OnePlus Pad is powered by Oxygen OS 13.1, based on Android 13. The UI is as clean as it comes, with only Netflix pre-installed and no unnecessary bloatware apps that send spam notifications. In addition, OnePlus has slightly tweaked its home-grown software to fit a tablet. This starts with a neat and handy little dock on the bottom, which holds nine apps in place for quick access. There are other inclusions, such as a split screen, which helps you use two apps simultaneously. We usually did this while reading some articles on Chrome, with a video playing along on YouTube in split-screen mode. This is quite useful if you multitask with a lot of apps.
More features, such as the Smart sidebar, have also made an appearance here, which helps you quickly launch apps and other functions. This can also be found on OnePlus smartphones, and we find it quite handy. The OnePlus Pad also incorporates a few gestures that help make the overall experience of running such a big screen much easier. Besides all this, you also get basic customisation options that allow you to mess around with the fonts, icon colours, and more.
Along with these, OnePlus has also added a 'Smart notification hiding' feature, which hides the content of banner notifications if the tablet is being used by someone other than you. This worked brilliantly well.
As for biometrics, the OnePlus Pad comes with face unlock, and it works flawlessly, no matter the orientation of the tablet. Unfortunately, it misses out on any IP rating, so be careful around water.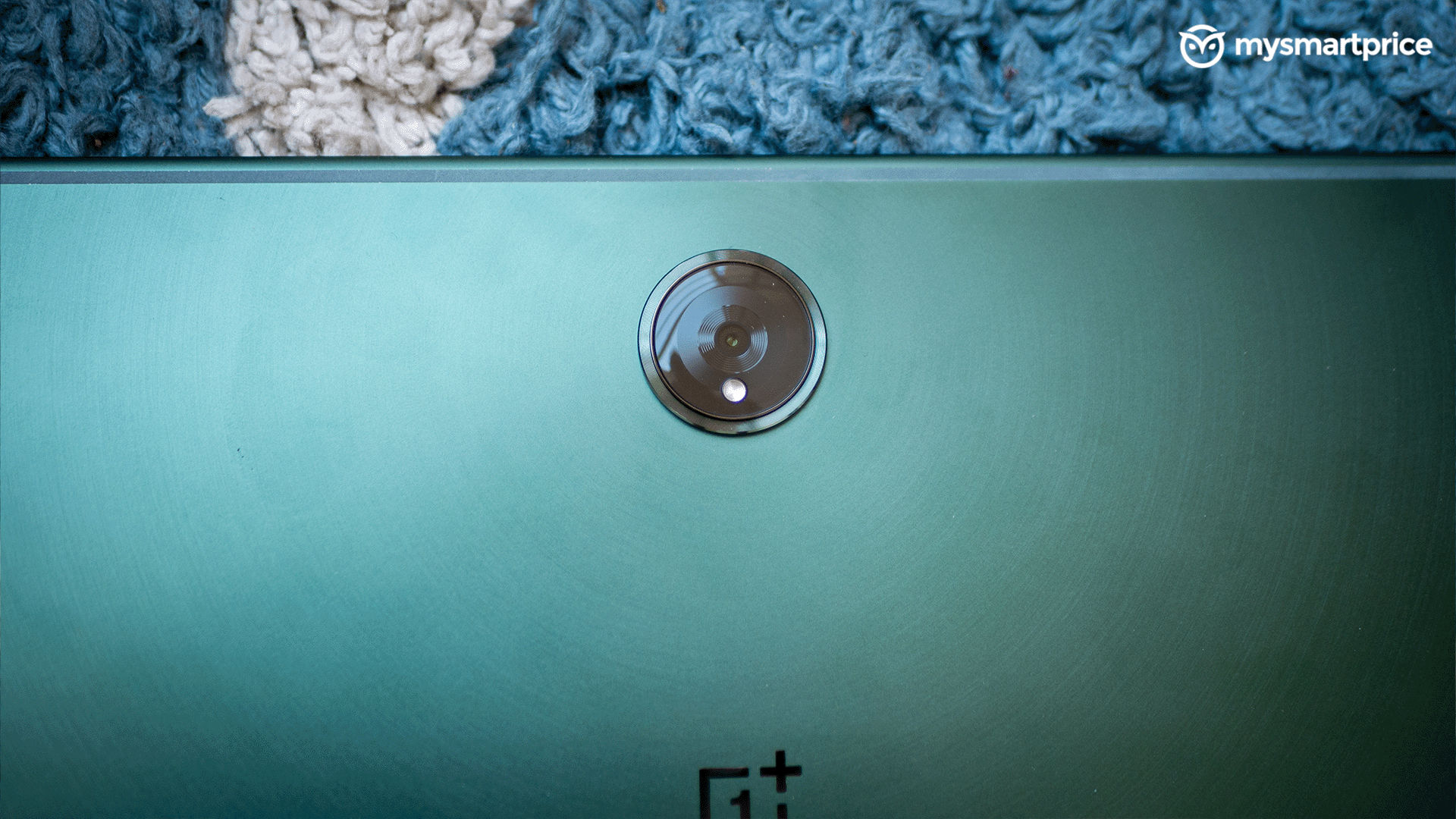 OnePlus Pad Review: Cameras
The OnePlus Pad sports a single 13-megapixel camera at the back, while the front camera uses an 8-megapixel shooter. The camera UI is pretty straightforward without much fuss. You get to play around with settings and modes. Tablets, for obvious reasons, do not focus on cameras. Despite that, we found the 13-megapixel shooter to be serviceable. Photos taken with the rear camera in bright daylight were decent, with adequate details. These images have decent colour reproduction and should do the deed for general purposes.
OnePlus Pad Camera Samples
The front camera is well-centred, and the selfies were average. Something you would expect from an 8-megapixel camera. Nevertheless, these photos are more than enough for sharing with friends on messaging apps. The Special Features tab in the settings also introduces Limelight, a concept similar to Apple's Center Stage.
OnePlus Pad Review: Battery and charging
The OnePlus Pad, despite coming in such a sleek and thin form factor, packs in a massive battery compared to tablets in this price range. For context, the Lenovo Tab P11 Pro (2nd Gen) came with an 8,000mAh battery, while the Xiaomi Pad 5 was backed by an 8,720mAh battery. OnePlus claims a standby time of about a month. In our usage, the tablet lasted for about two days with very heavy use. We spent most of our time on Google Chrome, Netflix, and YouTube during our review period. You should be able to stretch the usage time for more with light use.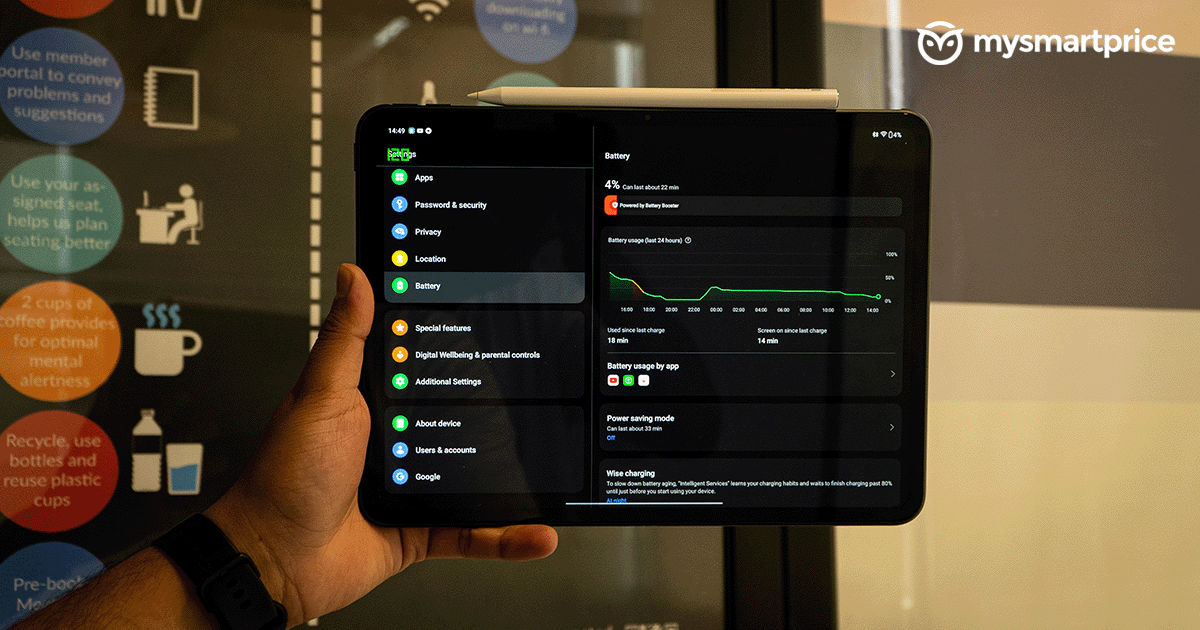 The OnePlus Pad comes with a 100W charger in the box. However, it only supports 67W charging. This is still leaps and bounds beyond what the Lenovo and Xiaomi counterparts at 20W and 22.5W could provide. It took us an hour and 10 minutes to completely charge from dead, which is also quite impressive considering the beefy battery.
OnePlus Pad Review: Verdict
The design language of the tablet gives it a unique tag in the market. This, paired with a very competent display and speaker duo, does the deed for content-consumption maniacs. The refresh rate saga is something that exists, but it shouldn't hinder your experience or your buying decision at all. The MediaTek Dimensity 9000 makes the OnePlus Pad one of the most powerful Android tablets ever made, making it punch way above its league. Not a lot of companies get things right on the first attempt, especially when it's such a tricky product like a tablet, which is not replaced as often as a smartphone and has multiple use cases, so it's a massive feat attained by OnePlus.
While cameras are not the OnePlus Pad's forte, that's something a few tablet makers get right. The massive battery also adds to the entire package and makes it worth the buck. It's good to see more companies delving into the tablet market, and this only means more options for consumers.
As for the accessories, the OnePlus Stylo and Magnetic Keyboard cost Rs 4,999 and Rs 7,999, respectively. This brings the price of the entire package with the OnePlus Pad to Rs 50,997.
If you are looking for alternatives in this price range, the Lenovo Tab P11 Pro (2nd Gen) and Samsung Galaxy Tab S7 FE sit somewhere near. The former has a slight advantage with an OLED display. But, if you want to save up on costs, the Xiaomi Pad 5 is also one valuable contender.
What Is Good?
Eye-candy design and premium build
Good display with high refresh rate
Great performance
Quad speaker setup produces good sound
Fast charging and reliable battery life
What Is Bad?
Accessories are slightly costly
Tends to get warm under pressure