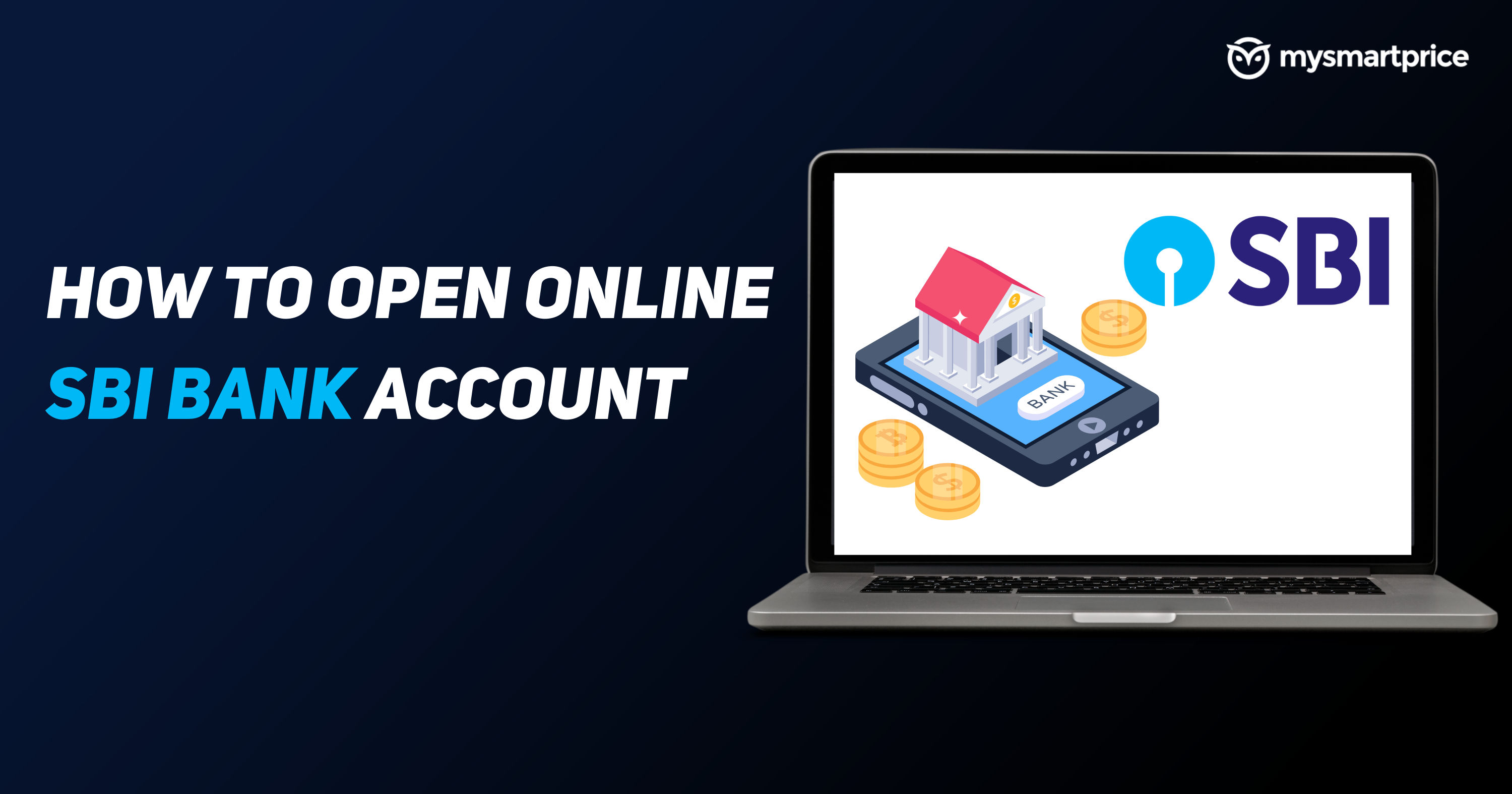 The State Bank of India is also popularly known as SBI. This is one of the largest banks in India with over 45 crore customers along with over 22,000 branches across India. The SBI bank is also one of the most trusted and preferred banking partners in India. The bank offers multiple services such as mobile banking, SBI online banking, FASTag, debit card, balance enquiry, and more.
To take advantage of these aforementioned features, having an SBI account is mandatory. In case you are looking to open a savings account in the SBI bank, in this guide, we will be taking a look at two ways to open SBI savings account using an online method. The first one will be using the SBI online portal and the second one will be using the SBI Yono mobile app. It is worth mentioning that, in both cases, you'd have to visit the branch once to submit a form (SBI online method) and for biometric (Yono app). Let's get started with the first method.
Also Read:
How to Open SBI Account Online Using SBI Online Portal
In this method, you will have two fill out two forms and take a printout of the form and visit the bank branch. Here is how to open an SBI saving account using the SBI Online portal.

Visit

SBI Online website

Select Apply for SB/ Current Account > Saving Bank Account > for Resident Individuals > Small SB account

After the 6th point, click on "Start Now", select "Fill Customer Information System"
Fill in your personal details like name, address, PAN, KYC document, and Aadhaar

Once you have filled and selected all the mandatory fields, click on "Proceed"

Next, a Small Customer Reference Number (SCRN) will be generated which you have to note down. You will have to use the SCRN later to link the customer in the Account Opening Form

After this, you will have to be taken to the "Account Information section"
Here, first, you have to enter the SCRN, mobile number, Branch Code (use Branch Locator to find the branch where you want to open the account)
Further, fill in the additional mode of operations and select add ons like e-statement, mobile banking, credit card, ATM/ debit card, and more.

Also, make sure you add nomination by selecting "I/We want to nominate the person as per details given below, in this account in form DA-1"

Click on "Proceed"

Once you have filled this you can come back to step 3 and select "

Print Account Opening Form"

Enter your SARN, Date of Birth and click on proceed to download your form

Once downloaded, you will have to take a printout using an A4 paper

Next, carry the printout taken along with your recent two photographs, and documents (mentioned below) and visit the nearest branch

Once your documents are verified and approved, your SBI savings bank account will be activated in 3 to 5 days.
Note: You can open a savings bank account as an individual in a single name or jointly with others and by certain organizations/agencies approved by RBI.
Once the account is opened you will have to maintain a minimum balance depending on your location. Here is what the SBI guideline suggests.
| | |
| --- | --- |
| Rural | Rs 1,000 |
| semi-urban | Rs 2,000 |
| Metro and Urban | Rs 3,000 |
If you are not maintaining the minimum balance, you will be fined with a penalty.
How to Open SBI Account Using Yono App
This method is a 100% paperless process and once you've opened the account, monthly bank statements will be mailed to your registered ID. You can also personalize your name on the debit card here. For this method, having a PAN and Aadhaar card is mandatory for this method, make sure you keep them handy before getting started.
Download the SBI Yono App and open it

Select New to SBI option > Open Savings Account

Select "Without branch Visit" > Insta Plus Saving Account > Apply Now

In the apply now screen select "Open with Aadhaar using e-KYC (even if you select this, you will have to visit the bank branch for biometric authentication)

On the next screen, enter your mobile number and Email

Enter the OTP you received on your phone (You will be asked to set a password here)

You will be asked to confirm that you are paying tax in India, check the box, then enter your PAN number and tap on Next and again Next

On this screen, you will be asked for personal detail, select either options of the following: Scan the Aadhaar QR code, Enter your Aadhaar number or Enter a Virtual ID number and tap on "Get OTP" button

Enter the OTP that was sent to your Aadhaar linked mobile number and tap on "Submit"

Your personal details will be pulled from Aadhaar, check once and tap on "Next"

In the next screen, select your state, district, sub-district, and village/town and tap on "Next" (If your address is different, you can select the option shown in this screen to change the address)

Enter your PAN card number and tap on "Next"

On the next screen, your photo from your Aadhaar card will be shown, tap on "Next"

In this step, you will have to select your educational qualification. Select one of the options provided. (Below SSC, SSC/HSC, Graduate, PG, Professional)

Select/ Enter all the additional information asked on the screen (patent's name, occupation, income, religion etc)

Next, enter nominee details by filling in name, relationship, DoB, and address, tap on "Next"

Select the branch where you want to open your saving account and click on "Next"

Accept the T&Cs after going through it once and click on "Next"

A new OTP will be sent, enter the OTP

Enter the name, which you'd prefer to be printed on your Debit card and click "Next"

A unique token number will be generated on your screen for your reference (take a screenshot), click on "Next"

The final step is to complete the Video KYC process, read the instructions and tap on "Start /Scheduled a video call" and follow the on-screen instruction. Once you have scheduled the video KYC call, you can note down the timings and close the app.

A few minutes before the call, open the app > New to SBI > Open Savings Account > Without branch Visit > Insta Plus Saving Account > Resume Application

Enter phone number and password

You will be back on the token number screen, tap on "Next" and "Start /Scheduled a video call"

Tap on "Start Journey", then "I am ready", allow permission and the executive will join the call and will ask for certain details and a PAN card to scan

As soon as the video KYC ends, your account opening process will be completed and will be moved further.
After all these, your account number and related information will be sent to your registered mobile number. In case you need a cheque book, you will have to visit the bank branch as it requires your signature.
Eligibility to Open SBI Account Online
Any Indian Citizen

A minor may submit information online for opening a Savings Bank account provided he/she is more than 10 years old and can sign uniformly

The applicant must have a valid identity and address proof that is Government approved
Documents Required to Open SBI Account Online
To open an SBI savings account, you will have to provide at least one identity proof and at least one address proof to the bank. Providing these details as are mandatory for Know Your Customer (KYC) guidelines. The purpose of KYC is to prevent misuse of the banking system intentionally or unintentionally for criminal purposes/ money laundering and other fraudulent activities. Here are the documents accepted for opening an online SBI savings account.
Proof of identity (any of the following with photograph)
Passport.

Voter ID card

PAN Card

Govt./Defense ID card

ID cards of reputed employers

Driving License
Proof of current address (any of the following)
Credit Card Statement

Salary slip

Income/Wealth Tax Assessment Order

Electricity Bill

Telephone Bill

Bank account statement

Letter from reputed employer

Letter from any recognized public authority

Ration Card
SBI Saving Account Welcome Kit and Features
Once you have opened the SBI savings account, as a part of the welcome kit, you will get a few necessary things from the bank to your registered address. If you have opted for a debit card, you will get it separately.
Welcome Kit
SBI ATM Debit card + ATM card

Cheque Book

Booklet
Features of SBI
Interest rate: 2.70% per annum (effective from 31.05.2020)

Mobile banking

SMS Alerts

Internet banking

Yono app access

SBI Quick Missed call facility

Restricted free withdrawals based on the monthly average balance maintained

The facility of transfer of accounts through Internet Banking channel

Monthly Average Balance: NIL

No limit on Maximum balance

Free Consolidated Account Statement

The first 10 cheques Leafs free in a financial year, thereafter, 10 Leaf Cheque Book at Rs 40 + GST and 25 Leaf Cheque Book at Rs 75 + GST
Also Read: