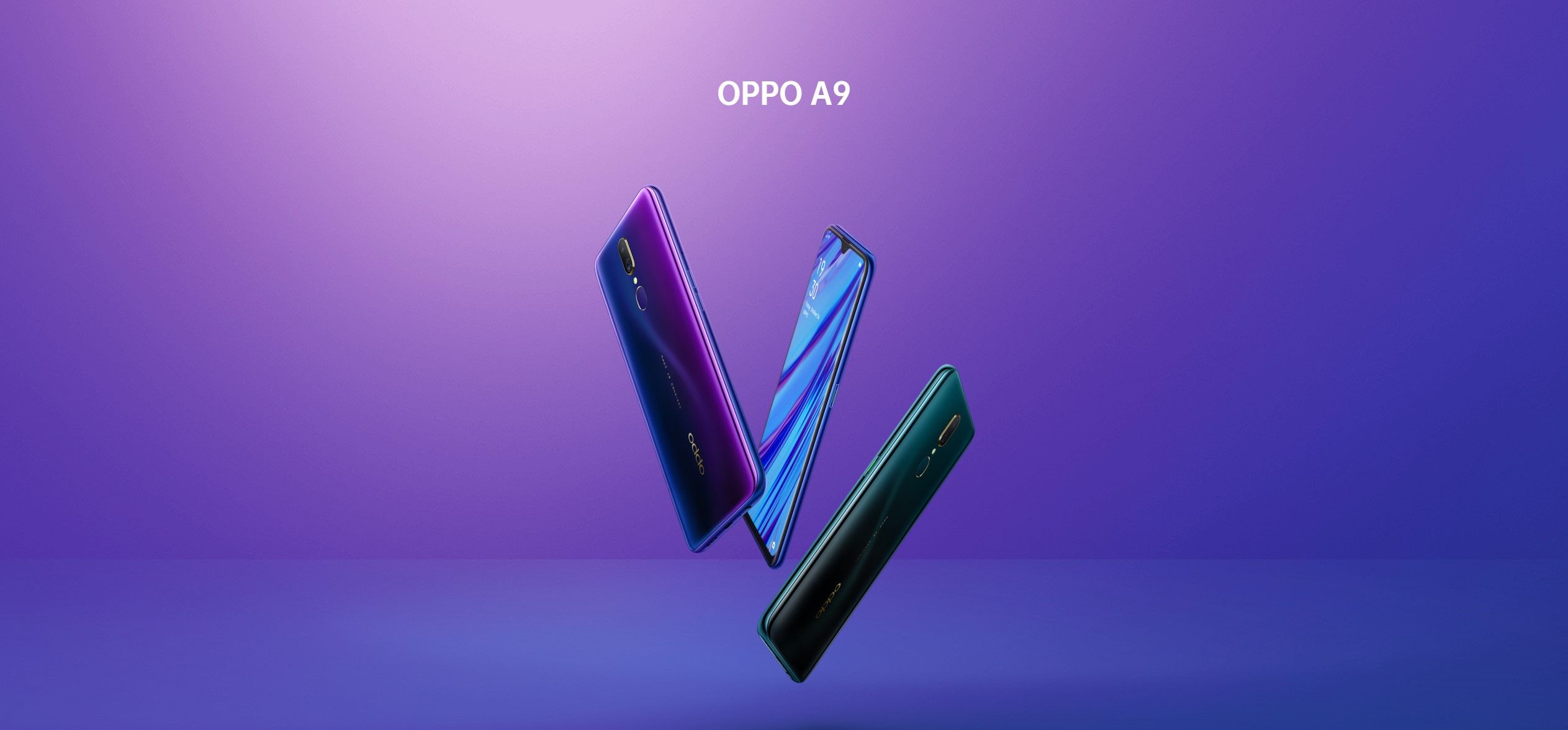 Hundreds of smartphones are introduced to the market every month, and many of them chase experimental features or feature a spec sheet that is imbalanced. Very few smartphones actually focus on getting the basics right, and the OPPO A9 is one of those rare phones. The OPPO A9 was launched in India last week with a price tag of Rs 15,490, and for that price, it gets all the basics right: a large waterdrop screen, a stylish design, fast processor and ample storage space, two cameras on the rear, a high-resolution selfie camera, the latest publicly available version of Android with additional features, and a high-capacity battery that helps the phone last a whole day even with heavy usage. What more can you ask for in a smartphone, especially at that price?
Let us have a detailed look at how OPPO crafted one of the most beautiful smartphones, focussing on the basics of a smartphone experience at the same time.
Attractive Design with Gradient Color Finish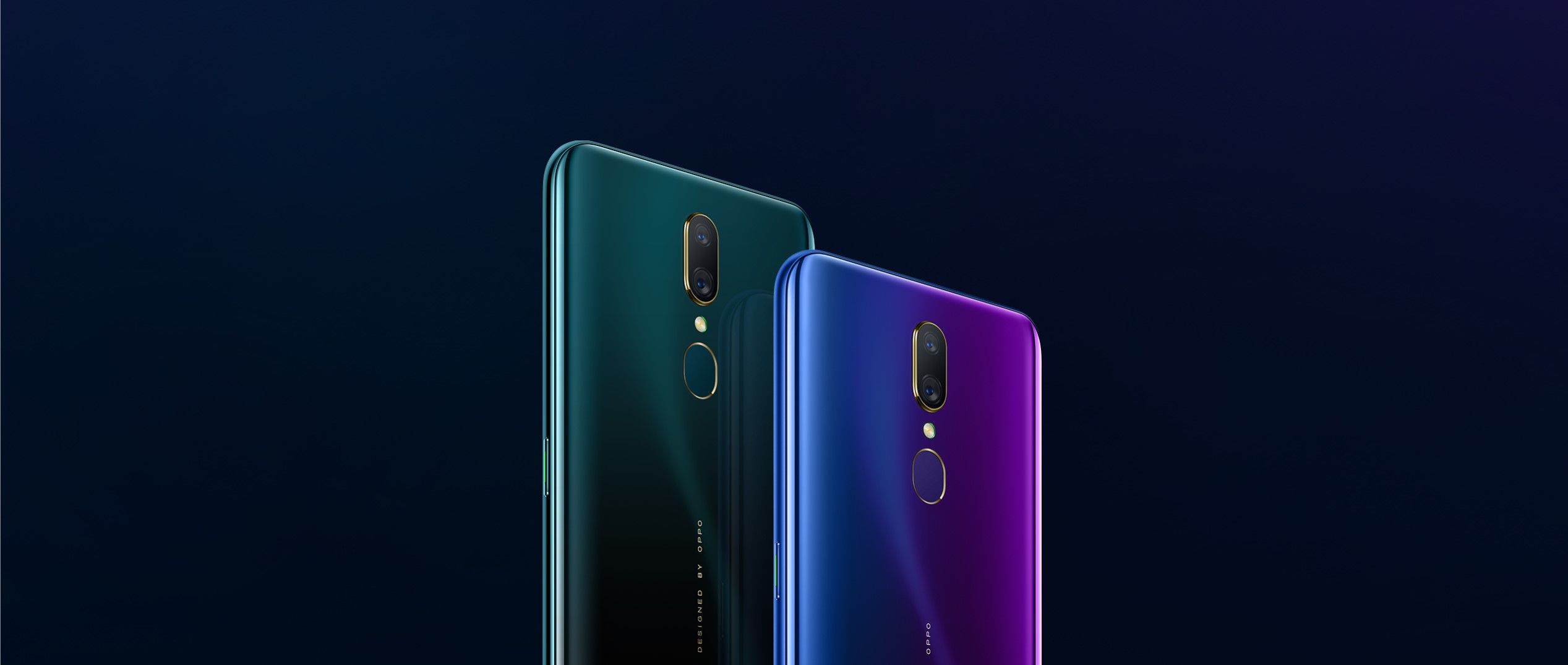 Even before you turn your smartphone on, the first thing you (or people around you) look at is its design, and OPPO has nailed it with the A9. It not only features a big screen at the front with minimal bezels to maximize the screen-to-body ratio, but also comes with a gradient color pattern that is in vogue these days. OPPO's choice of colors is brilliant, too. The OPPO A9 comes in two color variants—Flourite Purple and Marble Green—both of which are brilliantly attractive. No matter which way you look at the A9, it looks like a fine jewel, thanks to its glass-like shiny back, curved corners, smooth back that tapers towards all edges of the phone, and a shiny gold trim that is decorated around the fingerprint reader and the dual-camera assembly. Even the buttons are exactly where they should be for better ergonomics.
The metal frame of the phone has a mist-feeling matt printing and the back of the phone have a dual-camera setup and the easily accessible fingerprint reader in the same line for a symmetrical-looking design. Some smartphones sacrifice basics like the loudspeaker and the placement of a headphone jack for a better-looking design, but not the OPPO A9.
Big Screen for Big Entertainment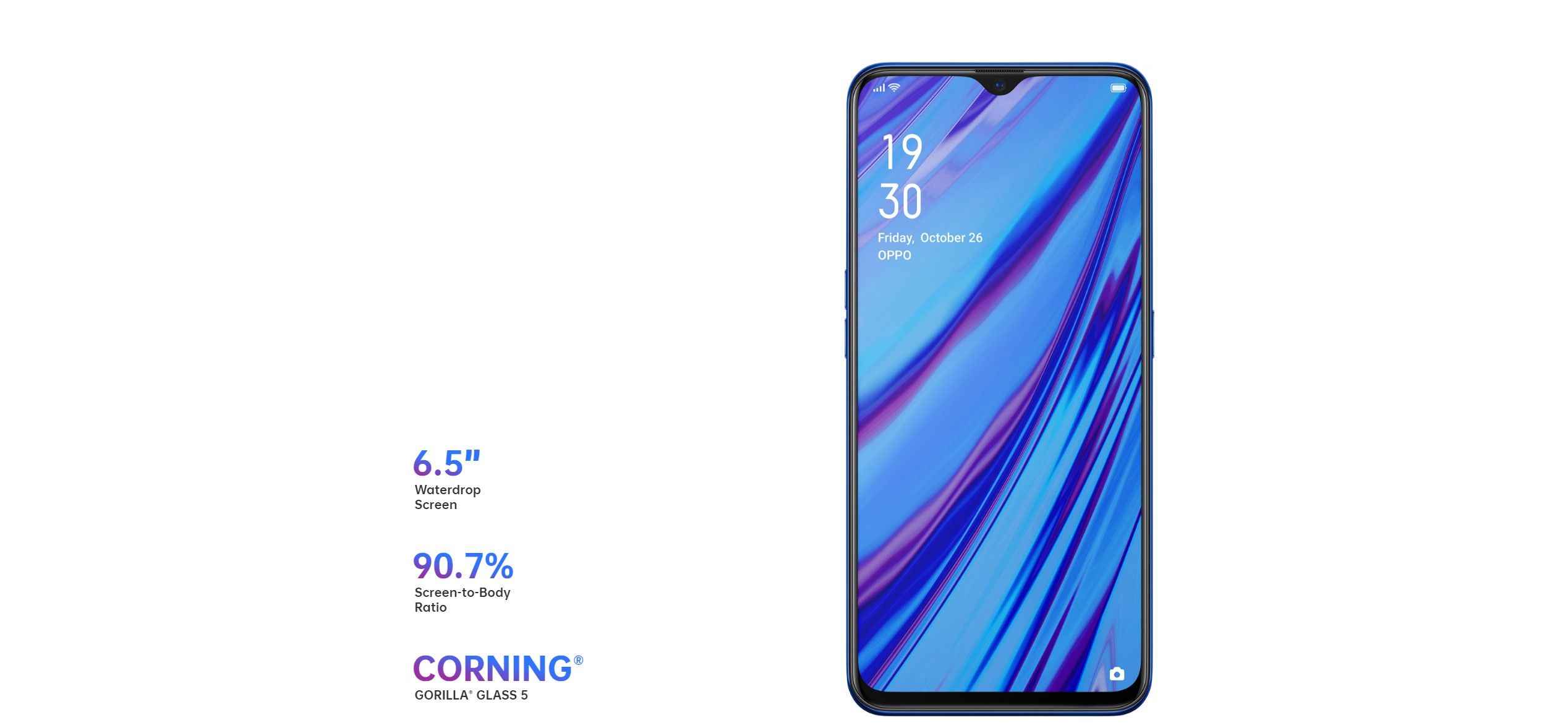 Whether you're watching the latest episode of neon-induced Stranger Things on Netflix or looking at your lovely memories, a big screen always helps in getting the best experience possible. The OPPO A9 has been made with keeping that aspect in mind. It has a 6.53-inch Waterdrop Screen uses an IPS LCD panel with Full HD+ resolution (2340×1080 pixels), 178-degree viewing angles. The screen has an aspect ratio of 19.5:9 and has been jointly developed by using 46 patents.
The earpiece, front-facing camera, light sensor, and proximity sensor are all grouped and fitted inside the small waterdrop-shaped screen to offer you the maximum screen real estate so that you can enjoy any type of content possible. The screen is covered by Corning's Gorilla Glass 5 panel and the screen-to-body ratio approaches 91 percent (90.7 percent to be exact). Gamers who use earphones can experience 3D surround sound while playing games on the OPPO A9.
Clear Cameras With AI-Powered Improvements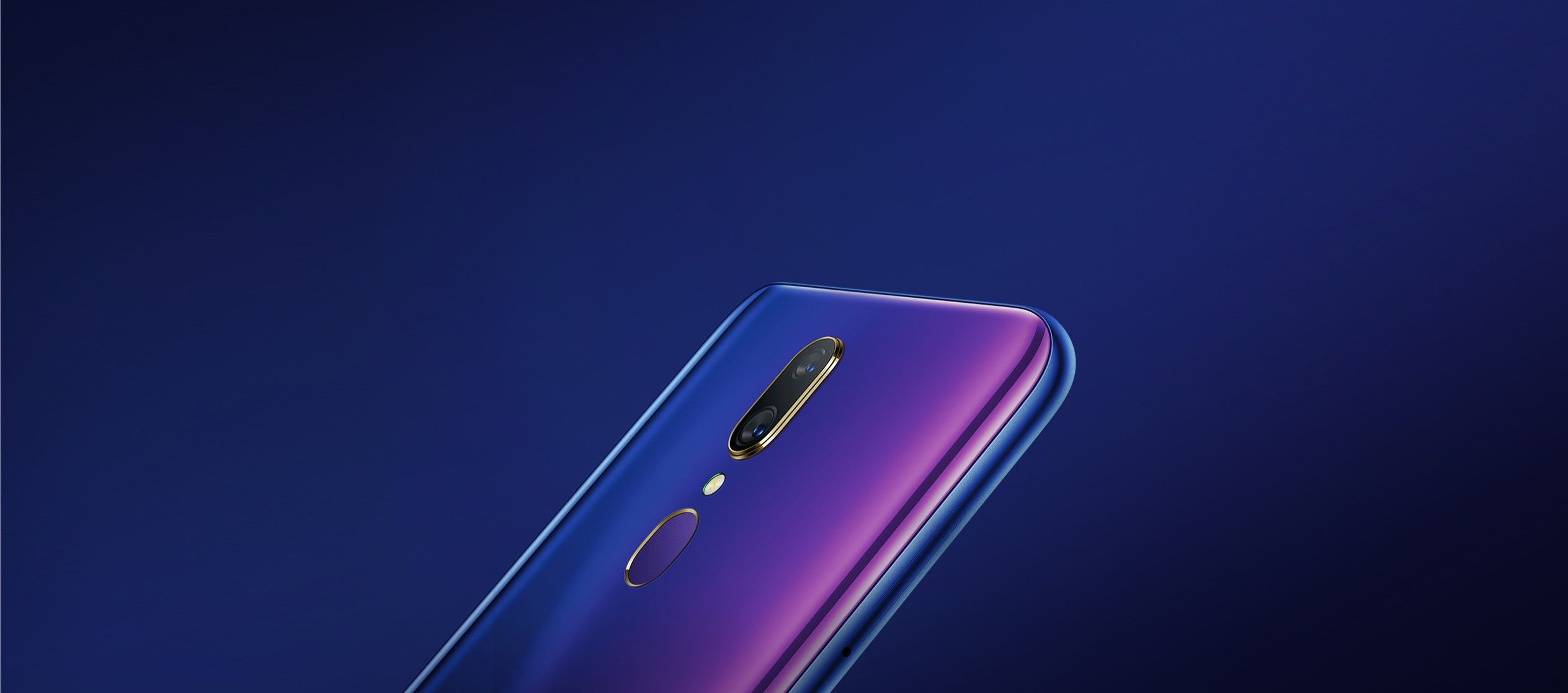 The OPPO A9 has two cameras on the rear and one camera on the front. At the rear, the phone has a 16MP AI Dual-Lens camera which uses a large, 1/2.8-inch camera sensor with 16MP resolution and a 2MP depth sensor. The phone's rear-facing camera can accurately identify 22 individual scene types and 416 scene combinations, adjusting the camera's settings automatically for each scene and subject type. Whether you're shooting a portrait, instagramming your food, or capturing brilliant landscapes, you can depend on the OPPO A9's 16MP+2MP dual-camera setup and its AI algorithms for the best shots possible.
The phone also has newer styles of portrait modes, so that you can choose from five premium styles that suit the moment. There's Dazzle Color Mode, which identifies and corrects the skin tone of a person in the image, which means it offers more vivid colors and better portrait skin tones. The Ultra Night Mode 2.0 that OPPO developed for its smartphone cameras can determine brightness, ambient light, and scene to accurately calculate settings that are needed to capture a better image of that scene. Images captured with UItra Night Mode even in extremely low light conditions turn out bright, colorful and detailed.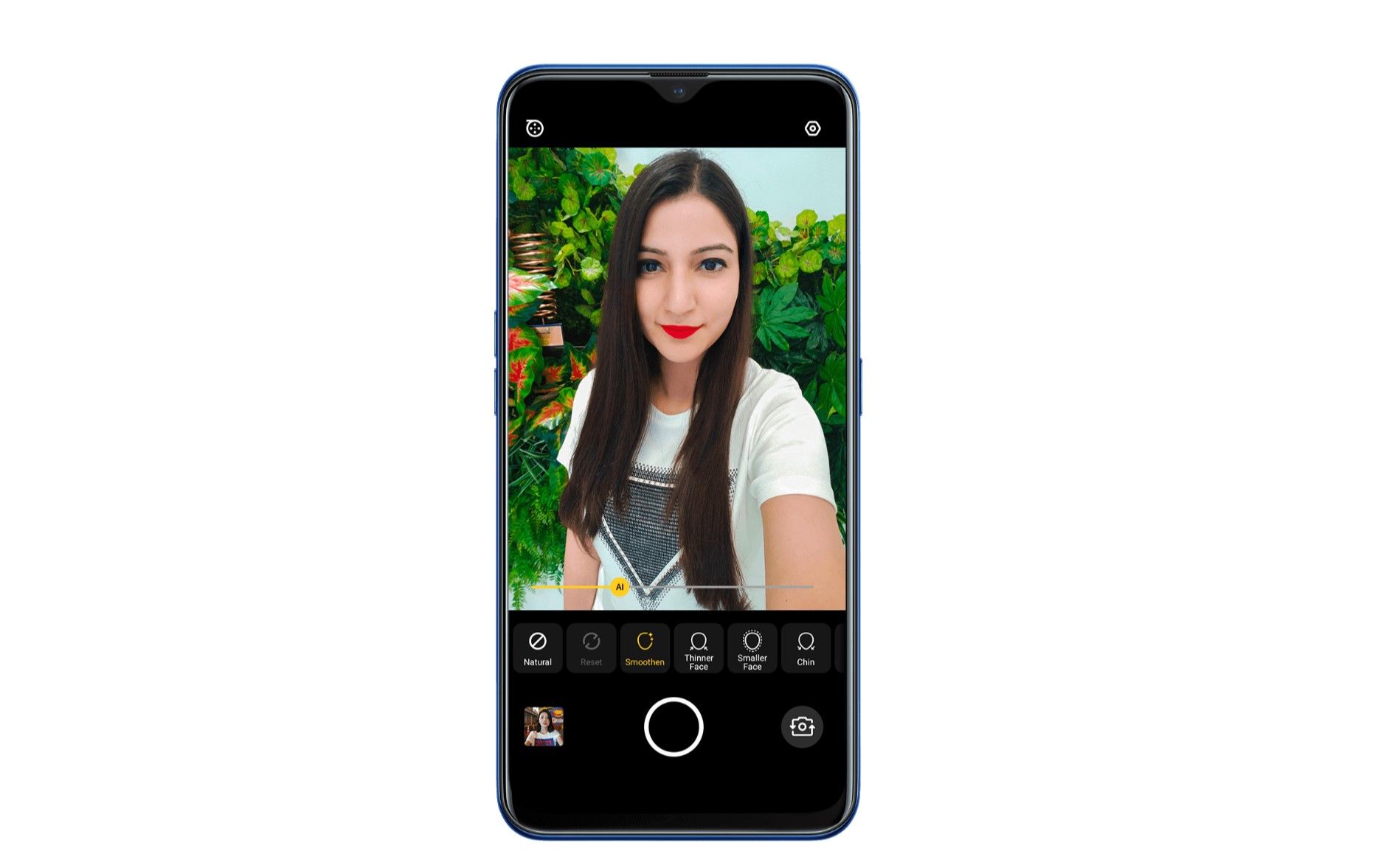 The front-facing 16MP camera which is hidden inside the waterdrop screen brings out your natural beauty. The camera app lets you customize your looks through face slimming, skin smoothening, and chin adjuster features. Since the phone should be easier to use, OPPO has created an AI effect scale that scales selfie modifications.
Android 9 Pie with ColorOS 6, Helio P70 Processor, Hyper Boost

A phone's user experience depends a lot on its processing performance and its software design, so naturally, OPPO made sure it doesn't skimp on these features. The OPPO A9 features the MediaTek Helio P70 octa-core processor, 4GB of RAM and a whopping 128GB of internal storage. The thermal gel is applied on top of the processor to lower its operating temperature by 4-5 degrees Celsius.
On top of the phone's powerful chipset, OPPO has used its in-house Hyper Boost technology to improve the performance of the phone even further. The Hyper Boost technology adjusts the phone's performance depending on the ongoing workload, be it gaming, web browsing, capturing images and videos, or calling.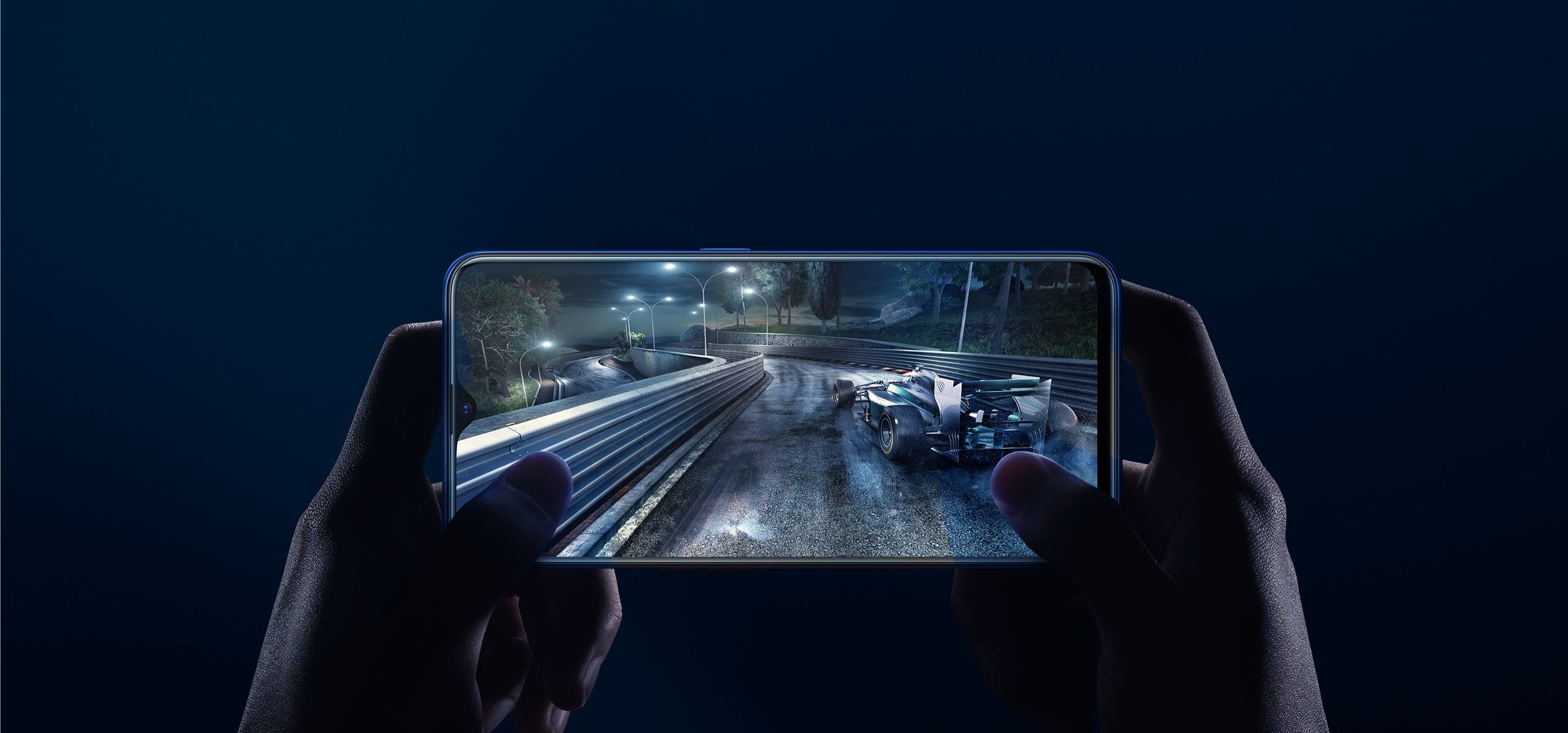 While gaming, Hyper Boost's Game Space and Game Assistant features help a user in achieving a more immersive visual experience by blocking unwanted notifications and the performance is improved by boosting the processor's performance.
ColorOS 6.0 is OPPO's improved version of Android 9 Pie, and it comes with a more visually appealing design as well as hundreds of additional software features that can make your life easier. The OPPO A9's software adds a better full-screen gesture navigation system, a smart assistant, notifications classification, call recording, cycling and riding modes, and data backup feature on the cloud.
OPPO A9's High-Capacity, 4020mAh Battery Goes On And On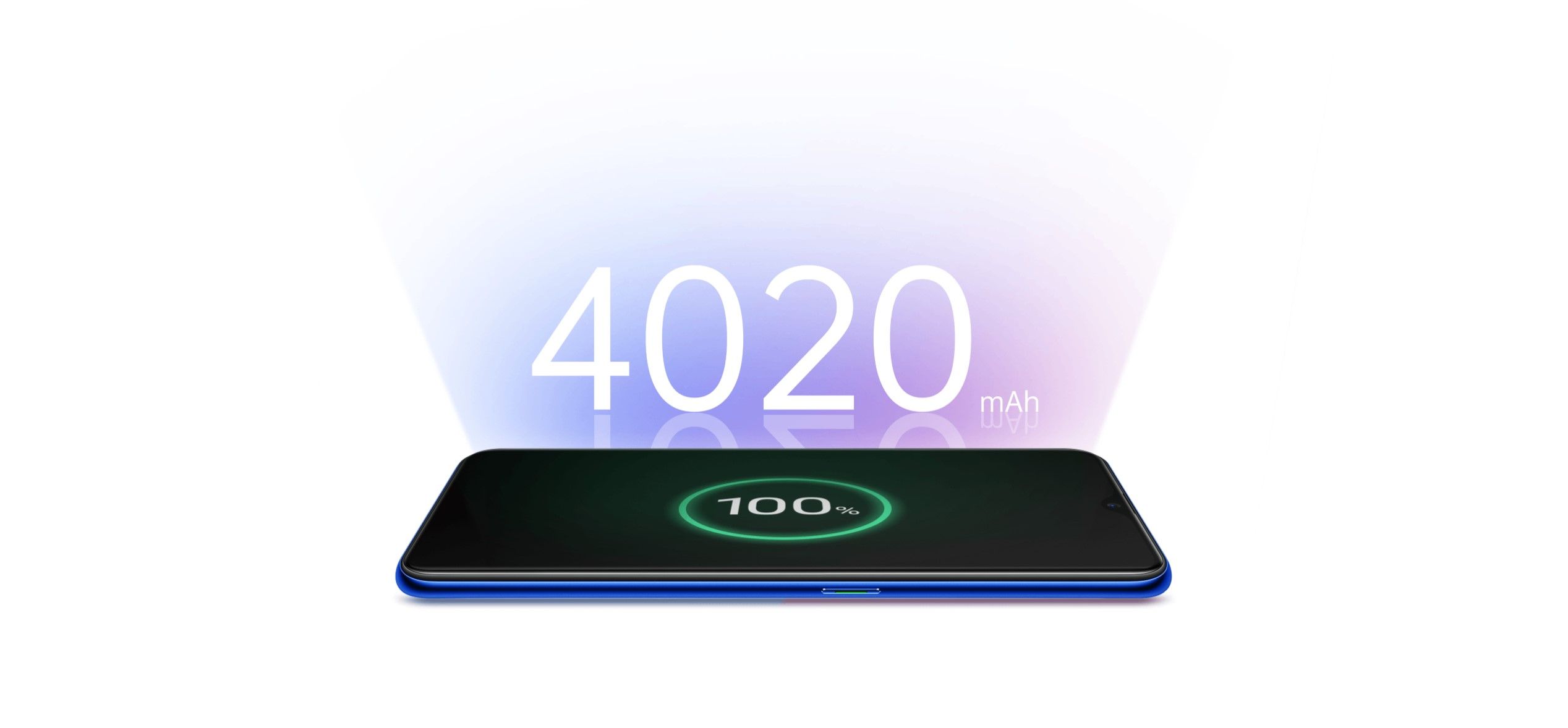 The OPPO A9 is powered by a 4020mAh battery, which can easily last one whole day even with relatively heavier workloads and usage patterns. To improve battery life even further, OPPO has implemented network and performance optimizations, audio wakelock optimization, no service optimization, background data refresh optimization, and deep sleep mode optimization. There's a battery saver mode, too, which can be automatically started when the battery charge capacity falls below 20 percent.
OPPO A9 Is A Great All-Rounder, Whichever Way You Look At It
No matter which aspect of the OPPO A9 you look at, it never falls short, be it the design, performance, screen size and resolution, performance while playing games or using apps, additional software features, or battery life. At just Rs 15,490, the OPPO A9 offers a well-rounded smartphone experience, whether you're a first-time smartphone convert upgrading from a feature phone or a seasoned smartphone user. The OPPO A9 is on sale and is available across all offline stores and major online platforms (Amazon, Flipkart, Paytm Mall, Snapdeal and TataCliq). By getting the basics right, the OPPO A9 hits a bull's eye on all fronts. Get one for yourself now!
Brand Story