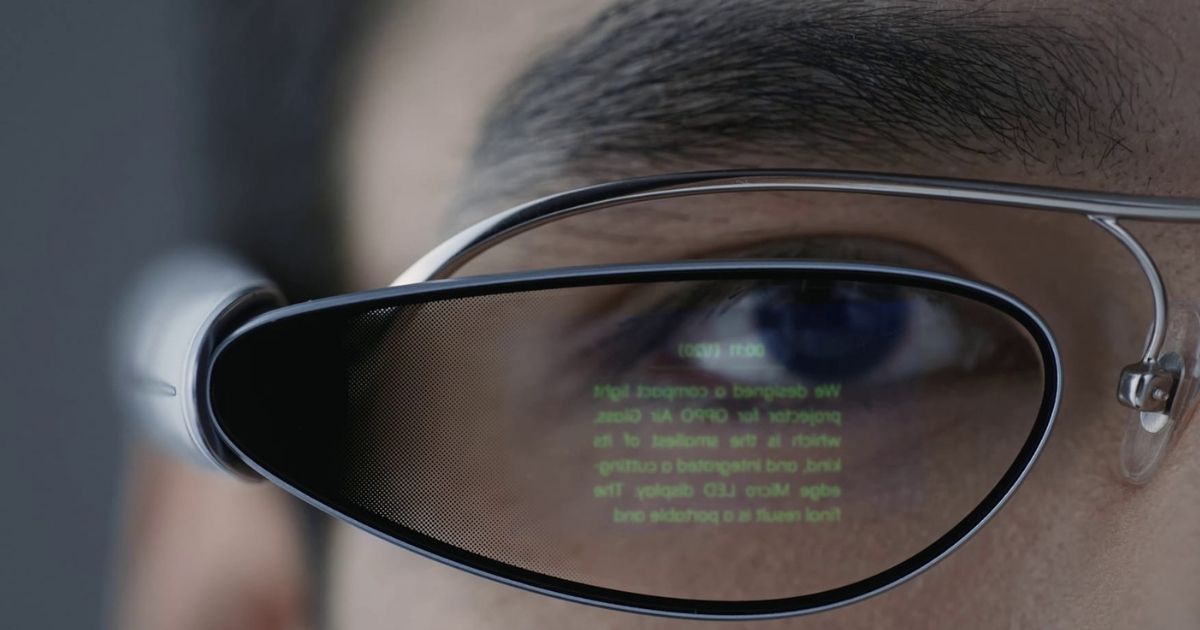 It has almost been ten years since we saw Google Glass for the first time. Though such a product was perceived as something from the future, it never took off to land with customers. Rather, the Google Glass still exists, only for enterprises.
Today, Oppo showcased its AR glass, called Oppo Air Glass at Oppo Inno Day 2021. Though there is nothing out of the box regarding the glass, it looks like Oppo has plans to ship it to consumers, like an accessory rather than turning it into a tool meant for professionals and enterprises only.
The company put quite a lot of effort into maintaining the weight and size of the Oppo Air Glass. Oppo Air Glass weighs only 30 grams so it's extremely lightweight to wear, over a regular pair of glasses. However, you won't be able to wear it over just any glasses. One can wear it over frames with two specific sizes.
Oppo Air Glass Features
Oppo Air Glass is capable of showing informing on the lens in front of the right eye using a microLED display that can have a peak brightness of up to 1400 nits. Oppo has used its own tiny but powerful Spark Micro Projector to show up everything on the dual sapphire crystal glass. The microLED is tiny but so powerful that it can have a peak brightness of up to 3 million nits.
Oppo Air Glass is powered by Qualcomm's Snapdragon Wear 4100 SoC, which enables it to be smart and connected. So, it can use Wi-Fi, Bluetooth and GPS while housing speakers and microphones as well. The glass can be controlled via the touchpad on the side and also via hand gestures and strangely, by moving the head. For example, to view notifications one can just nod their head down a bit to view notifications and to clear notifications, shaking the head will just work fine.
However, using an Oppo Watch or via simple hand movements and the touchpad as well, users can control it and there is voice control as well. It can display information and help users with everyday tasks like checking the calendar for events, checking out the weather and navigation while they are biking. One more thing…it can turn into a mini teleprompter as well.
The most interesting part was when Oppo showed off how it can translate speech, convert it into text and translate everything in real-time. As of now, it can translate from Chinese to English, but the company spokesperson already announced that it would support Korean and Japanese as well.
Availability and Pricing
It will go for sale in the first quarter of 2022 in Mainland China, but there is no word on pricing. However, it is expected that the pricing would be reasonable since Oppo is trying to deliver the product to general consumers. It will be available in two colour variants- White and Black.