Wireless audio products have been around for quite some time, but they are yet to be accepted among Indian households as these devices come with high and premium price tags. There have been a few attempts at lower-cost wireless options, but most of them have had some glaring omissions and in turn, quite evident problems. Well, this equation is about to change soon, as OPPO, a leading smart device manufacturer, has now set its eyes on the wireless audio category. Their latest offering, Enco W31 might be the perfect choice for audiophiles who refuse to settle for anything less than the best. 
OPPO Enco W31: Premium Design meets Unmatched Practicality
The Enco W31 feature a unique geometric design which is as ergonomic as it is beautiful. The Enco W31 utilise a concentric circle design which ensures a snug fit in each ear and further enhances noise reduction and slipping. OPPO claims to have tested and perfected this design and fit with over 500 users and made over 100 adjustments to finally achieve the perfect fit. The Enco W31 is made up of a hardened polycarbonate material that has a shape-memory quality, and the combination of glossy and matte surfaces, make the W31 one of the most premium-feeling and well-designed wireless headphones.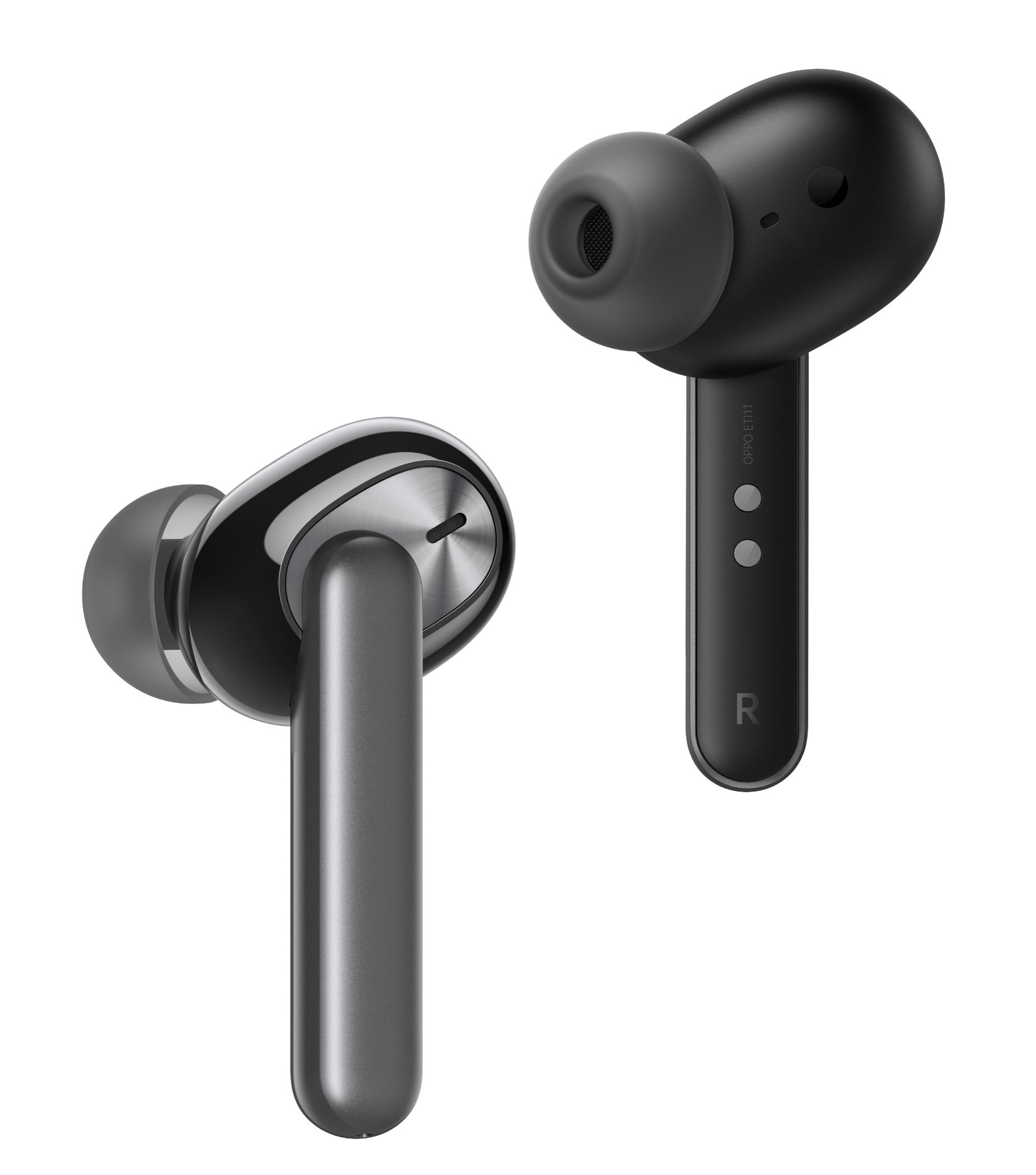 One thing which I loved about the W31 is the SoftFit silicone ear tips that these wireless headphones come with. Not only do they ensure a much tighter fit than regular in-ear headphones, but also you get four pairs to choose from so that you can find the best balance between sound insulation and comfort.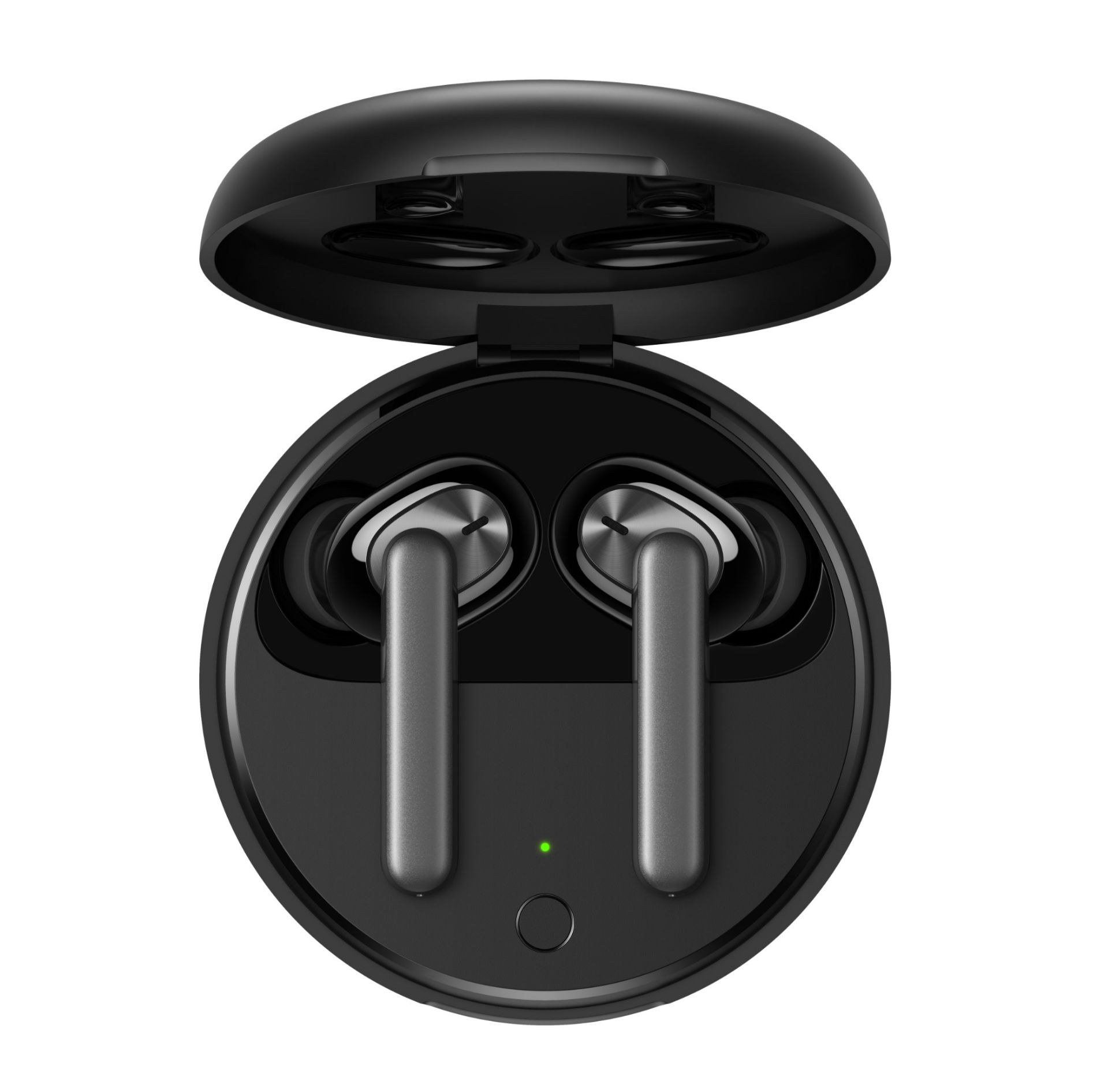 Coming to the case, the W31 come with an eye-pleasing, geometric rounded casing. The whole package just weighs 50 grams and is perfect for carrying around in your pockets. And if you're still not convinced, the W31 headphones are alsorated! So, you don't have to worry about dust or splashes, making them the perfect companion for outdoor activities and indoor workouts alike. 
Enco W31: Looks Good, Sounds Better
Sound quality in a pair of wireless headphones is only as important as taking a mask with you every time you step out nowadays (VERY important, peeps). In addition to the usual SBC, the Enco W31 also support the high quality AAC audio format and pack in 7mm dynamic drivers. This ensures that these headphones can deliver thumping sound and oodles of that bass you love, while not compromising one bit on the mids and the highs. Also, OPPO understands that different styles of music might need different tuning to sound just right. So, while you can get that balanced high fidelity sound in 'Balanced Mode', the Enco W31 offer a dedicated 'Bass Mode' to crank up the lows, just what you'd need when you're in the mood for some EDM. And that's not where the fun ends, literally. 
The Enco W31 can last up to 3.5 hours on a single charge, and with the charging case included, you can get up to 15 hours of music playback time, so no more regretting not charging your headphones the night before.
Enco W31: Bringing the Heat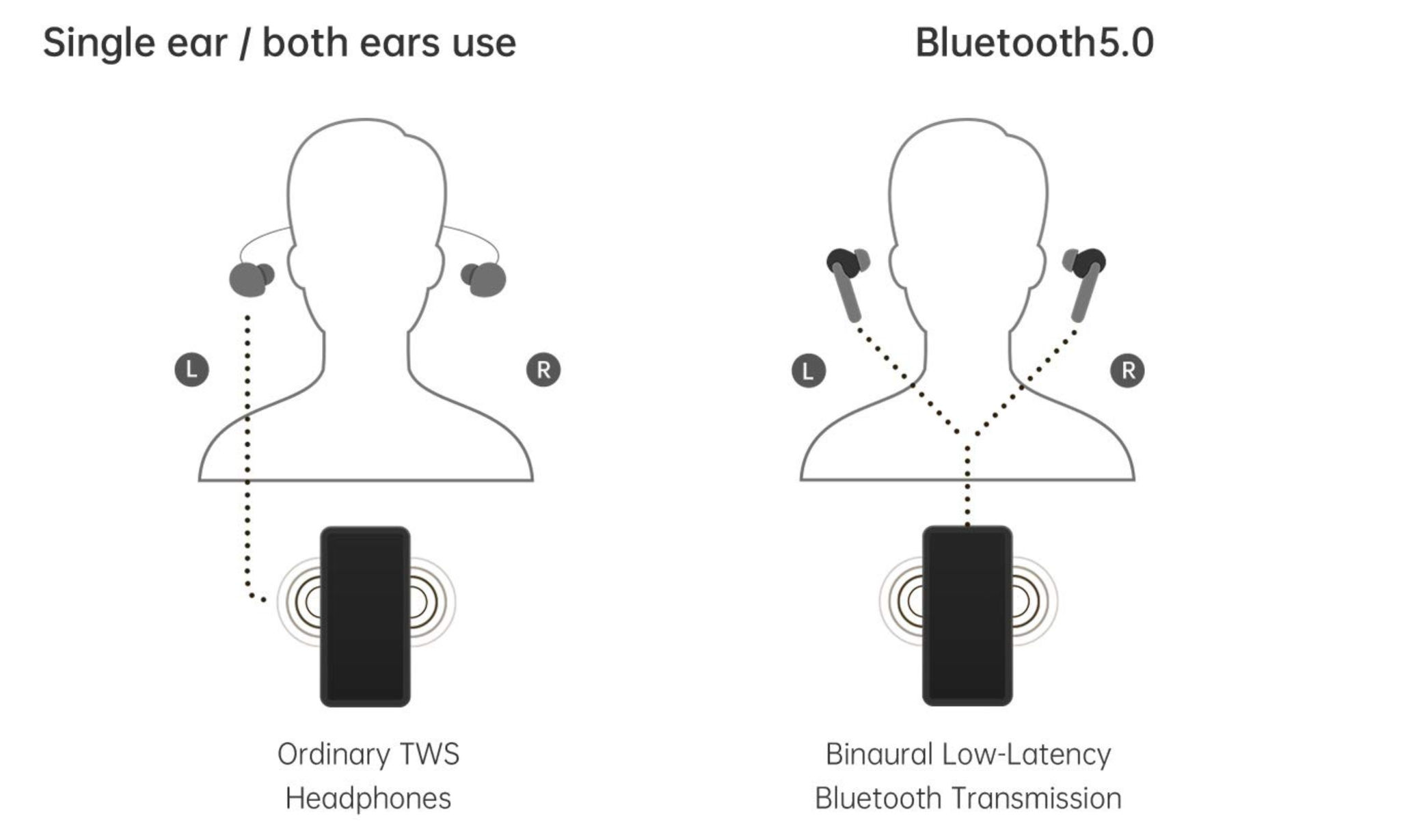 Well for starters, they come with Bluetooth 5.0 technology AND pack in Binaural Low-latency Bluetooth® Transmission. Hence, unlike most wireless headphones where one bud acts as the primary and then sends the sound over to the secondary bud, audio signals on the W31 are transmitted to both ears at the same time using a Bluetooth 5.0 chip, delivering a stable, smooth, low-latency experience. In addition to that, OPPO has made numerous system-level optimizations to the headphones such as incorporating their own error correction capability on both sides to minimize bluetooth signal delay, and in turn, minimizing latency even while gaming. This is a critical addition since it is one of the biggest problems that TWS headphones currently face. OPPO has designed the Enco W31 to work perfectly well with Android as well as iOS devices.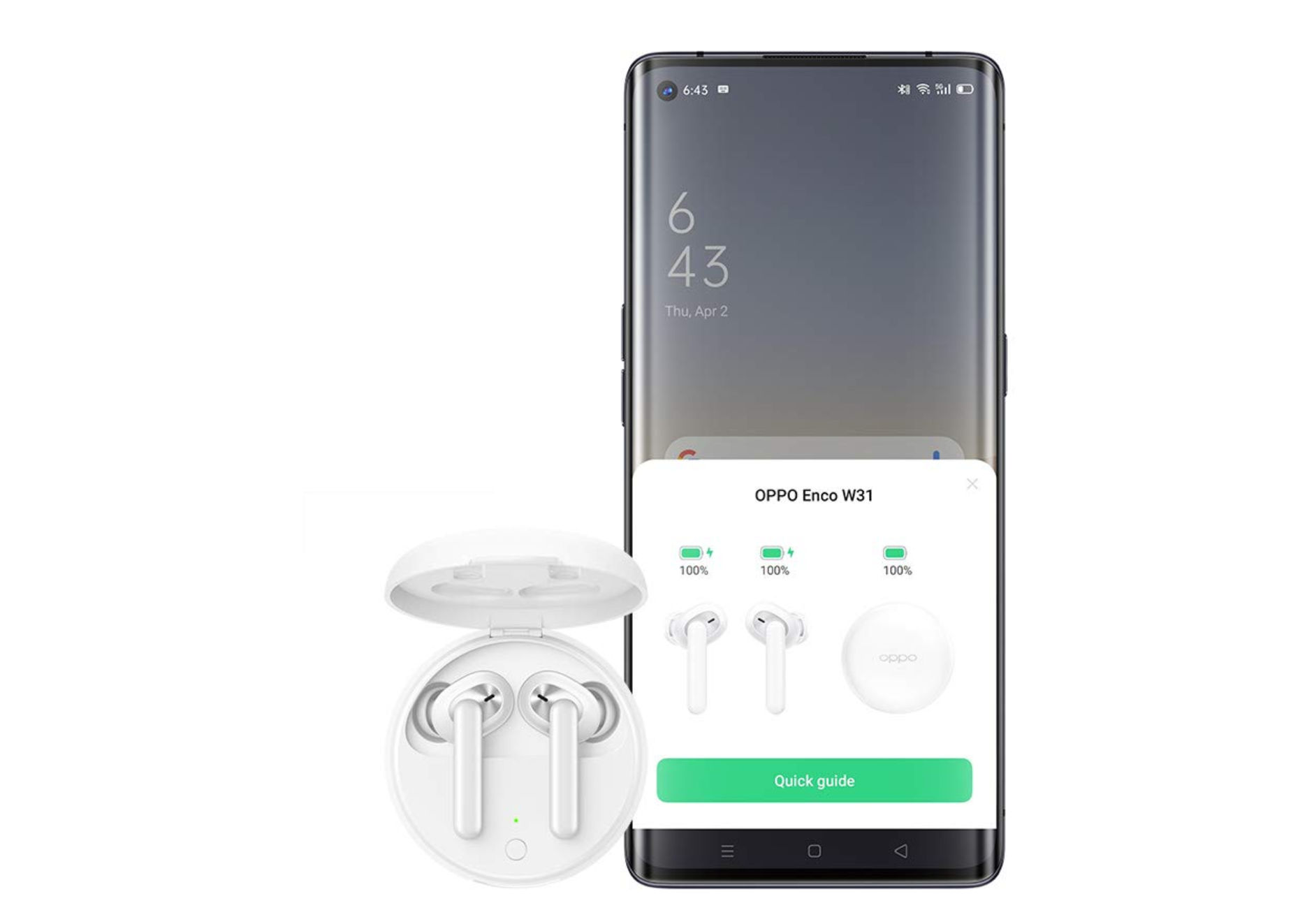 Which brings us to perhaps the most important yet underrated feature on wireless headphones – mic performance and call quality. It's undeniably the biggest sacrifice that "budget" wireless headphones have been making, and perhaps one of the major reasons why wireless headphones are still not commonplace. The W31 don't let you down on that front either as they deploy two high-sensitivity microphones on each side to pick up users' voice and then use AI to separate it from background noise. So, making calls in noisy surroundings won't be a problem anymore. There's a lot more smartness going around here though. The W31 come with super intuitive touch controls, where simple taps can help you navigate through your music, cycle through sound modes, accept/reject calls, all without reaching for your phone. And if you're too lazy to do that too, well you can just summon your smart assistant right through the headphones. And if that's not enough, they also pack in wear detection, so you can just take them out of your ear and they'll stop your music for you. 
Enco W31: About to Change the Game
The Enco W31 are probably the most exciting TWS headphones to have come to India. They pack in a premium design aesthetic, superb sound fidelity with dynamic bass, high quality signal transmission with low latency experience, great voice calling experience, 15hours of battery life and an IP54 rating. But what truly sets them apart is that OPPO has managed to price these headphones at just Rs 3,999. For the first time, you're getting a pair of TWS headphones, which deliver premium, no-compromise wireless sound experience under 5K! At that price, there's absolutely no doubt that the Enco W31 headphones are going to take the Indian market by storm. If you have been looking for your first pair of wireless headphones, look no further! The Amazon page for the W31 is already live and the headphone is up for sale. 
Check out the link for more details: https://www.amazon.in/b?node=21345119031&tag=oppo_enco_w31_pr-21  
..And One More Thing!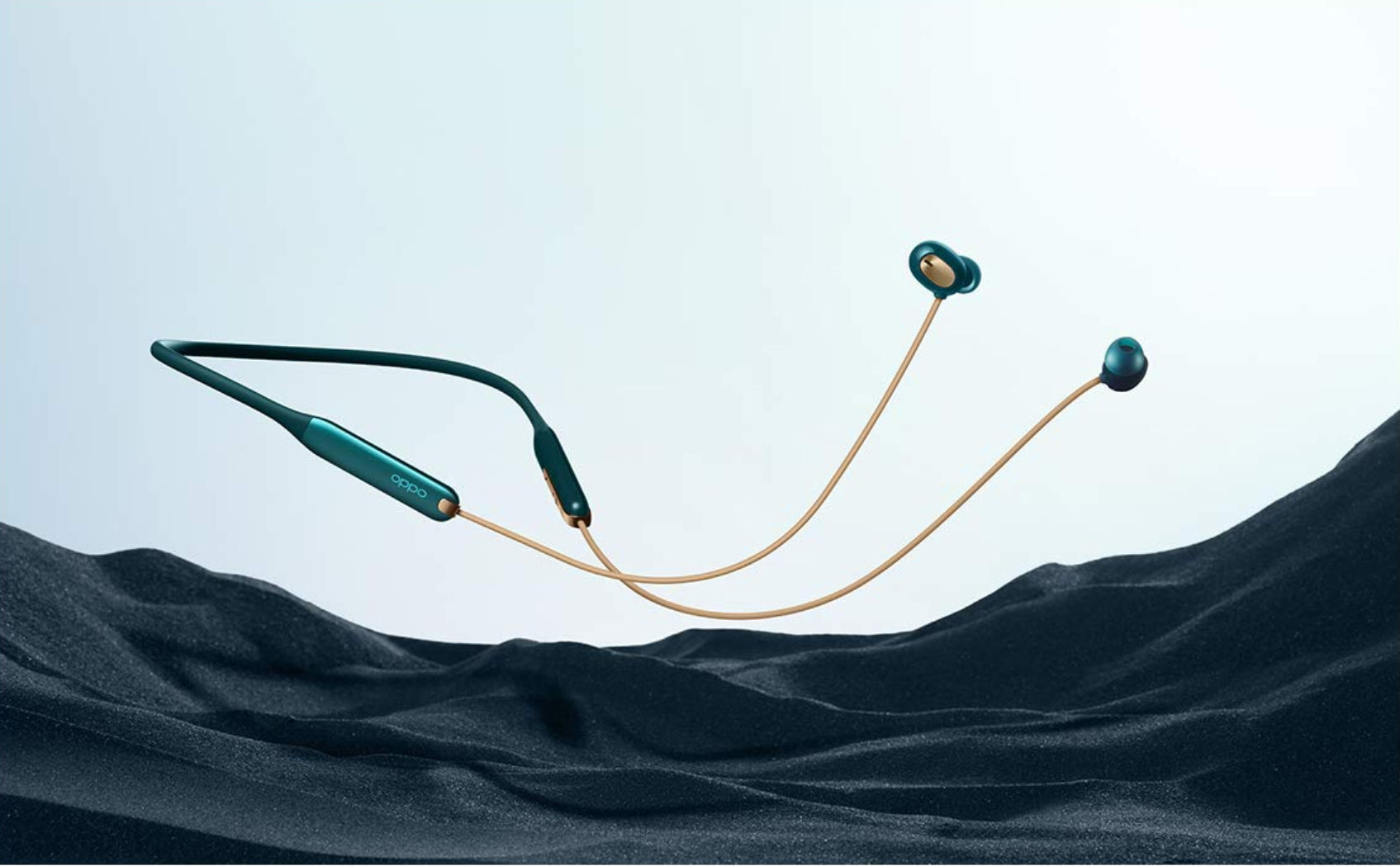 TWS headphones aren't the only way to go wireless and if you're a sports/health enthusiast like me, you might actually prefer a more 'conventional' neckband-style approach. Well, lucky for us OPPO has also announced the Enco M31 Wireless headphones which offer you a lot of the same goodness like high-res wireless audio, a dedicated Bass mode, 12 hours of playback and IPX5 water resistance, along with the convenience of a neckband so you don't have to worry about losing or dropping your headphones while working out. Featuring LDAC audio coding technology, the Enco M31 can deliver audio transmission speeds of up to 990kbps, clocking out data speeds up to three times higher than other Bluetooth technologies. They too come with AI-powered Noise reduction, and feature magnetic tips on the wireless headphones so that you can just bring them together to disconnect and separate out to instantly reconnect with your device. The Enco M31 are supposed to launch sometime later this month and OPPO is planning to announce them at a very lucrative price as an introductory offer. We've surely got our eyes on them. 
Check out the link for more details: https://www.amazon.in/b?ie=UTF8&node=21102073031