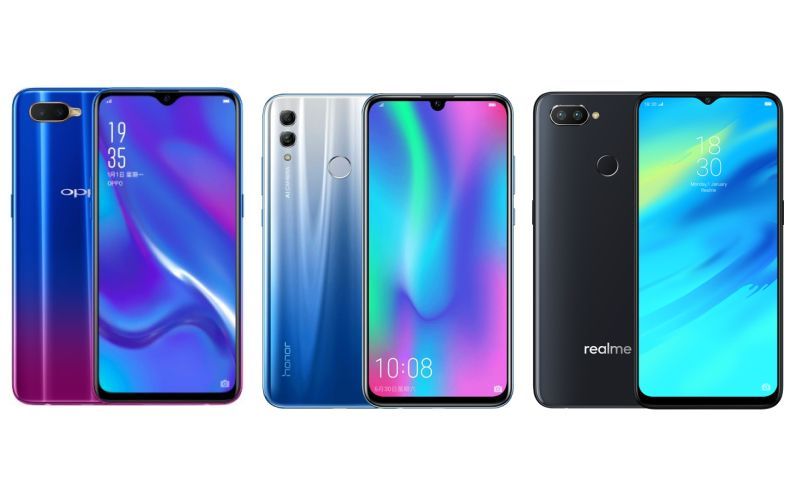 The release of the OPPO K1 in India is likely to pave the way for a new breed of smartphones that will offer flagship-grade specs at affordable prices. Right now, however, it must be seen if the K1 has the potential to stand up against current reigning champions of the budget smartphone market. And so we have the Honor 10 Lite and Realme 2 Pro, that seem to offer comparable overall specifications for about the same price. Is the in-display fingerprint reader of the OPPO K1 justifies its price tag, or are you better of going with a relatively cheaper option? Let's find out.
OPPO K1 vs Honor 10 Lite vs Realme 2 Pro: Price in India
The Oppo K1 has been priced at INR 16,990 for the Indian market. Only the 4GB RAM + 64GB storage variant seems to be makings its way to this country.
The same storage configuration on the Honor 10 Lite fetches for INR 13,999. An upgrade to 6GB of RAM will set you back by INR 17,999
As for the Realme 2 Pro, its 4GB RAM + 64GB storage configuration has been priced at INR 13,990, while a 6GB RAM upgrade will cost INR 15,990. An 8GB RAM +128GB storage model is also offered for INR 17,990.
OPPO K1 vs Honor 10 Lite vs Realme 2 Pro: Design, Display
The OPPO K1 easily beats the other two smartphones in this part of the comparison. Its 6.4-inch Full HD+ AMOLED panel, in-screen fingerprint scanner, and gradient back design is undoubtedly superior. The front of the phone also benefits by having Gorilla Glass 5 for protection. The Honor 10 Lite, on the other hand, is the only other phone in this comparison to also offer a gradient rear-panel design. Its Full HD+ LCD measures 6.21-inches diagonally. Although the Realme 2 Pro is a bit behind in the design aspect, it makes up for it by offering Gorilla Glass 3 protection for its 6.3-inch Full HD+ LCD screen.
OPPO K1 vs Honor 10 Lite vs Realme 2 Pro: Performance
When it comes down to performance, the Honor 10 Lite takes the lead with its HiSilicon Kirin 710 chipset that has been recorded to perform better in both CPU and GPU benchmarks. It is also the only phone here to ship with Android 9.0 out of the box. The other two phones, on the other hand, sport Snapdragon 660 chipsets and run Android 8.1 Oreo by default.
OPPO K1 vs Honor 10 Lite vs Realme 2 Pro: Camera
Realme is OPPO's subsidiary, so it isn't surprising that both the K1 and 2 Pro use similar 16MP +2MP rear camera setups. Both of these are capable of 4K video recording at 30fps. The Honor 10 Lite, however, has to make do with 13MP + 2MP rear cameras that can only go as high as 1080p 60fps video recording.
The selfie camera comparison is a slightly different matter. In this showdown, both the OPPO K1 and Honor 10 Lite produce comparable photos with their 25MP and 24MP selfie camera respectively. The Realme 2 Pro falls behind with its 16MP sensor.
OPPO K1 vs Honor 10 Lite vs Realme 2 Pro: Battery
There isn't a lot to separate the battery performance of these three devices. The K1's battery measures 3600mAh, the 2 Pro's measures 3500mAh, and the 10 Lite's measures 3400mAh. All three charge over microUSB and support 10W charging. Even though the cell capacities of these phones are quite close, we are not too sure about the overall battery life of the OPPO K1 as AMOLED panels tend to consume more power.
OPPO K1 vs Honor 10 Lite vs Realme 2 Pro: Verdict
If it purely comes down to the best bang-for-your-buck option, then the Honor 10 lite would get the win mainly because of its better Kirin 710 chipset. If rear camera photography is your primary use case, then the Realme 2 Pro makes the most sense. With that said, an INR 3,000 overhead to get your hands on an AMOLED screen with an in-display fingerprint scanner is not too bad of a proposition.