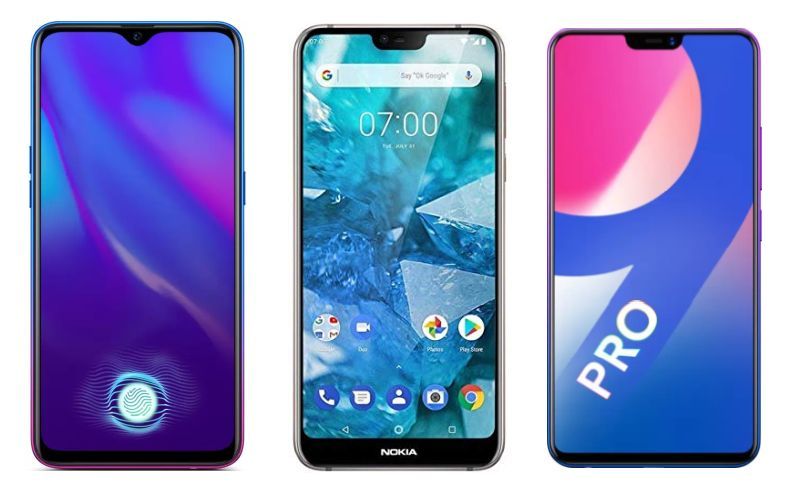 The recently launched OPPO K1 is the most affordable phone to have arrived with an in-display fingerprint sensor. While that is an impressive feat on its own, it is yet to be determined if the smartphone as a whole offers a good package. A quick glance at its specs sheet implies its closest competition to be with phones such as the Nokia 7.1 and the Vivo V9 Pro. Let's see which of these phones emerges victorious in a head-to-head battle.
OPPO K1 vs Nokia 7.1 vs Vivo V9 Pro: Price in India
The OPPO K1 has launched with a starting price of INR 16,990. There is only one storage configuration so far that is comprised of 4GB of RAM and 64GB of storage. The Nokia 7.1 also comes with the same storage configuration but is priced at INR 19,990. The Vivo V9 Pro with this storage setup can be found for INR 17,990, with an update to 6GB of RAM costing INR 19,990.
OPPO K1 vs Nokia 7.1 vs Vivo V9 Pro: Design, Display
In order to equip the K1 with an in-screen fingerprint sensor, OPPO made use of a 6.4-inch Full HD+ AMOLED panel. The Vivo V9 Pro and Nokia 7.1, meanwhile, come with IPS LCD screen measures 6.3-inches and 5.84-inches respectively. Both of these devices have to contend with rear-mounted fingerprint sensors.
As for their designs, all three of these smartphones feature glass rear panels and notched screens. However, only the OPPO and Vivo handsets offer gradient back design options, while the Nokia phone offers only solid color variants.
OPPO K1 vs Nokia 7.1 vs Vivo V9 Pro: Performance
In terms of performance, both the K1 and V9 Pro lead the charge with Snapdragon 660 SoCs running under their hoods. The Nokia 7.1 lags behind in this regard because of its use of a Snapdragon 636 chipset. However, the latter is the only device out of the three to offer a software update to stock Android 9.0 Pie. It is also the only one of these to support NFC connectivity.
OPPO K1 vs Nokia 7.1 vs Vivo V9 Pro: Camera
It is hard to pick out a clear winner among these phones with regards to their imaging prowess. The OPPO K1 offers an impressive camera setup comprised of a 16MP + 2MP config at its rear, with a large 25MP selfie sensor at the front. However, the Nokia 7.1 has also proven to offer admirable imaging thanks to its collaboration with Zeiss. The back of this phone offers a 12MP + 5MP combo, accompanied by an 8MP front-facing camera. The V9 Pro, on the other hand, makes use of a 13MP + 2MP rear-facing setup, along with a 12MP camera at the front.
OPPO K1 vs Nokia 7.1 vs Vivo V9 Pro: Battery
The OPPO K1 boasts the largest battery here that amounts to 3600mAh. Then comes the Vivo V9 Pro with its 3260mAh cell. Even though the Nokia 7.1's battery capacity is the smallest at 3060mAh, it is worth mentioning that it is the only phone here to offer 18W fast charging support via a USB Type-C port. The other two phones, on the other hand, still rely on the dated microUSB 2.0 standard.
OPPO K1 vs Nokia 7.1 vs Vivo V9 Pro: Verdict
All things considered, the Oppo K1 is indeed the best option in this comparison. The fact that it features an AMOLED screen with an in-screen fingerprint scanner for just INR 16,990 is a game changer for this end of the market. That is not to say the other two phones are bad options. The V9 Pro specifically has had its price drop as low as INR 13,990 on some occasions, making it a great option for someone looking for a phone under that budget. Nokia has also gotten some things right with the 7.1 such as the USB Type-C fast charging support, Zeiss optics cameras, stock Android, and one of the best LCD panels out there. It just needs to focus on getting more powerful chipsets on its phones, and price them more competitively.