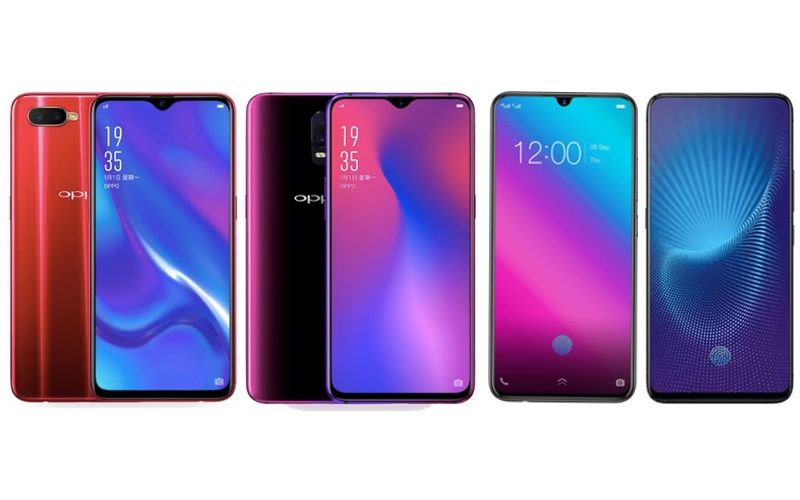 Both OPPO and Vivo have upped their game in designing smartphones, especially, when it comes to powerful price/performance devices. The OPPO K1 was recently launched and it is a mobile powerhouse, indeed, that will be nicely placed in the mid-range category. However, how does it compare when it is pitted against the likes of the Vivo V11 Pro, the X23 as well as the OPPO R17. This detailed specifications and features comparison will reveal all the important information to you, which will eventually help you to make a buying decision later down the road.
OPPO K1 vs Vivo V11 Pro vs OPPO R17 vs Vivo X23 Build, Display
All four smartphones have an incredible design, with all four of them sporting a teardrop notch at the top of the display, which increases the overall screen-to-body ratio. All of these phones also sport an AMOLED screen, which is able to house an in-display fingerprint scanner, but they still come with varied screen sizes and resolutions. Starting with the OPPO K1, it sports a large 6.4-inch screen with a 2340 x 1080 pixels resolution, while the V11 Pro has a 6.41-inch display and a 2340 x 1080 resolution.
Next comes the R17, which also sports a 6.4-inch panel but with a different 2280 x 1080 pixels resolution. Last, comes the X23, which has a 6.41-inch display, along with a resolution of 2340 x 1080 pixels. There are very little differences to spot when comparing these four smartphones, and if you want an attractive design, we are confident that all of them will provide what you are looking for.
OPPO K1 vs Vivo V11 Pro vs OPPO R17 vs Vivo X23 Hardware, Performance
Both the OPPO K1 and the Vivo V11 Pro are armed with a Snapdragon 660 AIE SoC. However, the K1 provides 4GB of RAM and 64GB storage for the base model and 6GB RAM paired with the same amount of internal memory for the top-tier version. The V11 Pro also sports two models, but both of them feature 6GB of RAM, with the base variant offering 64GB of storage, while the higher-tier version providing 128GB of flash memory.
Next comes the OPPO R17, which is more powerful thanks to sporting a Qualcomm Snapdragon 670 chipset, along with a whopping 8GB RAM and 128GB of internal storage. The Vivo X23 is also in the same performance league as the R17, as it too is armed with a Snapdragon 670, along with 8GB of RAM and 128GB of storage. Apart from the X23 and the K1, the remaining two smartphones in this comparison can have their storage expanded via microSD card.
OPPO K1 vs Vivo V11 Pro vs OPPO R17 vs Vivo X23 Software
All four devices in this comparison are running the Android 8.1 Oreo update. There is no word on whether these devices are going to be updated to Android 9 Pie, so we will have to wait for that news to come through, and we'll update you accordingly. The OPPO K1 and R17 are running the Color OS 5.2 skin on top of that Android update, while the Vivo V11 Pro and X23 are running the Funtouch OS 4.5 UI.
OPPO K1 vs Vivo V11 Pro vs OPPO R17 vs Vivo X23 Camera
The four smartphones in this comparison all feature a dual-camera at the back, but they come with different specifications. The OPPO K1 features a 16MP+2MP dual-camera, along with a 25MP sensor present at the front. The Vivo V11 Pro sports a 12MP+5MP dual shooter at the back, along with a single 25MP unit placed at the front. As for the R17, it has a 16MP+5MP dual sensor at the back, plus a 25MP shooter at the front.
Last, but certainly not the least, we have the X23, which has a unique 12MP+13MP camera configuration at the back, along with a 12MP selfie shooter. The primary camera setup present on the Vivo X23 is able to capture images with a wider angle when opting to use the secondary sensor, while in the remaining three smartphones, these secondary cameras act as depth-sensing modules.
OPPO K1 vs Vivo V11 Pro vs OPPO R17 vs Vivo X23 Battery Life, Connectivity
Both the OPPO K1 and R7 feature a 3500mAh battery that provide support for fast-charging, with both of them also featuring a microUSB 2.0 port. As for the Vivo V11 Pro and the X23, they both feature a 3400mAh unit underneath their premium hood using the same microUSB 2.0 charging port. While none of these devices in the comparison get Qi wireless charging support, it is honestly not a deal breaker by any means.
OPPO K1 vs Vivo V11 Pro vs OPPO R17 vs Vivo X23 Conclusion
Quite surprisingly, these four devices impress greatly in the design department and the fact that they feature AMOLED screens paired with in-display fingerprint readers is commendable. However, when it comes to the final verdict, we will opt for either the OPPO R17 or the Vivo X23 and that is thanks to their powerful internal specifications.
Having a Snapdragon 660 in a smartphone will make it quite capable when carrying out a number of tasks, but pair a Snapdragon 670 with 8GB of RAM, and you have a combination that buyers will love to carry around in their pockets. Unfortunately, only the Vivo V11 Pro is available in the Indian market and it carries a price of Rs. 23,148 for the lowest possible value. In this case, you'll have to wait for the other three devices to officially land in India.
After you are done reading this comparison, you can check out our quick review and unboxing of the Vivo V11 Pro given below.