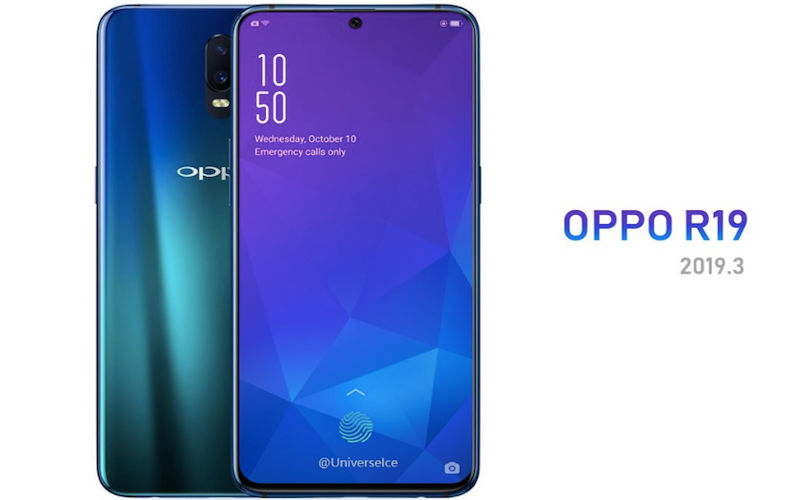 A new leak has purportedly taken the wraps off two new smartphones, and that makes for really exciting news for all smartphone enthusiasts. The Oppo R19, whose existence is not even confirmed by the Chinese brand yet, has been revealed as the next year's Oppo flagship product, and that too, by a noted and trusted tipster.
The leaked image shows a near in-display front camera for the Oppo R19 and super-slim bezels, plus an in-display fingerprint sensor. Now, speculation is building that the OnePlus 7, the natural successor to the upcoming OnePlus 6T and 2019's flagship killer from the Oppo sub-brand, will follow the same design, and hence, we shall have at least these two smartphones early next year with a new kind of display. Read on for details.
Oppo R19 Coming in March 2019 With New Display Design
A tipster who has been known to leak accurate information about upcoming smartphones, Ice Universe, has shared on Weibo and Twitter social networking platforms the image of the Oppo R19, which looks like a teaser poster, with the date 2019.3 or March 2019 on it. This is keeping up with set patterns, as Oppo's R15 was also released early this year and the follow up R17 came in the second half of 2018. Sometime after the Oppo phones come, OnePlus handsets based on them make their appearance. In the image, you can see that the display design of the Oppo R19 is entirely new, in that it has no notch and yet a pinhole camera, which Ice Universe has called an 'open-hole' design.
This is an unprecedented and risky move, but if it does click, we are likely to see many more flagships and flagship killers as well as mid-range to premium segment handsets featuring this new design of display with its own branding. We do not know yet what Oppo will call this design, or if it is even final, but there is no strong reason to doubt the prediction of Ice Universe as of now.
It is foreseeable that OPPO R19 will be such a design. pic.twitter.com/QNO6mj9ugz

— Ice universe (@UniverseIce) October 10, 2018
The front camera of the Oppo R19 is surrounded by the screen as if it is a tiny island on the display, while the chin on the display is visibly taking a small portion away from it. The rest of the display, though, is nearly bezel-free, because the bezels are so thin that it is hard to detect from afar. The rear shows off a glass back with gradient color and dual rear camera accompanied by dual tone dual LED flash, while the fingerprint sensor is near the chin of the display.
OnePlus 7 To Follow Suit?
We know that the OnePlus handsets take from Oppo flagships what they need, and then go ahead with their own formula. Just like some major blockbuster movies are based on novels but are still different in its screenplay, OnePlus phones are unique in their own right but are basically based on Oppo handsets. The OnePlus 6 (read review here) is based on the Oppo R15 and the OnePlus 6T is based on the Oppo R17, with the display design of the two OnePlus phones following that of the Oppo handsets. It is hence, simple to bet that the OnePlus 7, the brand's 2019 offering which we can expect to see by May 2019, will also have the 'open-hole' display design with no notch and super-slim bezels.
Meanwhile, check out this video on another one of Oppo's great ensemble offerings.