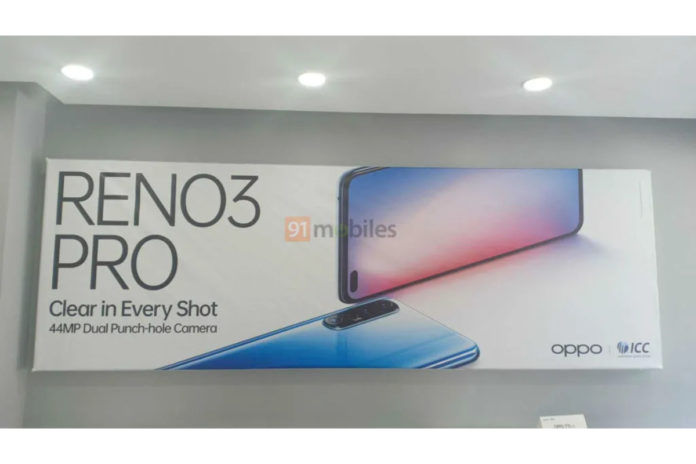 OPPO will launch the OPPO Reno 3 Pro smartphone on March 2, 2020, in India. The OPPO Reno 3 Pro will hold the glory for being the first-ever smartphone in the world to flaunt a 44MP dual punch-hole camera setup. Yesterday, the real-life image of the OPPO Reno 3 Pro were leaked. Soon after that, the product page of the device on the Indian e-commerce giant Flipkart posted a couple of new teaser videos, which reveal the full design of the device in all its glory.
OPPO Reno 3 Pro Teaser Videos Showcase the Full Design Ahead of Launch in India
As seen in the promotional images and videos, this is how the OPPO Reno 3 Pro will look like. We can see the device flaunting a Blue gradient rear. The camera module sits at the top left corner of the device. Since there is no physical fingerprint scanner at the back of the device, we can safely expect the OPPO Reno 3 Pro to sport an in-display fingerprint scanner. Other than the camera module, the rear of the device is almost vacant, save for the OPPO logo that sits at the bottom right of the device.
Speaking of the specifications of the OPPO Reno 3 Pro, the device will sport a 44MP + 2MP front camera setup. At the back, the OPPO Reno 3 Pro will make room for a quad camera setup. Under the hood, the OPPO Reno 3 Pro is expected to be powered by a MediaTek Helio P95 chipset, which will be paired with 8GB/12GB of RAM and 128GB/256GB of internal storage. As far as the display of the device is concerned, the OPPO Reno 3 Pro will feature a 6.5-inch AMOLED display with a 1080 x 2400 pixels resolution. A 4,025mAh battery will keep the lights of the device on. Speaking of, the OPPO Reno 3 Pro will have the provision for up to 30W of fast charging. To know more about the OPPO Reno 3 Pro device, you can head to our previous coverage of the same.
As of now, this is all we know about the OPPO Reno 3 Pro smartphone, but we are likely going to get more information on the same in the coming days.
What are your thoughts on the device? Do let us know in the comments section below.