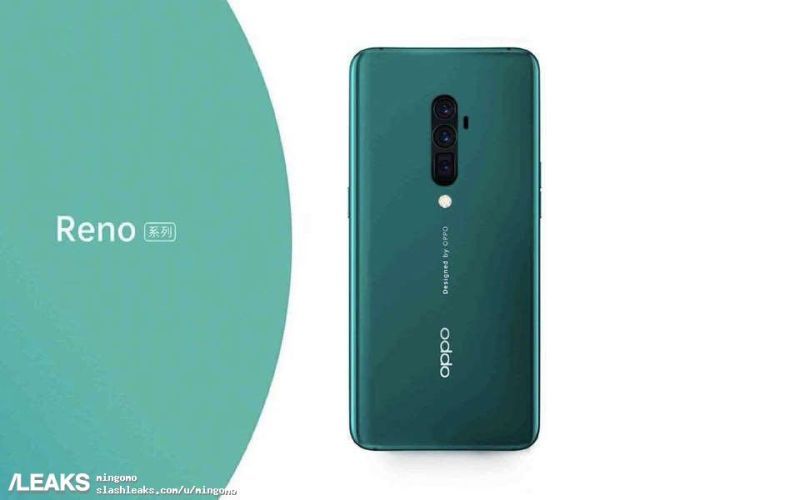 Just yesterday, OPPO announced a new line of smartphones that will go by 'Reno' in China. The first of these handsets is expected to release next month, and a recent leak even gives us a peek at what some of its specs might be. In an interesting turn of events, a press render for one of the upcoming Reno smartphones has been spotted online. This render showcases a triple rear camera setup for this handset, with details regarding the sensors being used also being hinted at. One of these sensors is claimed to offer 10x optical zoom functionality, a feature which was demonstrated by OPPO at MWC this year.
According to the information available on Slashleaks, the first camera sensor is going to be a 48MP Sony IMX586 sensor. This falls in line with a previous leak that hinted towards a 48MP camera for Reno. However, that leak only mentioned the use of two rear cameras with the second being a 5MP lens, while the new report claims the phone to come with a triple camera setup which uses a wide-angle and telephoto lens instead. Perhaps we are looking at two different smartphone variants where one offers a dual camera setup, while the other is a pricier option with triple rear cameras.
OPPO's Reno Smartphone To Offer 10x Optical Zoom
At MWC 2019, OPPO had showcased a triple camera system quite similar to what the above report indicates the Reno to possess. The first sensor is a 48MP high-resolution camera, the second is a 16mm focal length 120-degree ultrawide sensor, while the third is a 160mm focal length telephoto lens. The telephoto lens, in particular, makes use of two 'D-cut optical lenses' that are arranged in a periscope layout. This helped OPPO get the setup down from 15mm to 6.76mm. 13 percent more space was saved by making use of two autofocus motors in the same module for the primary and wide-angle cameras. Also, both the primary and telephoto sensor are equipped with OIS tech.
Back at MWC, OPPO had also confirmed that this setup would be making its way to the market by Q2 of 2019. Considering the Reno is launching on April 10, everything seems to be lining up quite nicely.