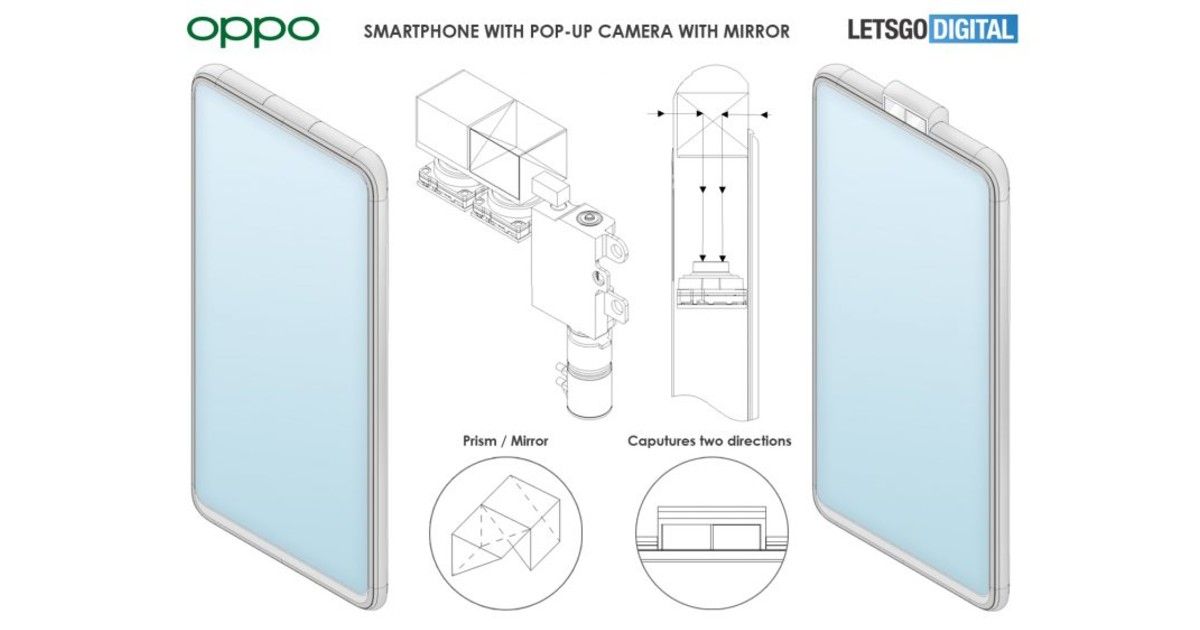 OPPO the smartphone manufacturing brands seems to be planning for a new smartphone which is expected to arrive with a pop-up upward-facing camera. Now the company has patented a new design for the pop-up selfie camera on a smartphone, according to a report from Let's Go Digital. As per the report, the company filed a new patent at WIPO (World Intellectual Property Office) back in March 2020. Patent claims that OPPO is working on a new pop-up camera design which is said to use a light patch direction mirror on its popup camera which is sufficient enough to take selfies and video calls. Here's a close look at the OPPO pop-up camera smartphone patent.
OPPO Pop Up Camera Smartphone Patent
According to the report, OPPO is also working on a pop-up camera design which uses a light path deflecting mirror. Further, the report claims that the company is working on an advanced technology which is going to use two mirrors instead of one.
The OPPO smartphone patent shows a flat display with the edge-to-edge screen without any notch design of in-display camera as the camera modules are fitted inside the pop-up mechanism. The rear panel of the phone also has a clear appearance as there is no existence of or rear-camera modules, which makes it different from a traditional smartphone.
Further, the patent describes that OPPO has designed the popup camera setup with dual camera sensors and two light path deflection mirrors. The shape of the mirror is placed like a triangle or you can say prism. The prism is capable of changing the light path and taking selfies and regular photos or video recording.
"With Oppo's system, only the reflective unit moves up and down. The cameras themselves do not move, this benefits the durability of the camera system. When none of the cameras is in use, the camera system is stored in the housing. The top of it is rounded, so that it fits seamlessly with the rounded frame," reads the report.
The camera modules placed inside the pop-up mechanism are facing upward as mentioned above. The prisms are positioned in such a way that it can be tilted to change the direction of the photography. Meanwhile, the mirrors are also capable of reflecting lights from the sides. So you can also click pictures from the left and right sides. This allows the user to take 360˚ panorama photos as well.