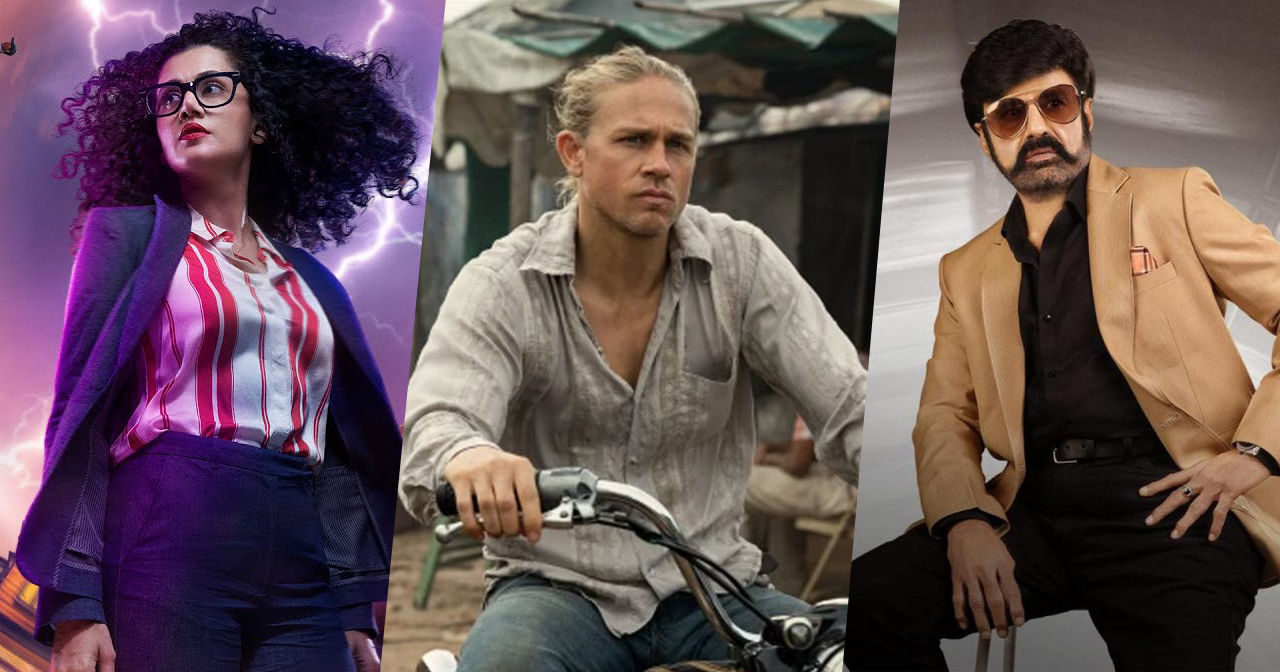 It's Friday again and besides new releases in theatres, OTT platforms this week will see new releases like Dobaaraa, Shantaram, Unstoppable 2 with NBK and more. And like every week MySmartPrice brings you all the major OTT releases in one place with as much information as possible so that you need not look anywhere else for your weekend entertainment information.
OTT platforms like Netflix, Amazon Prime, Voot, Disney+ Hotstar, Sony Liv ensure to bring fresh content for its viewers each week in order to keep them engaged. And this week we have multiple new OTT platform releases as well.
Dobaaraa is the newest film from Anurag Kashyap which is inspired from a Spanish mystery drama film while Shantaram is about an Australian bank robber who comes to Bombay to escape from his fate. And with Nandamuri Balaskrishna returning with his talk show, Unstoppable with NBK is set to draw huge audiences.
Also Read (Last Week's Releases): OTT Releases this Week (October 3 – October 9, 2022): Laal Singh Chaddha, Karthikeya 2, Raksha Bandhan, More Films and TV Shows Playing Now
Top 5 OTT Releases this Week [October Second Week]
| | | | |
| --- | --- | --- | --- |
| Name | OTT Platform | Language | Release Date |
| Dobaaraa | Netflix | Hindi | October 15 |
| Shantaram | Apple TV+ | English | October 13 |
| Unstoppable 2 with NBK | Aha | Telugu | October 14 |
| Vendhu Thanindhathu Kaadu | Amazon Prime | Tamil | October 12 |
| Byomkesh Hotyamancha | Hoichoi | Bengali | October 14 |
Dobaaraa (Netflix – Hindi – October 15)
Inspired from the Spanish film Mirage, Dobaaraa brings back Taapsee Panuu to the screen. The film uses Time as a medium again and the protagonist gets an opportunity to save the life of a 12-year old boy, who witnessed a death during a thunderstorm that happened 25 years ago, by getting connected through the television set during a similar storm in the present.
The film from Anurag Kashyap features Taapsee Pannu and Pavail Gulati in the leading roles and had a weak run at the box office. It had a reported budget of Rs 30 crores and only managed to make a little more than Rs 6 crores.
Shantaram (Apple TV+ – English – October 13)
Shantaram is based on the book with the same name from Gregory David Roberts. It's about a fugitive named Lin Ford who is hiding in a chaotic Bombay of 1980. And in the unfamiliar city, he struggles to avoid trouble but falls for an enigmatic woman and must choose between freedom and love and the complications that come with it.
The film has been directed by Justin Kurzel, Bharat Nalluri and Iain B. MacDonald and stars Charlie Hunnam as Lin, Richard Roxburgh as Detective Sergeant Marty Nightingale, Radhika Apte as Kavita, Alexander Siddig as Khader Khan and Antonia Desplat as Karla Saaranen.
Unstoppable 2 with NBK (Aha – Telugu – October 14)
The second season of Telugu-language web television talk show hosted by legendary actor Nandamuri Balakrishna is coming this week and it has some big names in terms of guests. The show premiered back in October 2021 and is now back for another season.
The teaser for second season is now out and guests this time include his brother-in-law and former Andhra Pradesh Chief Minister Nara Chandrababu Naidu and his son-in-law Nara Lokesh.
Vendhu Thanindhathu Kaadu (Amazon Prime – Tamil – October 12)
The first film in a series, Vendhu Thanindhathu Kaadu or Vendhu Thanindhathu Kaadu Part I: The Kindling is about a young lad from the village who belongs to the lower caste. He travels to Mumbai to earn a living and to study and this takes him on a series of unexpected events, where he gets involved in the underground activities of Mumbai's Tamil gangsters.
The film has been directed by Gautham Vasudev Menon, and features Silambarasan and Siddhi Idnani, along with Raadhika Sarathkumar, Neeraj Madhav and Siddique in supporting roles. With music by A. R. Rahman, the film has managed to earn around Rs 50 crores at the box office while it had a budget of around Rs 30 crores.
Byomkesh Hotyamancha (Hoichoi – Bengali – October 14)
The newest addition to the content around the legendary detective created by
Saradindu Bandopadhyay, Byomkesh Hotyamancha, brings back Byomkesh and his sidekick/confidant Ajit to the silver screen. It is set in a troubled time of the 70s Bengal when the Naxalite movement is at its peak. Byomkesh Bakshi gets involved in a tale of revenge when he decides to attend a play at the theatre and becomes witness to a crime unfolding on the center stage.
Arindam Sil makes hi directorial debut with the film and it features Abir Chatterjee as Byomkesh, Suhotra Mukhopadhyay as Ajit, Paoli Dam as Sulochana, and also has Arna Mukherjee, Kinjal Nanda and Sohini Sarkar in supporting roles.
Other Films and Shows Coming this Week
| | | | |
| --- | --- | --- | --- |
| Other Shows/Film Coming this Week | OTT Platform | Language | Release Date |
| The Playlist | Netflix | English | October 13 |
| Easy Bake Battle | Netflix | English | October 12 |
| Big Shot S2 | Disney+ Hotstar | English | October 12 |
| The Journey of India | Discovery+ | Hindi | October 10 |
| Aashiqana S2 | Disney+ Hotstar | Hindi | October 10 |
| Oke Oka Jeevitham/Kanam | SonyLIV | Tamil, Telugu | October 10 |
| Good Bad Girl | SonyLIV | Hindi | October 14 |
| Buffon | Netflix | Tamil | October 14 |
| Nenu Meeku Baaga Kavalsinavaadini | Aha | Telugu | October 13 |
| Someone Borrowed | Netflix | English | October 10 |
| Mismatched S2 | Netflix | Hindi | October 14 |
| The Watcher | Netflix | English | October 13 |
| Sue Perkins: Perfectly Legal | Netflix | English | October 13 |
| Palthu Janvar | Disney+ Hotstar | Malayalam | October 13 |
| Exception | Netflix | English | October 13 |
| Trigger | Aha | Tamil | October 14 |
| Everything Calls for Salvation | Netflix | English | October 14 |
| Rosaline | Disney+ Hotstar | English | October 14 |
| The Curse of Bridge Hollow | Netflix | English | October 14 |
| Under the Queen's Umbrella | Netflix | English | October 15 |
| Mobile Suit Gundam The Witch From Mercury | Netflix | English | October 10 |
| The Cage | Netflix | English | October 11 |
| Deaw 13 Thai Stand Up Comedy | Netflix | English | October 11 |
| Tu Rajee Re | Jio Cinema | Gujarathi | October 12 |
| Wild Croc Territory | Netflix | English | October 12 |
| Holy Family | Netflix | English | October 14 |
| Kahani Rubber Band Ki | ZEE 5 | Hindi | October 14 |
| Earwig | Mubi | English | October 15 |