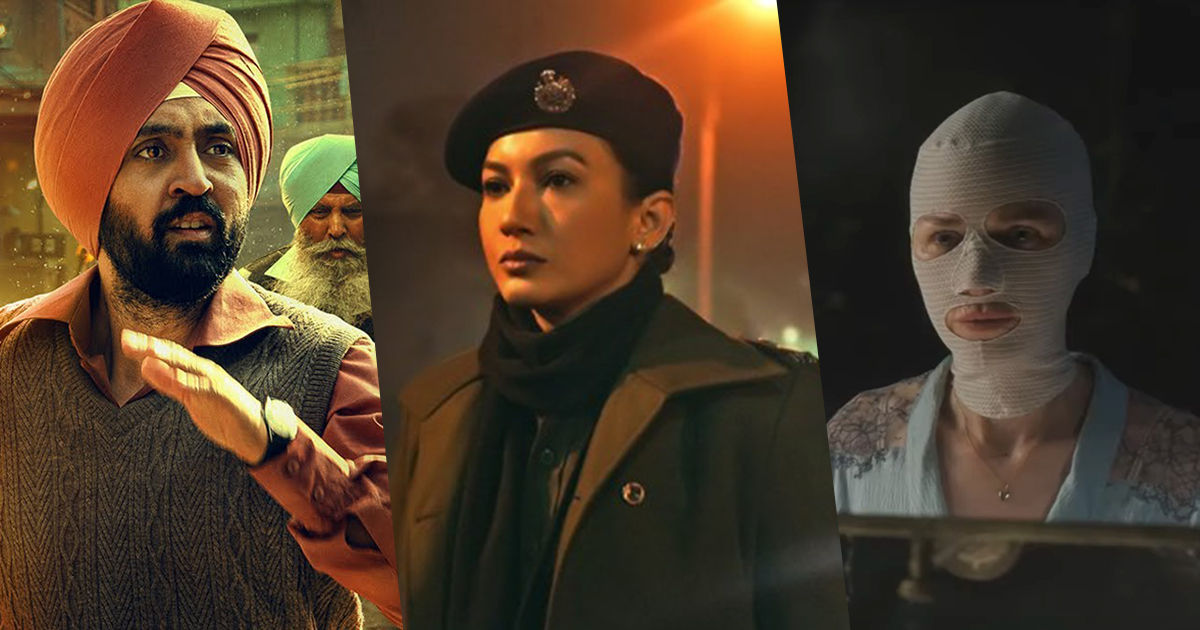 We used to wait for Friday for new releases in theaters, but now the wait is for new shows and films to drop on OTT platforms. OTT platforms are all the rage now, so much so, that it has made a huge impact on the theater going crowd and films with theatrical releases are fizzling out within mere days. With OTT platforms now, films become extremely accessible to people and can be watched at a whim without having to wait for them being telecasted at particular times with ad-breaks of course.
OTT platforms like Netflix, Amazon Prime, Voot, Disney+ Hotstar, Sony Liv ensure to bring fresh content for its viewers each week in order to keep them engaged. And this week the top five films and shows going live on OTT platforms include Jogi, Shiksha Mandal, Ramarao on Duty, Dahan, and Goodnight Mommy. While Jogi has been one of the biggest releases this week, Shiksha Mandal has also garnered eyeballs. Jogi brings back Diljit Dosanjh into the fray of acting again. Shiksha Mandal crime drama web-series and Dahan is for those that want a dose of horror this week.
Also Read (Last Week's Releases): OTT Releases this Week (September 05-11, 2022): Thor: Love and Thunder, Sita Ramam, Paappan, More Films and TV Shows Playing Now
Top 5 OTT Releases this Week [September Third Week]
| | | |
| --- | --- | --- |
| Name | OTT Platform | Release Date |
| Jogi | Netflix | September 16 |
| Shiksha Mandal | MX Player | September 15 |
| Ramarao on Duty | SonyLIV | September 15 |
| Dahan | Disney+ Hotstar | September 16 |
| Goodnight Mommy | Amazon Prime Video | September 16 |
Jogi (Netflix – September 16)
Jogi is a film set in the 80's featuring Diljit Dosanjh in the lead and directed by Ali Abbas Zafar. Set in the same decade as the Anti-Sikh Riots, this is a tale of three friends of different faiths who unite in a noble yet dangerous effort to save hundreds in their town.
Dealing with the topics of courage, brotherhood, humanity, communalism, tragedy, and hope reviewers have been rather positive about the outlook on Jogi and the portrayal of the Sikh-Genocide that took place in 1984. It also stars Amyra Dastur, Mohd. Zeeshan Ayyub, Hiten Tejwani among others.
Shiksha Mandal (MX Player – September 15)
Featuring big names like Gauahar Khan, Gulshan Devaiah, and Pawan Raj Malhotra as the series' three lead characters, this Hindi crime drama web-series has been written and directed by Syed Ahmad Afzal. The show takes from real life events and revolves around the medical entrance test frauds and how the mafia around it operates.
Based on the real life 'Vyapam Education Scam' the show has received high praise from watchers. It shows how a village in India produces doctors by the sheer power of guns. It deals with politico-criminal involvement in the present schooling system and how corruption, fraud, and cheating are commonplace activities.
Ramarao on Duty (SonyLIV – September 15)
Directed by Sarath Mandava, this Telugu mystery action film stars Divyansha Kaushik, Rajisha Vijayan, and Venu Thottempudi in key roles. Set in the year 1995, this tells the tale of Ramarao, an honest government officer and his fight against the red sandalwood mafia.
Dahan (Disney+ Hotstar – September 16)
Dahan is a supernatural thriller show that shows the events that happen around a haunted mine in a village named Shilaspura. While not just a horror show, it revolves around the happenings in the village as an IAS officer tries to unravel mysteries.
This Hindi show has been directed by Vikrant Pawar and stars Tisca Chopra, Rajesh Tailang, Mukesh Tiwari, Saurabh Shukla, Ankur Nayyar, Rohan Joshi and Lehar Khan.
Goodnight Mommy (Amazon Prime Video – September 16)
Goodnight Mommy is a mystery thriller directed by Matt Sobel and featuring Naomi Watts, Cameron Crovetti, and Nicholas Crovetti in the lead roles. This is a remake of an Austrian horror film from 2014 that was written and directed by Veronika Franz and Severin Fiala.
Two boys, who are twins move into a new house with their mother who just had facial cosmetic surgery done, but the boys suspect that the woman is not their mother. The original film became well known as it was Austria's entry to 88th Academy Awards in the Best Foreign Language Film category.
Other Films and Shows Coming this Week
| | | |
| --- | --- | --- |
| Other Shows/Film Coming this Week | OTT Platform | Release Date |
| Heartbreak High | Netflix | September 14 |
| Do Revenge | Netflix | September 16 |
| Attention Please | Netflix | September 16 |
| Time Pass 3 | Zee5 | September 16 |