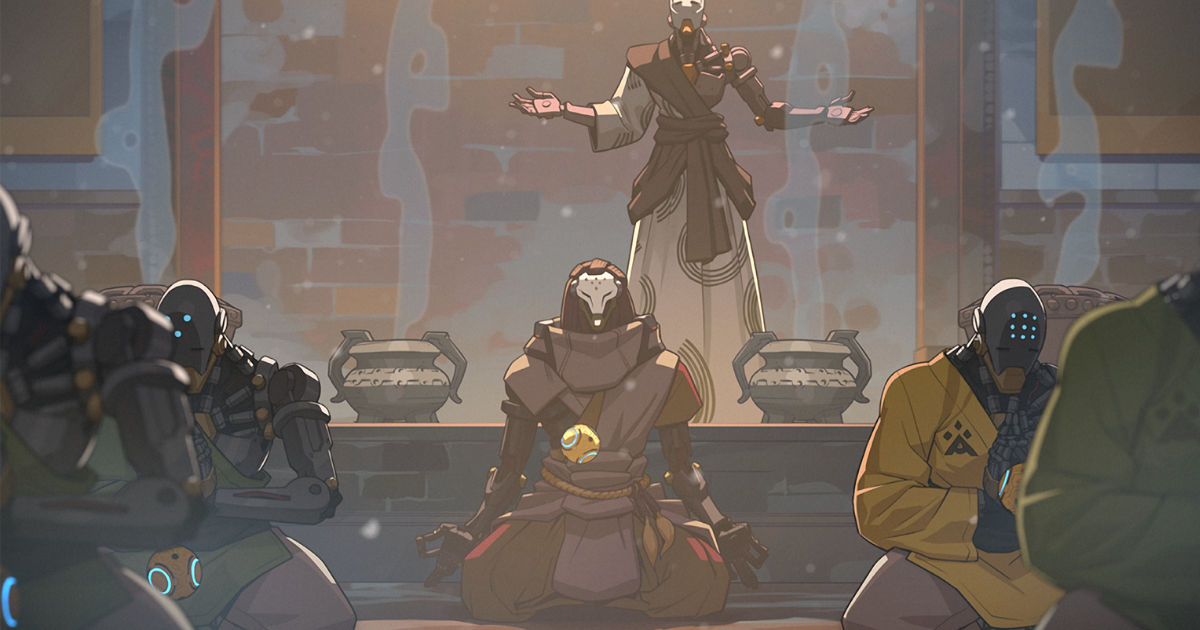 Blizzard just revealed the newest hero headed to Overwatch 2 – Ramattra at the Overwatch League Grand Finals. The studio has also released a new Origin Story for the character which gives a peek behind the curtain at the character's development with Art Director Dion Rogers and Lead hero Designer Alec Dawson. Ramattra's backstory is a complex one and has quite a few layers to it.
Blizzard describes Ramattra as originally being designed with the sole purpose of war. He ultimately decided to shed their munitions and act as a shield to protect his people, a goal for which he is prepared to go to any lengths. "Originally a war machine, Ramattra shed his munitions for a shield to protect his people by promoting peace and tranquility", reads the description released by Blizzard. "His ideals weren't far removed from his fellow Shambli monk, Zenyatta. However, Ramattra's story is one of hardships, trauma, and a magnified view of humanity's harsh realities."
Ramattra will join the game's tank lineup at the beginning of Season Two, starting December 6. More details about the character will be revealed prior to launch.
Also Read: Evercore Heroes is the 1st Ever MOCO or Multiplayer Online Co-Op, Reveals Trailer
Overwatch 2 Introduces New Tank in Season Two – Ramattra
Details regarding his abilities and weaponry are still sparse but from the looks of it, Ramattra has the potential to become one of the community's favorite characters. Overwatch 2's Season Two launches on December 6th and will include Ramattra in its tank lineup.
Overwatch 2 didn't really get off to a good start on launch as fans had several complaints about the game, most of which stemmed from the seeming lack of content. The game was panned by audiences at large, but over time, it has solved many of its connectivity issues and Blizzard has been working on providing quality, post-launch support. It will be interesting to see how fans respond to new characters and hopefully new game modes such as the highly-anticipated co-op mode.
While the PvP multiplayer mode remains largely unchanged from its predecessor, Blizzard has identified co-op multiplayer as the way forward for the franchise. To that end, the game will be getting a new co-op mode that takes full advantage of the game's fantastic roster and gives players a chance to fully use their character's kits in a fast-paced, tactical co-op mode.
This co-op is not present in the game in its current form but Blizzard has slowly been building to it since launch. In its current state, Overwatch 2 looks and plays a lot like its predecessor and while that still has some core value to it, fans feel like the game is only a half-measure, at least until the co-op mode is here. The timeline for the release of the co-op mode is still unclear but it looks like it could arrive next year.