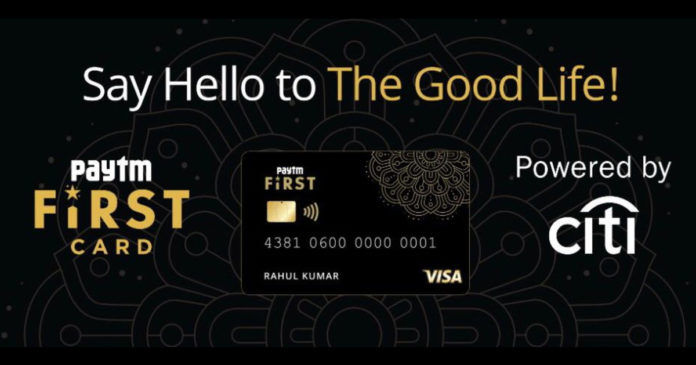 Paytm has partnered with Citi to introduce its very first credit card. According to the company, the new Paytm First Card is the first in the country to give customers one percent "universal unlimited cashback". There are no restrictions on earning categories as well. The cashback earned by customers will be auto-credited every month.
Paytm First Card Benefits
As mentioned earlier, the Paytm First Card promises customers unlimited 1% cashback on transactions, without any restrictions. The contactless card is accepted in India as well as in other countries around the world. Paytm First Cardholders will receive Paytm promo-codes worth INR 10,000 when they spend a minimum of INR 10,000 using the credit card within the first four months. Like most other credit cards, you will be able to avail attractive EMI options on the Paytm First Card as well.
Some of the other benefits include exclusive offers on shopping, travel, dining, and more on the Citi Privileges platform. Exclusive offers for customers from both Paytm and Citi will be shown in the Paytm First Card passbook on the Paytm app. Along with offers, customers will be able to track their card transactions as well in the Paytm First Card passbook.
How to Apply for a Paytm First Card
Customers interested in getting a Paytm First Card can apply for one on the Paytm app. To assess the creditworthiness of individuals, Paytm and Citi have jointly developed a selection tool. The benefit of this tool is that it will ensure even customers without a credit history can get the card. Paytm is hopeful that the new card will provide the utmost flexibility to its customers in their digital payment options and will further encourage cashless payments. While there are no hidden fees or charges, the Paytm First Card has an annual fee of INR 500. However, this fee is waived for customers spending more than INR 50,000 in a year using the card.
The launch of the Paytm First Card comes just two months after the company introduced the Paytm First subscription-based loyalty program to take on Amazon Prime and Flipkart First. Priced at INR 750, Paytm First provides customers with several benefits such as a 1-year subscription to Sony LIV, discounts on Uber Ride Pass worth INR 1,000, Zomato Gold membership worth INR 750, Oyo Wizard Blue membership worth INR 499, meals worth INR 2,400 on Uber Eats, GOQii plus subscription worth INR 999, and more.