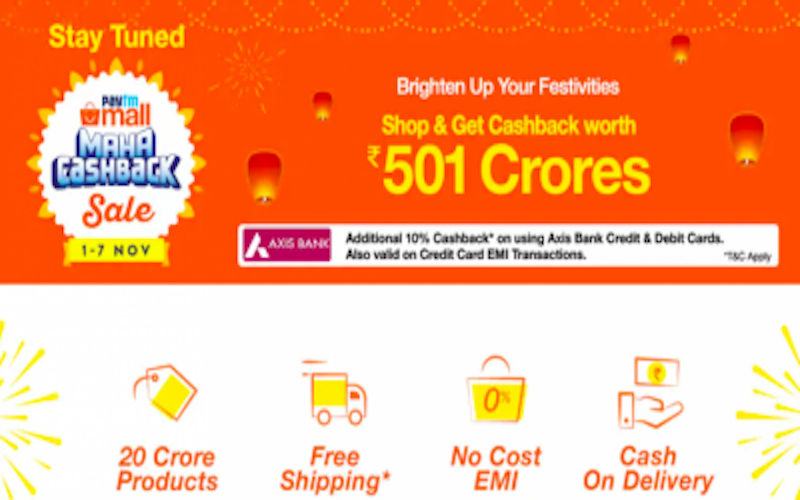 Diwali is just around the corner and customers are bombarded with a glut of offers on every major e-commerce store. Flipkart is done with its Big Billions Day Sale and Amazon has even wrapped up its second round of the Great Indian festival sale. And, if you still haven't got what you needed, there is another one coming up. Paytm Mall is bringing a week-long Maha Cashback Sale that starts from November 1. During the sale, the e-commerce store is offering exclusive deals and cashback offers on a plethora of products across different categories. Let's check out the major highlights of the Maha Cashback Sale.
Offers on Smartphones, Laptops, and Other Gadgets
During the sale, Paytm Mall is offering smartphones with up to INR 15,000 cashback and exchange bonus of up to INR 25,000. Apart from the regular cashback offers, you will get an additional 10% cashback offer upon making the payment using Axis Bank cards. The devices on offer include most of the mid-range smartphones from Samsung including the Galaxy J6, On7 Prime, Galaxy J8, and more. From Xiaomi, we have Redmi Y2, Redmi Note 5 Pro, Redmi 5, among the others. The popular Oppo F9 Pro 64GB is available with a cashback offer of INR 2,400. The 32GB variant of the Oppo A5 is available with a cashback of INR 1,499 and the A3S can be grabbed with a cashback offer of INR 1,299. The Honor 9 Lite is available with a cashback of INR 1,290, while the Honor 7C will let you get back INR 1,304. The 128GB Midnight Black variant of the Honor 9N is up for grabs with a cashback offer of INR 1765, while the Sapphire Blue variant with same storage comes with INR 1,752. The other Honor devices on offers during the Paytm Mall sale include the Honor 7A, Honor 7C, Honor 7S, Honor 8, and more.
Further, Paytm Mall is also offering a number of high-end devices with no cost EMI along with the cashback. The iPhone X with 64GB storage is available with a no-cost EMI option apart from INR 1,000 cashback. Whereas, the 256GB variant of the device is available with a cashback offer of INR 11,000. The recently launched flagship Samsung Galaxy Note 9 is available with a massive cashback of INR 6,000. If you have been eying the latest iPhone lineup, you can get any of the iPhone XS and the XS Max with a cashback up to INR 7,000 during the 7 days of the sale. The older iPhone models including the iPhone 6, 6S, iPhone 7, iPhone 8, 8 Plus, are also available with heavy cashback offers.
The other gadgets on sale are laptops from top brands like Lenovo, Acer, Dell, HP, among the others. The Lenovo Yoga 510 is being offered with a cashback offer of INR 1,500. The Acer Switch Alpha 12 will get you a cashback of INR 3,499, while the Dell Inspiron 13 (core i3) will give you a cashback of INR 3,426. During the sale, you can buy DSLRs starting at INR 17,749 and smartphone accessories like headphones, speakers at attractive prices.
Offers on TVs and Other Home Appliances
With TVs and major home appliances like washing machines, refrigerators, you will get cashback offers of up to INR 20,000 along with no-cost EMI option. You can avail up to 25% off electric home appliances and 50% cashback on kitchen appliances. For a period of 7 days, Paytm Mall is offering 70% off on fashion accessories along with 70% cashback offers. The Maha Cashback Sale brings offers on products across all the possible categories including gadgets, smart TVs, laptops, electronics, furniture, groceries, vehicle, and vehicle accessories, that also come with easy EMI option.
The sale kick starts on November 01 and ends on November 07. So, prepare your wishlist and tune into Paytm Mall during the Maha Cashback Sale week.