Dutch electronics giant Philips earlier today officially made its comeback to the LED TV televisions space in India. The company launched a new range of televisions in the country with screen sizes ranging from entry-level 22-inch models to large 65-inch models with Philips' proprietary Ambilight 3 system. These new TV's have been launched in collaboration with TP Vision, a Chinese consumer electronics company that now has the license to develop, manufacture and license Philips TVs in several markets across the globe.
The prices of these new LED TV's start at INR 9,990 and go up to INR 149,990 for the top of the line 65-inch Smart LED TV with Ambilight. Note that all these TVs are slated to go on sale next month through leading offline and online channels.
Let us now take a closer look at all the seven models that have made their way to India today.
Philips 4200 Series Slim LED TV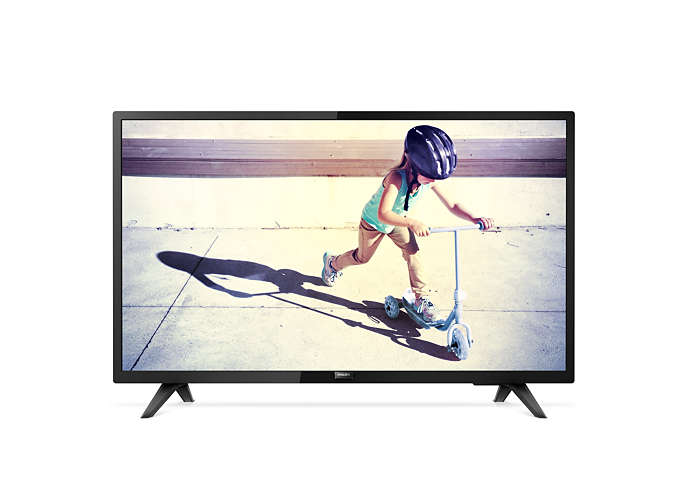 The line up starts with the 32-inch model from the 4200 series. This model is an LED HDTV with the panel boasting of a resolution of 1366 x 768 pixels. The TV gets two HDMI ports and a single USB port along with an Antenna IEC75 port, a headphone out, a Digital audio out (coaxial), and CVBS+Audio. The Philips 4200 TV also natively supports a wide variety of video formats including MPEG-2, MPEG-4, AVI, MKV, H.264 (up to FHD), HEVC. There is even support for subtitles in the .SRT, .ASS, and .SSA formats. The TV weighs around 4.5kgs and ships with a remote control, 2 x AAA Batteries, and a stand. The 4200 Series 32PHT4233S model has been priced at INR 17,990.

Philips 5400 Series Ultra Slim LED TV (Full HD)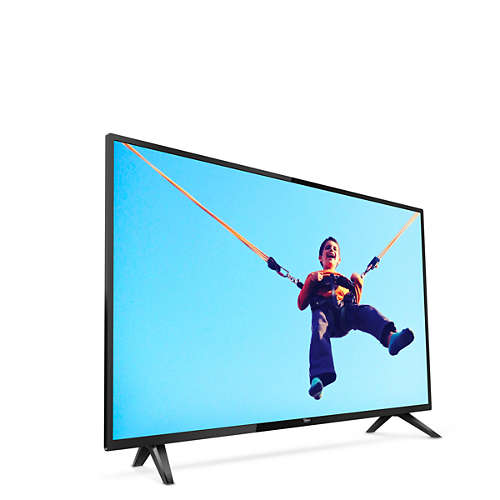 Next up is the 5400 Series Ultra Slim LED TV that has the smallest display of all the TVs announced today. This TV gets a 22-inch display. Unlike the 4200 Series that get an HD display, this one gets a higher resolution full HD panel (1080 x 1920 pixels). This TV supports Philips' Pixel Plus technology and also boasts of an 8-day Electronic Program Guide functionality. As far as connectivity is concerned, the TV gets one HDMI and USB ports each along with VGA and a 3.5mm audio jack. The TV also supports several multimedia file formats including AVI, MKV, H264/MPEG-4 AVC, MPEG-1, MPEG-2, and MPEG-4. The TV weighs in at just over 3.5 kg and comes with a remote control, and two AAA batteries. The price of this TV which also has the model number 22PFT5403S is INR 9,990.
Philips 5800 Series Ultra Slim Full HD LED Smart TV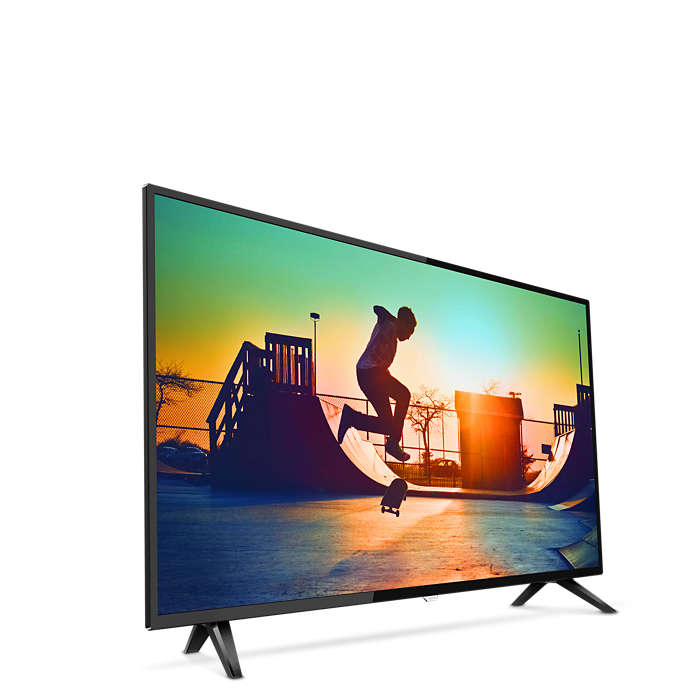 The 5800 Series TVs from Philips currently come in two variants – one with a 32-inch panel and the second version with a larger 43-inch display. Both these versions support full HD resolution and also happen to be Smart TVs powered by Philips' new Saphi operating system. The TV also supports several picture enhancement features including Pixel Plus HD and micro dimming.
Connectivity options on these TVs include two HDMI ports, two USB ports, one component in and a single CVBS port. The TV also gets an Audio L/R in, Digital audio out (optical), an Ethernet port and a 3.5mm headphone jack. The Smart TV features on these models include apps for Netflix and YouTube and support for web browsing and a bunch of other downloadable apps.
The pricing for the two models in the 5800 series are as follows:
5800 series – 32PHT5813S – INR 22,990
5800 series – 43PFT5813S – INR 42,990
Philips 6100 Series 4K Ultra Slim Smart LED TV
Positioned above the 5800 series is Philips' 6100 Series Smart LED TV models. These TVs come in two screen sizes – one with a 50-inch panel and the other with a 55-inch display. And as evident from the sun title of this section, the panel boasts of 4K resolution. The 6000 series offers users several connectivity options including 3 HDMI ports and 2 USB ports and one component and AV connector each. Both the TVs are also Wireless ready and supports Wi-Fi n and Wi-Fi Direct. Other connectivity options include a headphone out, ethernet port, and remote control pass-through. The Smart TV features of the TV is powered by the new Saphi Operating System that allows installation of apps from Philps' own app store. The TVs also come preloaded with popular apps like Netflix and YouTube.
The two models in this series and their pricing details are as follows
6100 series – 50PUT6103S – INR 66,990
6100 series – 55PUT6103S – INR 79,990
Philips 6700 Series 4K Ultra Slim Smart LED TV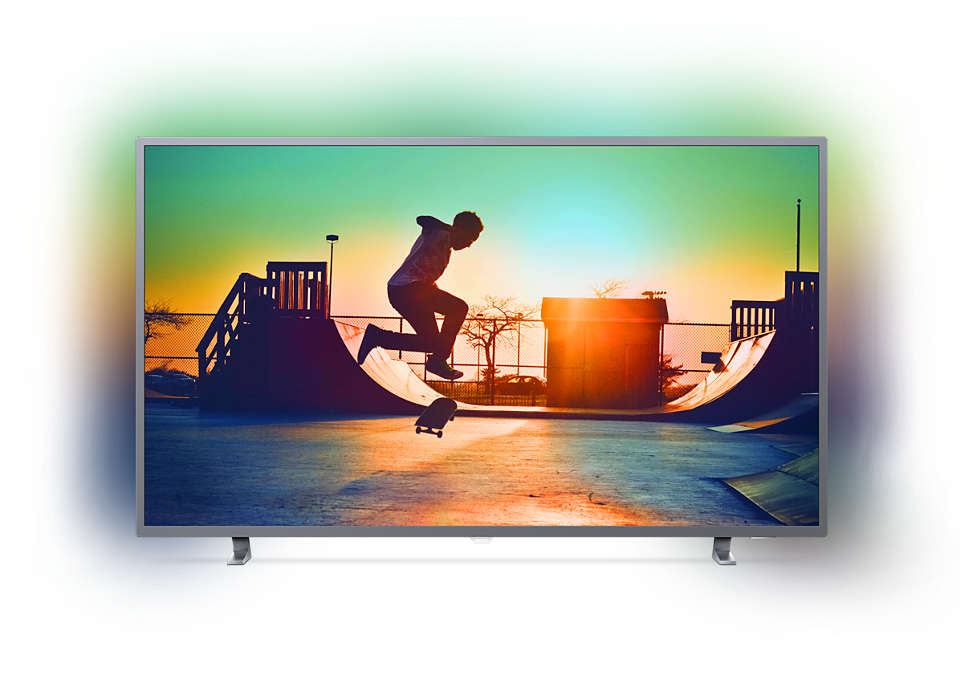 Topping off Philips' new TV lineup is the premium Philips 6700 Series 4K UltraSlim Smart LED TV that currently comes in a single screen size – 65-inches. The 6700 Series also offers Philps' Ambilight technology and gets a 4K panel with support for micro dimming and HDR Plus. Like the other TVs in the 6000 range, this TV also boasts of Smart TV features including support for downloadable apps using the Saphi operating system. Connectivity options include 3 HDMI ports, two USB ports and 1 component in. The TV also supports Wi-Fi n and also gets an Ethernet port along with a 3.5mm audio jack. The price of this model is INR 149,990.