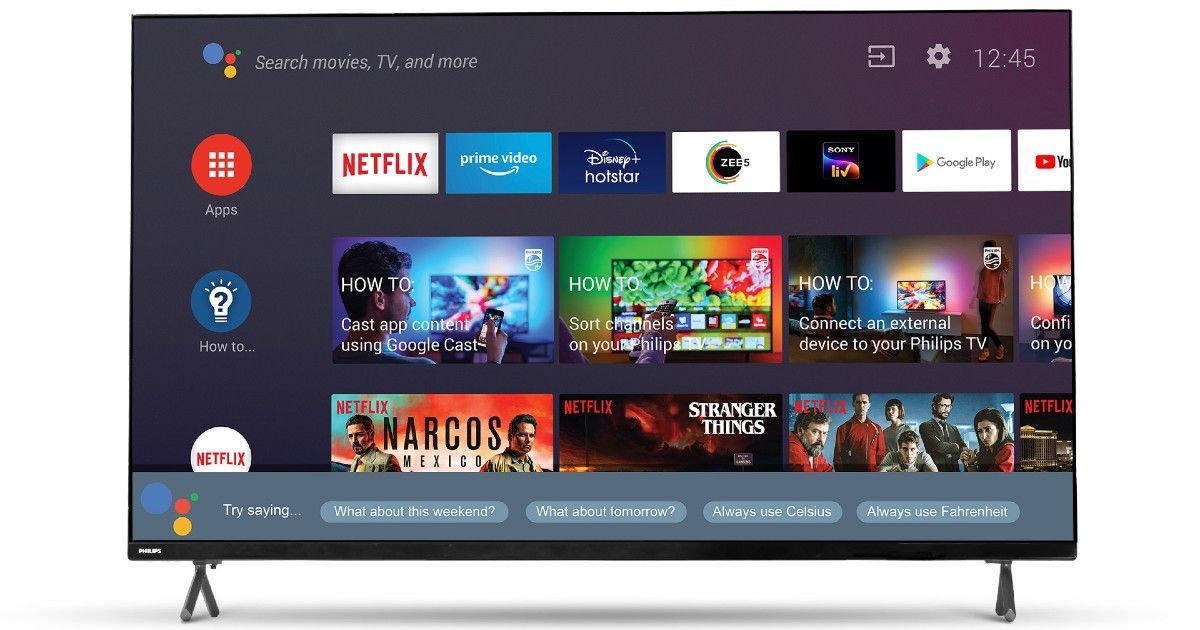 Perhaps preparing for the IPL and festive seasons, consumer electronics giant Philips has announced a new range of smart TVs in the Indian market. The new Philips UHD LED Android TV series supports Dolby Atmos audio and will run AndroidTV 10 out of the box. They also support Dolby Vision and HDR10 video playback and will be available between the 40 and 55 inch size ranges. They are also priced in the sub Rs. 60,000 and Rs. 90,000 range, and they will be sold on both online and offline channels.
Philips UHD LED Android TV series specs and features
The new Philips 8100 TV series will be available in 43 inch, 50 inch and 55 inch sizes, priced at Rs. 59,990, Rs. 79,990 and Rs. 89,990 respectively. The exact model numbers for the devices are 55" 55PUT8115, 50" 50PUT8115 and 43" 43PUT8135, and they all have 4K LED displays, which Philips claims will provide vivid picture quality and "clear and crisp" sound. As mentioned before, both Dolby Atmos and Dolby Vision technologies are supported, as is HDR10.
Since they have AndroidTV 10 out of the box, the Google Play store will also be supported, alongside the Philips App Gallery app store. Apps like Netflix, Amazon Prime, Disney+Hotstar are supported on the device. However, it's worth noting that having the Google Play store doesn't mean that every app available on AndroidTV will be on this device, so we would really recommend checking the TV out in a store if you need certain specific apps.
Further, the Philips 8100 series televisions have borderless designs with slim bezels and wide viewing angles. They will also support Google Cast, which allows you to transfer content wirelessly from an Android phone to the television. The offers on the devices will be available from the end of this month, though Philips hasn't provided the actual date yet.
Here's how much the new prices will be and Philips says the discounts will continue till November 4. The offers are mentioned below.
Model Name

Offer

55" UHD Android TV 55PUT8115/94

Buy Philips 55" 4K UHD Android TV 55PUT8115/94 @ ₹ 69,990/- & Get Philips True Wireless Headphones TAT4205/94 worth ₹ 6,999/-

58" UHD Smart TV 58PUT7605/94

Buy Philips 58" 4K UHD Smart TV 58PUT7605/94 @ ₹ 59,990/- & Get Philips

True Wireless Headphones TAT4205/94 worth ₹ 6,999/-

50" UHD Android TV 50PUT8115/94

Buy Philips 50" 4K UHD Android TV 50PUT8115/94 @ ₹ 59,990/- & Get Philips True Wireless Headphones TAT1225/94 worth ₹ 4,999/-

50" UHD Smart TV 50PUT7605/94

Buy Philips 50" 4K UHD Smart TV 50PUT7605/94 @ ₹ 49,990/- & Get Philips True Wireless Headphones TAT1225/94 worth ₹ 4,999/-

43" UHD Android TV 43PUT8135/94

Buy Philips 43" 4K UHD Android TV 43PUT8135/94 @ ₹ 44,990/- & Get Philips Wireless portable speaker worth ₹ 2,499/-

43" FHD Android TV 43PFT6915/94

Buy Philips 43" FHD Android TV 43PFT6915/94 @ ₹ 39,990/- & Get Philips Wireless portable speaker worth ₹ 2,499/-