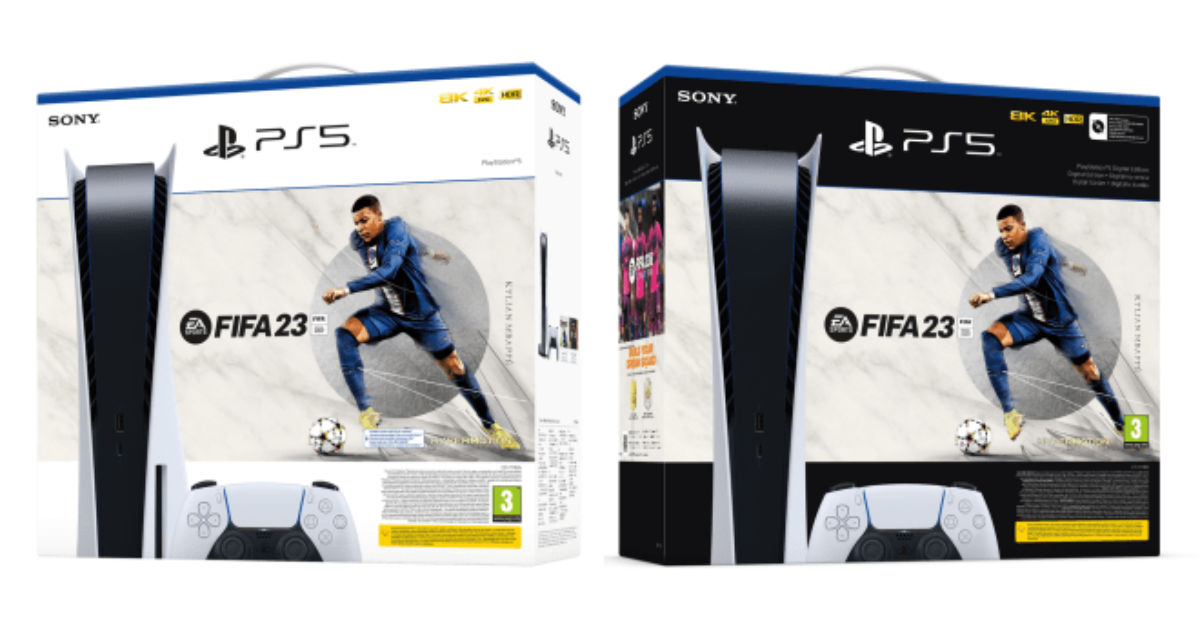 FIFA 23 is very close to its scheduled launch date, September 30, and it is reported that PlayStation will soon bundle the PS5 (both the optical and digital edition) with FIFA 23 and an additional Dualsense Controller. This makes a lot of sense as FIFA, typically, is a game that hinges on couch co-op, so an extra Dualsense controller certainly helps.
It is unclear how this will be priced and when Indian retailers will sell the FIFA 23 bundle. PlayStation has previously bundled their consoles with FIFA titles so this is pretty par on-brand for both EA and PlayStation.
It will be interesting to see how this is priced as the FIFA games are one of the best-selling game franchises in India and the extra Dualsense might help move units quite a bit.
Also Read: Epic Games Store Confirms That it Will Honour All Rs 5 FIFA 23 Purchases
Sony PlayStation 5 Bundle Could Be Coming Soon
Sony is launching a new #PlayStation5 #FIFA23 #Bundle for the digital and optical editions and the DualSense controller shortly. Here's confirmation and official pics: https://t.co/UHFg9xrEqd

RT much appreciated (these do not inlcude the new hardware revision)

— Roland Quandt (@rquandt) September 13, 2022
It is likely that the bundle will become available soon after the launch of the game on September 30, 2022. The PlayStation 5 continues to sell incredibly well and Sony is now offering several bundles that have become available in India in recent months as well.
The latest bundle to arrive in India was the PS5 Horizon Forbidden West Bundle. The bundle will be available for both the optical disc drive and the digital edition variants of the console. Seeing as the bundle also includes the Dualsense controller – it is likely that it will be priced significantly more than PlayStation's other PS5 bundles like Horizon Forbidden West and Gran Turismo 7.
Additionally, this will also be the last football title from EA Sports with the "FIFA" license as their long-standing deal comes to a close. The franchise will continue under the "EA Sports FC" banner and it will be interesting to see if EA decides to switch things up with how updates or succeeding games in the series are rolled out.