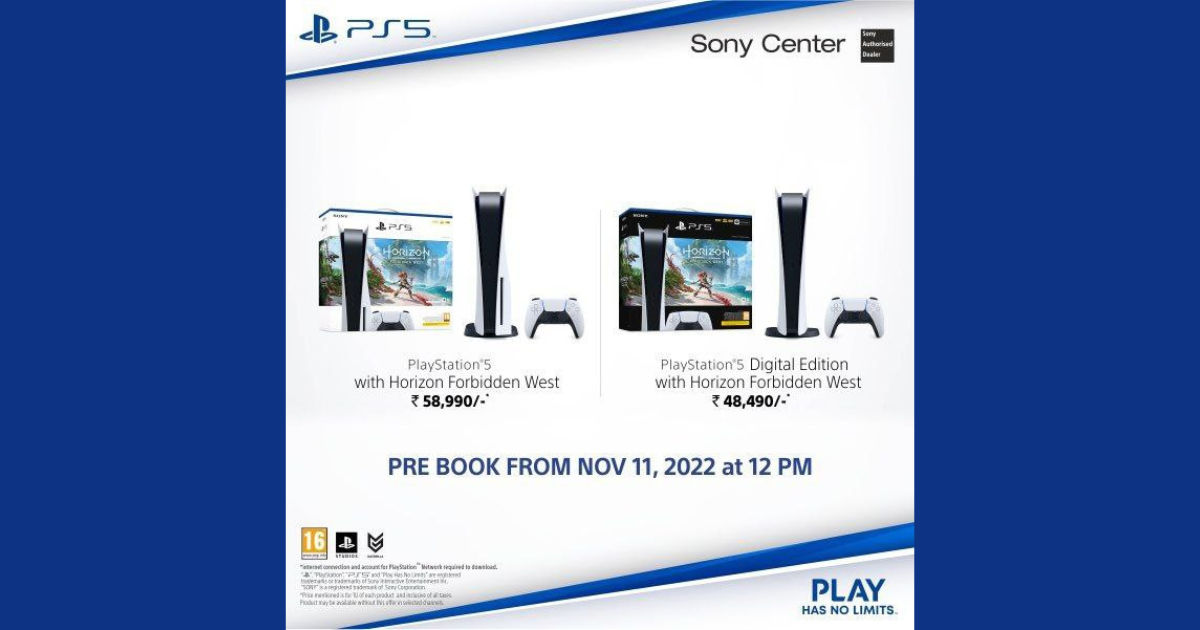 The next PlayStation 5 restock is confirmed to take place on November 11 and what makes this one different than the previous ones is that the console now costs Rs 5,000 more than before. Sony confirmed a price hike earlier this month, as did Xbox, and now the PlayStation 5 Horizon Bundle (Disc Edition) costs Rs 58,990 while the Digital Edition costs Rs 48,490.
Effectively, Sony has raised the price of both the console and its bundles as well. This price change is likely to be reflected in other bundles such as Gran Turismo 7 and most likely God of War Ragnarok. Stock will be available with the usual retailers – Amazon, Flipkart, ShopatSonyCenter, Games The Shop, and more.
The PlayStation is a pretty solid offering for gamers given its incredibly deep lineup of great games but that nearly Rs 60k price tag is going to be a massive pill to swallow for fans. It will be interesting to see whether this will affect sales. Perhaps on the brighter of things, there might be fewer buyers lining up for the console on restock, so this could your best chance at grabbing a brand-new PlayStation 5 console.
Also Read: PlayStation 5 India Price Hiked by Sony: Now Costs Rs 5,000 More Than Launch Price
New PlayStation 5 Prices are Now Live, Hot on the Heels of God of War Ragnarok
Next PS5 India restock date is November 11. Complete with the new price. #ps5 #india #ps5india pic.twitter.com/8SmgYhujI1

— 0xSkeptic (@RishiAlwani) November 8, 2022
The timing of this price hike couldn't have come at a worse time for PlayStation fans looking for an upgrade as this generation's biggest release so far, God of War Ragnarok, has just arrived. One of the biggest reasons fans were holding off on a PS5 purchase was in anticipation of God of War Ragnarok and now that it costs significantly more than before – the console might appear less appealing.
While the bundles cost close to Rs 50-60k, the consoles without Horizon Forbidden West bundled with it cost Rs 54,990 and Rs 44,990 respectively. Seeing as the games now also cost more than ever before, as PS5 games are now Rs 4,999 at launch, gaming has just become that much more expensive in India.
Only recently, Steam released a new pricing structure that adjusted the regional pricing of games in India – bringing up the overall cost by about 25%. This effectively makes PC gaming that much more expensive as well. While gaming on PC is certainly helped by services such as Xbox Game Pass, the overall cost of a high-end GPU and other PC parts are also now more exorbitant than ever.
While Game Pass has been incredibly successful in its own right – Sony has made it quite clear that it isn't looking to bring its big, AAA releases to PlayStation Plus on Day 1. In their eyes, this devalues the value of PlayStation Studios' games. So until that's the case – gaming on a PlayStation is going to remain pricey.