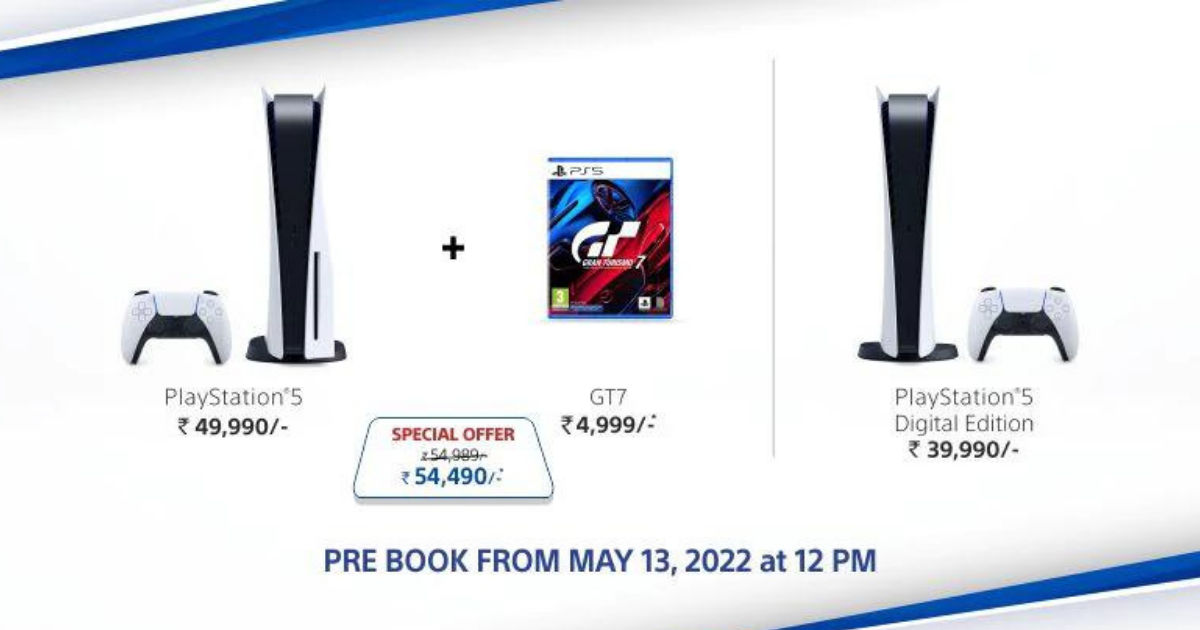 The next PlayStation 5 Restock is set to take place on May 13, 2022, at 12 PM. Stock will likely be available with major online retailers such as Amazon, ShopatSC, Flipkart, GamesTheShop, Vijay Sales, Croma, etc.
Much like the last restock, retailers such as ShopatSC are bundling Gran Turismo 7 with the standard PlayStation 5, which is priced at Rs 54,990. Gran Turismo 7 is the latest entry in the storied gaming franchise and is one of the more popular games of the current generation. The bundle is a decent-enough deal for fans of the franchise but many might want to stick to just the PS5 by itself in case they aren't interested in the game.
The PS5 Digital Edition is priced at Rs 39,990 while the standard console is priced at Rs 49,990. The difference in pricing results from the lack of an optical disc drive in the Digital Edition, meaning, it will not be able to play games from discs.
Also Read: Sony Shipped 19.3 Million Units PlayStation 5 Units According to Financial Report
Next PlayStation 5 Restock to Take Place on May 13, 2022
Although the restock is good news, getting your hands on one of these consoles remains as challenging as ever as stock doesn't last very long at any of the retailers. Prospective buyers should also be wary of scams and fake websites posing as other retailers as there have been several cases of buyers being duped.
In stark contrast to last year and a half or so, PlayStation 5 restocks have been quite frequent in India. There has been a restock every month of the year so far, which is a positive sign for Indian gaming fans looking to cop themselves a next-gen console.
Sony recently reported its financial results for FY2021 which revealed that the console had shippe 11.5 million in the past fiscal year. This brings the total units shipped in its lifetime to 19.3 million, which is a massively impressive number for any console, let alone a console whose sales have been bogged down by supply chain issues and global chip shortages.