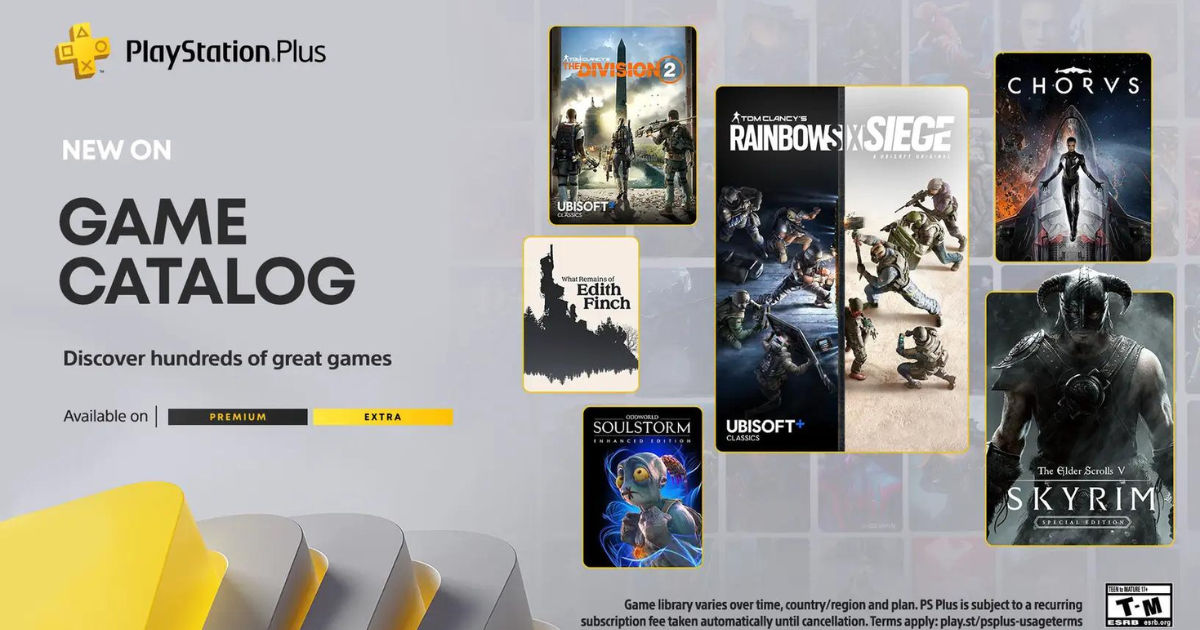 The PlayStation Plus Game Catalog lineup for November has been revealed and includes some of the biggest hits of the last decade. This month's major highlight of the lineup is Elder Scrolls V: Skyrim (Special Edition), one of the most seminal games of all time and a true masterpiece that has stood the test of time. The rest of the lineup is pretty stacked, too, with the inclusion of Chorus, What Remains of Edith Finch, and Tom Clancy's Rainbow Six Siege and The Division.
November looks like a solid month for PlayStation fans with both God of War Ragnarok and a stacked Game Catalog lineup. These games will be available to both PS Plus Extra and Premium/Deluxe subscribers. Although, only Deluxe subscribers will have access to the Classics Catalog this month, which includes several games from the Ratchet & Clank franchise.
To add these games to your library, simply head to the PlayStation Plus section on your PS4/PS5 and browse through the Game Catalog and select the games you want to add. The Game Catalog and the Classics Catalog will be available to you as long as you have an active Premium (for Game Catalog) or Deluxe (Classics/Game Catalog). These games will be available starting November 15.
Also Read: PlayStation 5 Next Restock Confirmed for November 11, New Prices Now in Effect
Elder Scrolls V: Skyrim Special Edition Makes Its Way to PlayStation Plus Game Catalog
Games included in the Game Catalog this month:
What Remains of Edith Finch (PS4)
Rainbow Six: Siege (PS4/PS5)
Elder Scrolls V: Skyrim Special Edition (PS4/PS5)
Kingdom Hearts HD 1.5 + 2.5 ReMIX (PS4)
Kingdom Hearts HD 2.8 Final Chapter Prologue (PS4)
Kingdom Hearts III (PS4)
Kingdom Hearts: Melody of Memory (PS4)
Oddworld Soulstorm (PS4/PS5)
The Division 2 (PS4)
Ghost Recon: Breakpoint (PS4)
Chorus (PS4/PS5)
The Gardens Between (PS4/PS5)
Earth Defense Force: World Brothers (PS4)
Earth Defense Force: Iron Rain (PS4)
Onee Chanbara Origin (PS4)
The lineup for this month includes a number of games from Ubisoft +Classics, which has been a pretty big contributor to PlayStation Plus so far. The service has gotten off to a pretty good start and while it might not be as pervasive as the Xbox Game Pass so far, Sony has slowly been building its catalog over time.
Day One launches are probably not going to be a thing for PlayStation Plus for now, but it doesn't mean that the games on offer aren't up to scratch by themselves. With the consoles getting considerably more expensive in India now, services like PlayStation Plus can probably help relieve the pressure on gamers just a tiny bit.
Classics Catalog:
Ratchet & Clank | PS3
Ratchet & Clank 2: Going Commando | PS3
Ratchet & Clank: Up Your Arsenal | PS3
Ratchet & Clank: Deadlocked | PS3
Ratchet & Clank Future: Tools of Destruction | PS3