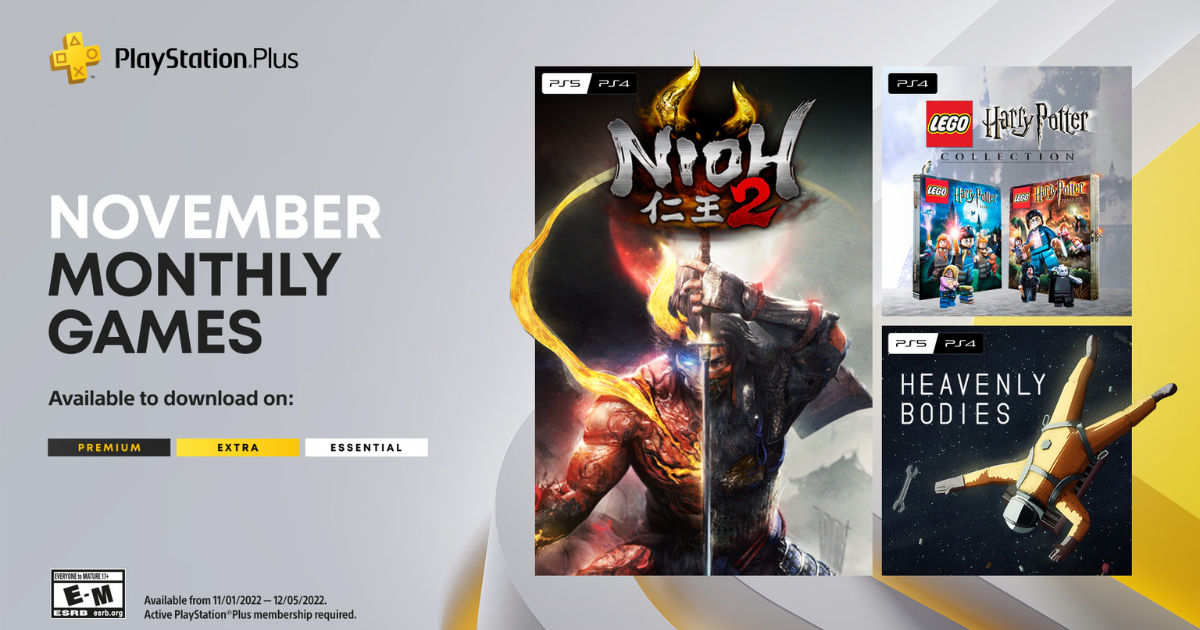 The PlayStation Plus Essential lineup for November has been revealed and it includes Nioh 2, one of the best soulsborne games currently available. Also available for free download next month is the entire LEGO Harry Potter Collection as well as the fantastic indie sci-fi title, Heavenly Bodies.
These games will be available to all PlayStation Plus subscribers – Essential, Extra, and Deluxe. The games will be available to download from the PS Plus section on your console. Note that these aren't the games present in the Game Catalogue, as those will be revealed later in November.
This is a pretty good lineup of games that are fans are sure to enjoy. PS5 versions of Nioh 2 and Heavenly Bodies will be available to those with current-gen consoles and all 3 games will be playable on the PS4 as well. All 3 games will be available for download from November 1.
Also Read: PlayStation 5 Tipped to Get Discord Voice Chat as Leak Reveals its in Testing Phase
November Looks Like a Pretty Good Month for PlayStation Plus Subscribers
Combat fearsome yokai, master spells, and solve puzzles in zero gravity with the Monthly Games for PlayStation Plus this November.

More details on Nioh 2, Lego Harry Potter Collection, and Heavenly Bodies: https://t.co/kUJSgRC9NX pic.twitter.com/bET3CP9hlN

— PlayStation (@PlayStation) October 27, 2022
Nioh was considered one of the best soulsborne games outside of FromSoftware's catalogue, and over time, the sequel has also found its place in the mainstream. The game was praised for its dedication to challenging gameplay paired with a fantastic art style and polished combat. Team Ninja's Nioh 2 is one of the best examples of how to emulate the soulsborne style while also retaining a core identity separate from games like Bloodborne and Dark Souls.
The LEGO Harry Potter collection brings together Years 1-4 as well as Years 5-7 in a remastered edition of the game. Players can either play the game solo or two players can join in together in couch co-op or online. The LEGO Harry Potter games make for some of the best co-op fun in gaming and they are a wonderful addition to the PlayStation Plus games lineup.
Heavenly Bodies is a unique, sci-fi, interstellar experience that puts players in the shoes of a cosmonaut in space. This challenging physics game tasks the players with controlling the movement of their character and reaching specific research stations, either alone or with a friend via local co-op. Players will be able to download all 3 games from November 1.
This is also players' last chance to download October's Monthy Games, which include Hot Wheels Unleashed, Injustice 2, and Superhot. The games will be available for download until Monday, October 31. Once in your library, the games will remain there as long as players have an active PlayStation Plus subscription.
It will be interesting to see which games will make their way onto the PlayStation Plus Game and Classics Catalogue this month. Sony is currently prepping for one of the biggest launches of the year as God of War Ragnarok nears its release date, November 9.