Highlights
The lineup includes – Star Wars Jedi: Fallen Order, Fallout 76, and Axiom Verge 2.
Games will be available to download from January 3, 2023.
Accessible to every tier of PlayStation Plus.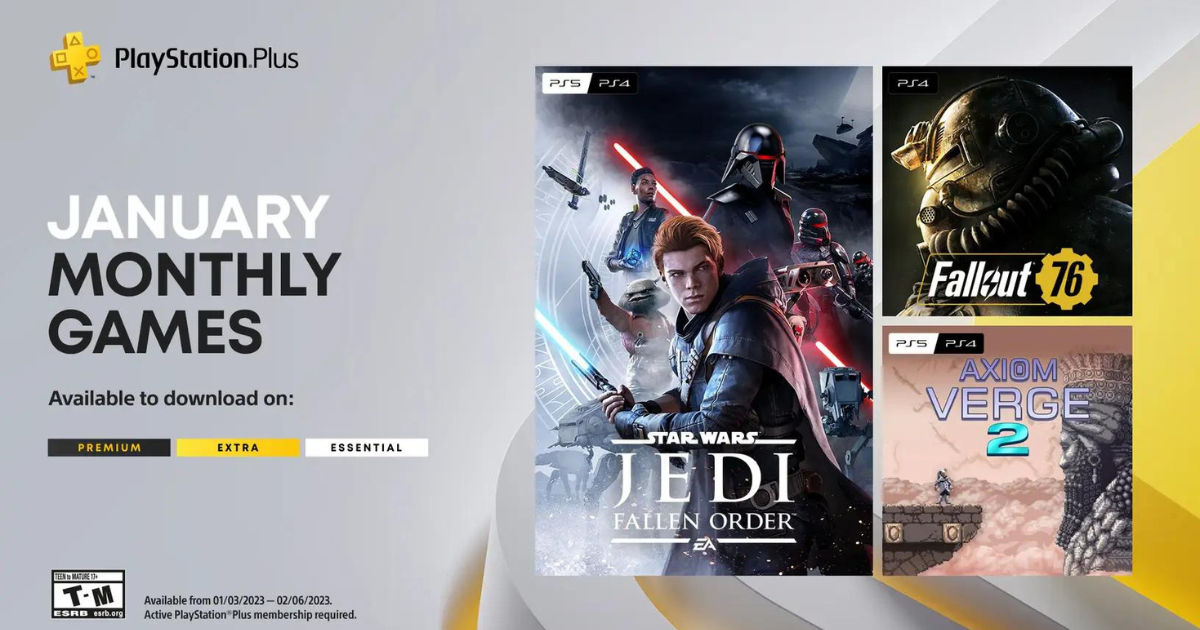 The PlayStation Plus Monthly Games for January 2023 have been revealed and it includes Star Wars Jedi: Fallen Order, Fallout 76, and Axiom Verge 2. The games will be available to download from Tuesday, January 3. Every PS Plus member will be able to claim the monthly games available each month. To claim these games, simply head to the PlayStation Plus section of the Home Page and add these games to your library.
Once added, the games will remain in your library for as long as you have an active PS Plus subscription (any tier). The Essential tier gives players access to online multiplayer as well as the monthly games lineup. To access the Game Catalog, players will need a PS Plus Extra subscription and a Deluxe/Premium subscription to access all of these as well as the Classics Catalogue, which contains remasters of older-gen PS titles as well as new remasters and remakes.
This is a pretty stacked month for PlayStation Plus subscribers as all 3 games can offer plenty of value. The games will be available to claim for free throughout the month. Right now, players can still claim the games for December – Mass Effect: Legendary Edition, Biomutant, and DKO: Divine Knockout.
Also Read: The Game Awards Announcements: Star Wars Jedi: Survivor, Death Stranding 2, More Revealed
Star Wars Jedi: Fallen Order, Axion Verge 2, and Fallout 76 to be Available on PlayStation Plus from January 3
Star Wars Jedi: Fallen Order is Respawn Entertainment's souslike take on the Star Wars universe and is one of the best AAA games of the past few years. The game features a similar gameplay structure seen in games from FromSoftware like Dark Souls and Bloodborne. Meaning, the game can be brutally challenging and players will lose progression if they die midway before reaching certain points. This creates an exceptionally engaging gameplay loop. It also helps that Respawn has fine-tuned the lightsaber and force combat to provide players with the definitive Star Wars Jedi experience.
Fallout 76 is a curious title as it didn't exactly set the world alight in the way fans expected. The game was immediately panned upon launch for not being up to scratch with the rest of Bethesda's offerings, but since that point, the game has gotten considerably better. To the point where the argument could be made that Fallout 76 might just be one of the best MMOs currently available. The game brings the signature, engaging Fallout experience online as an MMO and gives players an awful lot of freedom to experiment, tinker, and interact with the vast open world.
Axiom Verge 2 is a blissfully chaotic and exciting Metroidvania game developed by Thomas Happ Games. The game came out to great critical acclaim and builds upon the original in fascinating ways. The game is incredibly challenging yet satisfying, which forms a rather addictive loop that has players hooked to the game for hours on end.