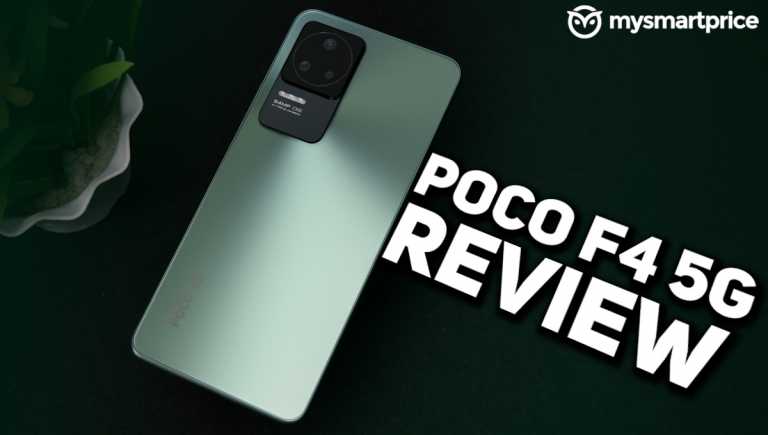 The POCO F4 5G is a big deal for the brand. It is the spiritual successor to the POCO F3 GT and, in a lot of ways, evokes the good vibes that POCO F1 did back in 2018. However, it is placed in a heavily competitive spot where the iQOO Neo 6, Realme GT Neo 2 and Mi 11X sit comfortably.
It has a lot going for it – an understated design with a velvety finish on the rear, a sprawling 6.67-inch AMOLED display and the reliable Snapdragon 870 paired with some advanced cooling solutions. At ₹ 27,999, POCO has made an undercut here, but can it dethrone the iQOO Neo 6 as the category favourite? Find out in our review.  
POCO F4 5G Review: A non-pretentious design
2022 is the year of squared-off smartphones, and the POCO F4 5G is no exception. It is a flat glass sandwich with a chamfered plastic frame in the middle. Other than the chamfer, there's no curvature as such on the frame, so it's a little tricky to pick up the phone when it's resting flat on a surface. The rear glass has a lovely velvet texture that feels satisfying to touch, but POCO hasn't revealed what protects it. So far, it hasn't caught any scratches, small or big, despite spending time with keys and coins in our jeans pocket.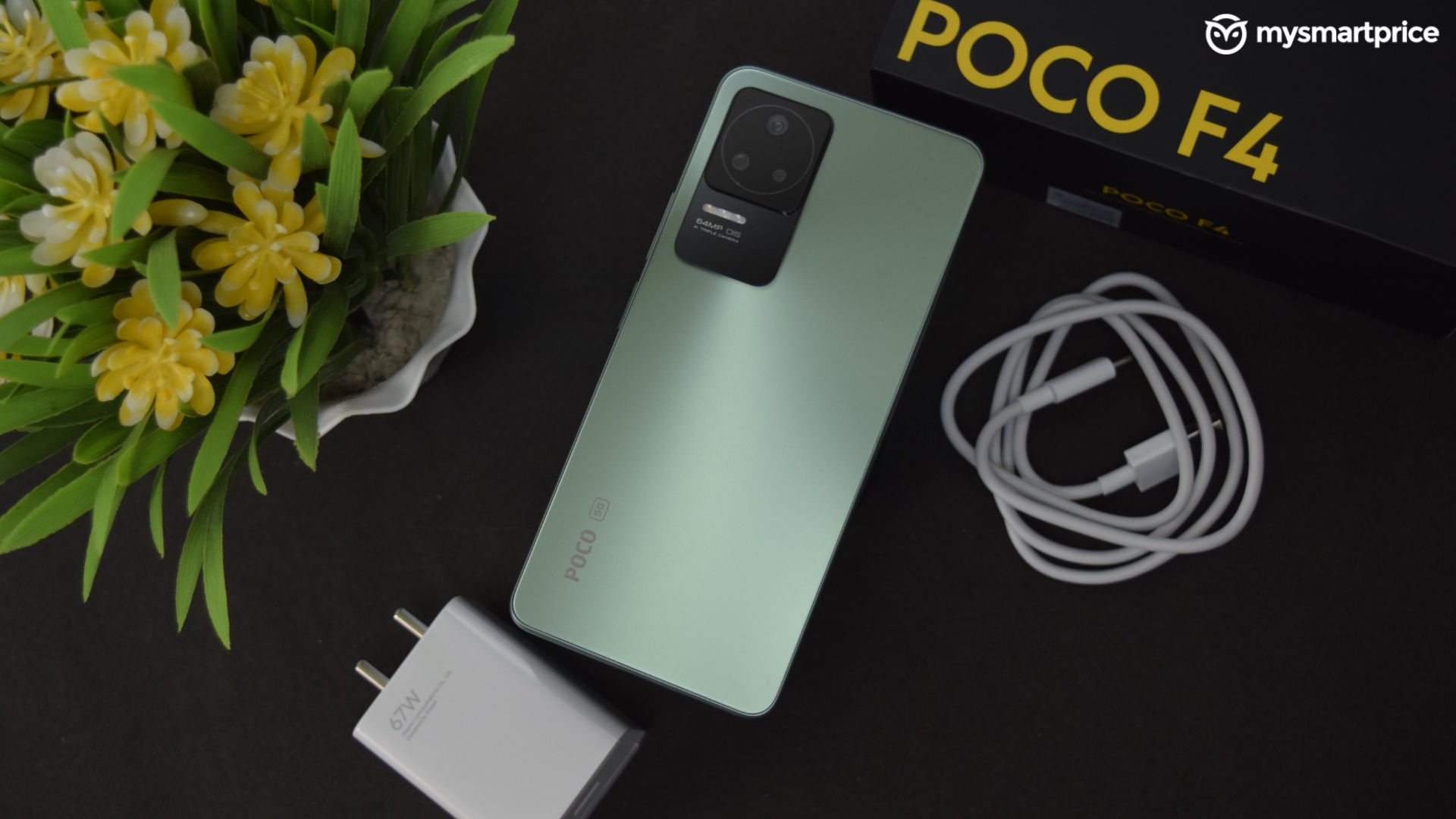 In terms of buttons, grilles and ports, the top of the phone hosts a speaker grille, mic hole and IR blaster, the right has the volume rockers, and lock button within an embedded fingerprint scanner and the bottom has another speaker grille, USB Type-C port and the dual SIM slot. Note that there's no microSD card slot in this phone.
We quite like the lock, volume rocker placement, and tactile feedback. But, the fingerprint scanner isn't all that accurate, and it takes a bunch of tries every time to unlock the phone. It can be very irritating at times.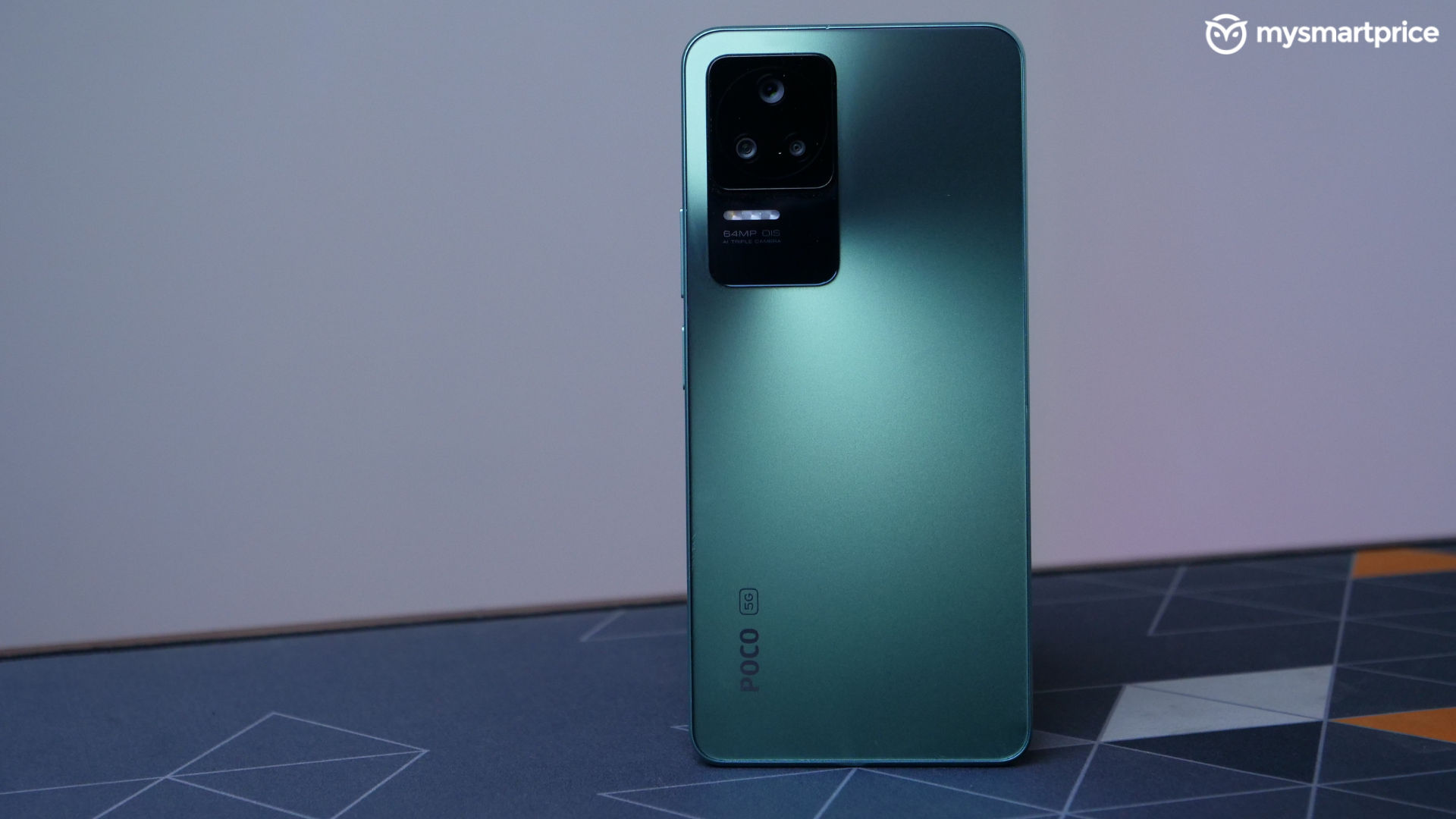 The POCO F4 5G is a big phone, so using it with a single hand may be problematic for some. Although the weight distribution is very well done, the phone is a bit heavy to hold, which may concern some buyers. Still, it's not so big that it would cause fatigue in the long run.
We like the fact that POCO hasn't gone for outlandish colours or something too game-centric despite packing some good hardware. Colour options are straightforward – Nebula Green and Night Black. We received the former and liked its understated look.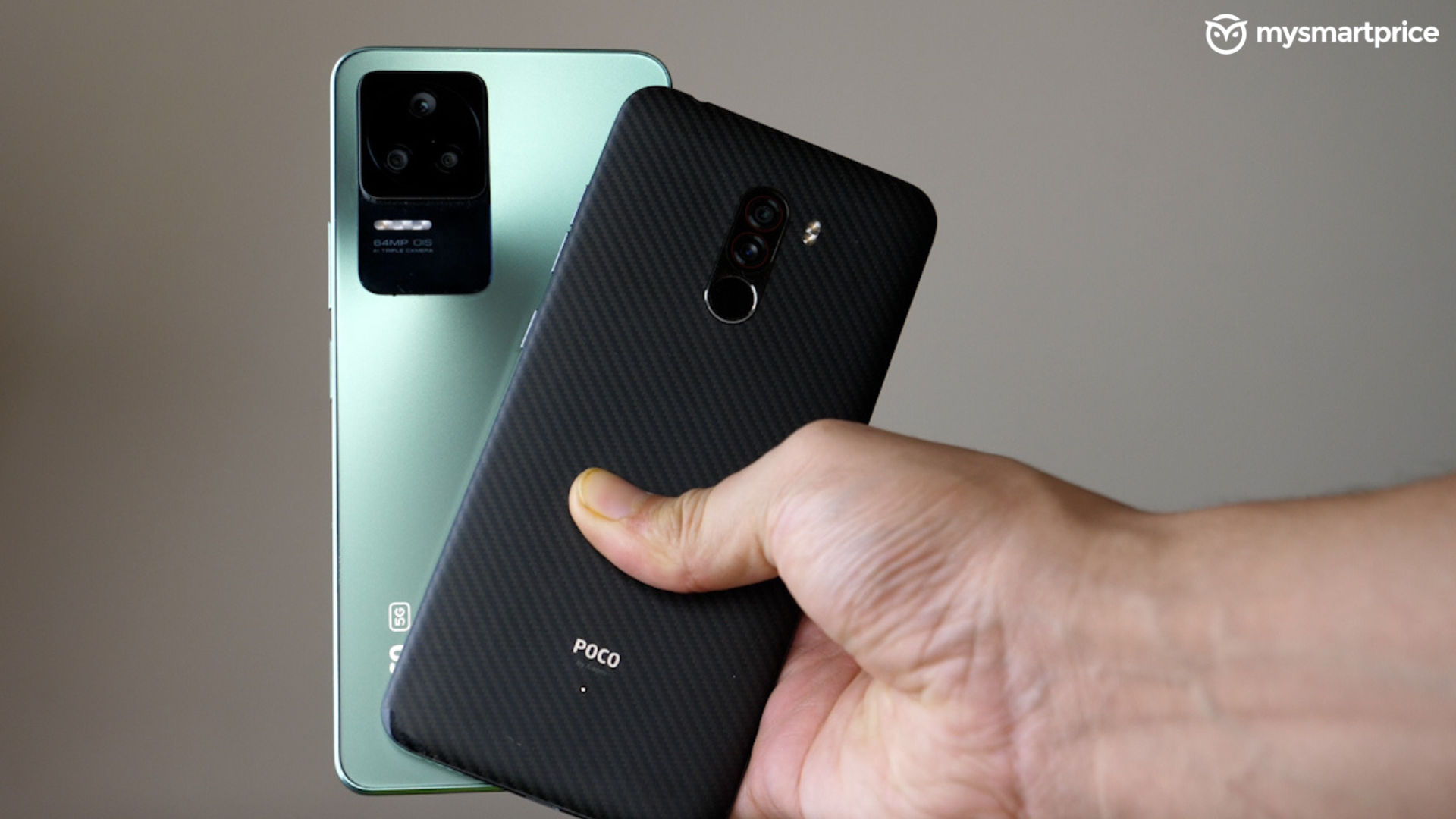 Poco F4 5G Review: A smooth, crisp display
A 6.67-inch AMOLED display with FHD+ resolution (2400×1080) lights up the front of the POCO F4 5G. It refreshes at 120Hz and has a touch sampling rate of 360Hz. All this is good enough for a noticeably smooth and precise display. It's fun to scroll through your feed, play games, text and even multitask in a multi-window view. It's genuinely snappy and gives a good perception of performance. The display also features MEMC (Motion Estimation, Motion Compensation), which artificially adds frames to content that is of a lower frame rate to give you an even smoother experience. You also get full DCI-P3 colour gamut coverage, which is excellent if you want to edit photos.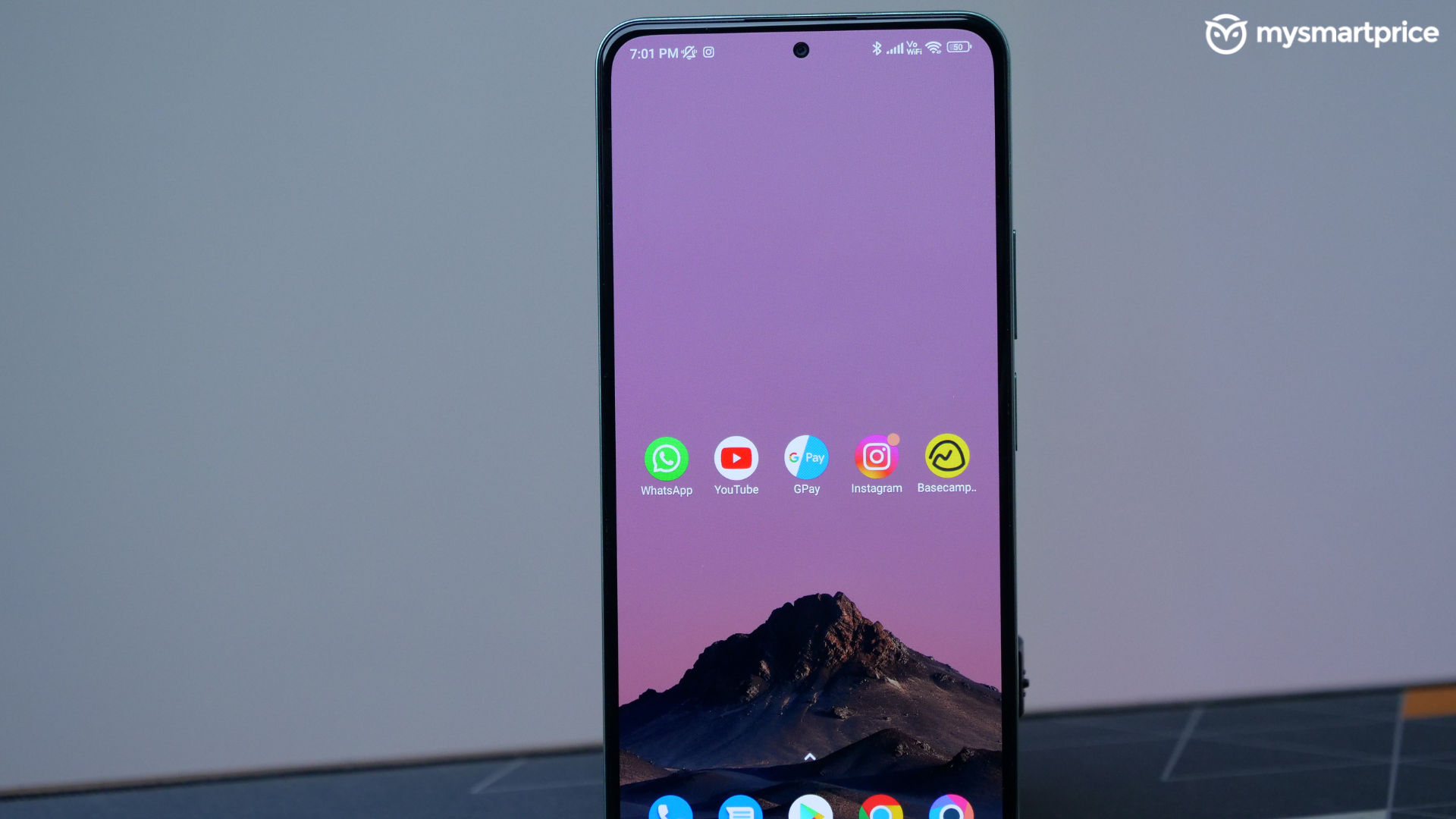 Further, it has HDR10+ certification and Dolby Vision and Atmos compliance for the first time in a POCO device. We watched tons of videos, movies and TV shows on POCO F4 5G's display, and it was plenty crisp and sufficiently saturated. The display automatically takes advantage of Dolby Vision, and I could also watch 2160p HDR videos on YouTube. 
One thing that bothered us about the display was sunlight legibility, which wasn't as bright as the iQOO Neo 6's display. Don't get us wrong, we could still read and watch content alright, but shooting through the camera app under harsh sunlight was difficult because we couldn't see what was going on properly in the viewfinder. 
POCO F4 5G Review: A confident performer
Powering the POCO F4 5G is perhaps the most reliable high-end chipset from Qualcomm, the Snapdragon 870. POCO is using the second generation of its LiquidCool technology to tame it down. POCO claims it has a surface area of 3112m² and uses seven layers of graphite sheets. All this is to avoid throttling when performing heavy-duty tasks for long durations.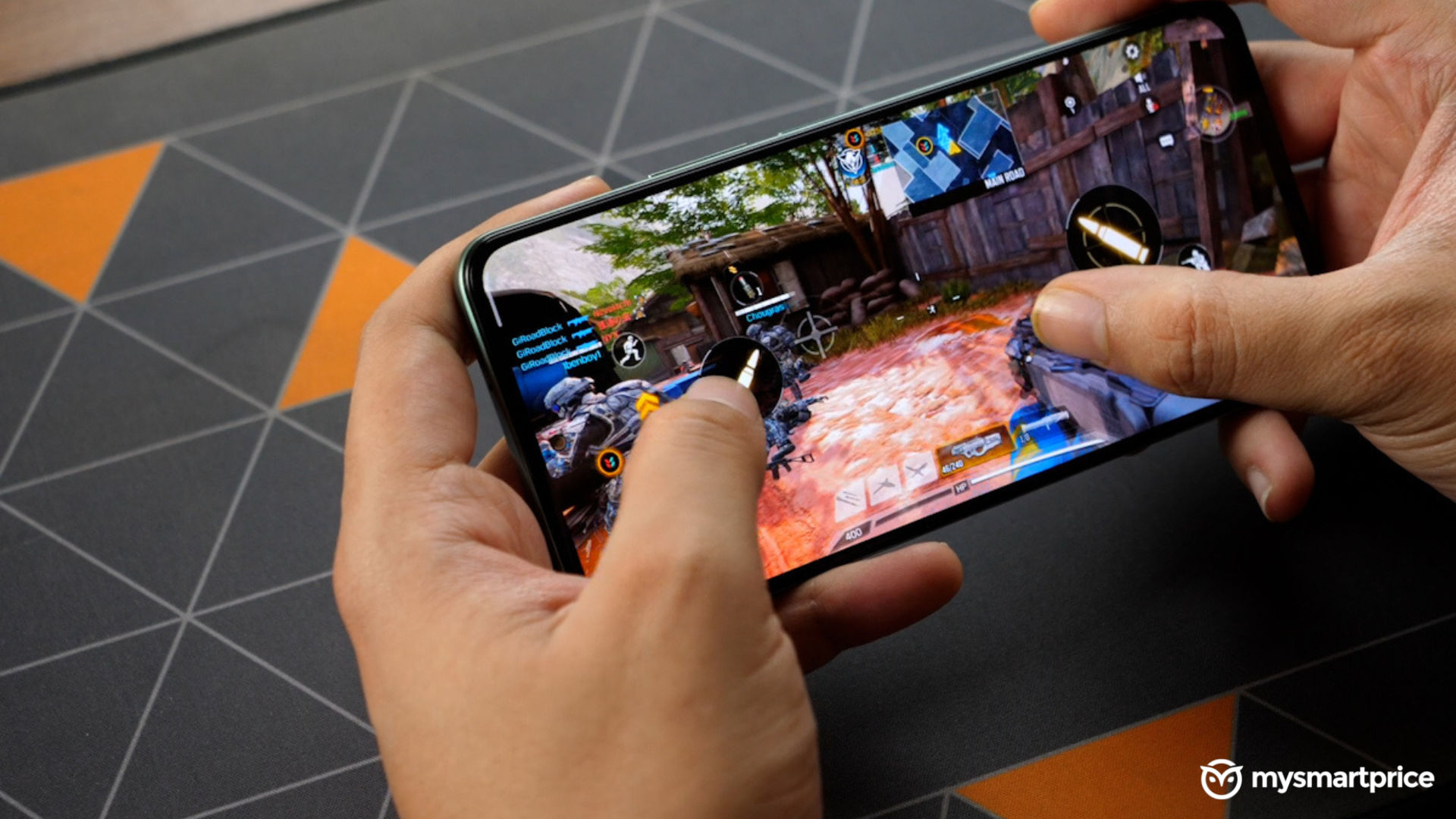 The phone comes in two RAM and storage variants – one with 8GB of LPDDR5 RAM and 128GB of UFS 3.1 internal storage, whereas the other has 12GB RAM and 256GB ROM. Thanks to the latest generation of storage and RAM, you get fast read and write speeds along with really quick app loading times. 
The SoC is 5G-capable and has 10 5G bands, meaning you can expect to get good coverage once 5G rolls out in India.  
In terms of software, the POCO F4 5G runs MIUI 13.0.2 based on Android 12. It runs the POCO Launcher 3 skin by default, which we quite like. The company has announced the fourth generation of the launcher, too, with some new features, but it's in the pipeline, and we didn't get to try it during the testing period. The launcher offers a high level of customisation and an organised app drawer, which gives it an edge over the competition. Bloat issues were still there in our unit, despite the claims from the company to keep it to a minimum. 
In our regular usage comprising texting, shooting emails, casual gaming, photography and GPS navigation, the phone never stuttered or gasped for breath, even when fighting an intense heatwave. At best, the phone would be mildly warm and never throttled once. Multitasking was also a breeze; even the animations would flow smoothly without slowing down. Watching really high-quality videos on YouTube at 2160p HDR for about 15 minutes resulted in audio sync issues, but other than that, we didn't encounter any problems. 
Gaming was also tackled well by the POCO F4 5G. We played Call of Duty Mobile on Very High graphic quality and Max frame rate and found no frame drops even after 30 minutes of use. The area around the camera module became a little warm to touch, but it wasn't so bad that we would have to take a rest. We also played some casual games such as Atomas, Chain Reaction and Roblox, and they all ran without a hiccup. Also, there's an X-axis linear motor for precise tactile feedback while gaming. 
On AnTuTu 9, the POCO F4 5G scored 667955. On GeekBench 5, the phone posted 980 and 3017 single-core and multi-core scores, respectively. The temperatures maxed out at 39 degrees according to the internal sensors while running these benchmarks. 
POCO F4 5G Review: A familiar camera trio
The POCO F4 5G packs three cameras at the back in a circular case which then sits inside a rectangular house. It's a little confusing, but it's easy on the eye and doesn't look odd.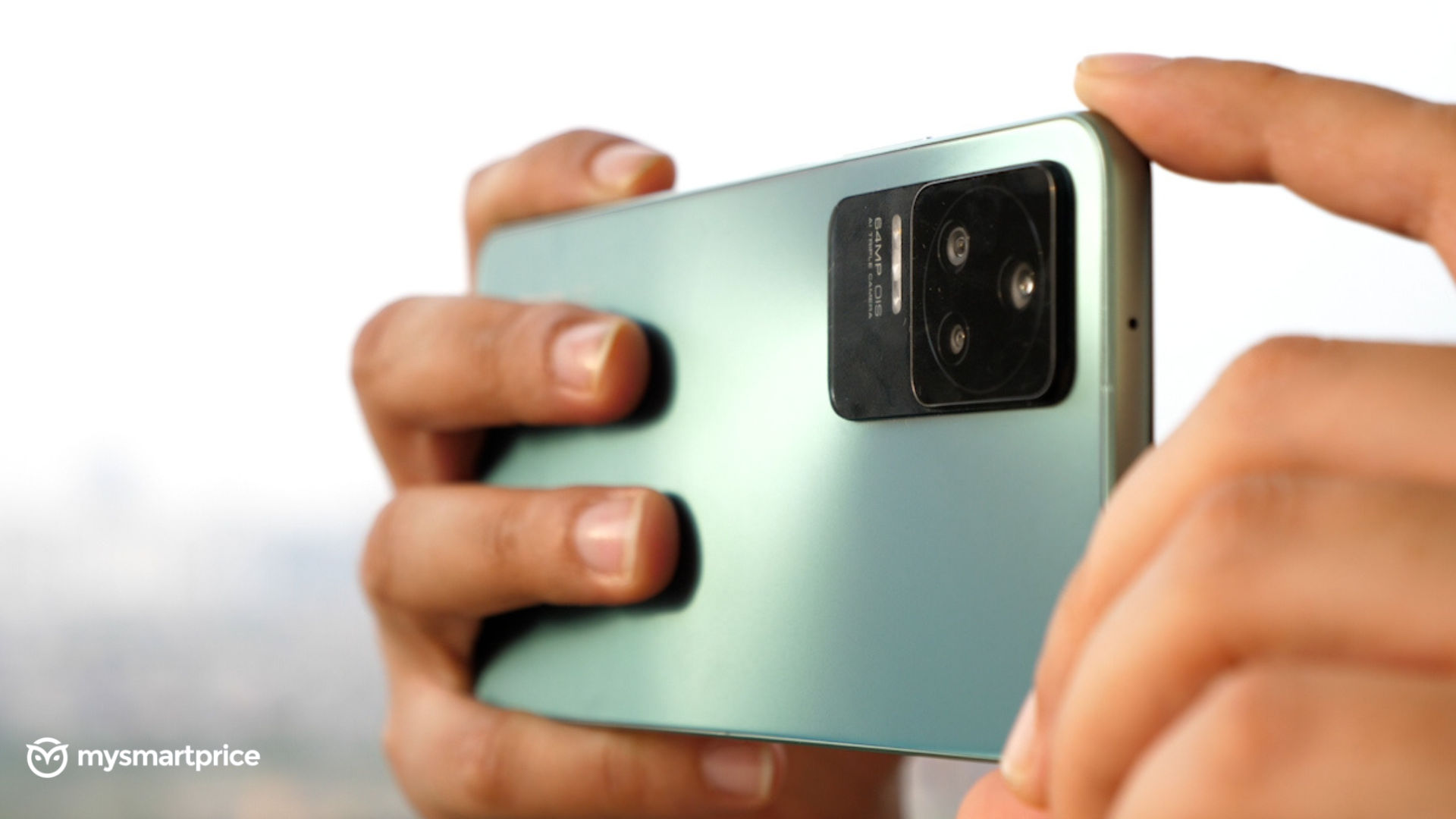 Leading the pack is a 64-megapixel primary camera with 3-axis optical image stabilisation (OIS). Accompanying this, we get 8-megapixel ultrawide and 2-megapixel macro shooters, taking the total count to three. This is similar to what iQOO Neo 6 offers but with different colour tuning and camera UI. 
We found the photos to favour the warmer side more on the primary and ultrawide cameras. The sharpness and details captured by the primary camera during the daytime were good. The HDR isn't as aggressive as that of the iQOO Neo 6, which is for the best. Indoor shots were also captured well with a single source of light by the primary camera. The colours were a bit too saturated at times, especially when clicking photos of hedges and grass.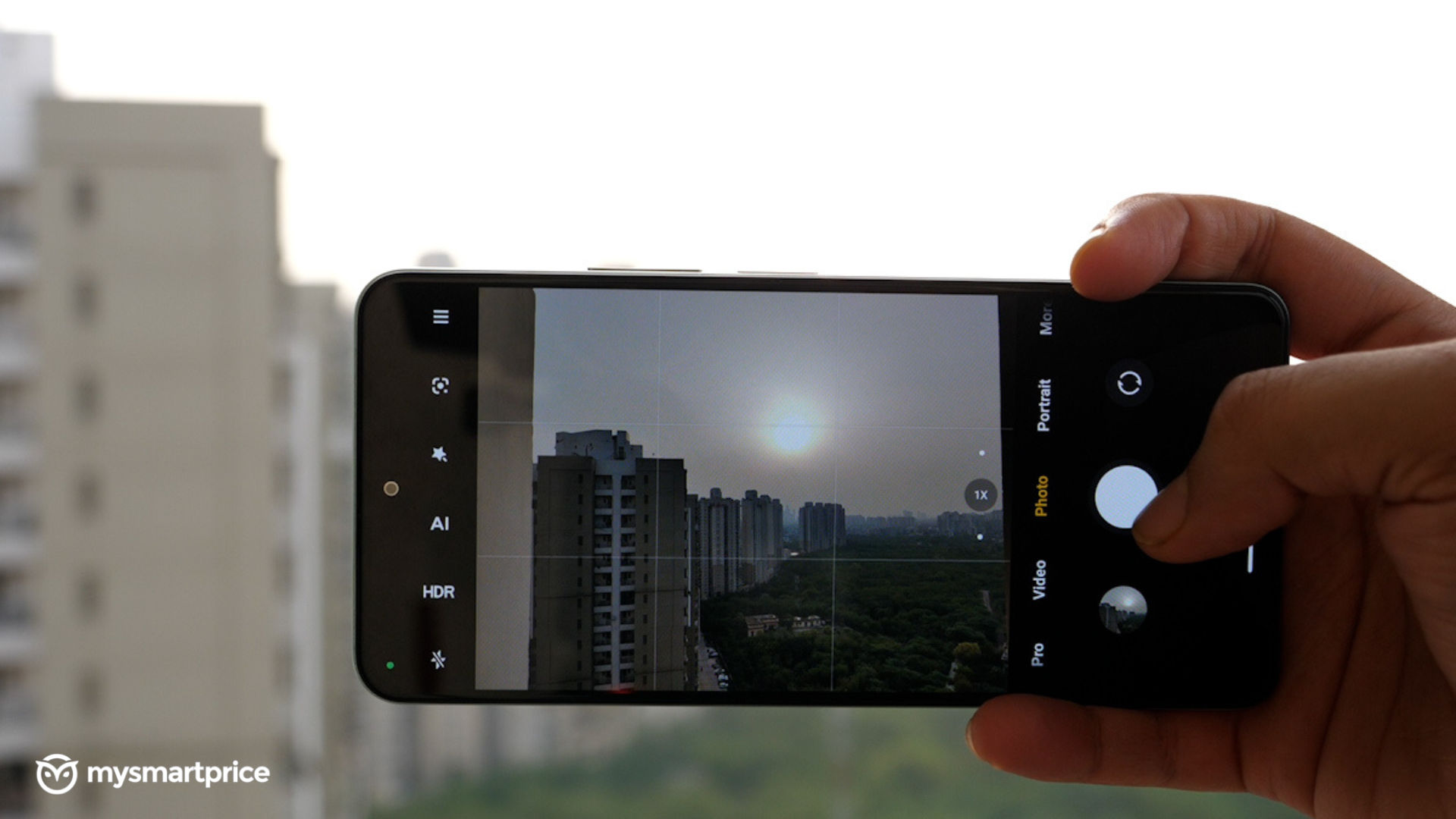 The ultrawide is a hit and miss. Some shots are taken really well in good lighting, but we also observed some strange noise around the corners of photos, even when there was enough light. Since it has a lower resolution, you will observe blotchy pixels when zooming into photos. 
We also clicked some shots on a cloudy day, and both cameras did a good job of capturing the texture of the clouds. The exposure was also decent, although there was a little bit of noise in shots clicked with the ultrawide.
Night shots were captured well by the primary camera with rich details, although some images can come a bit too warm. Noise levels were also under control, thanks to the post-processing magic. 
Portraits taken were a bit too fake at times, and in some cases, the subject wasn't entirely separated from the background. 
We didn't spend too much time with the macro camera, and photos taken from it are barely usable due to the low resolution. The exposure was good, though. 
POCO wants you to shoot Reels and be a content creator using the phone, so they have included a cinematic mode in the Videos tab. The primary camera can take 4K videos at 60 fps, whereas the ultrawide maxes out at 1080p at 60fps. The macro camera can also be used for recording 720p videos at 30fps, which was amusing. Videos shot from the app had stuttering issues, which was strange. We attribute this to the hot, outdoor setting where we tried this at. Indoor shots came out darker than what the photo mode had to offer with significant noise. The OIS on the primary camera helps with taking some steady pan and tilt shots, which is a great addition. 
Overall, we found the camera package to be satisfactory, and it goes head to head with the competition. 
POCO F4 5G Review: All-day battery
Backing the POCO F4 5G is a 4,500mAh battery that can be charged with the bundled 67W 'Sonic' charger. The battery lasts about a day with regular use, and we managed to squeeze out about 7.5 hours of screen on time. This is at par with what iQOO Neo 6 offered.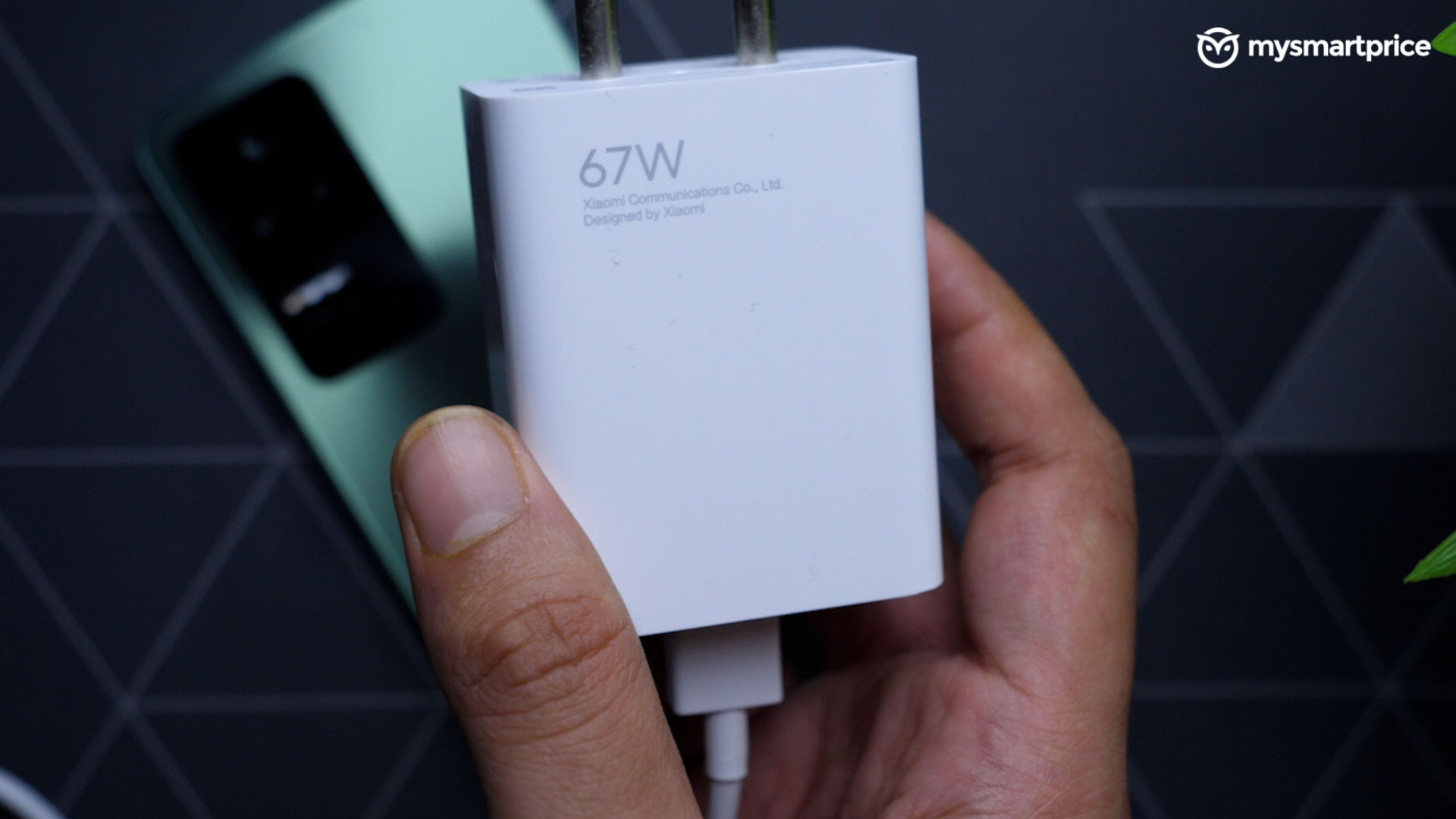 It takes about 45 minutes to reach from 0 to 80% charge, and then it slows down to save the battery. So for a full charge, we are looking at a little under an hour. The phone heats up a little while charging rapidly, but it wasn't so hot that the microcontroller slowed down the charging. So, on charging speeds, the POCO F4 5G loses out to the iQOO Neo 6.
POCO F4 5G Review: Verdict
The POCO F4 5G is a promising, well-rounded package with powerful hardware and cameras. It doesn't try too hard with its looks and has a refined OS, albeit with a little bit of bloatware and spammy notifications. Sure, the charging speeds could have been faster, but the rest of the package is at par with the competition.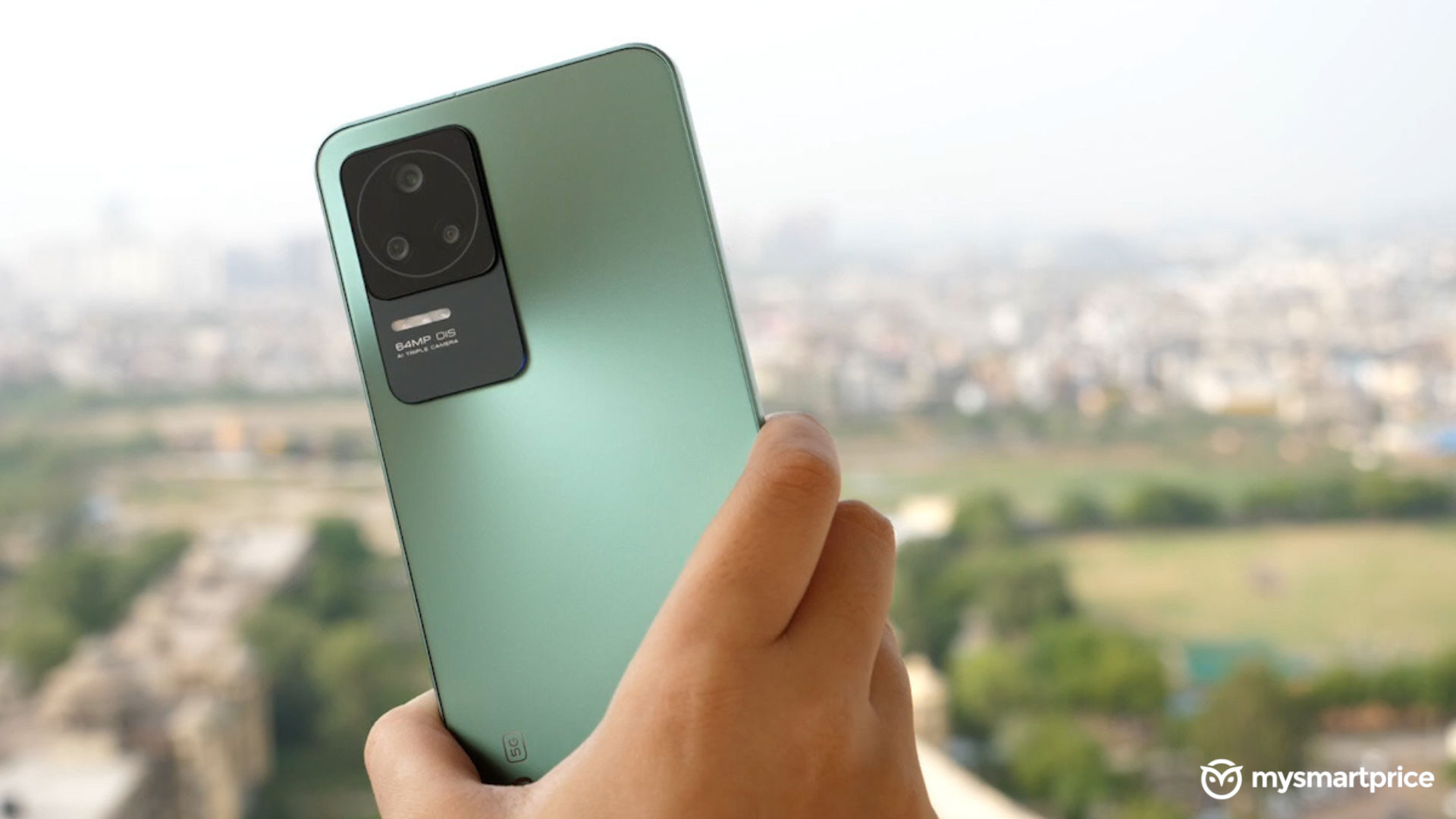 If you want to look at alternatives, the iQOO Neo 6 can be a recommendation for faster-charging speeds, or else you can look at the OnePlus Nord 2 or wait a bit for the upcoming launch of the Nord 2T.
What Is Good?
Great display
Reliable processor
Good cooling system
2 years of company warranty
Modern, understated design
Organised UI
What Is Bad?
Charging could have been faster
Unreliable fingerprint reader
Bloatware
Thanks for reading till the end of this article. For more such informative and exclusive tech content, like our Facebook page